Companies need many things to thrive: visionary leadership, a compelling offering, exceptional service, and much more. But in today's noisy marketing landscape, what your brand really needs is a story.
Stories make for better marketing because they elicit emotion. They can influence who we trust, play on our nostalgia, and help us make sense of complex information. A really great story can communicate the entire character of a brand in less than three minutes, and clever stories can help you become especially persuasive.
Why Use Video Marketing?
Video is critical to your content strategy because it's snack-sized, memorable, and measurable. These aren't just the components that make it perfect for your audience who crave short, engaging pieces, but they're also the features that make video every marketer's dream format.
Because it's especially visual, you can use video to teach complex concepts (what is content for if not to make things clearer for your audience?), to share stories about your customers, and to inspire marketing-specific actions (things like demos, trials, subscriptions, and more).
But beyond video's unique ability to convert like no other, the medium has become especially valuable to data-driven marketers. This is because you can track and measure audience engagement for video in a really meaningful way.
You can tie your videos directly to the deals they're helping to influence and you can see which assets are actually resonating based on content engagement analytics. This is the reporting that marketing desperately needs to identify their most engaged leads faster and prove the value of game-changing initiatives.
Put Your Videos to WorkCreate, host, manage, and share your videos.Sign Up Free10 Benefits of Video Marketing
Apart from being a rich, visual medium, there are a lot of perks to making online video marketing part of your digital strategy.
Simply put, the numbers tell a compelling story. These video marketing statistics highlight precisely why so many companies, in industries across the B2B and B2C spectrum, are taking advantage of this medium—and why video marketing should be part of your business, too.
1. Grow Revenue
Marketers who use video are growing company revenue 49% faster year-over-year than those who don't, according to research from Aberdeen Group.
2. Influence Buying Decisions
A whopping 90% of customers say that product video helps them make buying decisions, says Forbes, and 64% say that watching a video makes them more likely to buy, according to Animoto.
Plus, 97% of marketers say that video has helped increase user understanding of their product or service, according to HubSpot.
3. Give the People What They Want
From brands, people prefer video content over emails, newsletters, social images, social videos, blog posts, and downloadable content (like PDFs), according to data from HubSpot.
When they're considering buying something and want to research their options, consumers use a variety of methods. Some of the top tactics include using a search engine, visiting a company or product's official website, looking at review websites, and watching videos. Video could easily be incorporated into every one of those places, giving your brand a better chance of convincing the consumer.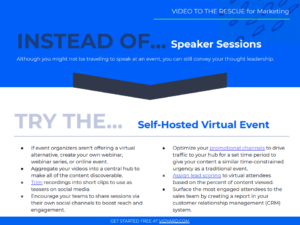 At a Loss Without Physical Events?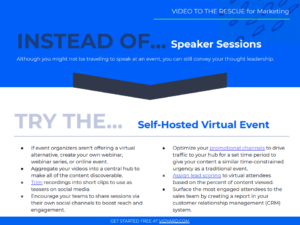 Find out how you can use video to flip the value of your physical events into a virtual setting.Get the Guide4. Rank Higher in Search
Video can help improve your website's ranking on search engine results pages (SERPs). The amount of time a visitor spends on your page after arriving from a Google search can impact how high you appear in results. Known as dwell time, this is an important Google ranking factor, according to Backlinko.
Video is an incredibly effective way to bump up this metric, with 80% of marketers saying that video has increased dwell time on their sites, according to HubSpot.
But you don't have to take their word for it. The average internet user spends 88% more time on a website that contains video, according to data from Mist Media. And, on average, websites that include video have a two minute longer dwell time compared to those that don't, says HighIQ.
Websites that make effective use of video increase their likelihood of being ranked on the first page of Google results by as much as 53 times, as stated in research from Forrester.
Finally, 55% of search results for keyword searches in the U.S. contain at least one video, as reported by Search Metrics. So, apart from the increase in time spent on your site, simply having a video increases your chances of appearing in the SERPs and can make you a more desirable click.
5. Increase Traffic
Video users enjoy 41% more web traffic from search than non-users, according to research from Aberdeen Group.
6. Get More Backlinks
Embedding a video into a page or post nearly triples the average number of linking domains, as stated in research from Moz.
7. Bump Up Conversions
Video users have 27% higher click-through rates and 34% higher web conversion rates, says research from Aberdeen Group.
Plus, using video on a landing page can increase conversion by 86%, according to EyeView Digital.
8. Reach Decision Makers
Three-quarters of business executives watch work-related videos weekly, according to HighIQ. Plus, 54% of senior executives share work-related videos with colleagues every week.
Furthermore, 59% of senior execs agree that if text and video are available on the same topic on the same page, they would prefer to watch the video.
They're not the only ones, though: 72% of people would rather use video to learn about a product or service, according to HubSpot.
Learn From the Pros
Find out how tech company Miovision achieved 4x higher open rates and hockey stick growth by adopting video in their marketing strategy.
9. Crush Email Sends
Using the word video in an email subject line boosts open rates by 19%, click-through rates by 65%, and reduces unsubscribes by 26%, according to Syndacast.
Adding video to email can boost click rates by up to 300%, according to MarTech Advisor.
Basically, video is a powerful addition to your email marketing.
10. Rack Up Shares
Social video generates 1,200% more shares than text and images combined, according to Small Business Trends.
If your brand creates video content that the intended audience enjoys, 83% of consumers say they would consider sharing it with their friends, according to HubSpot.
Put Your Videos to WorkCreate, host, manage, and share your videos.Sign Up Free
This post was originally published on December 3, 2018. It was updated on October 27, 2019.
The post 10 Benefits of Video Marketing: Why Use Video for Business appeared first on Vidyard.
Read more: vidyard.com