[ad_1]

The value of excellent customer experience (CX) is second to none for all types of businesses. In this day and age, developing a customer experience strategy to differentiate your brand from your competitors is vital.
In reality, businesses aren't focusing on customer experience analysis as much as they should be. Walker Information conducted a survey where they found that the customer experience strategy of 79% of the companies surveyed was at the bottom two stages of development.
Source: Walker Information
While companies struggle to catch up, customer expectation has grown rapidly. In fact, the State of the Connected Customer report by Salesforce says that 88% of customers in 2022 value the experience a company delivers as much as their products or services.
These numbers put forth one fact, loud and clear:
Companies must act fast on developing a strong customer experience strategy to gain a foothold in their respective industries.
Do you find yourself in a similar situation?
Then it's time for you to prioritize customer experience at every stage, from product ideation to marketing and sales.
In this post, we're sharing 10 expert-recommended methods for developing a customer experience strategy that can help build brand credibility and boost sales.
Let's get rolling.
What is a Customer Experience Strategy?
A customer experience strategy consists of all the techniques you devise to deliver positive and satisfying customer experiences at different touchpoints. It's all about creating meaningful and memorable experiences to boost customer loyalty for your brand.
Developing a good customer experience strategy is quintessential for any brand to retain existing customers and demand generation of new leads. It's all about assessing your current situation and taking action to improve customer satisfaction.
Working on developing a solid customer experience strategy has multiple benefits. A significant advantage is that a good CX strategy will help you reduce customer churn or turnover. When you win the trust of your customers, they are more likely to stick around for a longer time.
Developing a good customer experience strategy helps boost your brand equity. The better the CX, the better your brand's value in the market. A good customer experience strategy can also help reduce your overall marketing and customer service cost.
Now that you understand the benefits, let's take you through 10 ways of developing a customer experience strategy.
Developing a Customer Experience Strategy: 10 Effective Ways
If a customer experience strategy is vital for your brand, then you need to learn all the nuances of the game to develop a strategy that yields excellent results.
These 10 tips are here to help you get started in the right direction and establish your brand credibility.
Here we go.
1. Research Your Customers and Create Buyer Personas
There is no greater knowledge for brands today than understanding their customers and expectations. When you know what your customers are looking for, their pain points, preferences, and values, you can precisely work out a customer experience strategy to satisfy their needs.
Here's an example of what a good buyer persona report would look like.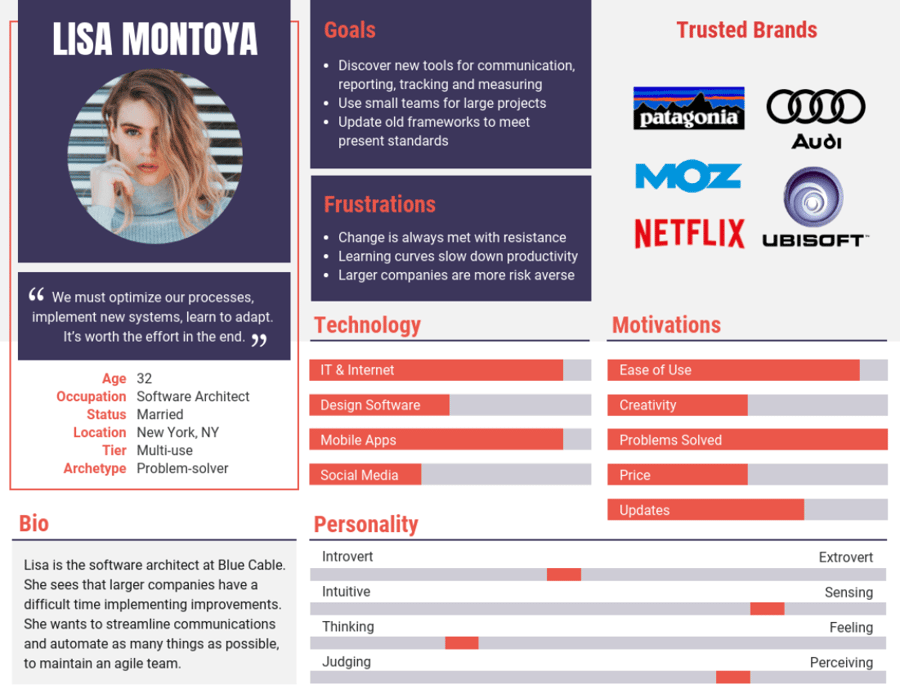 Source: Venngage
This is where customer data from various sources, including your CRM system, will prove extremely valuable. Analyze this data to gather insights that help you better understand your customers and create ideal customer profiles.
When you understand your customers, you can create targeted marketing campaigns to generate leads and sales. Over time, if you deliver consistent and positive customer experiences, you'll also build a community of loyal customers.
2. Define the Customer Experience You Want to Deliver
A clear customer experience strategy defines your brand's objectives and values. How do you want your customers to think and feel about your brand?
It serves as the starting point for developing a good customer experience strategy. It will also set clear goals for your customer support, product development, and marketing teams to focus their efforts.
Define your customer experience vision as clear statements that act as guidelines for the entire organization. This vision should be kept in mind while creating a roadmap for the customer journey, during regular interactions with customers, and while delivering personalized customer support.
3. Map Your Customer Journeys
A step further from creating buyer personas is understanding what path your customers chose while interacting with your brand and what kind of experience was delivered. That's what we call "mapping the customer journey."
You can create your own stages for different customer journeys or use a template like the one shared below to note the interactions at every step of the journey.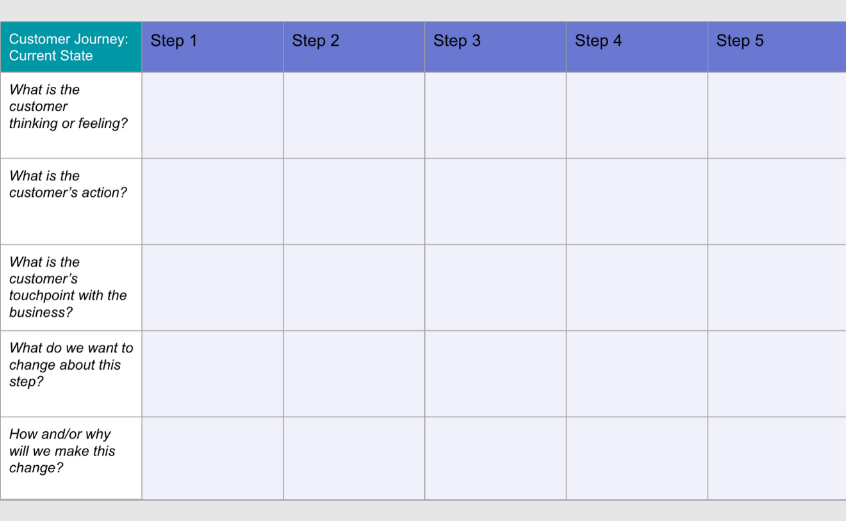 Source: HubSpot
This map will help you identify the various customer touchpoints where you must satisfy your prospects to turn them into customers.
When you identify friction at any step of the journey, you can address the issues and replace them with pleasant experiences. That's the trick to developing a strong customer experience strategy.
4. Study Your Competitors
An integral part of digital marketing is monitoring what your competitors are up to and how successfully they engage the same audience you are targeting.
Regularly conducting competitor analysis using the right digital tools can reveal many things. First, you get to know where you stand in this highly competitive marketplace. Secondly, you get to compare your marketing efforts with that of your competitors and measure your performance.
The insights gathered from this data will also help you to find the gaps and assist in developing a customer experience strategy that can help you better connect with your customers.
5. Build a Passionate Customer Experience Team
With all the insights that you gather by analyzing data from different sources, you are in a good position to develop a good customer experience strategy. But to ensure its successful execution, you need to put together a passionate CX team.
Bring together those staff members with the skills and the creative bent of mind to research, design, and execute a great customer experience strategy.
These professionals should be well aware of your CX objectives and goals. Equip them with good tools and resources and provide adequate training to use those tools efficiently.
The performance of this team should be reviewed from time to time to appreciate the goals they were able to achieve and to help them improve in areas where they are struggling.
6. Leverage the Power of AI and Automation
Let's accept it; it's not easy to impress your prospective customers given the number of competitors vying for the attention of your target audience.
You need to work on developing a powerful customer experience strategy if you want to beat your competitors. That's where AI and automation can be of great help to you.
Customers today expect brands to provide valuable solutions and do so quickly. Artificial Intelligence and automation tools can help you meet this customer expectation efficiently.
24/7 live chat support, AI-assisted chatbots, etc. can help you respond to your customers quickly.
By incorporating such tools into your customer experience strategy, you can provide round-the-clock support to your customers.
7. Diligently Engage in Social Listening
No matter who your target customers are, chances are high that they're active on at least one social media platform. After all, people love sharing their experiences, feedback, and recommendations with their connections without any filters.
While developing a customer experience strategy, you should prioritize social listening for several reasons. You can measure your brand's presence based on your brand mentions and online conversations around your product-led content or niche.
Social listening can also give insights into your competitors' activities, recognize the top trends in your industry, spot customers' pain points, and learn what satisfies them.
While it may be tiresome to observe multiple channels simultaneously, you can employ good social listening tools to gather precise data. This will help you in developing a strong customer experience strategy.
8. Build an Emotional Connection with Your Customers
The aim of developing a customer experience strategy is to take your relationship with your customers beyond buying and selling. When that is done effectively, it directly influences customer engagement and loyalty.
The above-mentioned Salesforce survey found that 62% of customers feel emotionally connected to the brands they frequently buy from.
And to put that trust in you, your customers expect to be treated like humans, not as numbers. They want you to communicate proactively and resolve their queries. They also expect you to be honest and transparent about your offerings.
To win their trust, share your brand story. You can host live-stream video shopping events to sell and educate your happy customers, regularly share video testimonials, tailor your communications for each customer, and stay connected with them.
9. Collect Customer Feedback in Real-Time
One of the best ways to measure the success of your CX efforts is by asking the right customer feedback questions. It should be integral to your plan while developing a good customer experience strategy.
There are several ways you can gather customer feedback directly and indirectly.
One of the easiest options is to create a post-sales survey using an online form builder and ask customers to share their experiences. Feedback can also be collected via quick phone calls or email surveys.
Customer feedback is the tangible and reliable source of data that can help you improve your products or services, rethink pricing, realign marketing strategies, and improve the buyer's journey.
Add it all up, and you'll be able to deliver exceptional customer experiences.
10. Measure Your CX Strategy with the Right Metrics
If developing a good customer experience strategy gets you in the race, customer analytics will tell you how well you performed in the race. And to do that, you need to choose the right CX metrics.
Here are the four essential metrics that you should focus on while developing your customer experience strategy:
Customer Satisfaction Score (CSAT): This score indicates how satisfied your customers are with your products or services. A section of your survey should focus on capturing the degree of customer satisfaction delivered.
Net Promoter Score (NPS): This measures how likely your customers are to recommend your products or services to their connections.
Customer Effort Score (CES): This score measures how easy or difficult it was for your customers to use your product and how seamless the experience was.
Time to Resolution (TTR): Another metric you need to measure is how much time you take to resolve customer queries and how efficiently you do it.
When backed by such specific data, developing a customer experience strategy becomes much more manageable and result-oriented.
Ready to Develop a Strong Customer Experience Strategy?
As a brand, your primary goal is to turn one-time shoppers into lifetime buyers, and one of the surefire ways to achieve this goal is by developing a customer experience strategy.
The 10 techniques we've shared above will help you establish brand credibility and customer loyalty sustainably.
Go ahead and try developing a customer experience strategy that incorporates these tried and tested methods. Gaining customer trust is no easy feat, but with these tips, you can be sure to see good results.


[ad_2]

Source link