[ad_1]

With 1 billion active users across 154 countries, TikTok has become a powerful business marketing tool. Most businesses are leveraging it to promote their products and services. If you are one of those few businesses that do not use TikTok thinking it is geared only toward young audiences, it's time to debunk the myth.
According to recent statistics, around 21% of TikTok users in the US are above 30, 20% are above 40, and 11% are above 50. In addition, 40% of users belong to Gen Z.
In short, TikTok can help you engage a vast range of audiences, thereby boosting brand awareness and chances of conversions.
However, TikTok users consume 167 million videos within a minute. This makes it challenging for businesses to ideate new TikTok content ideas consistently.
In this post, we will share 10 TikTok content ideas to help businesses drive high engagement and thrive on this platform.
10 Top TikTok Content Ideas for Your Business
1. Ride on the Latest Trends
TikTok trends are ever-evolving. Every week or a few months, new trends, including challenges, songs, and hashtags, emerge in the TikTok ecosystem.
What does that mean for your business?
Incorporating these trends into the marketing strategy can help you stay ahead of the competitors.
See how @Duolingo, a language-learning platform provider, leverages trending songs to boost engagement.
Here, Duolingo integrated British-Albanian singer Dua Lipa's trending song into its TikTok video.
This tactic of riding the latest trend wave has made Duolingo a viral sensation on TikTok overnight. The educational application provider has 121.8M likes and 6M followers and earns millions of views on almost every TikTok video.
Follow the footsteps of Duolingo to take your brand engagement to the next level. Research popular videos, songs, and hashtags by scrolling the search bar or exploring the "For You" page.
In addition, discover trending songs by browsing TikTok's song library to get started.
2. Share Product Tutorials
Product tutorial videos can help address the pain points of existing and prospective customers. On the other hand, they allow the target audience to understand the product's utility and benefits.
What's more? Including product-specific hacks can make the tutorials more interesting.
Notice how @benefitcosmetics, a cosmetic brand, leverage this straightforward TikTok content generation approach.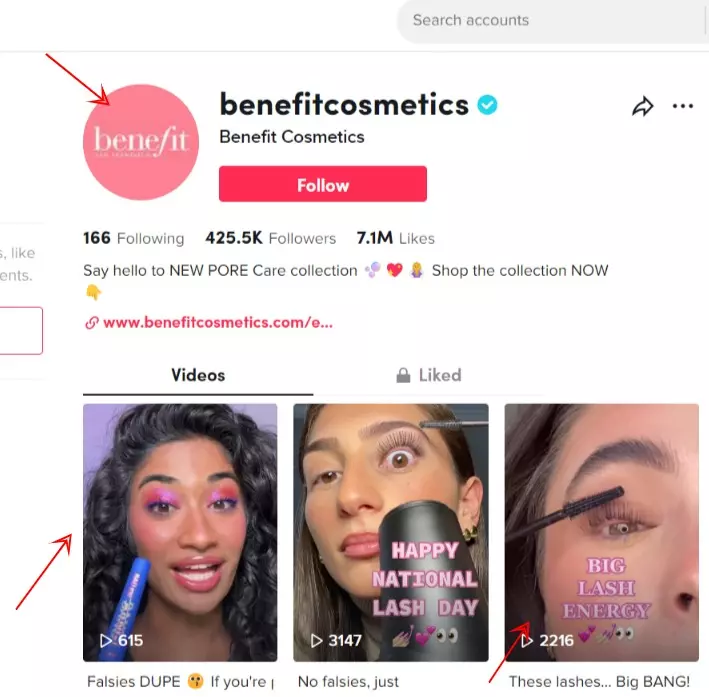 The brand keeps on sharing makeup tutorials to boost its audience engagement quotient. They combine the tutorials with trending hashtags and music to amplify their effectiveness. No wonder, the brand has gained massive popularity on TikTok with 7.1M likes and 425.5K followers.
3. Run a Branded Hashtag Challenge
Take your social marketing a notch higher by producing creative branded hashtag challenges. By branded hashtag, we mean a custom hashtag unique to your brand.
It could be anything.
Let's say an ice cream brand asks users to eat five popsicles of their choice and share a video on TikTok with the hashtag #FivePopsicleMonster. Such fun challenges with interesting hashtags can encourage users to buy your products and boost social media engagement.
Notice how @Crocs, a renowned American footwear brand, pulled off a branded hashtag challenge. The brand created a unique hashtag called #ThousandDollarCrocs, which dared users to post how they would customize the footwear.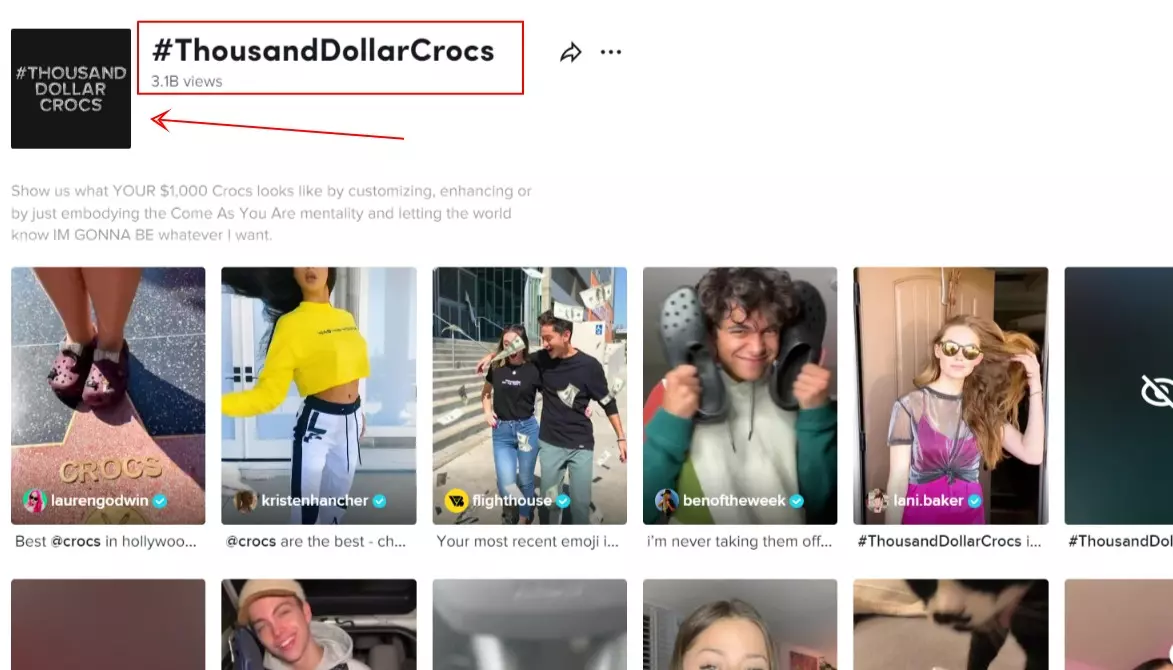 This branded hashtag challenge garnered 3.1B views, while Croc's official TikTok channel reached 5.8M likes and 885.9K followers.
4. Host a Livestream
Livestream means broadcasting or publishing video content in real time. Hosting live streams on TikTok can help your brand…
Create an interactive environment and have conversations with the target audience.
Read comments and respond to the audience in real time.
Get and implement audience feedback to provide better services, thereby improving brand credibility.
What's more?
Reports state that 82% of consumers prefer watching live videos of a brand over other social content formats. Another study from Ipsos depicts that TikTok Live engages more audiences than other social platforms. So, capitalize on live streaming to strengthen your TikTok marketing strategy.
Live streams can be leveraged by brands to share a range of important information, including brand-related news, product or service launches, discounts, and new offers. They can also provide a platform to dive into product specifics, including features, benefits, and customer reviews.
Check out how @novelship, a sneaker and apparel brand, uses this feature.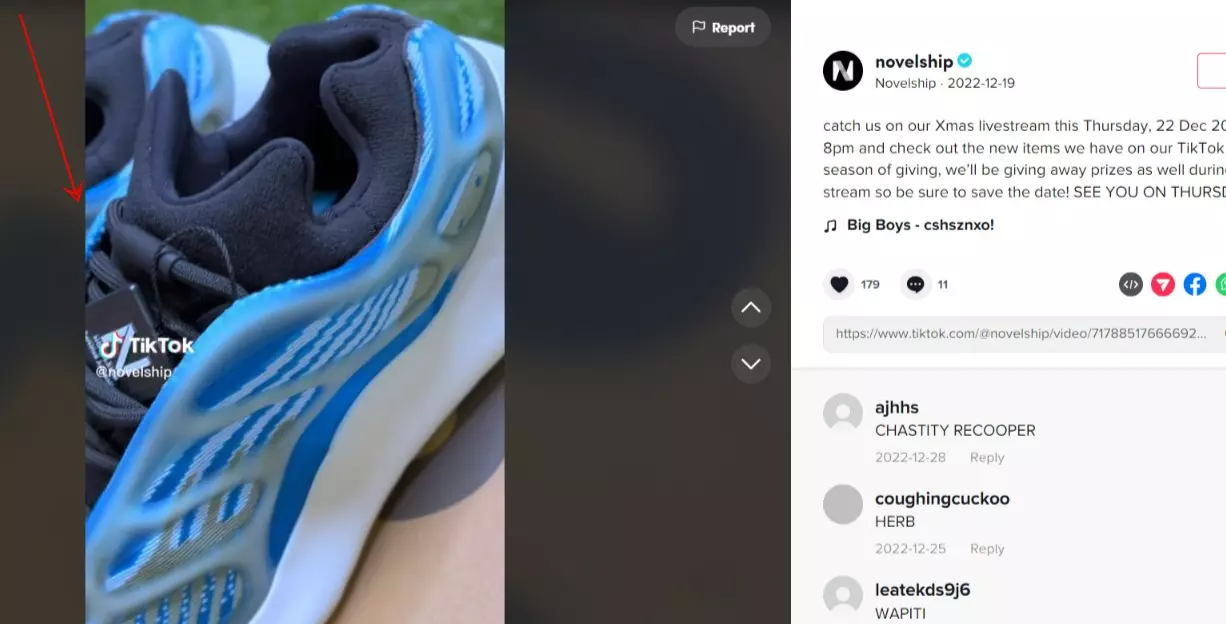 The Novelship team makes announcements of live streams before the event for maximum engagement. This TikTok content idea strategy has helped them earn 44.2K followers and 100.1K likes.
How Do You Go Live on TikTok?
Tap the plus sign (+) at the bottom of TikTok's home screen and swipe to the "LIVE" option. Add a relevant title and image and hit "GO LIVE."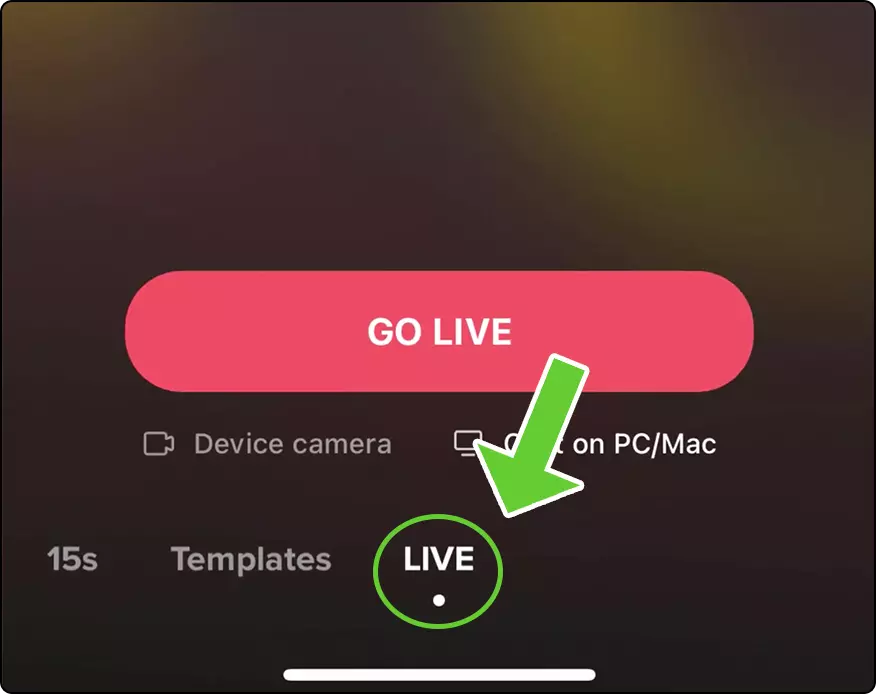 5. Share Industry-Specific Facts
A study reveals that 61% of customers trust businesses for industry-related insights. So, regardless of your niche, sharing authentic, industry-specific insights on TikTok can help your brand establish itself as a thought leader.
Use your TikTok handle to educate your audience about the latest trends in your industry. In addition, debunk the myths that are going around regarding your domain. All these steps can help the audience learn facts and keep coming more for authentic information.
To keep things fresh and new, you can always create compelling TikTok videos explaining the facts in a fun way.
Observe how leading digital publisher @washingtonpost uses this tactic to share informative content.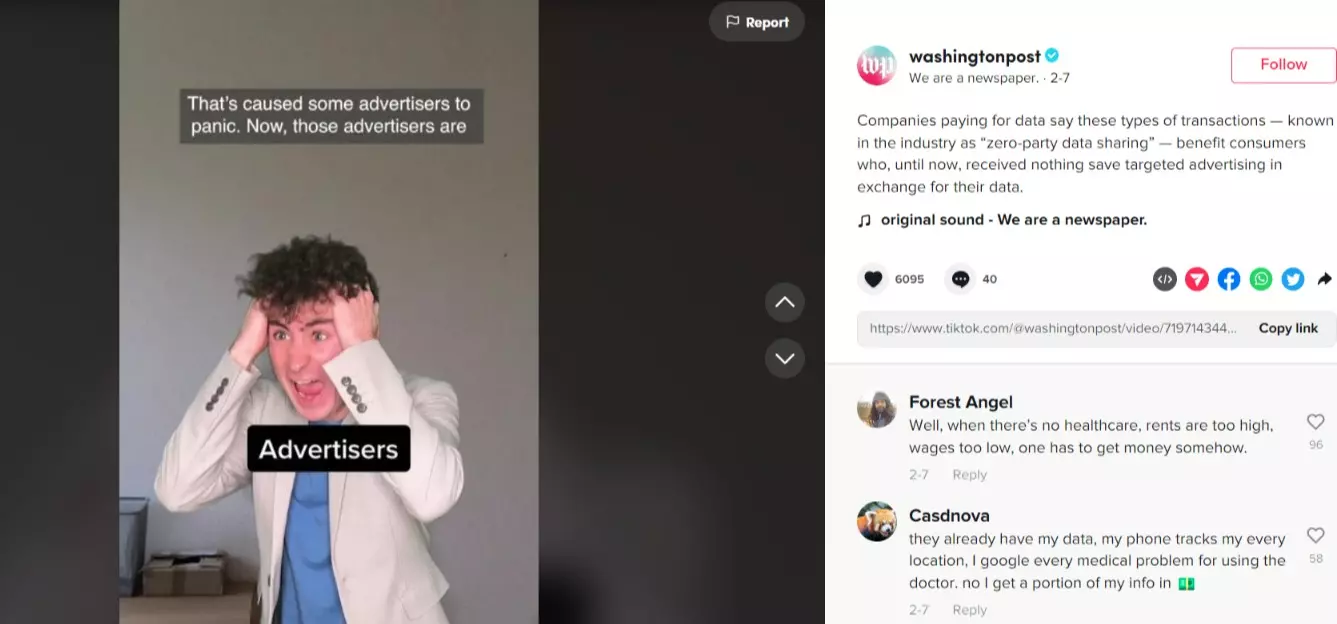 They create short informative videos with a humorous take to engage the audience. No wonder they have 1.5M followers and 72M likes on TikTok.
6. Encash Behind-The-Scenes
Give your audience a sneak peek into your team's effort. Record the hard work that goes into the production or highlight weekly meetings. This can allow the audience to see your brand values and culture, strengthening your relationships.
Check out how @netflix, the most popular video streaming service provider, implements this tactic.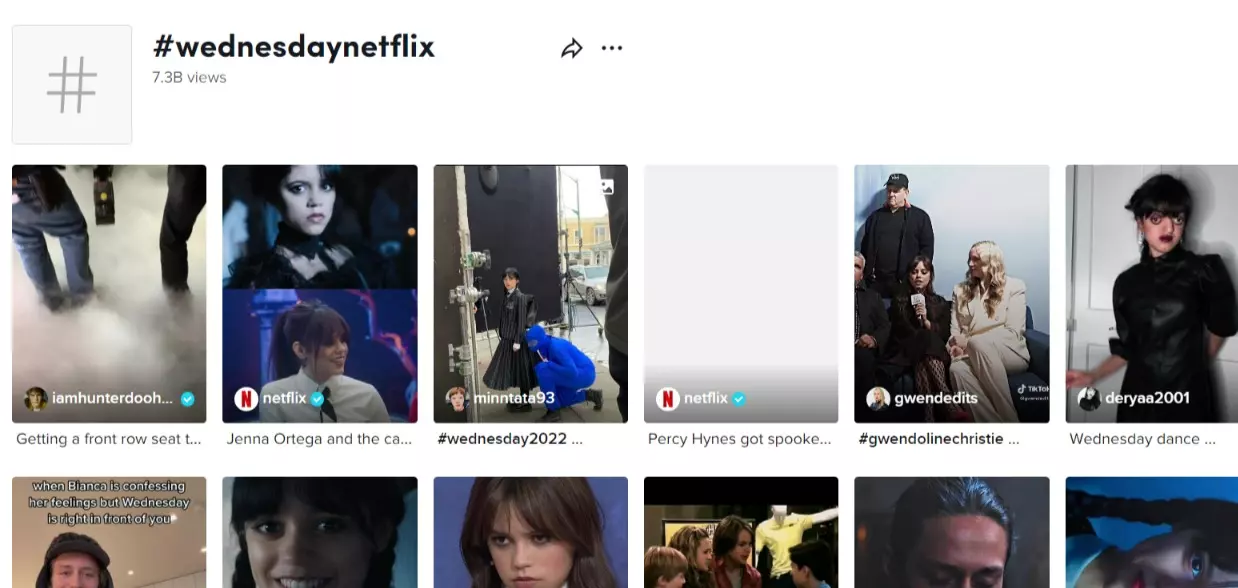 They share random behind-the-scene videos of actors to promote new releases. This TikTok marketing strategy has helped Netflix earn over 33.3M followers and 708.3M likes.
Count on SocialPilot's TikTok scheduler to sort your posting calendar. Once you complete editing behind-the-scenes videos, schedule them using this state-of-the-art tool.
The best part about it is its flexibility. Businesses can drag and drop the posts to reschedule the posts on another time slot.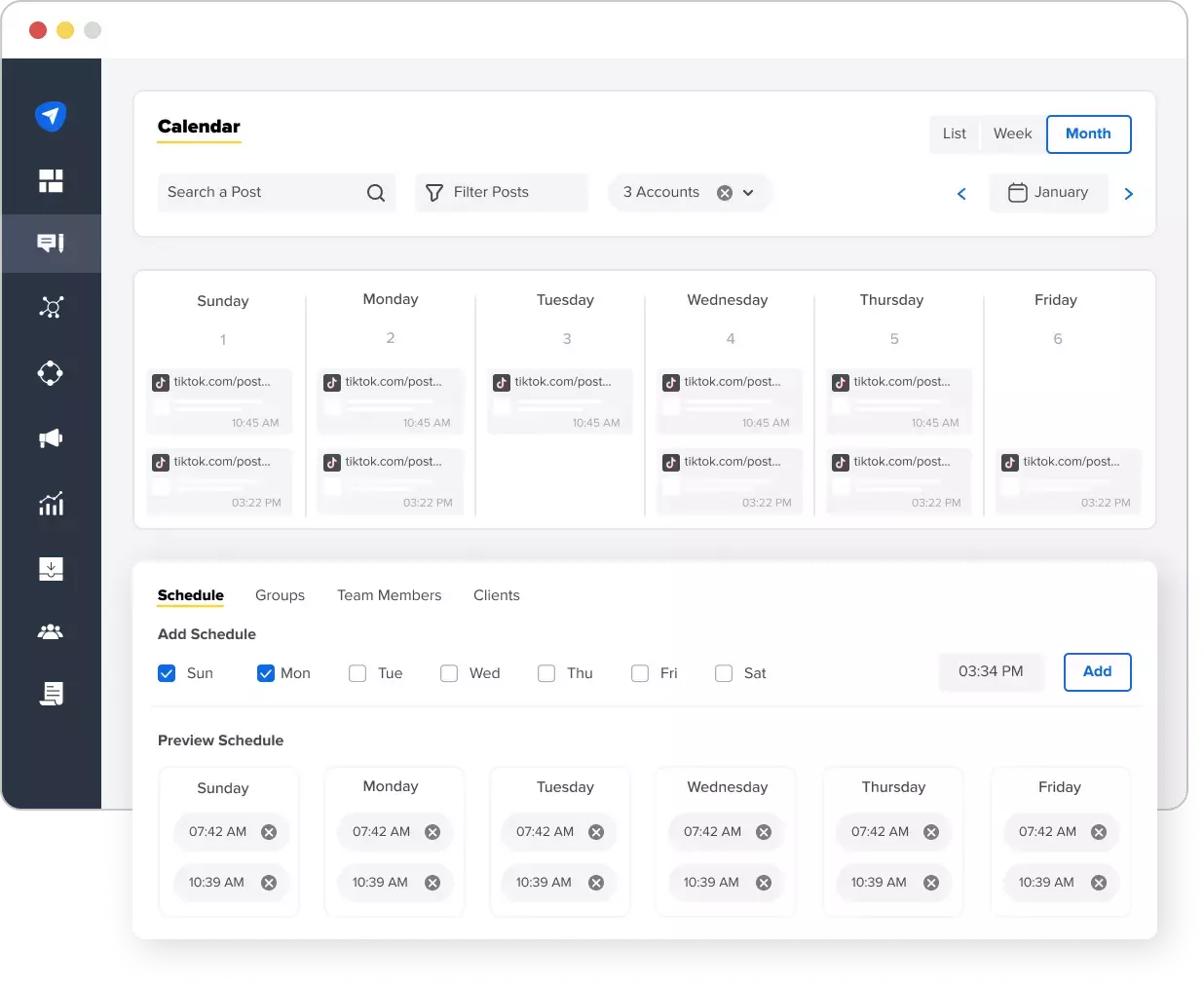 7. Organize Q&A Sessions
Q&A sessions allow the target audience to interact with, listen to, and understand a brand's perspective. For instance, the audience may want you to share…
What inspired you to start the brand?
How does your product manufacturing take place?
Where did you take the employees for vacation?
What are your long-term goals?
While they can find answers to some of these questions on the website, answering them during Q&A sessions can help you build a personal connection with the customers. The key benefit of these real time sessions is getting to know your brand's perception and gauging the audience's interest in your products.
Ask a subject matter expert or senior member of your team to go live for these sessions. This will reduce the chances of losing control of the conversations and help analyze audience sentiments toward the brands without hassles.
Here's how the leading sports channel @skysports implements this tactic.
Sky Sports conducts Q&A sessions with sportspeople at frequent intervals. They ask the fans to share their questions and have fun.
Here are a few aspects the channel takes care of while running Q&A sessions.
Good internet connection
High-resolution cameras and microphones
A comfortable place or infrastructure with good lighting for hosts
This TikTok content idea has led to Sky Sports with 2.3M followers and 50.4M likes on the platform.
8. Partner With Relevant Niche Influencers
Influencer marketing involves the collaboration of brands with popular content creators to increase brand awareness. Leverage this TikTok marketing strategy to engage and convert your target audience into customers.
Connect to niche influencers with a strong fan following on TikTok to promote your product and services.
Finding the right influencers is vital to develop authentic customer relationships and boosting retention in the long term. Check out TikTok Creator Marketplace (TCM), a free-of-cost platform that offers brands access to a massive base of TikTok creators. Select your niche and get started with the search for the best creator.
Observe how @wanna_kicks, a fashion-tech augmented reality app makes the most of this tactic.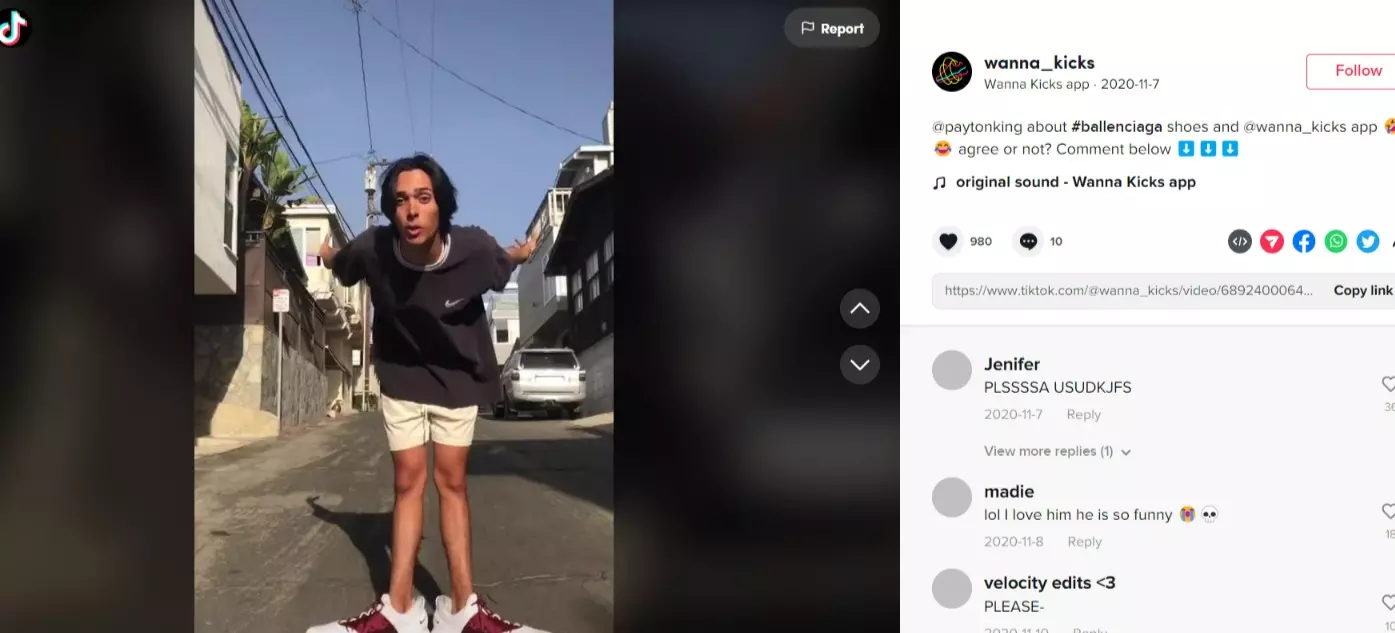 The brand recently discovered niche-specific influencer @paytonking (5.4M followers) via TCM. They collaborated with the talented creator to promote its AR application for the sneakers.
9. Run Giveaways and Contests
Social giveaways and contests allow brands to challenge the target audience to participate and win prizes for their performance. For instance, a brand can ask its audience to share a creative caption for its product. They may give prizes for engaging TikTok content ideas.
This tactic can help brands…
Increase follower count: Ask the audience to like or follow the TikTok account for participation.
Convert leads: Request the audience to sign up through a form on the website with their name, email address, and other crucial information.
Boost brand loyalty: Offer exciting prizes and monetary benefits. This will keep your target audience stay tuned to your account.
Notice how @footlockersingapore, a global athletic footwear retailer, ran a giveaway contest.

The company asked the audience to like and comment on the video to get a chance to win new pair of sneakers.
10. Publish User-Generated Content
As the name implies, "user-generated content" (UGC) is something that your target audience creates. Leveraging UGC for product promotion can help you establish an authentic brand image.
The reason?
It encourages word-of-mouth marketing and boosts trustworthiness among the target market. In fact, Forbes affirms that UGC has a pivotal role in improving a brand's credibility.
A ton of leading brands on TikTok encourage users to create UGC content. They repurpose the content to create compelling ads, videos, and more.
Here's an excellent example.
Observe how the leading mobile brand @samsung encouraged users to create videos using the Galaxy A series phone.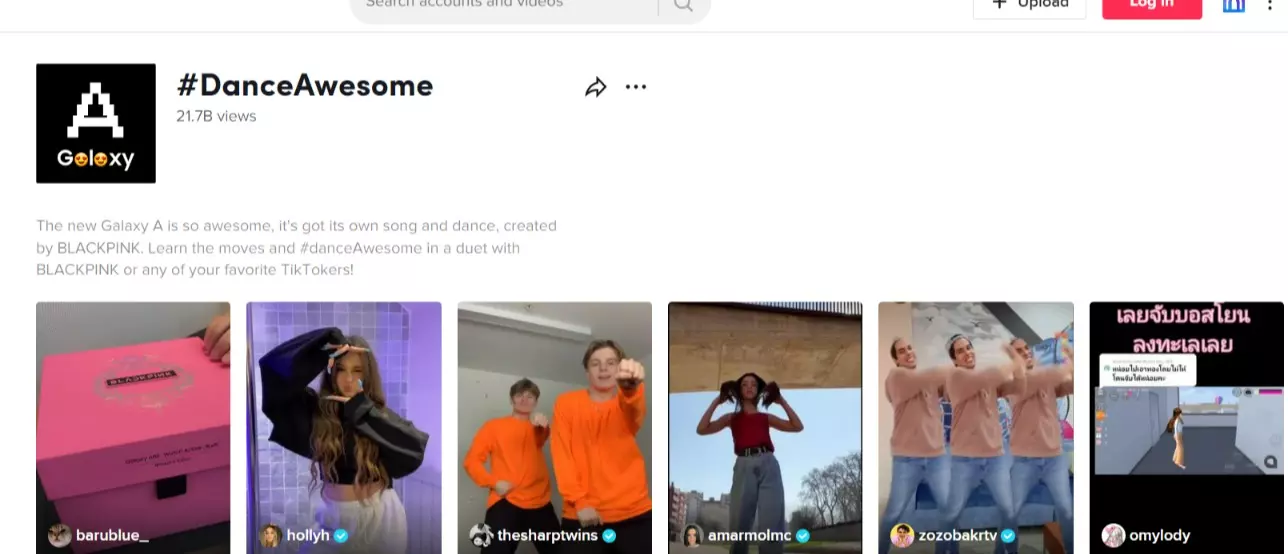 They asked users to use the hashtag #DanceAwesome and capture and share a dancing video. This campaign generated over 21.7B views and 5M+ UGC videos.
Conclusion
TikTok is an excellent platform for businesses to connect with their audience and create engaging content. Businesses can leverage the platform to increase brand awareness and drive conversions.
Using these 10 TikTok content ideas discussed in this article, businesses can create compelling content that resonates with their target audience and grow their business. The key is experimenting with different types of content, consistently providing value to viewers, and increasing engagement.
[ad_2]

Source link