We're living in unprecedented times. As things stretch on, we all have to adapt to this new normal.
For companies, figuring out how to onboard new employees remotely is now a must-do activity.
If your existing staff is already working from home, it's a safe bet your new hires will be as well. But how do you get them up and running without ever setting foot in the office?
Remote onboarding.
But how do you actually go about onboarding remote employees? As Vidyard's VP of Talent, I want to share some of the things my team has learned through our experiences with implementing an onboarding process for remote employees.
Contents1.What is Remote Onboarding?1.1How is Onboarding a Remote Employee Different Than an Office Employee?2.My 13 Top Tips for Onboarding Remote Employees2.1 Design an Onboarding Process That Makes Sense in a Virtual Format2.2 Start 'Preboarding' Ahead of New Hires' First Day2.3 Flip First Day Onboarding into a Video Call2.4 Give New Employees a Checklist (and Include Self-Paced Tasks)2.5 Create Onboarding Videos to Train New Employees2.6 Compile Onboarding and Training Videos in a Hub2.7 Make Yourself as Available as Possible2.8 Pair New Hires with a 'Buddy'2.9 Send New Hires a One-to-One Video Welcome2.10 Get New Hires to Introduce Themselves Through Video2.11 Encourage Virtual Meet and Greets and Coffee Chats2.12 Set New Hires Up for Success with Some 'Easy Wins'2.13 Focus on Showing Them Where to Find What They Need
What is Remote Onboarding?
The purpose of remote onboarding is the same as standard onboarding: Orient a new hire, getting them up to speed and ready to contribute to the team. It's about setting them up with the information and tools they need to be successful. It just happens to take place remotely rather than at an in-office setting or other in-person venue.
How is Onboarding a Remote Employee Different Than an Office Employee?
Short answer: It isn't. Except when it is.
You should try, as much as possible, to deliver the same experience to remotely-onboarded employees as you do to ones who go through the process in your office.
Consider that your employees may need extra support, especially as they won't have the option to simply tap their desk mates on the shoulder to ask a question.
I'll go into more detail about what you need to consider to successfully onboard remote employees in the rest of this post.

Securely Onboard New Employees


Need to securely onboard new hires remotely? Use Vidyard's new internal comms video tool FREE until June 30.
Learn More
My 13 Top Tips for Onboarding Remote Employees
Onboarding remote employees can be stressful, especially if you're not used to it.
With an office in Vancouver and remote employees across the U.S., Vidyard has always done remote onboarding to some extent.
What we didn't expect with this change in circumstances was how much more difficult remote onboarding would be when those delivering the onboarding were also remote. It was a different thing entirely.
There are parts of this process that we already do well and other things that we're learning as we go. I pulled together some of my top tips based on what the Vidyard team has learned from our experiences with remote onboarding.
1. Design an Onboarding Process That Makes Sense in a Virtual Format
To onboard a remote employee, you need to create an organized process—even more so than with typical in-person onboarding.
This applies not only to your employees' first day orientation, but also to any preboarding or ongoing activities you set up for them.
Design your flow of information so that you deliver the key information your new hire needs immediately, but avoid overwhelming them by sharing everything all at once. Remember that you can drip the information out over time, across their first weeks at your organization.
We recently scraped a lot of unnecessary information out of our first day orientation. It's all important stuff, but we realized that our new hires don't need to know it on day one, and trying to deliver it all to them at once meant they were less likely to remember any of it.
2. Start 'Preboarding' Ahead of New Hires' First Day
Vidyard has a very high-touch preboarding process, regardless of the format of our actual onboarding.
From the time a new hire signs their offer letter, we communicate with them often. To shift to remote onboarding, we upped the frequency of these communications, created detailed schedules, and tried to be as transparent as possible about what to expect.
One of our biggest challenges here was in getting our new employees all the equipment they'd need. Because they're remote, we needed to do this ahead of their first day so they'd have everything they need to get started.
Our systems analyst and IT team did a fantastic job of putting together tech packages, providing new hires with setup information, and shipping everything out so it would arrive in plenty of time before their first day.
We also sent all of our new hires a more standard welcome package including company swag like stickers, notebooks, and t-shirts—all of the things you'd usually get on your first day at Vidyard.
See It in Action
In this short preboarding video, Talent Acquisition Lead Sarah Solecky and Talent Operations Specialist Emily Miller welcome new hires to the company and let them know what to expect ahead of their first day.
3. Flip First Day Onboarding into a Video Call
If you can't be in person, do the next best thing: Video.
Because first day onboarding should have plenty of room for questions and two-way interaction, you'll want to use a synchronous video conferencing solution, like Zoom.
Be mindful of including frequent breaks. You won't be in the same space as your new hires, so it'll be harder to pick up on visual cues to know when they're beginning to glaze over or are in desperate need of a coffee refill.
As often as possible, ask what questions your new hires have about the material you're sharing. Giving them this space is critical as it may be tougher for you to tell on a call when someone needs clarification.
See It in Action
This screenshot shows you what one of our first remote employee onboarding sessions looked like.
Talent Operations Specialist Emily Miller ran it using Zoom. Each new hire, along with the talent and IT employees responsible for training them, joined from home.
4. Give New Employees a Checklist (and Include Self-Paced Tasks)
All of our new hires (including the ones we onboard in-person) get a checklist of tasks to complete at their own pace during their first month at Vidyard.
It's full of supplementary content that will give them a well-rounded knowledge of Vidyard, including information about the platform, different departments, and company history.
When onboarding remote employees, we still share this same checklist. The only major difference is that we strongly encourage our new hires to reach out and ask questions (even more so than usual).
5. Create Onboarding Videos to Train New Employees
Not all of your onboarding has to be live. For each thing you're trying to teach or share with your new employees, think about the best method for delivering that information.
In many cases, the best option is video content that new hires can watch at their own pace and revisit later if they need a refresher.
An added benefit of video is being able to involve people in the onboarding process who likely wouldn't have the bandwidth to make your live session every single time. Executives and leaders from other teams can introduce themselves and share critical information with new hires once, then you can reuse it over and over again.
See It in Actin
In this video from our onboarding hub, Vidyard CEO Michael Litt walks new employees through Vidyard's origin story including some fun facts about the company's early days.
Video also presents the perfect opportunity to add some fun into your onboarding. For instance, you could try making some of your training videos into skits or adding in humor to keep viewers engaged.
When our legal team needed to update Vidyard's code of conduct training, they decided to get creative. They went with a Law & Order theme, where people with their identity masked asked ethical questions. The legal team, dressed in robes and barristers' wigs, answered each question. It made what could have been a very dry document into an engaging playlist of videos.
And not every video needs to be highly produced. While you may want some of your content to be more polished, it's perfectly fine to include simple webcam or screenshare videos from different members of your team. Try using a tool like the Vidyard Chrome extension to quickly and easily record videos and use them in your onboarding—for free.
Create Videos Quickly—For Free
Easily record and share videos.
6. Compile Onboarding and Training Videos in a Hub
Video content is a great way for people to learn new things in an engaging way. In addition to synchronous video conferencing, put together a playlist or video hub that your new hire can watch at their own pace. Depending on how much sensitive or confidential information is included in your onboarding, you may want to consider using a secure video sharing solution.
If you've got an intranet, you can create a page with all of your training resources and include your videos content there.
This allows you to put critical training all in one place. And, if you use a tool like Vidyard, you may even be able to get view notifications that'll let you know when your new employees have watched (or even rewatched) video content.
View notifications give you the info you need to be able to confirm that mandated training has been completed, so you know when to follow up. For instance, if a new employee has watched the same video several times, they may be confused or uncertain about something in the content. That's a great opportunity for you to check in and see if they have any questions about the material.
See It in Action
Here's a screenshot of our own employee onboarding video hub. It includes videos from our executives, company culture videos, health and safety training, product training, and more.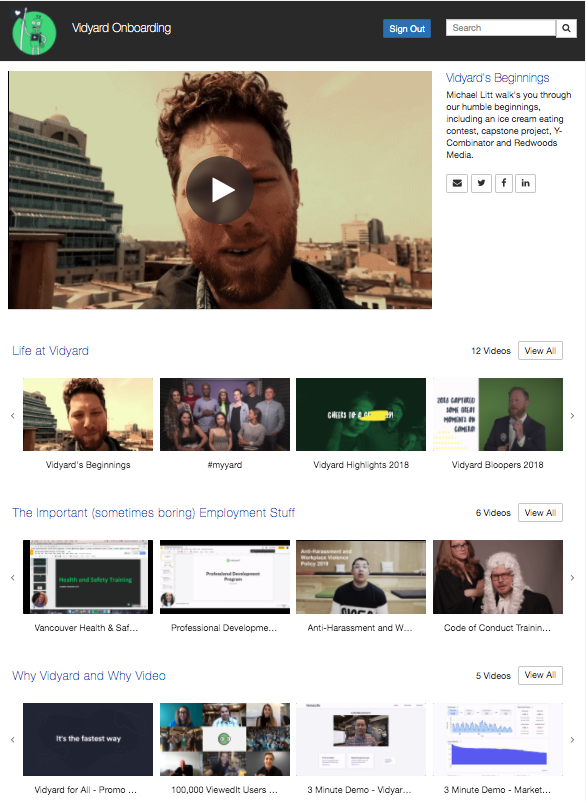 7. Make Yourself as Available as Possible
Starting a new job is always stressful. Starting one remotely even more so. Ensure your new hire feels supported by making sure they have contact info for the right people at the company across multiple channels.
Whether you're a hiring manager or a member of the human resources or talent team, new hires (especially remote ones) should know how to get in touch with you.
Make yourself available on as many channels as possible. For instance, via video conferencing, email, a chat platform (like Slack), and even by text message or phone call.
Encourage managers to schedule regular check-ins with new employees. Rather than an hour-long one-to-one meeting each week, consider setting up a 15-minute call each day for the first week or two. That way new hires know they have a dedicated window of time where they can reach their manager and ask questions.
8. Pair New Hires with a 'Buddy'
At Vidyard, we have something called the V-Buddy program. We pair all of our new hires with an existing employee volunteer (typically from a different team or department) to provide them with an extra layer of peer support.
V-Buddies can assist new hires with small, non-role-specific culture stuff, like taking them on a building tour, introducing them to other Vidyardians, and recommending interest-based Slack channels to join.
As we shift to remote onboarding, we're moving this program to a fully virtual format. Part of that is making sure that V-Buddies get in touch prior to a new employee's first day. Many are now doing coffee chat calls and even sitting in on meet and greet meetings as a familiar face.
See It in Action
Pim Vermeyden, Software Developer at Vidyard, is a frequent V-Buddy. In this short video, he welcomes new design team hire Kadi Koroma. Kadi was one of the first new employees to go through our fully remote onboarding process.
9. Send New Hires a One-to-One Video Welcome
Recording and sending your new hire a personal video message takes less than two minutes, but can have a huge impact.
And that doesn't just apply to the talent team and hiring managers, anyone from your organization can do it.
Consider asking your new hire's teammates to send them a video welcome introducing themselves and letting them know that they're excited to work together.
It feels AWESOME when someone takes the time to make a video just for you and it can go a long way towards making your new employee feel at home.
And the best part is, it takes hardly any time. If you've got a packed schedule that wouldn't have room for a 15 or 20-minute phone call, a video message is a great alternative that keeps the human element while saving you precious time.
Create Videos Quickly—For Free
Easily record and share videos.
10. Get New Hires to Introduce Themselves Through Video
Ask new hires to make a video introducing themselves sometime during their first couple of days with your organization (or even right before their first day).
They can share their intro video in any communications channels their team uses (for instance a dedicated team chat in Slack) or even company-wide.
In addition to introducing themselves and their role, new employees can share some other information to help the team get to know them. Ideas include:
Where they worked before
Where they're from
Their favorite hobbies and interests
Their spouses, children, or pets
Their favorite movies, TV shows, books, or video games
This is a great way to help your existing employees get to know your new hire and connect with them.
11. Encourage Virtual Meet and Greets and Coffee Chats
Because remote onboarding means new employees won't be touring the office and meeting people in person, we looked for ways to replicate that experience.
We've asked hiring managers to create a list of people for a new hire to do virtual coffee chats with. This typically includes their immediate team as well as any people they might work with cross-functionally on a regular basis.
Raj Sidhu, Art and Design Director, had a new visual designer join the team through our remote onboarding system. He set up a first day team meet and greet after her first day onboarding was complete. The team pulled up a random question generator and used the unusual questions it suggested as a fun icebreaker activity.
Because Raj's team works on different squads with the product development team (rather than with one another), he's also set up "donut chats" just for his team. He hopes this will ensure they all have the opportunity to continue having "hallway conversations," even while they're all remote. It's especially important for new additions to the team who haven't had the chance to build relationships yet.
12. Set New Hires Up for Success with Some 'Easy Wins'
The sooner an employee connects with their role and feels like they're contributing, the more likely they are to feel settled in and engaged.
That's why I encourage hiring managers to look for "easy wins" for new hires. These are things that are within the new employee's skill set that you're confident they'll be able to do and do well.
Find a few of these that can be completed within their first few weeks or months of time at your organization. It can help build their confidence in their new role and feel like they're contributing to their team.
For instance, sometimes I'll ask for their feedback on something, then implement their suggestions and recommendations and thank them for their help.
13. Focus on Showing Them Where to Find What They Need
The onboarding process can't (and probably shouldn't try to) teach new hires every single thing they need to know to work at your organization.
Rather than trying to teach them everything at once, focus on showing them where to find the answers or information they need, when they need them.
This is where having a checklist, video hub, and intranet really comes in handy. We have a page on Confluence dedicated to new hires that includes a ton of useful resources (including a link to our onboarding video hub with all of our video training materials).
In addition to showing them where to find the information they need, make sure they know who to talk to or where to go to get help if they need it. Depending on the topic, this might be their manager, a help desk email, or even a dedicated help channel in your team messaging solution.

Securely Onboard New Employees


Need to securely onboard new hires remotely? Use Vidyard's new internal comms video tool FREE until June 30.
Learn More
The post 13 Things We've Learned About Onboarding Remote Employees appeared first on Vidyard.
Read more: vidyard.com