Everyone knows that happy employees are more productive. And there are many ways for a company to show its appreciation to the people who make things happen—as well as to their business partners and customers. Company swag is definitely one of them.
But there's a thin line between ordinary and amazing company swag. So what do the top swag ideas have in common? The perfect items are those that make people feel truly seen. That's why it's worth putting some thought into it and researching the best ideas for your company's swag store or corporate gifts.
Luckily for you, we've already done it. Here's our list of creative, useful, and unique company swag ideas that'll help you express gratitude for your team and create an important bond as a brand.
What is company swag?
Company swag is a type of merch made by businesses as a marketing tool for their teams, partners, or customers to create or reinforce the connection between them and the brand. Examples of products used as company swag are clothes, fashion and tech accessories, cosmetics, stationary, and home & living items. Effective company swag should be engaging, personalized, and good quality to generate positive feelings towards the brand.
Cool company swag 
Who doesn't love receiving gifts? Almost no one. But the excitement of opening a present can quickly fade if you find out the person who's giving it didn't really put much effort in when choosing it. Sometimes, that's even worse than getting no gifts at all.
On the other hand, getting a cool, original gift creates a fond memory that'll warm your heart whenever you remember the moment. The same is true for company swag.
Get the affection and admiration of your employees, partners, and clients with these cool company swag ideas. 
1. Premium t-shirts
People walking around proudly wearing your logo is a dream for many business owners. But unless your company has reached the status of brands like Coca-Cola, you might need an extra effort to make it happen.
If you're thinking about t-shirts, be smart and make them high quality in both material and design. Stylish premium T-shirts, like this one by Adobe Illustrator, are more likely to be worn than just regular tees with a brand name printed on them.
Source: Adobe Store
Before buying your custom swag, pay attention to details like fabric and customization options. If possible, order a sample of your branded swag beforehand. 
Learn more: 50 T-Shirt Design Ideas for Every Occasion
Pro tip: with print-on-demand, you don't need to worry about minimum orders and can even make exclusive designs for different groups of employees or customers.
2. Hoodies
Loved by tech companies, hoodies are a staple piece for modern teams around the globe. More than making your colleagues look snazzy, they can create a sense of community for everyone to feel more comfortable at work. 
Instead of just applying your logo to the chest or back of the hoodie, put on your thinking hat—or hood—and create an original print design. Use your color palette and make this custom swag item a true statement of your company's personality.
Looking for hoodie design ideas? Check these gems by Disney.
You might think: isn't this just a logo applied to a hoodie? Not really. What makes this example interesting is the way Disney used color blocking to create a modern design with sleeves in different colors and the hood matching the logo's background.
Source: Disney Store
We also love how they used the printed back and sleeves for their 100 anniversary special edition, commemorating one of the most iconic moments for anyone who visits Disney—the fireworks shows.
Source: Disney Store 
3. Embroidered caps
Usually associated with dads or sports, hats can be an amazing company swag idea, no matter what your business is. Explore different styles of hats to find the one that'll turn heads and make your brand stand out from the crowd.
Apply your company's name or logo on the front, sides, or back of the cap and use the embroidery technique to create a 3D effect. Check out how sleek Hubspot's cap turned out with a same-color thread. 
Source: Hubspot
4. Mugs
Mugs might not be one of the most creative company swag ideas ever, but they're definitely one of the most useful ones! No wonder major companies like Facebook—now Meta—include mugs in their company swag.
To make it more unique, add some color inside or go for a distinctive model, like an enamel mug.
Source: eBay
5. Sneakers
If you want your company swag to find its way into your community's heart, you really have to understand them, to walk in their shoes. And speaking of shoes, how pleased would colleagues and customers be to get branded sneakers?
These cool styles inspired by LinkedIn look amazing. Someone give those designers a good recommendation and a raise, please!
Source: The Sole Revival
6. Socks
We know you're looking for that awesome company swag idea that'll knock your team's socks off. But what if you give them some to put on? Forget the basics and experiment with all-over print patterns to make company swag that's as fun as it is cozy.
Source: Twitter
Source: Pinterest
7. Laptop cases
Is your team working from home? Help your remote employees protect their equipment with some custom laptop cases. Instead of customizing them with your company logo only, try a sentence or quote that contextualizes the swag according to your field or type of work.
Source: Tee Public
8. Stickers
Stickers are also a great way of personalizing company equipment and making the work environment more upbeat. They're also really cost-effective and can be easily added to any swag box your company creates throughout the year.
Feeling inspired? Design a collection and put them in a sheet. Besides being playful, these company swag items can be highly collectible.
Source: Coke Store
Find more inspiration for custom stickers in our blog post 39 Sticker Ideas: Get Inspired and Design Your Own
Unique company swag
Now we've already explored the basics of company swag, let's dig deeper to find items that are unquestionably unique and have the power of wowing whomever they reach.
9. Earphone cases
Are you the type of person who can't properly function without music? You're not alone! In fact, there are probably many people out there who'd love getting earphone cases as swag.
To turn these simple tech accessories into novel company swag, personalize them with different colors and simple, bold designs that rep your business.
Source: Pinterest 
10. Bomber jackets
Few companies can do marketing as magically as Disney, so of course we paid close attention to their merch store to find out what kind of branded swag they've been up to. 
Although there are many products that could be used as inspiration for company swag, one caught our attention: this contemporary bomber jacket. It has the Walt Disney Studios logo on the chest and is embroidered with Mickey Mouse on the back. How fun is that?
Two takeaways we get from this: first, the product itself is super up to date and on trend, and second, adding the mascot gives the item a playful tone. Does your company have a mascot? How about creating one? It's sure to come in handy for swag.
Source: Shop Disney
@media (max-width:768px)
.pf-btn-lg height: 40px; line-height: 38px; min-width: 88px; font-size: 16px;
11. Robes
Yes, you read it right. Personalized robes don't have to be exclusive to 5-star hotels and resorts. We found this "Moment of Zen" style at the Comedy Central Store for fans of The Daily Show with Trevor Noah. Because even the hardest workers need to relax, right?
Source: Comedy Central Store 
12. Fanny packs
After a few years of rest, fanny packs are back to stay (and slay). With the right dose of customization, this in-vogue accessory can become impossible-to-ignore company swag and elevate your brand awareness to another level.
Source: Merchandising Plaza
13. Patches
This 90's trend is stronger than ever, making appearances even in big fashion brands' collections. (If you don't believe me, check Gucci's Patch Remix page). 
While a first idea could be to make patches of your logo and personalize company uniforms, there's always room to explore and be inventive. Google, for instance, did both.
Work-from-home swag
Keeping team spirit and productivity up is one of the biggest challenges for every manager in the world. The mission gets twice as difficult when people are working from home. Swag items can help, though, as they bring a sense of unity and belonging. 
Continue reading to see the best work-from-home swag ideas we've found for you.
14. Notebooks
Although this idea is nothing new, remember there's a reason why the classics never get old.  So note this down: you have nothing to lose when adding a nice notebook to your branded swag bag.
Customize the cover with your company's logo, an inspiring quote, exclusive artwork, or a meaningful photo. Your teammates, partners, and customers are sure to appreciate note-taking in style.
Source: Pinterest
15. Water bottles
Studies show that dehydration negatively affects brain function and focus. So why not help your team stay hydrated during working hours (and after) with a custom water bottle?
Choose a design that's both interesting and relatable like this Chrome Dino Light-Up Water Bottle from the Google Merchandise Store.

Source: Google Merchandise Store
16. Coffee mugs
People might forget to drink the recommended 2L of water a day, but I doubt they'll forget about coffee. It doesn't matter if you're at the office or working from home, for most of us, coffee is an essential part of our day.
Make a mug that they'll love, even if it turns out to be just a decorative desk piece. Get inspired by this Nickelodeon Retro Characters Ceramic Mug and design your own mugs right now using Printful's Design Maker.
Source: Nickelodeon Universe
17. Coasters
I don't know about you but while I was working from home, I started to notice things I hadn't before. Small things I'd never even observed before suddenly started to bother me deeply—like water stains on the furniture. So here's to a fantastic company swag idea that's close to my heart.
Coasters can be underestimated, yet oh so useful. They protect furniture and remind users about your brand or organization. In fact, you know who's in the know about them? The White House! They have their own coasters available at their gift shop. And so should you.
Source: The White House Store 
18. Mouse pads
Another old but gold company swag idea is mouse pads. Can you live without them? Yes. Will your desk look more fun with one of these on it? Of course.
Depending on your business, you can create a design that's also extremely useful, like this mousepad with Office shortcuts. Isn't it great?
Source: Pinterest
Winter swag ideas
No matter what your favorite season is, everyone likes to get cozy when winter rolls around. For cold-weather lovers, solid winter swag is a treat that warms the heart. And for those who don't love the low temperatures, a creative gift can be the just the pick-me-up they need to get in a good mood.
Plus, it's the holiday season! This time of year is the perfect time to increase brand awareness by gifting swag to your team and business partners. Here are some ideas to make the best of the winter season with some custom swag.
19. Embroidered beanies
Believe me, there's a beanie to match anyone's fashion taste. This accessory can go from minimalistic to fashion-forward in just a few tweaks—it all depends on how you combine style, design, and customization.
Check out how the embroidered logo on a knitted beanie worked well for Discord. Use this as swag inspo and think about what design would best rep your brand on a custom beanie.  
20. Custom blankets
It takes a little bit of daring to transform corporate gifts into something entertaining and extra special. Think: an unusual merch idea—like a blanket—and spicing it up with humor. Netflix mixed both and made it perfection.
The brand transformed the trendy expression Netflix and chill into one of the best company swag examples on our list. And the product choice couldn't be more on-brand for a company that's also the perfect partner for lazy hours on the couch.
Source: Unhide 
21. Holiday decor
You probably remember some pretty iconic Coca-Cola holiday commercials from years past. It's almost impossible not to associate the brand with the image of a happy family opening gifts while the snow falls outside the window. Such a well-executed branding strategy wouldn't be complete without a collection of branded holiday decor. That's why they have an entire collection at their merch store.
Personalized holiday ornaments are the perfect call if your brand is also connected to the holiday spirit. It can also be a fun end-of-the-year gift for employees.
Want to make it practical? Consider printing wooden ornaments. They are easy enough to personalize and come out surprisingly creative with the right design. Here's some inspiration from the holiday ads geniuses themselves.
Source: Coca-Cola store 
22. Candles
Candles have made homes warm and welcoming for forever, but that doesn't make them an obvious choice for company swag. With a touch of creativity though, custom candles can be the perfect addition to your winter swag boxes.
Want some design ideas to match your brand? Check out how Netflix adapted a line from this iconic scene from the series Bridgerton. Think about company slogans or inside jokes that'd go great on a candle for your employees or partners.
Source: Netflix Store
Simpler designs can also deliver meaningful messages. ​​ Since candles can transform the ambiance of a space and improve your mood, go the more zen route.
Consider presenting your team with candles that increase focus and creativity. Lovers of self-care products and productivity hack enthusiasts will definitely be into this one.
Source: Etsy
Summer swag ideas
Now, let's dive into the other end of the seasons. For some, summer means joy, free time, and social activities. For others, it's all about staying cool in the heat. Your summer custom swag boxes should be about both—relaxed fun in the sun and helping your team cool off during the hottest workdays.
Here's a list of great swag items that can make the perfect swag bag, promotional products, or team building goodies.
23. Beach towels
For your team, custom towels are the perfect reminder of upcoming beach days, picnics, or dips in the pool. From the marketing side, it's a great opportunity to display your logo in wide proportions. Make the best of it with vivid and colorful designs. 
Towels are also useful for those who love to work up a sweat playing sports. Check how Gatorade capitalized on this, creating a line of beach towels customized with every NFL team. The branded swag is also in line with the company's strategy—PepsiCo and the NFL are longtime partners.
Source: Gatorade Store
24. Tumblers
Staying hydrated is the number one summer rule. If we're talking about drinkware, water bottles might be the first thing that comes to mind, but don't forget about tumblers. They're as easy to customize, but more in the party spirit—throw in any drink you fancy and enjoy a fresh sip on the go.
Take a look at these examples from Google. 
25. Baseball caps
There's no need to explain why baseball caps are the perfect company summer swag choice. But there are some tricks to make them look as far from boring promotional items as possible. 
First, consider embroidered designs to elevate the final result—it'll look more expensive and a lot more fashionable. Second, remember that keeping it simple is the secret for your embroidery design to come out as awesome as you planned.
Just look at how well this Money Heist Korea mask design came out on this embroidered hat  from Netflix.
Source: Netflix Store 
For a more summer-inspired design, check out what Corona went with: simple icons that remind people of the good times they can have while enjoying a beverage on a sunny day. Remember, great company swag should also serve to promote brand awareness.
26. Visors
Here's another headwear item you can explore as summer branded swag. Custom visors may not be as versatile as caps, but they give undeniable vacation vibes. That makes them an excellent choice for perfectly on-theme summer swag boxes.
Keep the visors simple by just adding your logo, or make them playful like McDonald's did with this cute french fries embroidered design.
Source: Smilemakers – McDonald's Branded Merchandise Store
27. Duffle bags
Duffle bags are related to summer in a not-so-obvious way. Your team can use this accessory year-round for fitness or sports gear, to go camping, or just enjoy a weekend away. But in the summer it's great at the beach, going to the pool, or for whatever activities they like to do when the weather is nice.
Think of duffle bags as a way to connect your brand to an adventurous spirit. 
Source: Google Merch Store
28. Slides and flip-flops
It's hard to find an accessory that says summertime more than flip-flops and sandals do. Transforming them into creative company swag can show your company knows a thing or two about corporate gifting: branded swag should be fun and functional. Who doesn't love to have their toes out on a hot day?
See how Modelo took advantage of its summery brand personality to create these sandals inspired by their label graphics.
Source: Modelo Merch Store
29. Swimwear
You might be thinking: could swimwear be an appropriate company swag idea? And we'll ask you: why not? From swim trunks to bikinis and one-pieces, these items are a way of reminding everyone that your brand can be the coolest, even during the warmest days.
Check out this example from Panera Bread. The brand found out that 70% of its fans like eating soup in the summertime, despite the high temperatures. And what'd they do with this interesting info? A swimsuit collection (or Swim soups) that even included a pool float shaped like the chain's famous bread bowl. 
Source: AdWeek
Sustainable corporate swag
Customers are increasingly interested in a green lifestyle, and most likely so is your team. Eco-friendly swag items are a must for any brand that has sustainably-minded values.
Pro tip: use print-on-demand as your fulfillment choice to eliminate unnecessary manufacturing waste. Products are fulfilled only once an order is placed, avoiding excess and unsold inventory.
If you choose Printful as your partner, 80% of our orders are fulfilled and shipped locally. For the environment, that means a reduction in the CO₂ emissions produced when transporting orders.
If you want to learn more about how on-demand manufacturing is a more sustainable model when creating branded swag, take a look at:
And here are some excellent ideas for an eco-friendly collection of branded swag.
30. Tote bags
What's one of the first promotional products that comes to mind when you think of company swag? Tote bags. They're also one of the first products associated with sustainability, helping people reduce the use of plastic bags in grocery stores. 
Now, they're a staple everyday accessory to carry all your personal belongings in style. Plus they're easy to customize and deliver on your brand's sustainability efforts.
This Adobe swag is an example of how to resist the temptation to add your logo to anything and everything. Using a fun set of web icons present in programs like Photoshop, they created a swag item that's far from the norm.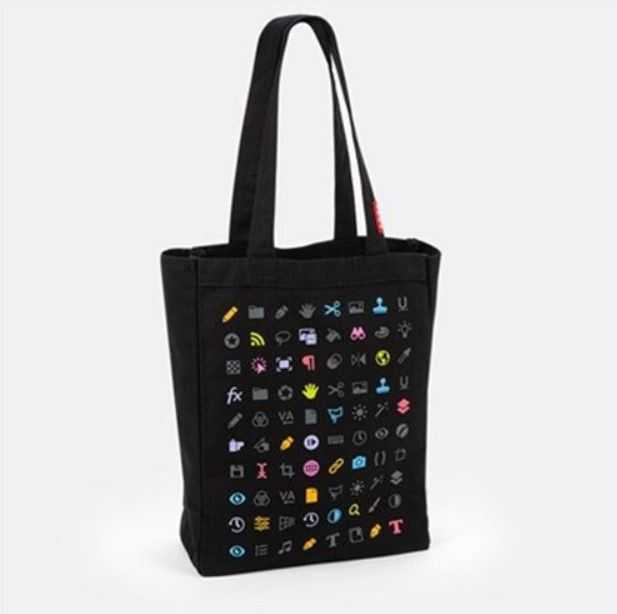 Source: Adobe Store 
31. Eco-friendly t-shirts
For branded apparel, pay attention to the fabric choice. Organic cotton t-shirts and tees made out of fabric blends with recycled polyester are great options.
Go for minimalistic designs and washed finishing to add to an earthy vibe.
32. Eco-friendly sweatshirts and hoodies
Just like t-shirts, eco-friendly sweatshirts and hoodies aim for more sustainable fabrics and fabric blends. Salesforce is a brand that took advantage of this to create a company swag collection with eco options.
Source: Salesforce Store
33. Eco-friendly hats
If sustainability is aligned to your company values, eco-friendly hats are the ultimate company swag you can offer employees, partners, and clients.
Salesforce chose the trucker hat to represent them, but you can also go for caps or bucket hats if they suit your company's style better.
Source: Salesforce
34. Scrunchies
Last but not least, classic scrunchies are an original and eco-friendly swag idea. At Printful, they're made from leftover materials from the manufacturing of other products, reducing waste that ends up in landfills.
Make them fancier by following Coca-Cola's example:
Source: Coke Store
How to choose the best company swag ideas
Now you're probably overwhelmed with so many great company swag ideas—sorry, not sorry. But we want to help you narrow down your options wisely. Here's what you should take into consideration.
Your company's branding strategy comes first
A hat with a logo is just a regular promotional item, but an eco-friendly cap with a slogan can be a way to reinforce your brand's mission and values. It's not always necessary to find expensive, unusual items for your swag box. The best company swag is the one that's most aligned with a consistent message that your brand wants to convey.
For brands with a fun, laid-back personality, creative designs and surprising items are the most effective to reinforce your brand's purpose. For companies focused on environmental and social commitment, what products and materials you choose will be the most important.
Instead of going after trends, think about your branding strategy and your company's internal culture to choose the most suitable custom swag. By doing that, you'll ensure your swag will meet its purpose: to make a statement that helps employees, partners, and customers feel engaged with your brand.
Create company swag that's worth sharing
Company swag unboxing videos are very popular nowadays. Many show onboarding kits new employees get before starting a role in major companies like IBM or Apple. 
The fact that this content is so followed shows that people are interested in both sharing and cheering for company swag. So, when you create your company swag, make sure it's worthy of some social media attention.
Internal buzz also counts! If your swag kit is a topic of excitement and conversation in the office or internal chats, that's a win. And if your company has employees spread around the world or a significant amount of remote workers? Great company swag will make people bond and feel proud of being part of the team. Plus, it'll help your mission of boosting brand awareness. Remember that for your next team building event.
Quality is part of the message
As much as the idea is to create proximity and value, if your company swag is poor quality, that message will inevitably get lost. No one wants to be given products to toss in the back of their drawer, and useless, low-quality promotional items can give the impression that the company is spending money irresponsibly.
Whenever you're choosing your swag, choose durable products that can be used by your employees and partners for a long time. A well-made swag product doesn't have to be expensive to add value to your brand.
Think cost-effectively
There are many ways for your company to create amazing company swag that won't break the bank. One of them is to choose print-on-demand as a fulfillment method. What are the advantages?
Reduced waste – We've said it before but we'll say it again: with print-on-demand, your products are only customized once an order is placed, which just about eliminates problems with unsold stock (and saves you money).

Logistics made easy – A print-on-demand partner like Printful takes care of all the logistics, processing and delivering orders directly to the final receiver, wherever they're located. That way, your company saves time and money with order intake and delivery.

No minimums – Don't worry about how many swag items you'll need to purchase. POD allows you to buy as many or as few items as you want, but still benefit from bulk orders discounts.
So, which company swag items have caught your eye? Share it with us in the comments. 
 
@media (max-width:768px)
.pf-btn-lg height: 40px; line-height: 38px; min-width: 88px; font-size: 16px;