Looking to launch TikTok ads that generate high-value conversions and crush your marketing objectives?
It all starts with effective audience targeting.
If your ads are reaching irrelevant or uninterested TikTok users, it doesn't matter how engaging your creative assets are–they'll struggle to deliver results.
However, if you can leverage advanced data-fuelled tactics to refine your targeting, the sky's the limit for your TikTok marketing campaigns.
In this guide, we'll explore six expert techniques that will help you to identify, reach, and convert profitable audiences with your TikTok advertising.
The importance of effective TikTok audience targeting
Before we deep dive into TikTok targeting strategies, let's take a step back and examine why it's so important to reach the right TikTok audiences.
Here's what it all comes down to: Perfecting your audience targeting is crucial for efficiency.
Every wasted ad impression on TikTok is a missed opportunity for a new click or conversion, which is why accurate targeting is so important.
This ad doesn't have the same impact if it's not reaching new parents.
Effective audience targeting will also enable you to reduce acquisition costs and generate new sales, which will help to enhance your ROI. If you're reaching (and converting) hot prospects at scale, you'll be maximizing the impact of your marketing budget.
The success of every aspect of your TikTok advertising campaigns, from your creative direction to your bidding strategy, hinges on audience targeting. When you're able to put your TikTok ads in front of the right customers, the results will speak for themselves.
6 proven techniques for ultra-effective TikTok ads targeting
Use these data-backed tactics for your TikTok ad targeting.
1. Leverage your existing customer data
Before you start planning your next TikTok campaign, think carefully about the data you currently have on your audience.
If you're running an ecommerce business, you may already be sitting on a goldmine of audience insights and data signals.
For example, you might be able to delve into your internal data to understand the demographic profiles of your existing customers. If you can identify the age, gender, and locations of your most valuable shoppers, then you already have plenty of fuel to power your TikTok ads targeting.
Buyer personas can also help inform your TikTok ads targeting.
You may even spot patterns around products that are appealing to specific types of shoppers, which can also help to shape your creative messaging.
Now, this isn't to say that your future customers will necessarily be identical to your current audience.
You might discover entirely new audience segments on TikTok that are generating huge amounts of revenue, which is the beauty of social media marketing. Plus, experimenting with different targeting tactics is a surefire way to improve results over time.
However, if you can hit the ground running by utilizing your existing customer data to inform your TikTok audiences, you'll be in a good position to drive strong performance.
2. Utilize interest and behavior targeting
TikTok attracts over 830 million monthly active users, which is a jaw-dropping statistic.
On the one hand, this is great news for marketers. You can reach a colossal audience of potential customers, and there's plenty of opportunity for you to scale up your campaigns.
However, this also means that you need to tighten up your TikTok ads targeting as much as possible to avoid high volumes of wasted impressions.
Leveraging interest and behavior targeting is a great way to ensure that you're reaching relevant and receptive TikTok audiences.
Interest targeting allows advertisers to target users based on their long-term interests and passions. You can target audiences based on broad interest categories (e.g. gaming, food, finance) but the TikTok algorithm will also suggest associated interests to broaden reach.
With behavior targeting, you can reach users based on recent actions, such as commenting on a specific profile or sharing a particular type of video content.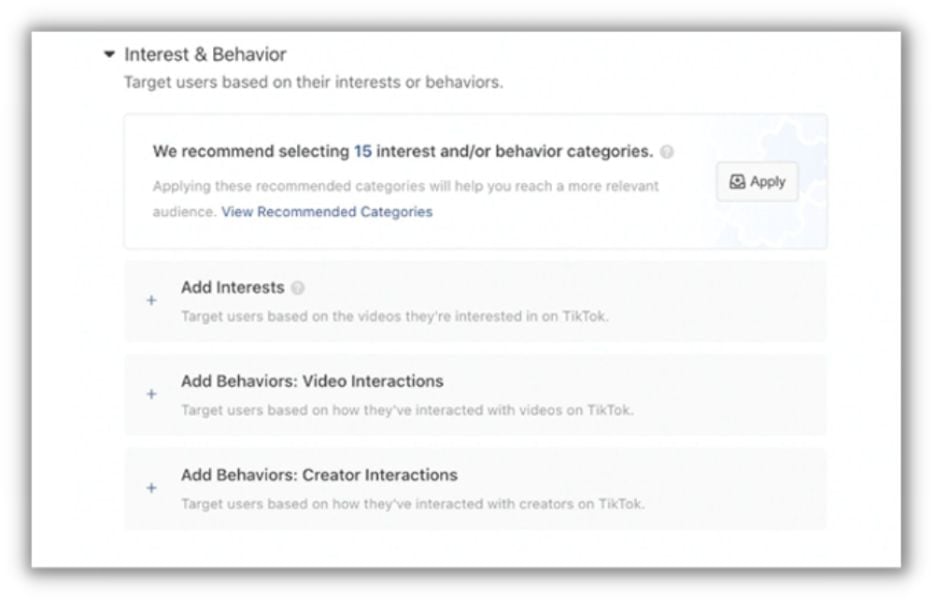 Combining these two strategies will enable you to target relevant (and valuable) audiences.
For instance, if you're a brand selling gym attire, then you could target interest categories such as 'Apparel & Accessories' and 'Sports & Outdoors' to find users that are likely to be interested in your products. You might also target users that have liked videos from well-known gym brands, as there's a good chance that they'll be open to your messaging.
Although these are relatively broad targeting tactics, the TikTok algorithm will be able to identify the best-performing segments within these groups, meaning you can effectively optimize your ads over time to maximize conversions.
Think about it this way–interest and behavior targeting allow you to cast a wide net and reach users that are more likely to be interested in your brand.
Once you've gathered some performance data based on these larger audiences, you can refine your targeting, allow the TikTok algorithm to work its magic, and increase your ROI.
3. Harness the power of Custom Audiences
Custom Audiences are one of the most powerful tools available to advertisers on TikTok.
In basic terms, Custom Audiences allow you to target users that have already interacted with your brand in some way. These audiences are aware of your business, so you can focus on more action-led messaging to drive performance.
That means you can instantly engage hot prospects that are infinitely more likely to purchase your products, which is a game-changer for cost efficiency.
There are several different types of Custom Audiences available on TikTok, and selecting the right strategy is key to success. Marketers can choose to build the following segments:
Customer File: Upload your customer data to match and target TikTok accounts.
Engagement: Retarget users that have previously engaged with your video ads.
App Activity: Retarget users that have completed a specific action within your app.
Lead Generation: Retarget users that have engaged with your Lead Generation ads on TikTok.
Website Traffic: Retarget users that have visited (or taken a specific action on) your website.
All of these retargeting strategies can be extremely effective at generating clicks and conversions since you're reaching users that have already engaged with your business.
When it comes to targeting high-value prospects on TikTok, it doesn't get much better than Custom Audiences.
You can also utilize different Custom Audiences depending on your main objective, but always make sure that you're taking full advantage of these data-driven targeting segments.
4. Capitalize on Lookalike segments
Custom Audiences can deliver outstanding results for TikTok advertisers–but what if we told you that you could make them even more effective?
Lookalike Audiences allow you to effectively extend the reach of your Custom Audiences by identifying and targeting similar users.
The TikTok algorithm will analyze a few common attributes across your Custom Audiences (e.g. operating device, demographics, interests) and locate user groups with the same profiles.
If you've already discovered profitable TikTok audiences, why not make the most of them?
By building Lookalike segments, you can rapidly increase reach while still maintaining a clear focus on quality.
This is a fantastic way to leverage data about your high-value prospects and expand the scale of your TikTok campaigns.
You can use TikTok Lookalike Audiences in a few different ways to drive performance:
At the beginning of a new campaign, launching Lookalikes helps the TikTok algorithm collect audience insights and optimize ads faster.
If you feel like you're peaking in terms of conversion volumes, you can utilize Lookalike Audiences to expand reach and generate incremental sales.
Finally, if campaign performance is beginning to slow down, you can use Lookalikes to stretch out ad delivery and deliver additional impressions.
A combination of data-driven Custom Audiences and tactical Lookalike Audiences is guaranteed to identify cost-effective prospects on TikTok.
5. Analyze performance data and then optimize
Implementing the above targeting strategies will help you to reach and convert valuable TikTok audiences–but if you want to maximize performance, you'll need to stay close to your reporting data.
By constantly analyzing your campaign data and implementing optimizations, you'll be able to focus on your most profitable audiences and significantly improve ROI.
Keep an eye on the delivery of different audience segments to understand your best-performing tactics. Trust what the data is telling you and be decisive with your optimizations.
Don't hesitate to adjust your TikTok ad budgets. Bolster profitable audiences with incremental spend and pause underperforming segments.
Your ideal TikTok audiences are out there–you just need to work diligently and optimize your campaigns until you find them.
To further enhance your TikTok targeting, you should also put TikTok pixel data to good use whenever possible. The pixel will provide you with incredibly useful insights about audience performance, helping you to establish the users that are completing purchases, generating revenue, and driving the best ROI.
Try to avoid making assumptions about your preferred audiences based on clicks alone.
If you dig deeper into your pixel data and calculate the return on ad spend (ROAS) you're seeing from different targeting segments, you'll discover the best-performing audiences in no time.
6. Use A/B testing to fuel superior targeting
One of the fastest ways to enhance your TikTok audience targeting is to utilize A/B testing.
The Split Testing tool (available in the TikTok Ads Manager) allows marketers to quickly set up A/B tests and monitor the results in real time.
By A/B testing different audience segments, you can rapidly compare performance and establish your best-performing strategies. The TikTok platform will ensure that your test audiences run with sufficient (and fair) budgets, and a 'winning' ad group will only be confirmed if the results are statistically significant.
If you're keen to experiment with a new audience targeting strategy, A/B testing is a brilliant way to gather results quickly and efficiently.
However, there are a few best practices to keep in mind when you're planning to launch A/B tests on TikTok.
Don't launch too many tests at the same time, or you may find yourself drowning in data and struggling to make the right adjustments.
Stay diligent with campaign analysis. A/B tests are only effective if you track performance and optimize accordingly, so keep an eye on your reports.
Give the TikTok algorithm space to work. Be patient with your tests, and don't interfere with your audiences until you've gathered reliable data.
Ensure that all of your test audiences have a healthy budget. You'll only be able to gather targeting insights if you have enough campaign data to review!
If you can stick to a consistent TikTok A/B testing strategy, you'll find it much easier to refine your audience targeting and scale up your conversions.
Start targeting the right TikTok audiences with your ads
TikTok can be a highly effective platform for social media marketers, as long as you're equipped with a smart, reactive, and data-driven targeting strategy.
By following all of the best practices in this guide, you'll be able to unlock the full potential of TikTok advertising and discover hugely profitable audiences.
Here are the best strategies for effective TikTok ads targeting:
Leverage your existing customer data  

 

Utilize interest and behavior targeting

 

Harness the power of Custom Audiences

 

Capitalize on Lookalike segments 

 

Analyze performance data and then optimize  

 

Use A/B testing to fuel superior targeting
Tick all of these boxes, and you'll be driving conversions from high-value audiences before you know it.