[ad_1]

Synonymous with online searches, Google is the go-to site for consumers looking to find almost anything. The site currently holds a market share of 92.47%, making its top search page positions invaluable to businesses in all sectors.
While many companies are already focused on promoting their site via SEO strategies, there are a few other ways to get the word out about your business on Google, and Google My Business is one of them.
Google Business page setup is relatively simple and worthwhile.
In this article, we'll show you how to set up a page for your company before taking you through some of the key benefits of doing so.
Benefits of Using Google My Business
When companies create a Google My Business account, they'll instantly benefit from some of the advantages of this free listing.
A Google My Business listing improves visibility on the search giant and shares information with other Google products, meaning the company and its products will appear on Google Maps and Google's shopping pages.
Let's take a closer look at some benefits of using a Google My Business account.
1. Enhances Visibility in Online Searches
Many customers go to Google to search for products or services, with no specific brand or company in mind.
If companies have a Google My Business profile, they are far more visible in search results, and that enhanced visibility could sway customers' toward their brand.
Donna Evans, Founder and business owner of She Moves, said, "Our Google My Business profile is one of the main places people find us, with over 40% of our leads coming directly through there."
Here is more about how the company boosted its visibility using Google My Business.
2. Ensures Consistency of Business Details
Google My Business allows companies to detail all the information customers might be searching for, from their website and phone number to their opening hours.
Not only is this convenient for customers, but it also makes it easier for businesses to ensure consistency across business details available online.
3. Opportunity to Showcase Customer Reviews
Customer reviews can be a powerful marketing tool, so anything that helps brands show off those glowing reviews can easily increase sales. Google My Business does just that, and there's no cost involved in setting it up.
Kelly Montague of luxury jewelry brand Stephen Einhorn said, "Google My Business reviews are key to our success, providing brand acknowledgment and giving customers the confidence to purchase."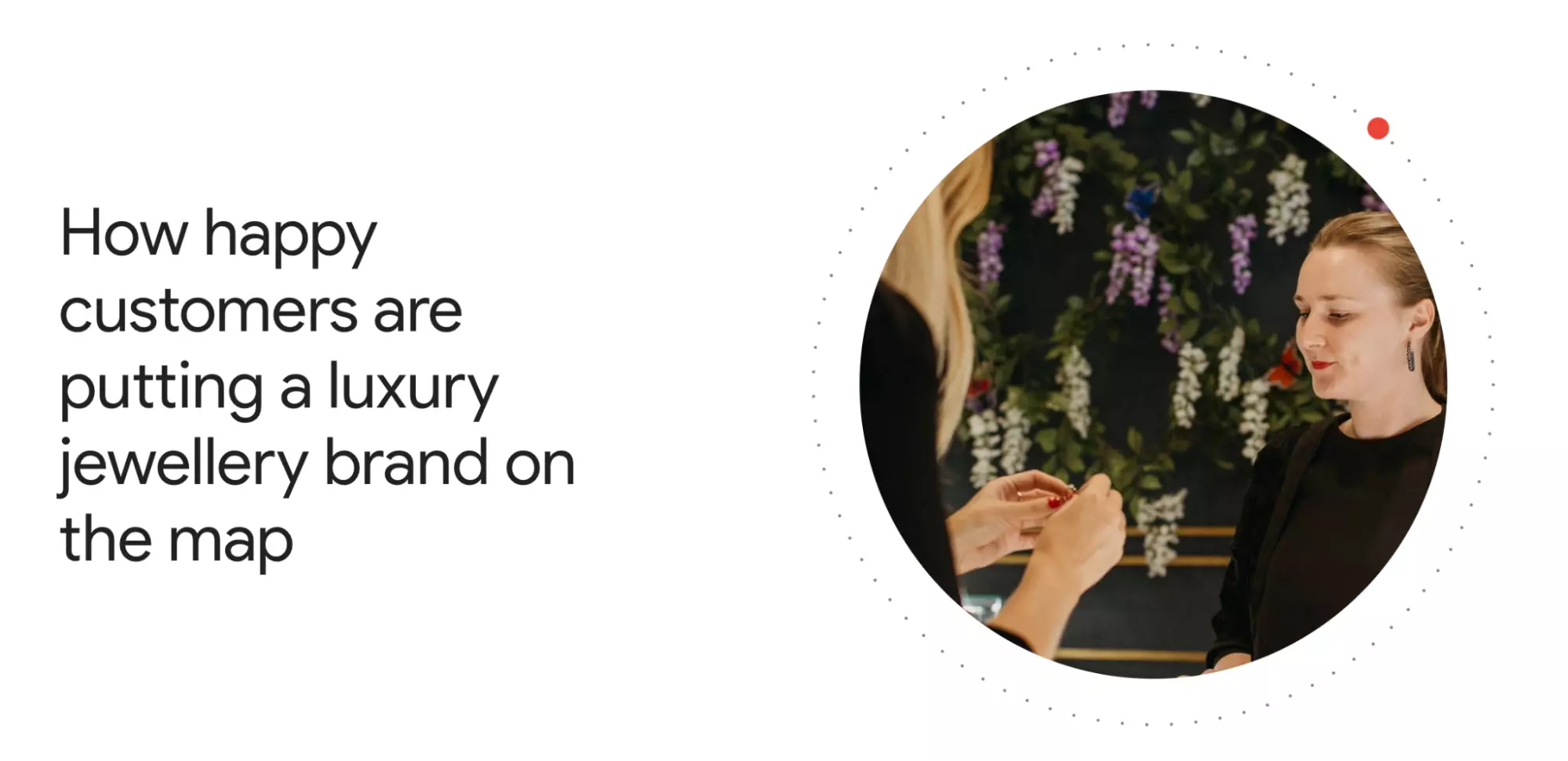 Read more about how the brand benefited from Google My Business reviews here.
4. Businesses Benefit From Customer Insight
Not only are customer reviews great from a marketing perspective, but they are also enormously helpful for brands looking to improve their offering.
Google My Business collects customer feedback in a quick, simple, and user-friendly format.
5. Google My Business Is Great for SEO
SEO strategies get a helping hand from Google My Business because companies that take the time to complete a profile will instantly benefit from better SEO across Google search results.
Now let's talk about google business page setup.
Setting up Google My Business is simple. It won't be long before your listing is up and running, attracting the attention of potential new customers.
Here's how to get started with Google My Business.
1. Open Google Business Profile Manager
All businesses with a Google account will have access to Google Business Profile Manager, which is what you need to set up your Google My Business listing.
If you already have a Google account, it's just a case of logging in and opening Google Business Profile Manager. If you're logged into Google, it will open without you having to enter any further information.
If you don't yet have a Google account, you'll need to start by setting one up. This is a quick and simple sign-up that takes a matter of minutes.
2. Add Your Business to Your Account in Google Business Profile Manager
Once you've got Google Business Profile Manager open, you'll see an option to add a new business to your account.

Find your business and select its name, or click 'add your business' if your company's name doesn't appear automatically in the drop-down options.
3. Request to Add an Existing Business
In some cases, a Google My Business profile might have already been set up for the brand in question. If that's the case, you'll simply need to request access to the profile that already exists. You can click 'request access' and simply follow the steps on the screen.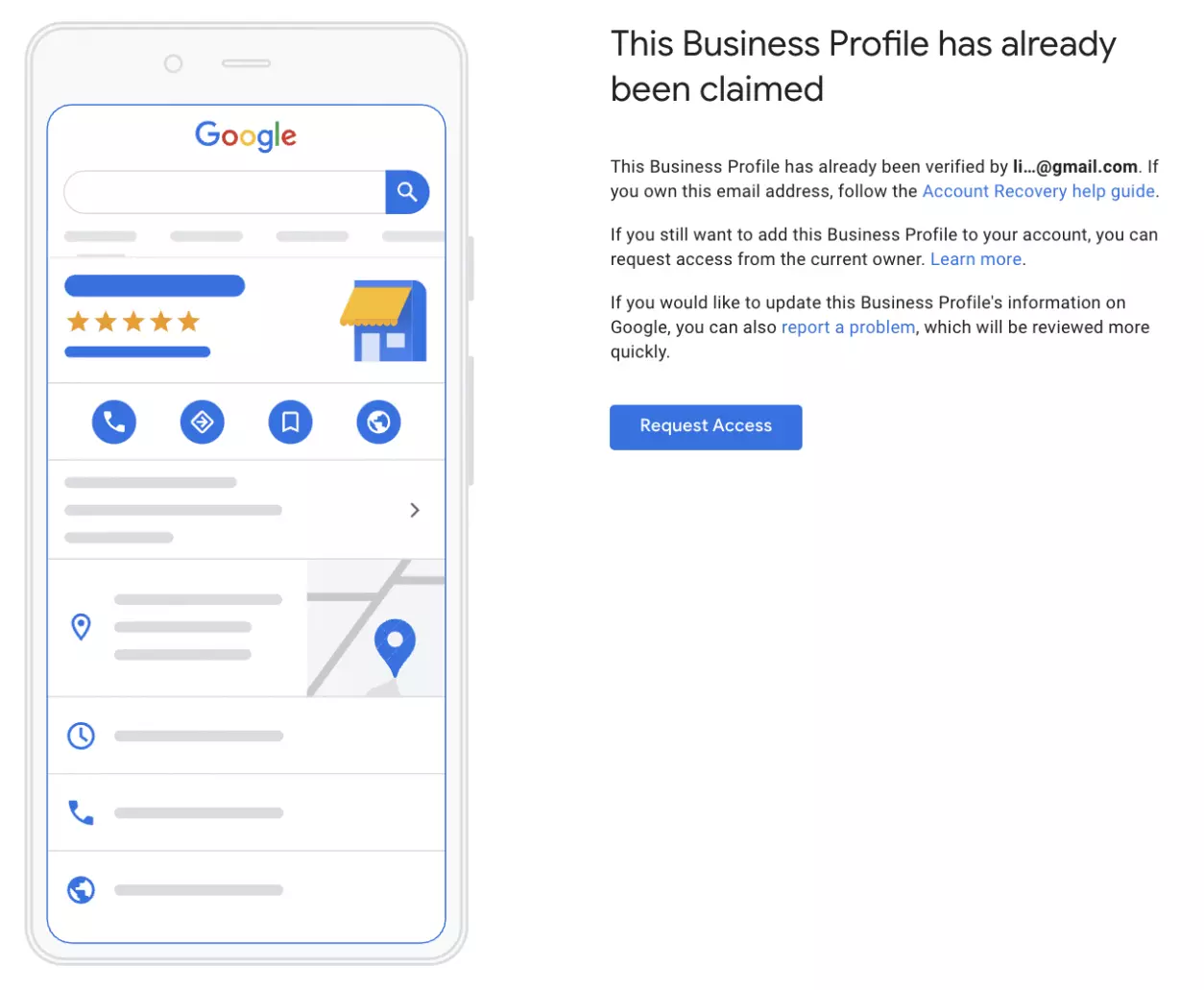 4. Add Your Business Name and Choose a Category
If your business profile is new, you'll need to input the business's name. Use the name your business is commonly known by, avoiding any unnecessary additional information.
Once the business name has been added, you can choose a category for your company.
If you're unsure about the best category at this point, don't worry, you'll be able to edit this later if you find one that fits your brand better.
Click 'next' to move on to the next step.
5. Choose Your Location
One of the key benefits of Google Business page setup is providing your customers with detailed information on your location.
At this point, the setup process will require you to state whether or not your company has a physical premise that customers can visit.
If it does, you'll be asked to input your business address. The site may then ask you to approve the positioning of a marker for your business, which Google Maps will use.
Businesses without a physical store or HQ that customers can access can still proceed through this step. Instead of inputting your location, you might be asked to list the areas your business covers.
6. Add Your Contact Information
All Google My Business listings have contact information for companies, so you'll add this in the next step.
List your business phone number and the email address you'd like potential customers to use. If your company doesn't have a staffed phone line, you can leave this blank. You'll have the opportunity to add a website address here, too.
If you don't yet have a website set up, there's a tickbox you can use to tell Google you don't have a website.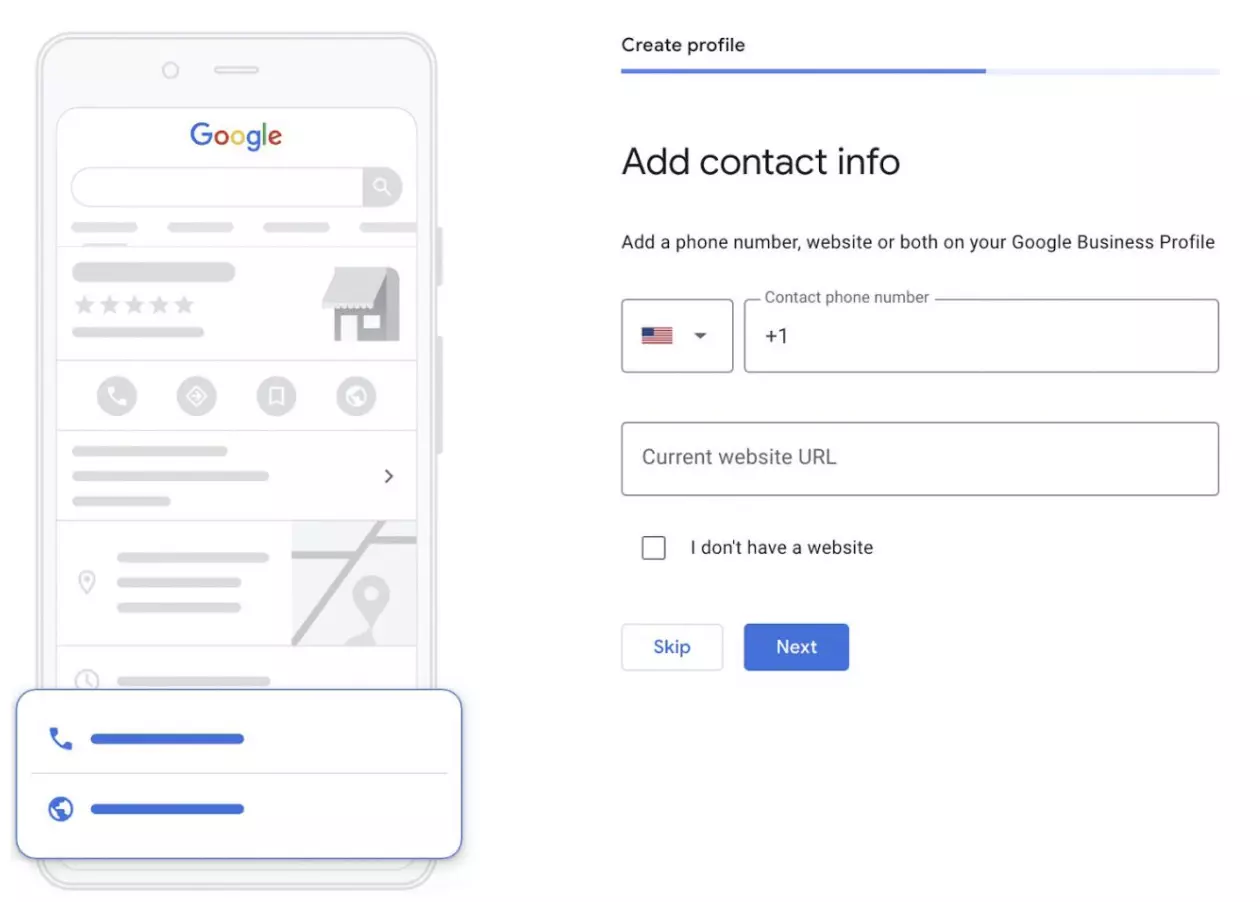 Of course, this information can be updated as soon as a website is created.
7. Choose Whether or Not to Receive Information From Google
At this point, Google will ask you if you want to sign up to receive information and updates.
While there's no requirement to do so, there are significant benefits to ensuring you're always in the know about the latest news from the search giant.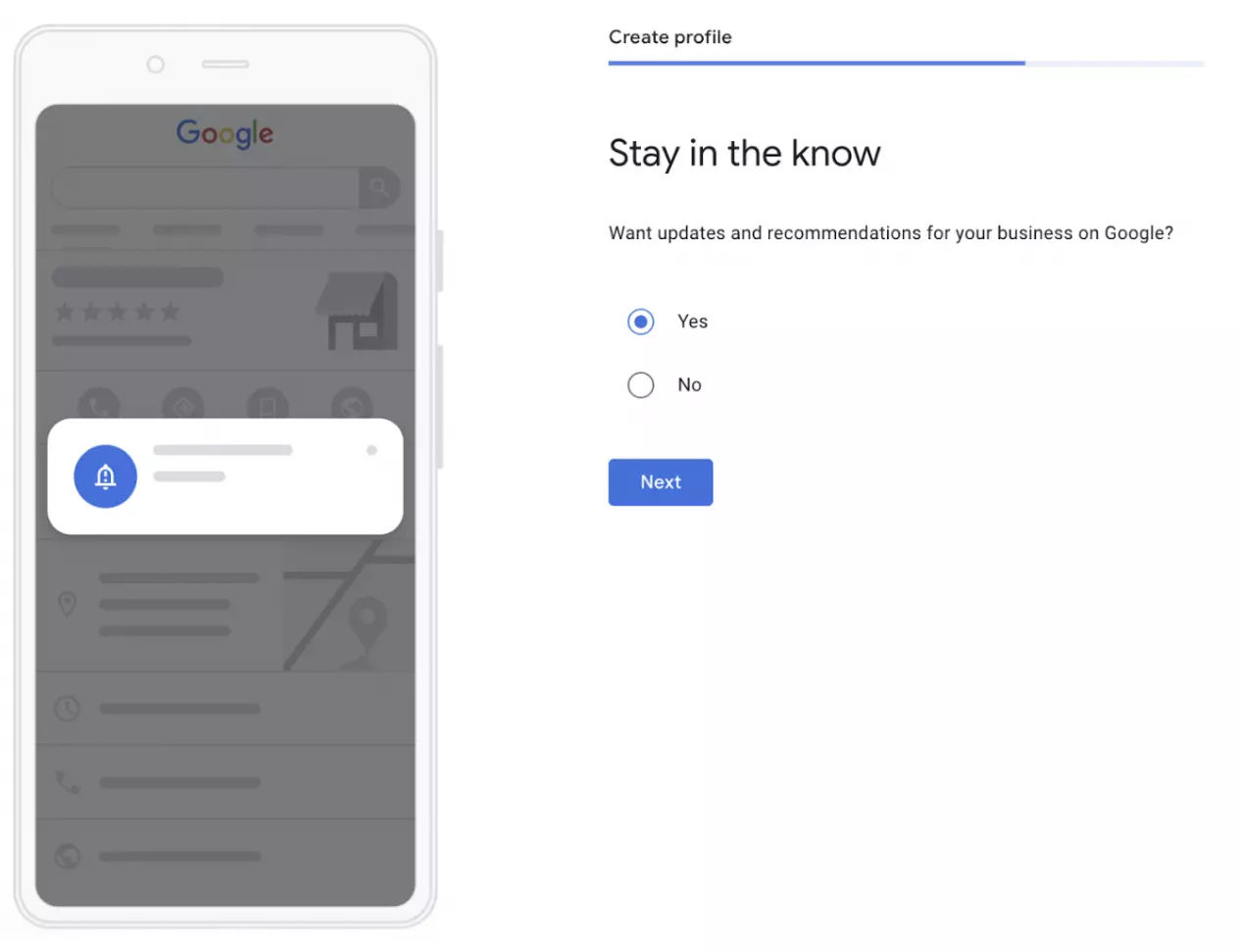 So, we'd recommend you tick this box.
8. Verify Your New Business Listing
The final step is one of the most important. Google will now ask you to verify the accuracy of the information you've provided.
This is done via a verification process. It's the only part of the setup that can take a little time.
You can verify your listing via phone or email if you don't have a physical location. These options aren't available to all businesses, but if you are eligible, you will see one of these or both.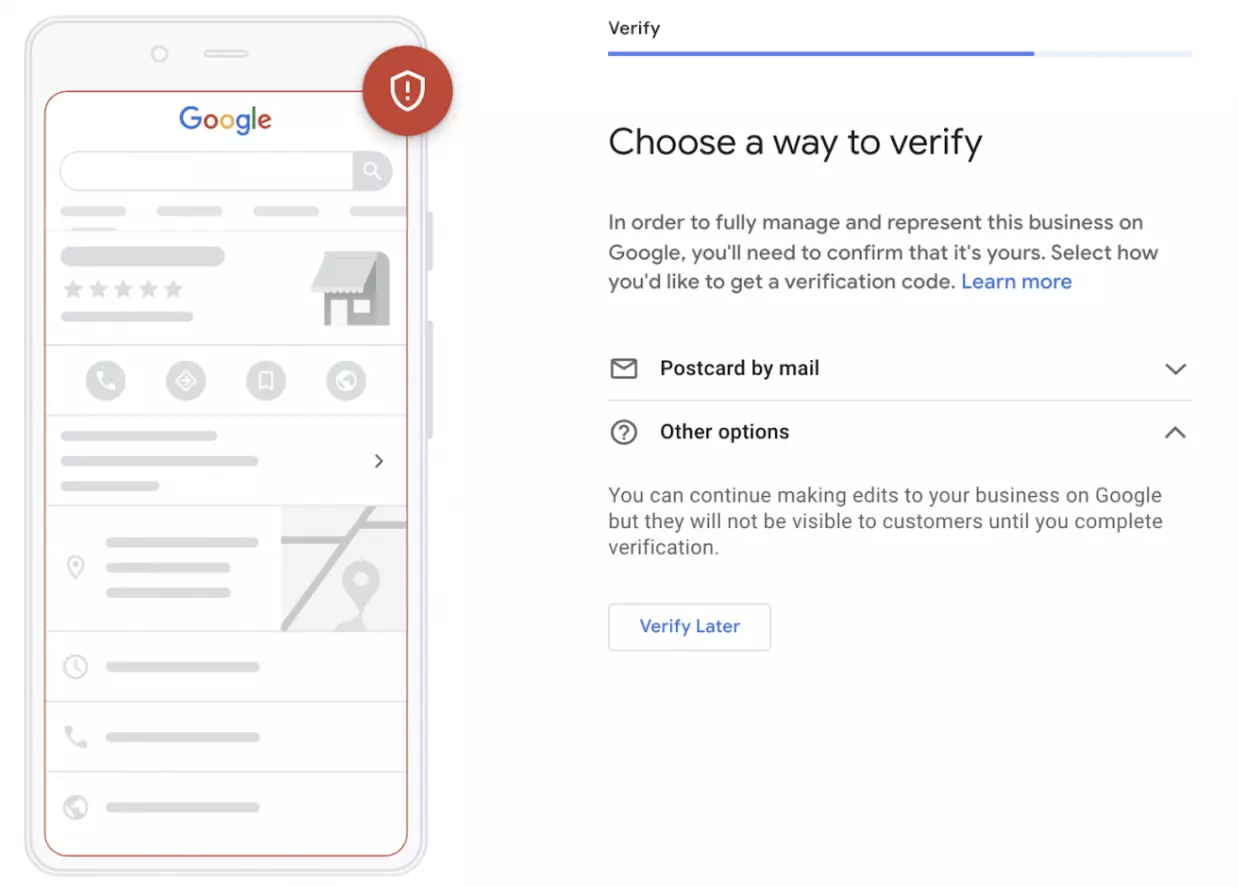 Postcard Verification
Usually, Google sends a postcard to the provided address with a five-digit verification code. This will usually arrive within five working days. Once you've received the postcard and have the verification code, you'll just need to input the number to verify your business.
Phone Verification
If you are eligible to verify your business via phone, you can select this option. You'll receive an automated phone call, telling you your verification number over the phone. You can then input the number to verify your business similarly.
Email Verification
Email verification is another option which is available to some businesses. If you can verify in this way, you can choose to have the verification number emailed to you. The email address must be the same one that's connected to your Google My Business account. Once you receive the number via email, you can input it to complete the verification process.
Best Practices for Google Business Page Setup
Setting up your business page is just the first step.
Once it's up and running, you'll be able to customize your information and add further details to attract more customers. Here's how to do it.
1. Make Sure Your Profile Is Complete
A complete profile on Google My Business can do wonders for your traffic and help you build trust.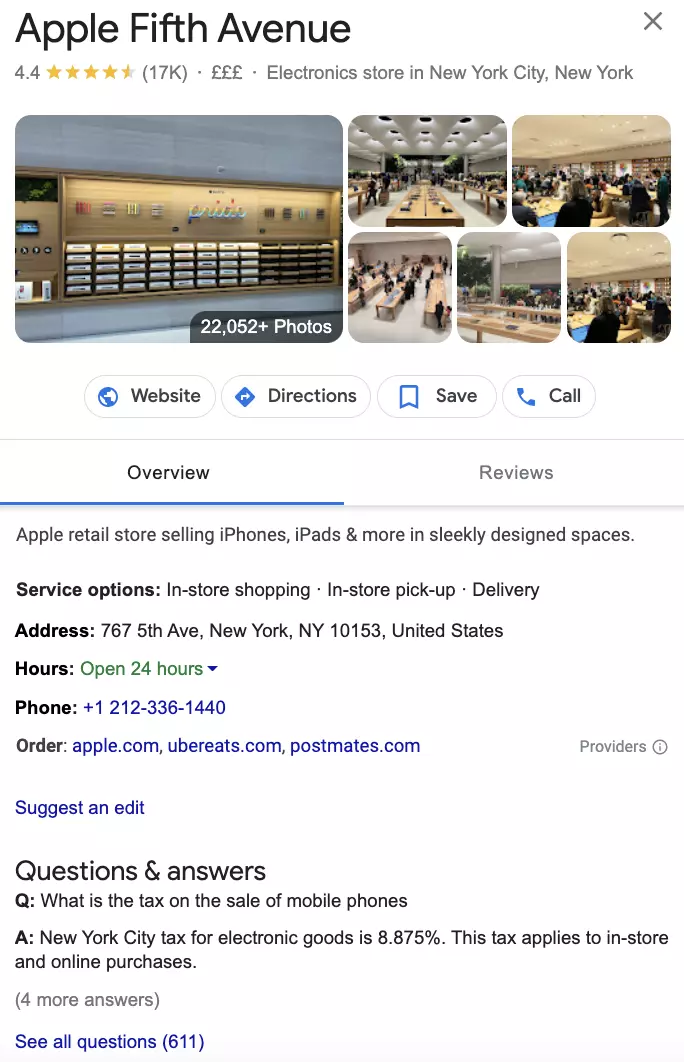 Data released by the search engine reveals that customers are 2.7x more likely to see a business as trustworthy and reputable if its listing is complete. They're also 70% more likely to visit and 50% more likely to consider making a purchase.
There's so much information that you can add beyond where your business is located and when it's open.
Listings allow you to input information about the products and services offered, descriptions of your company, and even in-store photography to give customers an insight into what they can expect.
2. Add Photography and Videos to Inject Some Personality
When you create your Google My Business listing, you'll be asked to upload your logo and an image for your cover photo.
We highly recommend doing so, as customers will be able to recognize your brand at a glance when they spot it on search results. But you can also go one step further by adding photographs and videos to your profile.
Head to the dashboard and select 'photos.' From here, you'll be able to upload photographs from inside your store or your HQ, alongside images of the products or services you're selling and videos of behind-the-scenes tours or product demonstrations.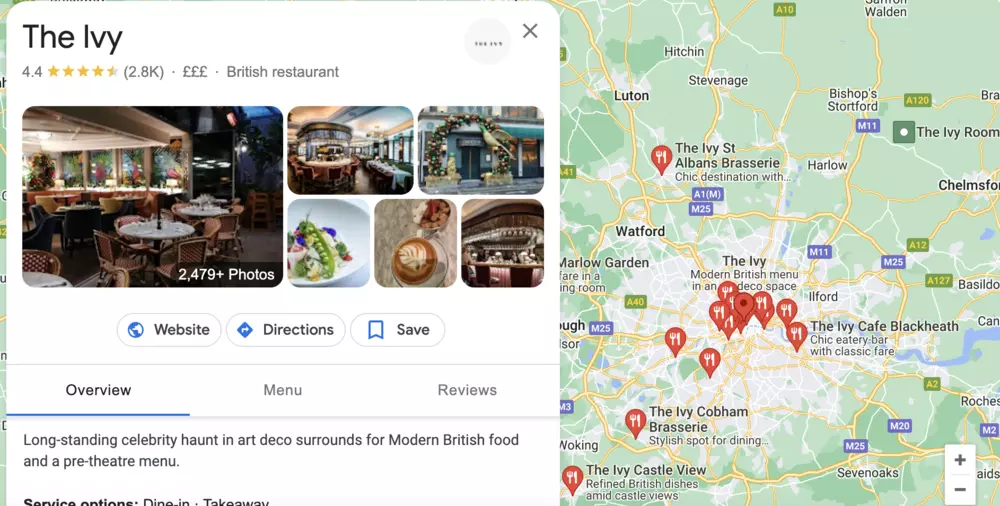 As you can see from the above example, Google My Business provides a golden opportunity to allow potential customers a glimpse inside your business.
High-end restaurants like The Ivy use it to showcase their decor and give future diners an idea of the atmosphere inside. Food photography is also used to tempt potential customers to make a booking.
3. Encourage Customer Reviews
Google My Business is a great way of drawing attention to the positive feedback your company has received.
It allows customers to leave star ratings and more detailed feedback about their experience.
If you're providing a standout service and recent customers are prepared to share the good news about your company, this could make a huge difference to the growth of your brand.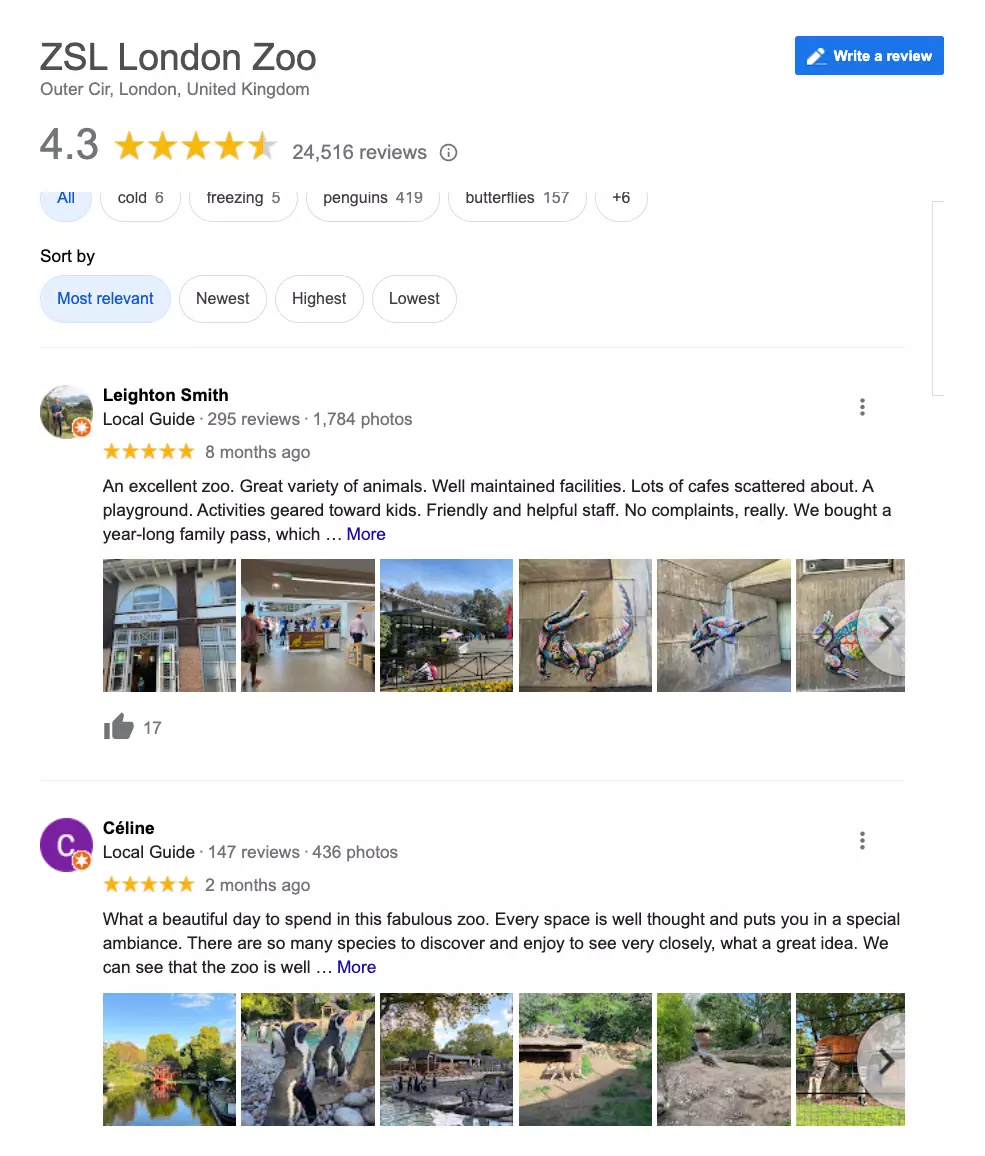 The above example shows how Google My Business is being used for customer reviews by ZSL London Zoo.
The zoo invites its visitors to leave reviews of their day, with many uploading photos of their experience. This hugely powerful marketing tool makes a real difference when it comes to influencing future customers who may be unsure whether or not to visit the attraction.
Of course, even the best businesses will receive negative reviews from time to time. But companies shouldn't be afraid of giving customers a chance to leave their reviews in such a public forum.
Instead, negative feedback should be seen as another opportunity. In this case, it gives businesses a chance to hear customers' concerns, learn from them and make changes to enhance their offering in the future.
4. Use Keyword Research to Optimize Listing Copy
Relevance couldn't be more important on Google My Business.
If you're unsure how to ensure your listing is as relevant as possible, just use your existing keyword research.
No doubt, you'll already have an idea of the keywords most important to your business and your customers. You can use these exact keywords to optimize your Google My Business listing.
If you're unsure of the best keywords to use, it's a good idea to research by monitoring social media and looking into data provided by Google Analytics.
Compile the best keywords for your listing page and incorporate them naturally into your listing copy for the best results.
5. Verify Your Listing
Verified businesses are far more likely to catch the eye of consumers. They appear more often in local search results, which is good news for your local SEO. Moreover, they tend to rank higher on general Google search results pages.
Get Started With Your Google Business Page Setup Right Away
Google My Business provides endless opportunities for companies hoping to get noticed.
Creating a listing is quick, easy, and free, so there's no reason not to get one set up today.
Once your listing is up and running, inject some of your brand's personality alongside your essential business information. This will ensure that all those who stumble upon it are interested enough to visit your website and learn more about your company.
Optimize your listing with keywords, photography, video, and more.
In no time, you'll have a great Google My Business listing that's working hard to pique the interest of potential customers.
[ad_2]

Source link