[ad_1]

That sweet, sweet feeling of setting your Facebook ads live. You sit back, relax, and watch the conversions roll in. But…what if that isn't the case? What if what you see is little-to-no conversions?
How it feels to see your Facebook ads not converting. 
If your Facebook ads aren't converting, know that you're not alone. This happens to more businesses advertising on Facebook than you might think.
It's no secret that there are many intricacies within the Meta Business Manager. From your audience lists, to your Meta pixel, to your ad creative and everything in between, identifying the culprit behind your lack of conversions can feel like finding a needle in a haystack.
Don't beat yourself up if you're staring at the screen asking "Why aren't my Facebook ads converting?" Instead, look at this handy list of reasons why your Facebook ads aren't converting and the steps you can take to get back on track!
Why your Facebook ads aren't converting and how to fix it
Facebook ads not converting for your business? Here are some reasons why and how you can fix them.
1. Your landing page isn't optimized for conversions
The first place to look when your Facebook ads are not converting is your landing page. You could have the best-performing Facebook ads in the world, but if your website isn't optimized for conversions, you'll struggle to see results from your campaigns. When you see your Facebook ads are generating clicks but no conversions, you can assume something went wrong in that transition through your buyer's journey.
How to fix it:
Try to put yourself in the shoes of your ideal customer. Compare your ad and your landing page side by side to ensure you're maintaining consistency in your messaging. You could also use a page speed test, mobile site test, or a website grader tool to ensure your site is loading fast and providing an optimal user experience across devices.
Most importantly, check to see that the conversion actions you're looking for users to complete are clearly communicated on the page. Plus, all actions should be quick and easy to complete. Even if you're leveraging Facebook lead ads, where a viewer doesn't have to click to a landing page to convert, you'll want a simple, short form to make conversions as easy as possible to achieve.
This Facebook ad and its coinciding landing page both promote the same offering: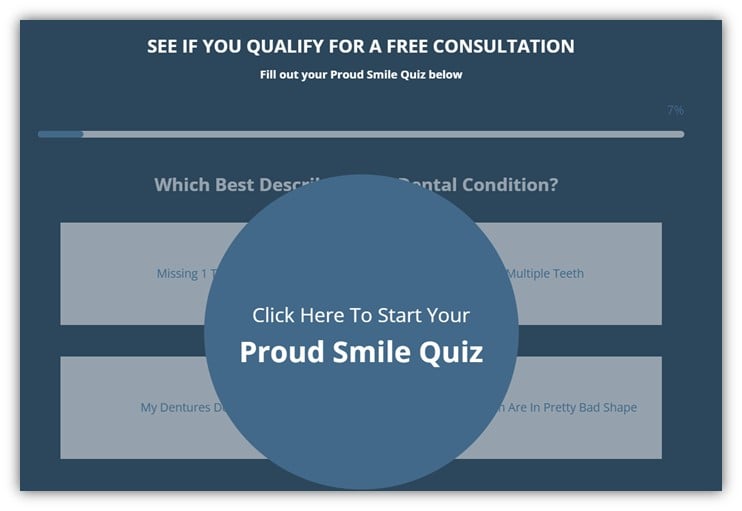 2. Your Meta pixel isn't set up properly
Your Meta pixel (formerly known as Facebook pixel) is the hub for all things tracking and reporting for Facebook ads. It's what connects your Facebook ads to your data sources, such as your website, so your campaigns know which actions to track.
How to fix it:
To check how your Facebook ads conversion tracking is currently set up, navigate to the Events Manager section of your Meta business manager account. There you can see what "events" (a.k.a. conversion actions) you have set in place. From there you will be prompted to fix any conversion tracking issues.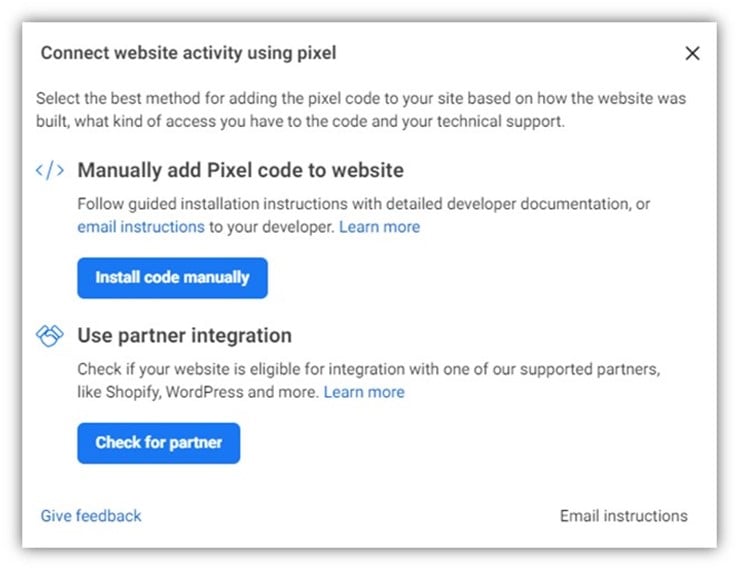 3. Your ad copy is unclear
For every Facebook ad you run, it's important to have a clear action for your target audience to take. If you're not leveraging clear call-to-action phrases, your audience may not understand what's supposed to come next once they see your Facebook ad. This could easily lead to a lack of Facebook ad conversions.
How to fix it:
To avoid your Facebook ads not converting due to poor ad copy, try including power words that inspire users to take action.
Don't be afraid to spell out exactly what conversion action your ad is looking to achieve. You may even need to revisit your goals for Facebook ads to redirect the purpose behind your ad copy. You could also check out other Facebook ad copy examples to draw inspiration for more powerful and purposeful ad copy.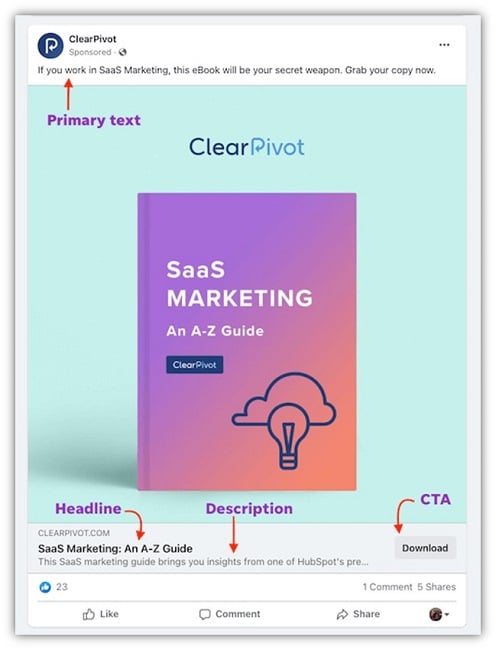 An example Facebook ad with strong copy across all portions of the ad.
4. You're targeting the wrong audience
The people who you think would likely convert off your Facebook ads might be different from the people who will actually become customers of your business. It's important to understand your audience, what resonates with them, and the best way to reach them in order to drive more conversions from your Facebook ads.
How to fix it:
While you may have done some initial research on your target market, try to dig deeper and use a more creative Facebook ads audience targeting strategy.
For example, if you're marketing your higher education program through Facebook ads, you may want to target people whose interests include entertainment like live events. Even though this interest doesn't directly connect with higher education, young adults looking to continue their education likely also enjoy going out to sports games or concerts.
5. Ad fatigue
I think we can all probably understand why ad fatigue might cause your Facebook ads to not convert. Have you ever seen the same ad over and over again to the point where you're sick of seeing it? The last thing you want is to oversaturate your target audience with the same Facebook ad.
How to fix it:
You can check to see if this might be the case in your Facebook ads campaign or ad set report view. Select the delivery column option to see your frequency metric. Frequency is the estimated number of times your average audience member has seen your ad. The higher your Facebook ads frequency, the more often your audience members have seen your ads on more than one occasion.
When your ad frequency creeps up to about 5 to 10, it's usually time for an ad refresh. However, in situations where your targeting is a bit more restricted, like if you were targeting a remarketing list, a higher number for your ad frequency is more common.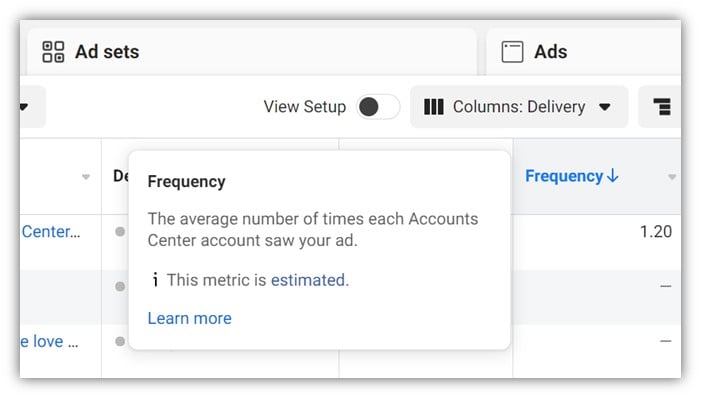 To avoid this Facebook ad conversion killer, try switching up your ad copy regularly once you see your frequency start to creep up. You could make small changes, like A/B testing ad copy, creative, or CTA buttons.
Another option to avoid a high ad frequency is to, of course, switch up your targeting so your ads appear to new users. It's best to have a variety of Facebook ads targeting strategies in your account. For example, you could serve one set of ads to a custom audience and another set to a behavior or interest-based audience. That way, you can trade off different types of ads to different people.
6. Your campaign objective doesn't align with your goals
Believe it or not, the Facebook ads algorithm can help you get your campaigns to convert. You just have to tell it what to do. Your campaign objective indicates to Facebook's machine learning how to best serve your ad.
How to fix it:
If it helps, think of your Facebook ads campaign objectives like you would a Google Ads campaign goal or Google Ads bidding strategy. When you select your Facebook ads campaign objective, you're telling it what you want to optimize for. Facebook ads manager even states that "your campaign objective should align with your overall business goals."
There are tons of different campaign objectives to choose from, so there is no right or wrong answer as to which you end up with. However, it may take some trial and error with a few campaigns to see which objective brings you the most Facebook ads conversions.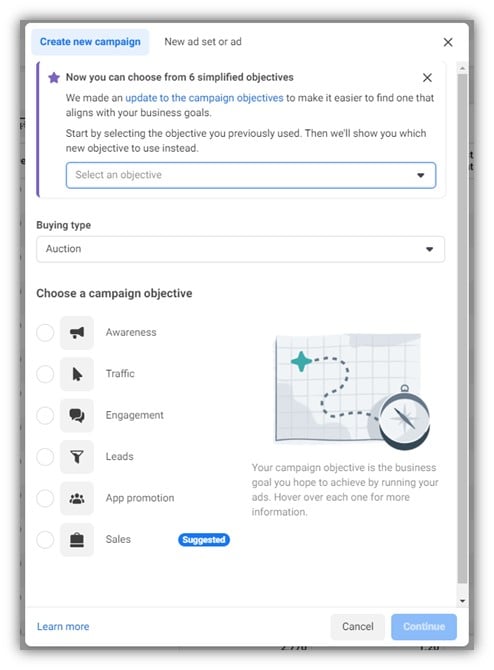 7. Your budget or spending limit is set too low
The common saying "you have to spend money to make money" definitely applies to Facebook ads. While you want to keep your Facebook ad costs in check, you also don't want to limit your campaigns with tight budgets or strict spending limits that could cause your ads to not show.
How to fix it:
If you're using Facebook ads daily budgets with a campaign spending limit, for example, you could run out of budget too quickly each day—limiting your chances for conversions.
Meanwhile, Facebook ads lifetime budgets can cause your campaign to run through its allotted budget before you've maximized your conversion opportunities within a certain timeframe.
You can usually tell this is the cause for a drop in conversions when your budgets and spend limits don't align with your Facebook ads average cost per click. For example, if you have a $10 daily budget, and your average cost per click on Facebook ads is $2, you're only allowing yourself a few chances for someone to click and convert each day.
I know having huge marketing budgets allocated to Facebook ads isn't always feasible, and that's okay! However, it's best to have flexibility with your Facebook ads campaign budgets.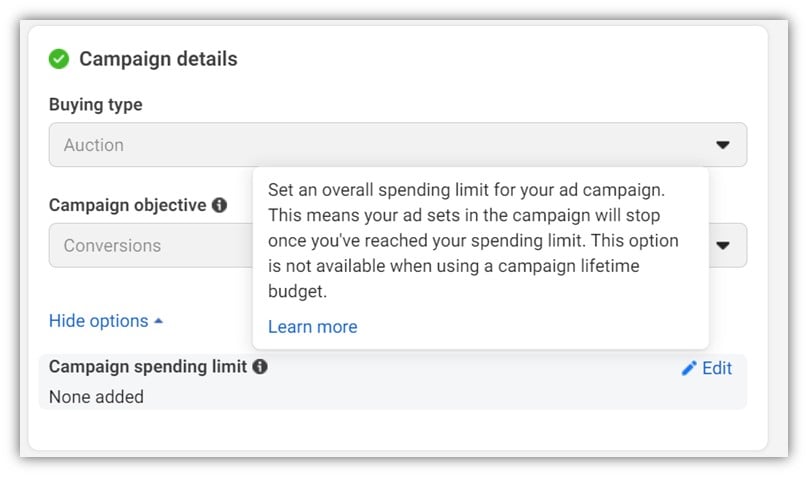 8. You haven't given your ads enough time to convert
I always joke that the hardest part of PPC is patience! Every Facebook ads campaign goes through a "learning period" as it begins to perform. During the learning period, the Facebook ads algorithm is testing how to serve your ad in different ways for maximized results. This can lead to a fluctuation in your results at first.
How to fix it:
The length of your learning period can vary depending on what you're trying to achieve with your campaign. That said, the typical learning period is known to take up to two weeks. Ideally, I try to give campaigns up to 30 days to collect as much data as possible before I make a decision on what may or may not be working.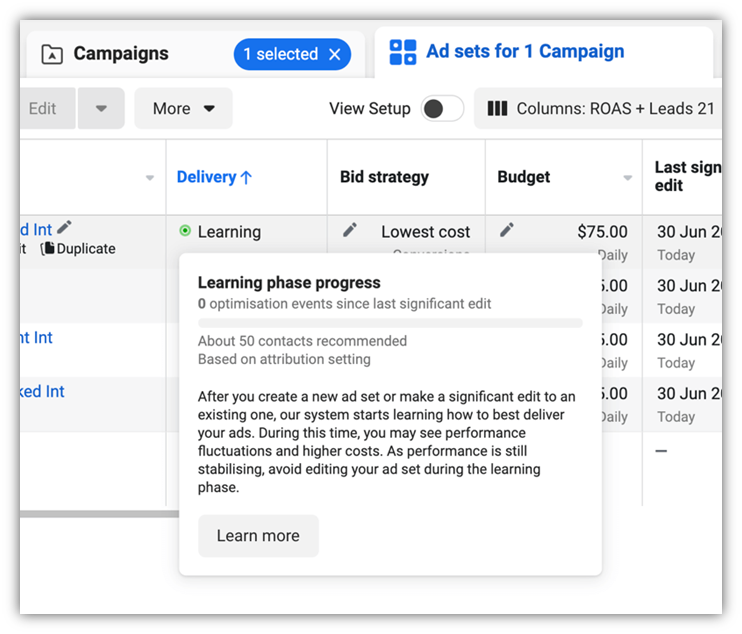 Aside from the learning period, you may find that you have a longer sales cycle. This can, of course, cause your conversion rates to go down as your audience members may need to see an ad multiple times before they take the leap to become a lead. On top of this, we know that people need to see something from your business at least seven times before they commit to a purchasing decision.
9. Your Facebook ads are converting…indirectly
This last reason why your Facebook ads are not converting can be tricky to resolve, but it's helpful to be aware of. Your Facebook ads very well could be effective in moving your prospective customers through your sales funnel, however, they end up converting off another touchpoint down the line.
There's a high likelihood that viewers absorb your Facebook ad but jump to other platforms like Google or YouTube to learn more about your business and ultimately convert.
How to fix it:
Obviously, tracking conversions across platforms is no easy task. However, if you check in on your PPC reporting across platforms regularly, you could take note of any increases in conversions from other marketing channels. If that increase correlates with the dates of your latest Facebook ads campaign, you can assume your Facebook ads are influencing your customers.
Additionally, you could set up privacy-first Facebook ads tracking for offline conversions and other conversion types that fit your unique business.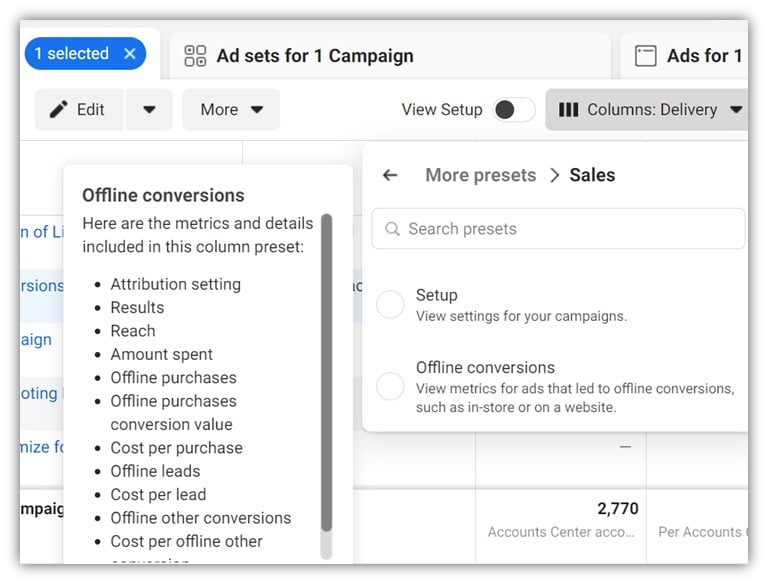 Facebook ads not converting? You can fix it!
Finding out that your Facebook ads are not converting is never a fun experience. However, using a handy list like this can help you pinpoint opportunities to improve your strategy and promote your business through the power of Facebook and social ads.
To recap, here are the top nine reasons your Facebook ads may not be converting:
Your landing page isn't optimized for conversions
Your Meta pixel isn't set up properly
Your ad copy is unclear
You're targeting the wrong audience
Your audience has ad fatigue
Your campaign objective doesn't align with your goals
Your budget or spending limit is too low
You haven't given your ads enough time to convert
Your Facebook ads are converting...indirectly
[ad_2]

Source link