Note: The term 'Etsy' and other Etsy graphics are trademarks of Etsy, Inc. This article is not endorsed by Etsy.
Etsy is an online marketplace that's full of potential buyers (96.3 million of them, to be exact) and a ready-made audience looking for exactly the type of products you make.
For experienced small business owners and those of you who are selling your creations for the very first time, starting an Etsy store is an exciting step in turning your hobby or creative passion into a money-making endeavor.
In this guide, we'll teach you everything you need to know about how to make money on Etsy—whether you're looking for a side hustle to your day job or trying to turn your craft into a full-time career.
Why sell on Etsy?
Source: Etsy
Etsy isn't a platform for you to host your own website. Instead, it's an online marketplace focused on handmade, vintage, and craft items. For artists and craft connoisseurs, the creation of Etsy in 2005 was an opportunity to bring their products to a wider audience.
If you're wondering whether Etsy is a marketplace you should invest your time in, just take a look at the stats. In 2021, 90 million active buyers visited the Etsy marketplace, and 36.3 million of those customers were repeat buyers. That's a 121% increase since 2019.
These numbers prove that Etsy really is growing rapidly. So if you have something original you want to share with people all over the world, Etsy is definitely THE place to be.
Do you actually have to make something to sell on Etsy?
The focus of Etsy has always been on an artist-centered community, where creators can sell their products that customers can't find in brand-name retail stores. With that in mind, you might be wondering how to make money on Etsy without making anything. Well, it's certainly more possible than it was when the marketplace was first founded.

You're allowed to use a third-party manufacturer, like Printful, to craft the final product, but as the seller, you must show your involvement in the creative process. Creating designs for products that you get from an outside manufacturer is acceptable under Etsy's guidelines.
Why should you start an Etsy shop?
If you're a beginner, working with a well-trusted marketplace means it's easier to get your first sales and reviews than just starting with a standalone website. Here's why:
1. You can get in front of an existing audience
Selling on Etsy would mean displaying your online store for a huge market of potential buyers. Etsy is trusted by millions of users so there's a whole audience ready and waiting for the type of products you sell, which means that you can spend less time marketing and more time creating.
For example, if you're thinking about how to make money on Etsy as a graphic designer, you can be certain that the site's algorithms are helping users find products made by designers like you.
2. You can skip the payment headaches
While you'll need to get your shop up and running, selling directly through a marketplace means you can skip the hassle of figuring out secure payments for your customers.
Etsy marketplace customers have a secure member login and there are a number of safe ways for them to pay directly through the website. When you're eager to learn how to sell on Etsy and make money, the less time you need to spend on setup, the better.
3. You don't have to invest a ton of money
There's also the cost to consider. Running your own website isn't cheap—there's hosting, domain, and management fees to think about and those can become pricey when you're just starting to build a business. Etsy takes care of this for you. You'll still need to pay some fees to use Etsy and sell your products, like:
But it often works out to be cheaper than self-hosting. That means that more of your budget can be used for marketing or product development instead.
4. You can use it as a supplement to your other sales channels
If you already have a website of your own, you can develop a multichannel selling strategy that allows potential customers to find you and buy your products all across the internet. With this strategy, you'd be increasing customer reach and offering a convenient shopping experience.
One of the best parts about this is that you get multiple streams of income and you're diversifying your risk across separate channels.
Many of us have experienced the frustration of being unable to access a site during a large sale. If your site goes down, having an Etsy store can be the ideal backup. You'll also get credit for having an established brand that your audience can find in more than one place.
Working across different channels improves conversion rates and increases customer retention by meeting potential customers wherever they are. This way a brand can target certain segments of a customer base uniquely on each platform, further increasing the chances of a sale. Whether you're looking for how to make extra money on Etsy or simply trying to cast a wider net, operating on a multichannel basis is an excellent approach.
What types of products can you sell on Etsy?
No matter what type of products you make, you can find a home for them on Etsy. From handmade furniture, custom t-shirts, and hats, to engraved jewelry or personalized calendars, your options are limitless.
We aren't here to give you an exhaustive list of what you can sell on Etsy. But when you're thinking about what kind of products are most popular, they typically fall into the following categories:
Clothing and textiles

Jewelry

Homeware

Art & Collectibles

Handmade cosmetics and spa products

Wedding items

Crafts and supplies
Let's take a closer look at some of the most popular items to sell on the platform.
Create and sell custom products online

Sign up for free

productCount custom products

Sell without inventory
Art and digital art
Source: Etsy
If you're an artist or a designer, the first decision that you'll want to make is about the type of artwork you want to sell.
If you spend hours creating single pieces, you can charge more as they're one-of-a-kind. But if multiple buyers are interested in that single piece, you'll ultimately only be able to sell it to one of them. And if there's nothing else they're interested in, they could walk away without spending any money at all.
When you're trying to find ways to create a consistent income from your art, learning how to make money selling digital art on Etsy is useful. You can sell the same design or product as often as you'd like with digital art.
Also keep in mind that taking high-quality photographs of your work carries a lot of weight on Etsy. For repeated designs (where you're selling the same design over and over again), spending the time to craft an excellent product page, including clear photos and a detailed listing, will help you sell that same artwork to multiple customers.
Prints and photos
Source: CreateYourOwnGift
Prints and photos can be sold repeatedly, so you'll need to decide whether to sell your work framed or unframed (if you opt for a physical product), or whether a digital download is the best way to go.
If you're not a photographer, you can still learn how to make money with public domain images on Etsy. These images are no longer under copyright restrictions, meaning anyone can use them. But remember, while this is an advantage in helping you to cut down on product creation time, anyone else can also use the same image as you, which makes standing out in the crowd more difficult. You can make your designs more unique by turning these images into something else. Think about putting text around or over the top of the image, or editing them with different colors or design elements. That way, you're still adding your own artistic flair to make it original. If you're creating artwork with Printful, you can use Printful's Design Maker to create or edit your designs.
The Design Maker includes:
50+ clipart collections

Customizable ready-made designs

Text Tool with 250+ fonts

230+ background colors and graphics

Pattern Tool that creates a pattern from any design element
Explore these features and experiment with your photos to create something that fits your brand niche.
Source: Whispering Winds Shop
One of the most competitive categories for Etsy sellers is jewelry. When you're working on how to make money selling jewelry on Etsy, the best approach is to make yourself as unique as possible. Whether that's in the design that you use or the materials that your products are made from, find a way for your store to shine.
Don't offer too much variety in your jewelry style though. Customers gravitate toward particular stores because they're drawn to a specific style. People want to express their personalities and lifestyles with the way they dress and accessorize. If you offer jewelery that clicks with their aesthetic choices they're more likely to become repeat customers. You can offer customization or personalization options (which are incredibly popular with customers), but try to stick to only one or two variations for each product.
Stickers
Source: Etsy
Interested in knowing how to make money selling stickers on Etsy? Designing stickers on Canva or Procreate for iPad is straightforward and simple (perfect for those still working on their artistic skills), and can help you turn around new products quickly.
Logos, bumper stickers, and kiss cut stickers are the most popular types that Etsy customers tend to buy. Offering stickers is one of the fastest ways to sell lots of products with low manufacturing and shipping costs and, just like artwork, the designs can be resold.
Using a print-on-demand (POD) service like Printful is a great solution if you want to avoid having to create and stock hundreds of stickers at home. Instead, whenever your customer places an order, the stickers will be automatically printed and prepped for shipping by Printful.
T-shirts
Source: GloryTribeUS
When you're trying to find out how to make money selling clothes on Etsy, there are a number of different avenues that you could take. Vintage or upcycled clothes have become very popular on the site, but making and selling your own handmade creations is also a great business model.
Learning how to make money on Etsy selling t-shirts is likely one of the best ways to get started on the fashion side of the site. The best designs usually feature funny sayings and memes or are customizable for bridal and baby showers.
Read also: POD Expert Tips on Creating Viral T-Shirt Designs
What is a print-on-demand (POD) service?
Once you've decided what you want to sell on Etsy, you'll need to nail down how you'll stock your shop and build up your merchandise. If you're just starting out, working with a POD company like Printful solves both of these problems.

Printful integrates directly with your Etsy shop, taking care of all of your customer fulfillment and shipping needs. Once you've created your Etsy account and published your first few products, Printful's system takes over so that you can spend your time managing your online store and marketing your products.
Printful doesn't charge any monthly fees (you'll only be charged when an order is fulfilled) and everything is white label. That means no Printful logos are placed on any of your products. It's all your own designs and branding, just like it would be if you had created and shipped the product yourself.
Get started with Printful

Sign up for free

productCount custom products

Sell without inventory
Your guide to setting up your Etsy shop
You now know why you should start an Etsy shop, what types of products to sell, and how a POD service can help.
But, there's one last big thing you need to sort out: how to actually get your Etsy store up and running. Fortunately, Etsy's incredibly user-friendly for sellers and they've made launching a store as easy as possible.
Head to the "sell on Etsy" page, then log into your existing account, or create one. Etsy will walk you through all of the steps you need to take to become a seller on the marketplace.
Here's a video guide on how to set up your Etsy store when you're using Printful.
"@context":"http://schema.org","@type":"WebPage","video":[ Etsy tutorial 2022″,"description":"Get started with Etsy today u27a1ufe0f https://bit.ly/3IoUUXfnnEtsy is a marketplace that caters to handmade and vintage goods. If youu2019re only starting out and donu2019t have a large online following, creating your shop on a marketplace like Etsy might be the right choice for you.nnud83dudce2 Table of contents:n00:00 Intron00:12 Why choose Etsy?n01:15 Create a Printful accountn02:09 Connect Etsy to Printfuln06:06 Add Printful products to Etsyn08:21 Shippingn10:46 Product personalizationnnLinks:nud83dudccd Etsy connect page: https://bit.ly/3IubRQenud83dudccd Pricing and payment guide: https://bit.ly/3wpEs6Pnud83dudccd Shipping speeds and pricing: https://bit.ly/3N79JRSnud83dudccd Printful Contacts page: https://bit.ly/3FDrhSgnud83dudccd 10 tips for print file preparation: https://bit.ly/36xDTwQnud83dudccd Etsy Help Center: https://help.etsy.com/nud83dudccd Printful Etsy FAQ: https://bit.ly/34XIBn6n_________________________________________________________________________________nnPrintful is the easiest order fulfillment system you'll ever use, free to set up, and with no monthly fees! You sell products on your store, we automatically process and fulfill them when orders come through, and ship them out to your customer. Easy as that!nnMaster the art of ecommerce:nnPrintful Ecommerce Integration Tutorials: http://bit.ly/2r6O6eOnSetting up Shop with Printful: http://bit.ly/2QycJvInDigital Marketing Techniques: http://bit.ly/2LvyryYnEcommerce Tips: http://bit.ly/2puPTdhnDesign, Style & Trends: http://bit.ly/2OnNzNSnnFollow us on social media:nFacebook: http://bit.ly/2RJOzLW nTwitter: http://bit.ly/2WKB1n9 nInstagram: http://bit.ly/2Vs9jP1 nnSubscribe to our blog to get the inside scoop and suggestions on how to make the most of your online drop-shipping apparel store: https://www.printful.com/blog/nnSubscribe to our youtube channel to help guide you through our drop-shipping paradise: http://bit.ly/2MRU5uN nnGet in touch with us at: support@printful.comnn_________________________________________________________________________________n#printful #printondemand","thumbnailUrl":"https://i.ytimg.com/vi/146o9WF5_F4/sddefault.jpg","uploadDate":"2022-03-21T17:00:03Z","contentUrl":"https://youtu.be/146o9WF5_F4″]
Beyond actually creating your shop on Etsy (and eventually your products), there are a few other nuts and bolts you'll need to take care of. This isn't exactly the most fun part of creative entrepreneurship, but it is important.
Business licenses
You might be asking yourself "how much money can I make on Etsy before I have to buy a business license?" That depends on exactly where you're located. Some cities in the US have rules that override state regulation.
Etsy itself doesn't require you to have a business license, but keep in mind that you may need to register for sales tax in your state or city.
Do your research and see what rules apply to where you live specifically. If you ship your products to people abroad, check whether or not sales tax should be charged to customers outside of your own country too.
Taxes and fees
If you're serious about turning your Etsy shop into an established business, you may be wondering "how much money can I make on Etsy before I have to pay taxes?"
Again, this is all going to depend on where you live. For US-based sellers, any income that you earn from Etsy will be considered business income and will need to be reported on your annual Schedule C tax form. Etsy will report your gross (or pre-tax) income via a 1099-K form to the IRS and it's important that you check that this matches your own income records when you receive it.
Read also: How to Start a Business in the US: Taxes and Legal Requirements Handbook
Since every country and state has different tax regulations, how much money you need to make on Etsy to have to do taxes will vary based on the country you're selling from. However, earning more usually means paying more taxes. The good news is that you'll be able to deduct expenses to lower your overall taxable income. This can be anything from the cost of materials used to make your products, any advertising that you've paid for, and even shipping charges.
You'll also need to be aware of the payment processing fees that a credit card processor will charge, along with the fees that Etsy charges for using their service. While there's no seller membership cost on Etsy (unless you opt for the Etsy plus plan), you'll be charged 20 cents for each item you list and there's also a transaction fee of 6.5% for each product that you sell. While these fees can all be written off as expenses, that's something you'll need to factor into your business budgeting.
If you've never had to deal with self-employment tax before, here's a quick example for you to work from:
During one year, you made $30,000 by selling your products on Etsy. This is your total before factoring in any expenses or taxes.

The cost of materials that you used to make your products was $10,000.

Your Etsy fees (listing and payment processing) were $1,400.

This means that your total business expenses came to $11,400.

To calculate your taxable income, use the formula:

Sales Total – Expenses = Taxable Income

Your taxable income for this tax year would be $18,600. This means that you'll only be paying taxes on this amount, not the whole $30,000 that you earned.
Shipping
Finding out how to offer free shipping and still make money on Etsy is an important part of becoming a seller. Customers love free shipping (in fact, 75% of them say they expect it on their orders). But free shipping can significantly cut into your profits if you're not careful.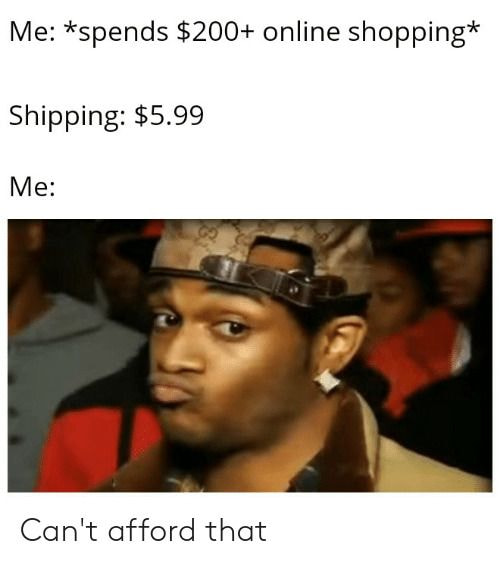 Source: loveforquotes.com
One way to handle free shipping is to include the shipping fees in the product price. You'll need to work out an average cost for shipping each product to long-distance locations compared to local customers to find a middle ground and fairly charge everyone for those products. Even if you're using Printful to ship your products, building this into your product cost means that you'll be able to keep more of your profit for every product you sell.
We wouldn't recommend providing free shipping to international customers, as those costs can add up very quickly. As you'll be charging the shipping cost to the customer, offering them a small discount when they order multiple products to acknowledge the higher shipping fee can be a great way to encourage overseas shoppers to buy from your store.
An important point to note: only stores with free US shipping receive priority in the Etsy search algorithm, so it's really only worth it to offer it to US-based customers.
Starting to make money on Etsy with thoughtful marketing
With the basics out of the way, you're ready to launch your shop and start earning some income from your creative endeavor. How long it takes to make money on Etsy really depends on your effort, your brand niche, and a little bit of luck, but here are a couple of tips and strategies that you can try.
Marketing and followers
There isn't a set formula when it comes to how many followers you need on Etsy to make money. It all comes down to good marketing and having a product that your target audience wants.
Make sure that you're tagging your products and writing keyword-rich descriptions. This will help the Etsy search algorithm highlight your products to potential customers who are searching for something similar.
Tagging a product on Etsy means adding a word or short phrase that describes your item. Etsy matches tags with shoppers' searches to find relevant results.
You can also make use of broad hashtags on your social media accounts to drive people to your Etsy store. Cross-promoting your products and store as a whole on your social media channels can help draw your audience in from different places around the web.
Collaborating with other sellers is also a good way to cross-promote your products to new audiences. You'll increase your store's visibility by getting your products in front of a new and possibly well-established audience. Not only that, but you'll also be seen as a trusted seller by that audience and other sellers, which is a great way to boost your name within the Etsy community.
If you do in-person events, make sure that you have business cards with a URL for your Etsy store printed on them. Alternatively you can add packaging inserts for your online buyers. Leaving a memorable impression on your customers can turn them into repeat shoppers. In other words, this can help you build a customer base.
Get creative when it comes to your marketing and try different approaches until you find success.
Read also: Etsy SEO: 5 Must-Do Steps to Help You Get Found on Etsy
Read also: 9 Successful Print-on-Demand Store Examples and What You Can Learn From Them
Products and stock
How many listings do you need to make money on Etsy? Well, that's also not an exact science. The recommendation from Etsy is to have at least 20 listings when you start your shop so that customers have a few different options to choose from and for you to gain some attention. But having hundreds of items isn't necessary and can even give your customers choice paralysis (where they're overwhelmed by the number of options).
So it's not just about the number of products you have in your shop, but how you make them different from each other and the products of other Etsy sellers.
Make sure that all of your descriptions are unique for each product, even if they're somewhat similar items. Think about what makes the product special. Is it made from a specific material or can it be customized in a particular way? Think about how different audiences might be searching for these types of products and add those keywords and phrases into the descriptions.
Embrace your creativity (and make some money too)
Selling your products on Etsy is the perfect way to build a business, regardless of whether you're trying to become a full-time creator or make some extra cash on the side.
As with anything, there's a little bit of trial and error involved, but isn't that half the fun of trying something new? Keep testing different strategies until you find what works for you and you'll soon start to see your Etsy shop pulling a profit.

Read next: How to Sell Printful Products on Etsy
"@context":"http://schema.org","@type":"WebPage","video":["@type":"VideoObject","name":"How to Set Up a Print-on-Demand Shop On Etsy [Etsy & Printful Tutorial]","description":"Want to sell print-on-demand products you design on Etsy? This tutorial will show you how to set up your Etsy account, create your first listings, connect your Etsy account to Printful, and create a shop design that converts!nnDownload our FREE Print-on-Demand Shop Setup Checklist to launch your own shop: https://smartmoneymamas.com/pod-checklist-yt4nnu23f1ufe0f Quick Jump Sections u23f1ufe0fn00:00 Setting Up Your Print-on-Demand Etsy Shopn01:07 Signing Up As An Etsy Sellern10:28 Customizing Your Etsy Shopn16:26 Integrating Printful with Etsyn17:00 Adding Printful Print-on-Demand Products to Etsyn21:33 How to Navigate Etsy Seller Dashboardn24:22 Walkthrough of Completed Etsy Shopn25:30 Pro Tips on Launching Your Etsy Shop Successfullynnud83dudd17 Helpful Links ud83dudd17nud83dudc55 Printful: https://smartmoneymamas.com/printfulnud83duddbcufe0f Canva: https://smartmoneymamas.com/canvanud83cudfa8 CreativeMarket: https://smartmoneymamas.com/creative-marketnud83dudce7 MailerLite: https://smartmoneymamas.com/mailerlitenn* This video is sponsored by Printful, all opinions are our own. Signup to create your own Printful shop here: https://smartmoneymamas.com/printfulnnu25b8u25b8u25b8 About Smart Money MamasnnAt Smart Money Mamas, handling your money is a radical act of self-care. Itu2019s not black-and-white, dollars and cents. Itu2019s about getting you more of what you want, reducing waste in all areas of your life, and minimizing stress and anxiety.nnFounder, Chelsea Brennan, is an ex-hedge fund investment manager turned financial educator who helps moms connect with all aspects of their money in a way that lets them overcome emotional blocks, identify what they most want, and create the healthy money habits that will help them achieve their goals while modeling positive money relationships for the next generation.nnu25b8u25b8u25b8 Other Places You Can Find Us!nnWebsite: https://smartmoneymamas.com/u200bnFree Facebook Group: https://www.facebook.com/groups/38358u200b…nInstagram: https://instagram.com/smartmoneymamas/u200bnPinterest: https://pinterest.com/smartmoneymamasu200bnnDisclaimer: We use affiliate links for things we use and love. This helps us continue to provide high-quality free financial education while connecting you with tools and resources that we 100% recommend and can get you closer to your goals. Thank you for supporting our mission! This video is for informational purposes only and does not constitute legal or financial advice. Please consult an attorney or Certified Financial Planner who will put your interests before theirs.nn#SmartMoneyMamas #EtsyShop #PrintonDemand","thumbnailUrl":"https://i.ytimg.com/vi/oelX2NObWN0/sddefault.jpg","uploadDate":"2021-10-06T13:11:11Z","contentUrl":"https://youtu.be/oelX2NObWN0″]
Create and sell custom products online

Sign up for free

productCount custom products

Sell without inventory
Learn more:
As with anything, there's a little bit of trial and error involved (and that's half the fun of trying something new anyway). Keep testing different strategies until you find the ones that work for you and you'll soon start to see your Etsy shop pulling a profit.
Read next: How to Sell Printful Products on Etsy