While word-of-mouth referrals and repeat business are still king when it comes to the way real estate agents get listings, the world is quickly changing. Sellers increasingly find their agents online. They at least Google the agents they find out about from others. It's why an agent's digital marketing footprint is critical. It may be the only thing anyone sees about you before deciding whether or not to reach out.
So you've got your agent profile on your real estate website (Spoiler alert: nobody reads your bio), your sold listings, and social media posts. But none of these things give people a real sense of who you are as an agent, the depth of your expertise, or what it would be like to work with you. People don't experience that until they actually speak with you. It's a chicken and egg problem.
Video content marketing is a great solution for this. Video is uniquely effective at turning a complete stranger into an interested prospect in a matter of minutes. It lets you connect with home sellers on a human level and demonstrate in a direct, personal way why you're a better choice than your competition. This includes things like first-time homebuyer workshops (great for new agents), virtual neighborhood tours, and educational webinars for prospective sellers (kind of like a pre-listing presentation — what we are going to focus on in this post). 
The problem with video, however, is it's a one-way street. A video on YouTube, for example, does not capture contact information. It's why they are not great for real estate lead generation. You have no way of knowing who is watching or of following up with them. Plus, people can't easily connect with you if they have questions or want to talk. People aren't even in that mindset! They're just casual viewers.
So then what about hosting live webinars? Yes, webinars are more effective at high-quality lead generation; you capture contacts when they register, the experience is interactive, and webinars allow for direct communication. The challenge, however, is it's really hard to get people to show up for a live event at a specific time, especially in an on-demand world. Not to mention it's not sustainable. Doing live webinars on a regular basis? What realtor has time for that?
This is where automated webinars come in.
Modern automated webinar software, like eWebinar, combines the scalability of video with the interactivity of webinars. Prospects get an engaging experience they can attend at their convenience and a direct line of communication to you when they have questions. You can even ask them questions, like how quickly they're looking to sell, as a way to qualify new leads. Yet your time and energy don't get eaten up because the video is pre-recorded and the rest is automated.
It's more than a win-win. It's a win-WOW!
If this all sounds too good to be true, watch the first few minutes of this example webinar created by Michael Bhagwandin of Compass Real Estate, titled How I Help My Clients Sell Their Homes in New York City.
In it, he shares stories of past sellers he's worked with that showcase the breadth of experience he brings to the table as a real estate professional. What's so effective about his approach is he draws from his real-world experience, which makes it 100% unique to him and powerful in establishing his credibility.
If you like what you see and want to take advantage of this unique real estate marketing opportunity for yourself, come back after checking out Michael's webinar to find out what to do next.
Here's what we'll cover in the rest of this post:
To find out how eWebinar works, watch this quick, two-minute explainer video:
For a more detailed understanding of eWebinar and to see how easy it is to stay on top of questions from webinar attendees, check out our 20-minute on-demand demo. We use eWebinar to demonstrate eWebinar, so you'll not only get to see what our product can do, you'll also experience an automated webinar for yourself as an attendee.
How to create a compelling video presentation for sellers by following a simple formula
Most real estate agents are reluctant when it comes to putting together a webinar or any kind of long-form video. They feel it's too difficult and maybe not even worth it.
The content itself takes so much time and energy to prepare. It needs to be well structured and scripted so that people will not only spend the time to watch it but also take the extra step to contact you. If it's too salesy, it's a turn off. If it's not salesy enough, it will not convert. Plus, how do you create something that genuinely differentiates you from the sea of agents out there all saying how great they are?
Fortunately, eWebinar has done the work to solve these problems for you.
1. Start with eWebinar's script and slide deck templates
We have put together two great resources that will dramatically reduce the time it takes you to put together an effective webinar for sellers: a script template and a companion slide deck template.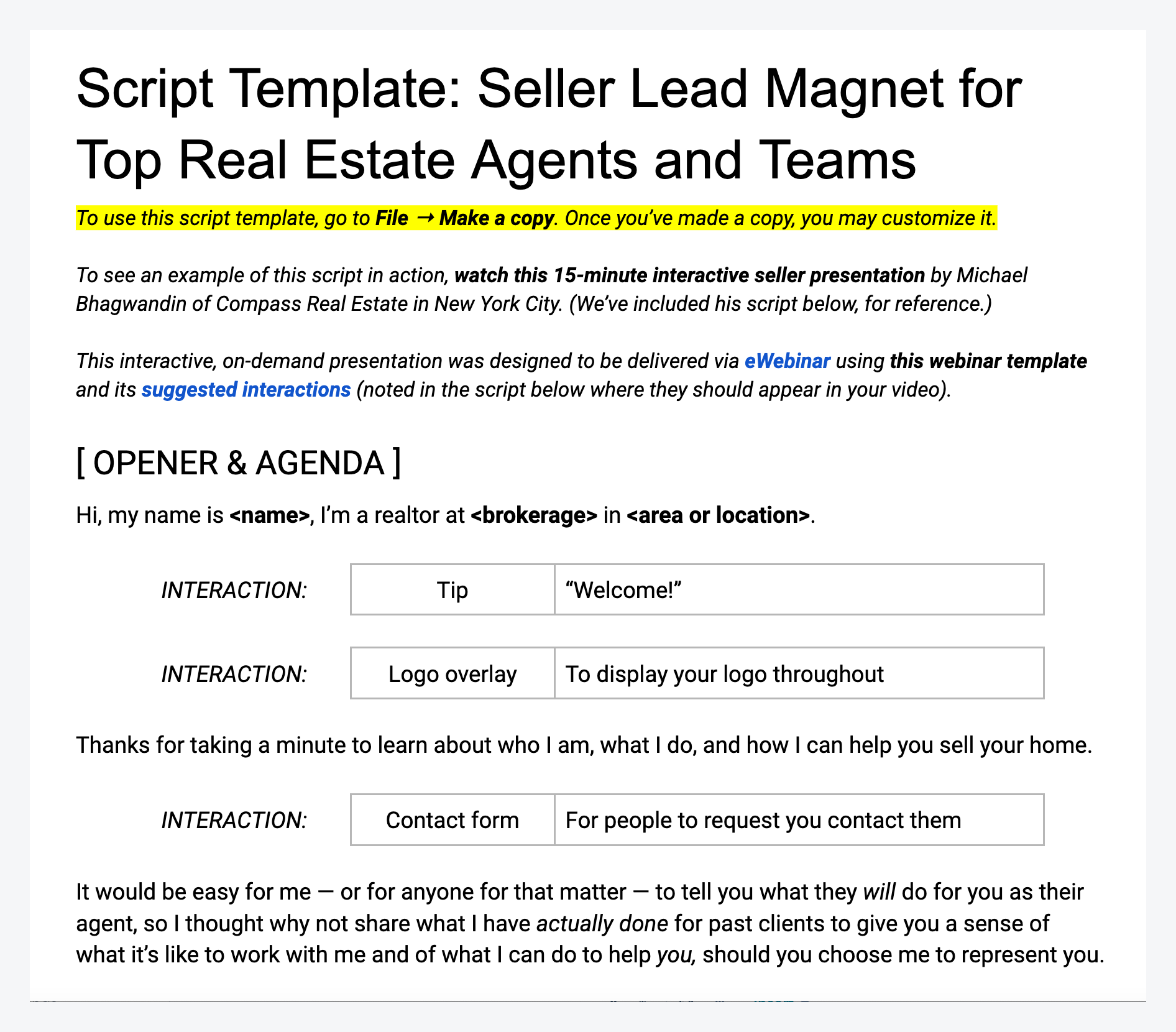 Of course it makes sense that templates will save you time, but how will a template (which others can follow too) help you stand out from your competition? The answer lies in drawing on personal stories that demonstrate in a concrete way the know-how and resourcefulness you offer when working with sellers. Download the script template and you'll quickly see how this works.
PRO TIP: Don't be afraid to deviate from the script template. For example, maybe the call to action is to request a free home valuation. Or maybe you give away a step-by-step seller guide as a freebie to those who attend your webinar.
Taking this approach kills a few birds with one stone. First of all, it guarantees your presentation is one-of-a-kind. No one has had the experiences you have. It also undercuts the need to sell yourself too much. You establish credibility by talking less about what you will do for someone and instead focusing on what you have done for people in the past. Finally, it is authentic. In a world of non-stop advertising, people respond to authenticity more than ever. They want to feel like they understand who you are and that you will be able to understand them.
If this all seems a bit abstract, check out Michael's 15-minute seller presentation, which our script and slide deck templates are based on.
2. Practice and record your presentation
Once you have customized the script and slide deck, practice giving your presentation a couple times. Ideally, host a live webinar with real prospects — invite your email list! Or invite a couple of friends, past clients, or other realtors to attend. This will not only solidify the presentation in your mind, it will also give you a chance to see how people react and what questions they have, so you can incorporate what you learn into your final presentation.
When you are happy with the finished product, record your presentation. Here are some recommendations of hardware and software to use when doing so. Make sure you have a nice background and good lighting. Use an inexpensive microphone that picks your voice up well without also picking up background noise. A free teleprompter app can also be useful. Finally, if you need to make simple edits after filming, we recommend using Descript, which makes video editing as simple as editing an email or document.
If you have the budget, you may want to hire a professional videographer and editor to assist you instead. Just keep in mind, a webinar is different from other video content. No one expects a webinar to be highly produced. If you flub your words a little, just repeat yourself and keep going. Remember, authenticity is key.
How to turn your seller video into an on-demand, interactive webinar in minutes with eWebinar
Once your video is complete, you can easily automate the experience in eWebinar and make your webinar available around the clock. To do this:
Sign up for eWebinar — we have a free trial — and log in.
Click Create new eWebinar. You will be asked to choose a template.
Filter by Real estate and select Seller Lead Magnet for Real Estate Agents. Here is a preview of that template, which includes a landing page, reminder and follow-up emails, preprogrammed interactions like quizzes and polls, and more.
When prompted, upload your video.
Click the Interactions tab. There you will find instructions for how to complete the template. Just click through each tab — Schedule, Notifications, Interactions, etc. — and make sure things are how you want them to be. For example, on the Notifications tab, you will need to replace the links in the follow-up emails with links to the list of homes you've sold, your agent profile, etc.
When you are done, click Publish. 90% of the work has been done for you, so it shouldn't take more than 30 to 45 minutes to finish everything! 
How to use an automated webinar as a lead magnet at the center of an evergreen sales funnel
By this point, you will have spent a significant amount of time and energy getting your webinar ready and published. All of this effort will be worthwhile, however, since you now have a unique real estate lead magnet that you can place at the center of an evergreen sales funnel specifically designed to target potential sellers. Part of what makes an automated webinar a great lead magnet idea is that it is a marketing asset you can leverage for years.
So then how do you make your webinar a part of an evergreen sales funnel?
The key is to make sure a steady stream of traffic is directed to your webinar landing page in order to generate sign ups. This is an ongoing process that will evolve over time as you figure out what marketing channels and activities are most effective in reaching your target audience.
Here are a few of the things you can you do:
1. Include your webinar in your email marketing
Include a short section and call to action about your webinar in all of the core marketing pieces you send to your email list, like your monthly newsletter and market reports. For example, it might look something like this:

Be sure to also include it in the email sequences in your CRM for contacts that have been newly added to your database.
2. Link to your webinar from your email signature and online profiles
Add a CTA to join your webinar beneath your auto signature on all of your emails. Add the link to all of your online profiles too, like Instagram and LinkedIn. Services like Linktree (shown below) make this easier.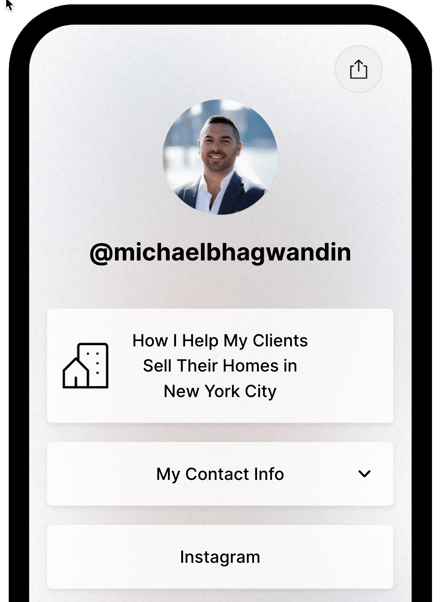 3. Share your webinar on social media on a regular basis
Yes, you can share about your webinar specifically on social media, but what's more important is to regularly include it as the primary CTA at the end of your posts. For example, if you share a monthly market analysis via Instagram Reels, end each of your videos the exact same way with something like:
"If you're looking to sell your home in New York, I can help you get the best price, in the shortest time, and with the least hassle. To find out how, check out my free, 15-minute, on-demand webinar. The link is in my bio. Until next time!"
4. Add an ever-present pop-up to your website
Use one of eWebinar's many marketing widget to promote your webinar on your website or agent profile. That way, any time anyone visits it, they will be able immediately to register for and join your webinar.
Here is an example of a pop-up widget you can place at the bottom of your website: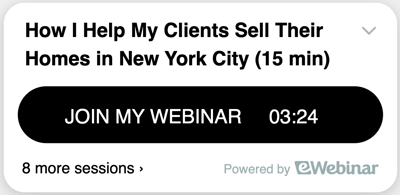 All you have to do is configure the widget and embed it into the page in question. (Here are the instructions.) If necessary, enlist the help of your technical support to get this done. 
5. Experiment with Facebook and other social media ads
Place Facebook ads and ads on other social media platforms that target your ideal client in the local markets where you work. Be careful, though. It is easy to throw away money on ads, so be sure to work with someone who knows what they're doing.
These are just a handful things you can integrate into your marketing strategy to promote your on-demand webinar for potential clients. For more ideas, check out this post we wrote on the topic:
Now that you've learned just how powerful automated webinars can be for agents and their real estate business as a lead magnet, download our free script template to get started working on your own seller presentation today!