If you're an industrial business looking to promote your products or services, Instagram might not jump out as your "go to" marketing platform.
Although this social media giant is known for fashion, lifestyle, and travel content, don't count it out just yet, B2B marketing pro. There are more than 200 million businesses and 2 billion total users on Instagram.
That means your buyers are likely already on Instagram, and your competitors could be too. Don't give them a competitive edge while simultaneously missing out on opportunities. Using Instagram for manufacturers is a smart way to reach potential customers.
Are you ready to jump on the Instagram for business bandwagon to boost brand awareness, assist with recruitment marketing, and generate more leads?
Here are the 5 top tips for using Instagram for industrial B2B companies and manufacturers:
1. Create a Business Profile
The fashion industry is a force to be reckoned with on Instagram, so let's see what best practices we can learn from them. One example, StudioSuits, uses story highlights, hashtags, and a clear, concise business profile description in their Instagram bio to build brand awareness and capture the attention of new visitors to their profile.
Here are a few things to keep in mind when creating an Instagram business profile for your industrial business:
Add a profile picture representing your business, such as your logo, or a relevant image showcasing your products or services
Write a bio that clearly describes your business. Use this space to briefly share insights about what your business does and what products or services you offer. Also include a link to your website or a specific landing page
Use language that your customers use. If your brand, for example, targets British buyers and recruits, make sure to use correct spelling ("colour" instead of "color")
Include hashtags related to your business or industry to help users discover your content. You can also create a branded hashtag to encourage your followers to share their own content related to your brand
Make it easy for potential customers to contact you by including your phone number, email address, and physical location (if applicable) in your business profile. You can also use Instagram's "Contact" button to provide multiple ways for users to get in touch with you
Use visually appealing photos and videos to showcase your products or services and share

behind-the-scenes details

about your company's operations
For an added touch, you can verify your business on Instagram to score that coveted blue checkmark. Adding these elements to your Instagram business profile allows you to create a professional online presence that helps attract potential customers while making a good first impression.
2. Show Off Your Products & Services
A picture is worth a thousand words, right? That's how Instagram shines compared to other social platforms.
People scroll through Instagram to look at pictures and videos without really thinking about what they're seeing. How can you stand out from the sea of crowded feeds and catch the attention of your target audience?
Take a picture of your machinery from a unique angle. Share a story about your warehouse employees or those working in the field. Take a peek at your competition, or look at other industries for ideas. Just because you're using Instagram for business doesn't mean you can't post high-quality, appealing visuals.
What do a brand that sells Viagra and a brand that sells heavy machinery have in common? They both want to be active on social media while providing valuable and engaging content for their audiences.
Instagram content for Hims, a men's telehealth company, is often informative and sometimes funny, with memes that grab the audience's attention.

And guess what? John Deere also uses humor. Why? Because it works!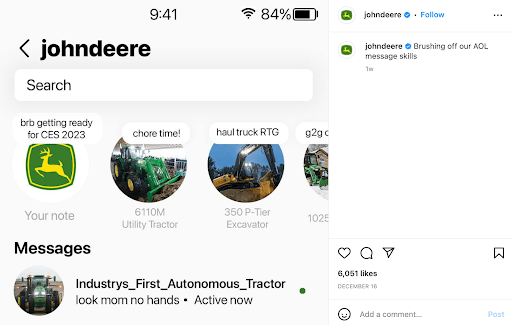 Humor is an excellent way to draw users to your profile. But, don't skimp out on high-quality visuals that showcase your products or services. After all, you want users to understand what your business does (and where you add value) when they land on your page.
3. Add a Personal Touch
We have entered an era in which people seek more personalized content from brands. Consumers no longer want a faceless brand; they want to know what goes on behind the scenes.
Adding a face (or better yet, faces) to your Instagram marketing strategy helps you stand out from your competitors (and makes you more memorable). Why? Because when you use social media for sharing, not for selling, you build stronger relationships with your audience and encourage word-of-mouth marketing, which is worth its weight in gold.
Take Samsara as an example. They specialize in selling software for cloud-connected operations, however their Instagram content focuses on showing their company values, cheering for their team, and sharing company culture moments inside their offices. This is especially powerful in recruitment marketing tactics — prospective employees need to see evidence of your company culture in your videos and photos, and they're likely already using Instagram, so meet them where they are!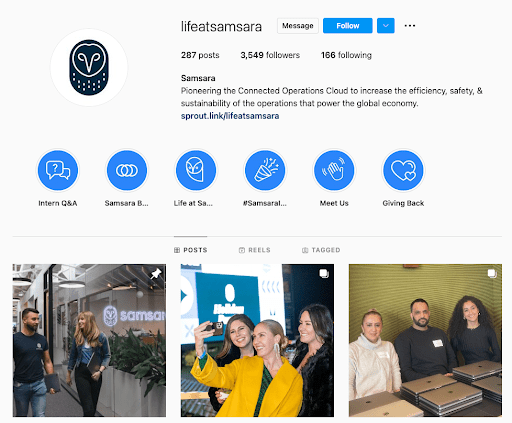 This strategy works because it adds a human element to the brand, and it feels less salesy. Instagram is an excellent platform to promote your products and services, but it's also a place where you can genuinely connect with your audience.
4. Leverage the Power of Hashtags
Hashtags can help you reach a broader audience on Instagram by making your content discoverable to users searching for specific terms.
Profiles with fewer than 5,000 followers see a 36.85% boost in organic reach when using hashtags in their captions, while larger profiles see a boost of around 20%.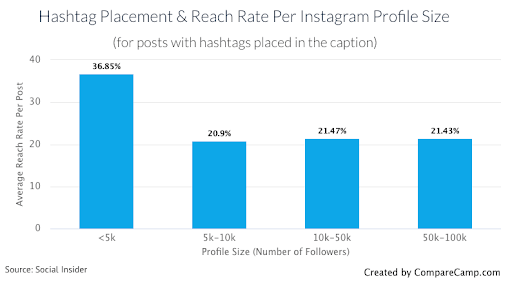 Numbers don't lie. Using relevant and industry-specific hashtags allows you to improve your reach with your target audience when posting about your products or services.
Instagram allows you to post up to 30 hashtags in each caption. According to Sprout Social, you should use all 30 hashtags when posting on Instagram to maximize reach and engagement.
Do you need some Instagram hashtag inspiration? Here are 10 hashtags to use for a post about design for manufacturability in product development:
#engineering
#industrials
#design
#manufacturing
#industrialdesign
#productdevelopment
#injectionmolding
#productdesign
#machinery
#industrialproducts
Keep in mind that it's generally a good idea to mix more general and specific hashtags into your Instagram posts. Mixing hashtags can help you reach a wider audience while also attracting people who are interested in your specific topic.‌
Varying your hashtag usage from post to post makes you sound less spammy and reduces repetitiveness. You can also create a branded hashtag for your business to encourage your followers to share their own content related to your brand.
5. Collaborate With Influencers
Influencer marketing is here to stay, reaching a market size of $16.4 billion in 2022.
With Instagram being the #2 platform for influencers (TikTok is first), why not dip your toe into this lucrative space? Working with influencers can help you reach a new audience and build relationships with potential customers.
Influencer marketing can be extremely effective because it allows you to tap into the influencer's credibility while gaining access to their large online presence. When an influencer endorses a product or service, followers may be more likely to trust the recommendation and consider trying it themselves.
As an example, Anna Katrine is a micro-influencer with over 11,000 Instagram followers. While her interests vary (fashion, lifestyle, cars) she posts a lot about bicycles, so she'd be a good fit for an influencer deal if your business involved manufacturing bike frames, for instance.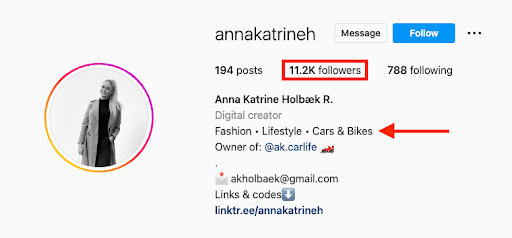 Now, think about your B2B industry, and apply similar tactics. Choose a person — or even another business — that could complement what you do or what you manufacture. You could sponsor a giveaway or contest to and utilize their network to promote it.
Boost Your Reach With Instagram
Consider some Instagram basics — creating a strong content strategy, engaging visuals, and an active schedule — and you can develop an effective Instagram presence for your industrial business.
You can also use a social media management tool to plan, create, and schedule content that your target audience can't get enough of.
Just because the platform doesn't seem to fit the industrial mold (pun intended) doesn't mean you should avoid it. Your target audience is out there and ready to see the best version of your brand. Start building your business Instagram profile today.
Ready to learn more about how complex industrial B2B companies can use social media in an inbound marketing, sales, and service strategy? This guide — Social Media for Business: A Guide for Complex Industries — is a great place to start. Click the link below to get started now!