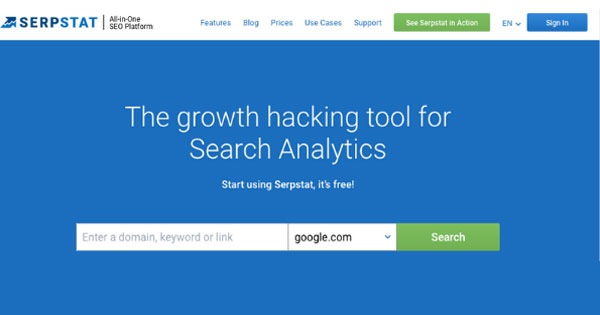 Founded in 2013 as a keyword research tool, SerpStat has evolved and grown to become one of the biggest names in SEO and PPC analysis. With a database containing more than 100 million keywords, 180 million PPC Ads, and 200 million search suggestions, it's closely rivaling any top competitor in the industry and already boasts over 30,000 clients globally.
If you're currently considering the online tool, here's a brief review to help you gain a better understanding of the product.
SerpStat Provides Six Key functionalities:
Website Analysis
Website analysis allows you to perform two main tasks: domain analysis and URL analysis. In both cases, you can perform side-by-side comparisons with competitor businesses to find out why your SEO strategy might be lagging behind. The tool gives you key data about your website and its performance to help you understand your situation.
SEO Keyword Research
Here, you'll find common keywords you and your competitors rank for. You'll also discover multiple new keyword opportunities that you might not be currently using. It's a great tool to discover related keyword phrases to target and use on your website.
Backlink Analysis
The backlink analysis feature is for analyzing your link profile as well as comparing your profile to your competitors'. The backlink dashboard shows referring domains, total indexed pages, referring pages, anchors, and top performing pages, to name just a few.
Rank Tracking
With this feature, you can, among other things, track your position on search engine result pages, check your ranking history for a particular keyword, and compare your ranking against selected competitors for a given keyword.
Site Audit
SerpStat's site audit feature lets you comprehensively analyze you and your competitors' sites' overall SEO performance and generate detailed reports on; meta tags, headings, links, loading speed, redirects, server parameters, and pretty much every other factor that can affect a site's performance.
PPC Analysis
With PPC analysis, you can discover your competitor's specific keywords and even see which keywords each of your competitors use for their pay-per-click ad campaigns. You can also uncover a competitor's strategy (budget and bids) and use this information to better compete with them.
Pricing
Users can choose a free-for-life plan where you get 30 searches and 100 page audits completely free of charge. Use this free plan to test out the platform before you begin paying.
Paid plans start at $19/month and are divided into two broad categories; personal and business. Each category is further divided into four plans; Plan A, Plan B, Plan C, and Plan D. As you'd expect, Plan A in the personal category is the cheapest option, priced at just $19/month. Plan B is priced at $69/month, Plan C at $149/month, and Plan D at $229/month.
In the business category, Plan A is priced at $449/month, Plan B at $999/month, Plan C at $1,499/month, and Plan D at $2,500/month. Some of the perks of choosing higher priced plans include access to phone support, the ability to track a higher number of keywords, audit a higher number of pages, and track more projects.
Customer Support
It would be unfair to end this review without mentioning the company's fantastic customer support system. As soon as you sign up, you get access to the SerpStat Academy. Here, you can learn everything about the product through elaborate User Guides, FAQs, and Video Tutorials. In addition to the academy, all users have access to live chat and email support. Furthermore, everyone except those on Plan A, in the Personal category enjoy 24/7 phone support.
Verdict
With similar SEO and PPC analysis providers now charging $100+ even for basic plans, it wouldn't be a bad idea to try SerpStat. You'll enjoy all the services you need without burning a hole in your pocket. Additionally, you'll have a valuable tool for your online marketing analysis and planning.
Mike Gingerich is President of Digital Hill Multimedia, a Goshen web design and marketing agency. He is also a co-founder of TabSite.com and Waftio.com, leading software tools for contests and lead capture. As well as a book author, Game Plan for Social Media Lead Generation. Find out more at www.MikeGingerich.com/book.
The post SerpStat: Keyword Research Tool appeared first on Mike Gingerich.
Read more: mikegingerich.com