[ad_1]

It happens once in a blue moon. And when it does, all the metaverse rejoices and you feel on top of the world.
When you post at the perfect time on TikTok. The post goes viral, gets an influencer like, earns you a boatload of followers, or a visit to the White House (it could happen?).
Now as you know, there is no one best time to post on TikTok, even for your own account, but there are definitely sweet spots to aim for that can get you the best results. And that's what we'll be diving into today.
Here's your table of contents:
The best time to post on TikTok
Unlike the best time to post on Instagram, which has been the subject of dozens of studies, there appears to be only one on TikTok at the moment. And it belongs to Influencer Marketing Hub—which analyzed engagement rates for 100,000 TikTok videos. Here's what it found:
The best time to post on TikTok is Tuesday at 9am, Thursday at 12am, and Friday at 5am
Here is Influencer Marketing Hub's breakdown (* indicates particularly high engagement):
Monday: 6am, 10am, 10 pm

Tuesday: 2am, 4am, *9am

Wednesday: 7am, 8am, 11pm

Thursday: 9am, *12pm, 7pm

Friday: *5am, 1pm, 3pm

Saturday: 11am, 7pm, 8pm

Sunday: 7am, 8am, 4pm
In general, we can also see some broader patterns:
People are checking into TikTok multiple times throughout the day.
Earlier seems to be better for the beginning of the week.
Tuesday and Saturday's ideal time slots are the closest together, so you might be able to capitalize on that.
Here's the chart form of the visual above:
| Day | Best time to post on TikTok |
| --- | --- |
| Monday | 6am, 10am, 10pm |
| Tuesday | 2am, 4am, 9am* |
| Wednesday | 7am, 8am, 11pm |
| Thursday | 9am, 12am*, 7pm |
| Friday | 5am, 1pm, 3pm |
| Saturday | 11am, 7pm, 8pm |
| Sunday | 7am, 8am, 4pm |
When's the worst time to post on TikTok?
According to Influencer Marketing Hub's data, the worst times to post on TikTok are
5pm, 6pm, and 9pm on any day of the week
10am – 3pm on Sunday through Wednesday
12am – 4am on Friday through Monday
Any time after 9am on Tuesday
The best time to post: TikTok vs Instagram
For what it's worth, here's how these times compare to Instagram. As mentioned, there are numerous studies and findings for Instagram. For the chart below, I used Later's data.
Interestingly enough, there isn't much overlap!
This may be due to the demographic differences between the two platforms. Instagram's largest age group is 18-34 while TikTok's is 10-19—very different lifestyles (but rest assured, TikTok is not just for Zillennials. It's also important to note that Later's study did not include Reels, so we're not comparing apples to apples here.
The only times that overlapped were: Monday 6am, Friday 5am, Sunday 7am
Why find the best time to post on TikTok?
Because TikTok. Need I say more?
But seriously, why does it matter? If the dreamy intro didn't answer this question or if you're more of a pragmatic, here are three reasons.
TikTok organic reach is high. Real high. Like, 118%. high. For reference, among the most popular social media platforms, Instagram organic reach is 9.4%, LinkedIn is 5.3%, and Facebook is 2.2%. This might not last, so now is the time to take advantage of this high rate and build up your account cred.
The "For You Page" is social media's first page of Google. The TikTok algorithm curates a personalized section of videos based on inferred preferences of that user and videos within those preferences that are getting likes, shares, and comments. Posting at the right time = more likes and shares = higher chances of showing up on FYP.
Get ideas. Posting at the right time maximizes your engagement, and maximized engagement means more insights into what your audience likes best. Plus, you might want to create videos around things your audience is doing at those best times.
Sometimes the right time can lead you to the right content.
How to find the best time to post on TikTok
As with any study like this, the times should only be used as a guideline. Every account is different so it's best to find your own right time to post on TikTok. Here are some ways to do it.
1. Develop your personas
This is a must in any social media marketing strategy. Make sure you have a full understanding of the lifestyle of your TikTok audience members. This means creating personas and walking through a typical day in their shoes. When are their busy times, downtimes, bored times, stressed times, social times? For example, if your target audience is kids, right after school might be a prime time while if your target audience is working professionals, it might be lunchtime or late at night. This will help you get a ballpark range as to when they're most likely to be on TikTok, as well as what some of the themes in your content should be.
2. Get a Pro account so you can access analytics…
A Pro account is free! Go to your profile, tap the hamburger icon in the top right and select Privacy and settings. Tap Switch to Pro Account.
Once you're set up, you can access analytics by tapping on that same hamburger icon, then Privacy and settings, then Analytics. These include:
Overview: video views, profile views, and follower count over the past seven or 28 days.
Content: views from each video in the past seven days, which ones have been on the FYP, individual insights for each video (more on that soon).
Followers: top territories, gender, total count, and the holy grail: peak engagement time.
3…on desktop
I don't know about you, but accessing any sort of analytics on a phone just doesn't do it for me. Plus, desktop analytics gives you a bit more information to work with and you can export them.
To view analytics on desktop, hover over your profile photo in the top right and click "View Analytics."
Brie Anderson walks through her TikTok analytics on desktop in the above video.
Here's where that Content tab comes back into play. Rather than having to tap on each video on your device to view its individual performance metrics separately, you can export it all to a spreadsheet and see it all at once, including:
Day and time posted
Likes
Comments
Shares
Average watch time
Views
Traffic source (FYP or followers)
Territories reached
Much easier. You can then identify any patterns that will give you clues on the best time to post on TikTok and the best content as well.
4. Know how to interpret your analytics
Just because your followers are most active at 6pm doesn't mean you should post at 6pm In his YouTube video on TikTok analytics, Owen Video shares that while his peak time is 6pm, he'll post on TikTok around 1pm so the video can start collecting engagement and then peak during the peak time. Make sense?
5. Look at your other social media platform analytics
If you're just starting out with TikTok, you might not have enough data to work with to see your followers' engagement patterns. In the meantime, look at the analytics of your other social media channels to see when they're most active.
Native analytics may not tell you an ideal posting time, but you can get audience insights and clues there. Or, use a social media management platform that does tell you the best time to publish, like Hootsuite: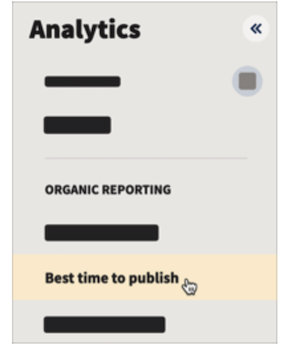 6. Look at competitors or influencers in your field
No two accounts are the same, but you can probably get a general idea of when to post by looking at accounts that are already popular in your target audience. These users most likely have their prime posting times nailed down, so ride on their coattails for a bit until you have your own analytics to go by.
TikTok tips to get more engagement
Marketing is all about the right content at the right time. We've covered the right time, now let's talk about the right content.
1. Go for creative relatability
People are complicated. We love surprise but at the same time like familiarity too (more marketing psychology here). And TikTok seems to be the place where the two come together.
In an interview with Agility PR, creator Grace Hayes talks about the "'shareable sweetspot,' combining relatability with something that's never been done before. The Internet loves the unexpected."
2. Use the headline approach
What makes a great headline that draws you in before you skip past it? It strikes a chord by providing just enough information to capture you but not enough—leaving you to want more and click to get it. Headlines that hook tend to be:
Bold claims
Questions
Surprising facts
Emotional
And since this is video, throw some music, movement, and emotion in there and you've got your viewers hooked.
Here are some headline examples and templates to inspire your TikTok videos:
X things about ____ you wish you knew sooner
Why/how to ____ even if you _____
The truth about ______
This is why I don't _______.
Everything you know about _____ is wrong.
3. Don't just dance
A study by SEMrush found that while popular dance videos receive more plays than other genres, they also receive less shares and comments. In fact, 51% of viral videos featured a person speaking to the camera.
4. Stick to 15-second videos
Digital communications expert Dan Slee found that the optimum TikTok video length is 15.6 seconds. He watched the top 100 TikTok videos of 2019 and found that 80% of them were 20 seconds or less, and only 2% ran the maximum length. This is the original video length allowed by the platform (it went from 15 seconds to one minute and now it's at three minutes).
TikTok live, of course, is an exception. You can learn how to go live on TikTok here.
5. Stay positive
Save your sob stories for Facebook, people (better yet, your diary). That same study by Semrush found that 58% of viral videos were of funny and happy nature (vs 24% for surprise, 9% anger, 4% sadness, 3% fear, and less than 1% embarrassment). In the chart below, we see that humor was the top genre. I wouldn't necessarily count humor as a genre though, as you can incorporate humor into any industry or category—especially with the relatability mentioned in the first point.

5. Get into a rhythm (pun not intended)
The more videos you post, the more likely you are to show up on someone's FYP right? Yes and no. TikTok recommends posing 1-4 times per day, but don't just post just to post. Find a format/theme, genre that people like and that you can create variations on, and then only post when you have crowd-pleasing content. You can get even more TikTok marketing tips here.
6. Hop on trends/challenges
Going against the grain isn't the name of the game on TikTok. Use viral sounds, participate in challenges, do the Duets, embrace it all. TikTok songs are like Instagram hashtags. They are portals to endless threads of videos that just may lead a viewer to yours. And use hashtags too.
7. Don't try too hard
At the end of the day, TikTok is a place for happiness, humor, and relatability. Forcing any one of these things has the opposite effect. Don't stress, be yourself, and actually have fun. This will reflect in your content and resonate with viewers.
When's the best time to post on TikTok? [Recap]
Why find the best time to post on TikTok? To take advantage of its high organic reach, get on the FYP, get new content ideas, and learn about your followers.
When is the best time to post on TikTok? Tuesday at 9am, Thursday at 12am, and Friday at 5am
When is the worst time to post on TikTok? 5pm, 6pm, and 9pm on any day of the week
How do you find the best time to post on TikTok? Use your analytics, audience personas, engagement metrics on other platforms, and competitors.
How to create your best posts on TikTok? Go for creative, funny, and relatable, talk to the camera, hook them with a good headline, jump on trends, and be yourself.
Want more best times?
[ad_2]

Source link