A lot goes into hosting a successful webinar — from finding the best webinar topic, choosing the right webinar software, social media marketing and more. But most marketers don't put enough thought into choosing a great webinar title.
You might have put together an excellent webinar, but if your title isn't compelling enough, no one's going to watch it.
Naming your webinar well is one of the most critical steps you'll need to take if you want your webinar to be successful.
If you're unsure where to start, we've got you covered! In this ultimate guide, you'll learn how to write great webinar titles. We'll also look at some of the best webinar title examples for added inspiration.
Here is what we'll cover in this post:
Once you've learned how to craft a great webinar title, if you want to also learn how to create a high-converting webinar landing page to go along with it, join our free training: 
Why are webinar titles important?
Webinar titles are like book covers; they must be eye-catching enough to convince people to open the book. 
They have to do a lot of things in a very short amount of time.
In the five to ten seconds it takes to read the title, you'll need to capture your audience's attention, set expectations for the webinar, make sure your audience knows it's targeted for them and let them know how it will solve their problem, while also representing your brand.
It's also going to be the headline in all your marketing, whether that's in your email marketing, on your webinar landing page, or in a social media marketing campaign to advertise your webinar.
Great webinar titles must communicate the crux and value of your webinar in order to drive webinar registrations, so you need to make sure your next webinar has a catchy title!
How to write your own catchy webinar titles
With 58% of marketers planning to use webinars as a promotion tool, you'll need to create a title that stands out from the rest! Here are a few tips and takeaways on how to write the best webinar titles.
Know your audience 
As with any content marketing strategy, knowing your target audience is key. Think of who your webinar is intended for and make sure you're speaking to them at their level of expertise.
Do you want to appeal to marketers? Or is your webinar for subject-matter experts marketing their own courses?
Your language, tone and webinar content will change significantly depending on your audience. Marketers will be put off if you explain the basics to them, but first-time course creators and other beginner entrepreneurs might find this information extremely valuable.
The best webinar titles reflect the topic as well as the audience you intend to attract.
Be specific
The best webinar titles address a specific challenge or goal that their audience is looking to overcome or achieve.
Hosting a webinar about "marketing challenges" is unlikely to attract anyone because it's so vague. But talk about "How to generate leads using 5 actionable content marketing strategies" and you're in business. This is a great webinar title that calls attention to a specific challenge that some marketers might face.
While writing descriptive copy can make your webinar titles longer, specificity will help you attract the right potential attendees to your online virtual events.
A clear goal will also help you deliver a targeted and effective presentation, which will be useful to participants.
Ask a question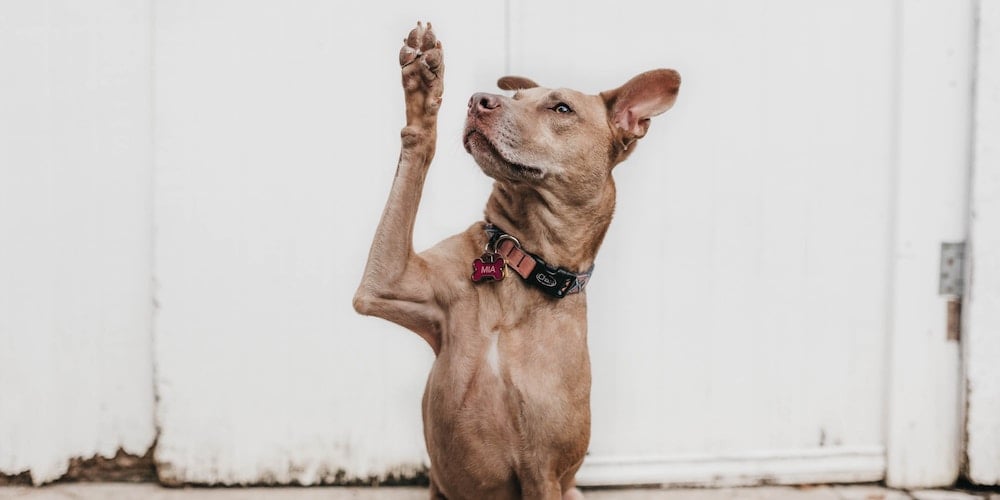 One way to create a good webinar title is by asking a question. Think about the questions your target audience might be trying to answer and create a title based on them.
Look at this webinar title example from the Content Marketing Institute: "Do You Know Who's Watching? Using Engagement Data in Your B2B Video Marketing."
Here the audience is invited to think about how they process and analyze their audience data and if they're doing it well enough. (What's also great about this title is its specificity. The webinar is focused on B2B video marketing and aims to attract a very specific audience.)
Asking a question automatically sets the expectation that you'll provide the answers in the webinar while also resonating with the questions potential attendees have in their own minds. It's a win-win! 
Use numbers 
Most of the best webinar titles use numbers. Why? Because people love them. The specificity of numbers makes it sound like you have a defined repeatable framework to share which sets clear expectations with your audience, or at least shows how many strategies, ideas or techniques you will cover in the course of the webinar (i.e. 5 things you should know about content marketing).
Using numbers can also boost your credibility (for example, how to 10x your traffic) since it implies the host has already done this themselves and knows what they're talking about.
If you plan to include a number in your webinar title, stick to single digits.This ensures that potential attendees don't feel overwhelmed by the amount of information you're covering. It's better to cover a few key points at length rather than listing out multiple strategies that people might forget. Keep your content digestible!
Advertise your experts
If the webinar you're hosting includes a subject-matter expert or someone famous, you'll want to advertise this! Expert speakers or celebrities draw crowds and get people more excited about your topic, while also lending their credibility to your webinar.
Make sure this information isn't missed by placing it front and center on your webinar title!
Keep it crisp 
Good webinar titles are crisp and clear. While they don't have to be super short, use words that make your title as easy to read as possible.
Stay away from complex sentences. If your webinar title includes too many commas or connecting words (like 'and'), you know you're off track! Audiences should be able to understand what you're saying at a glance.
Short titles make your webinar more discoverable (as they're easy to search for), and are also more likely to grab attention.
While there's no perfect webinar title length, the best webinar titles are usually between six to 14 words long. 
Optimize for SEO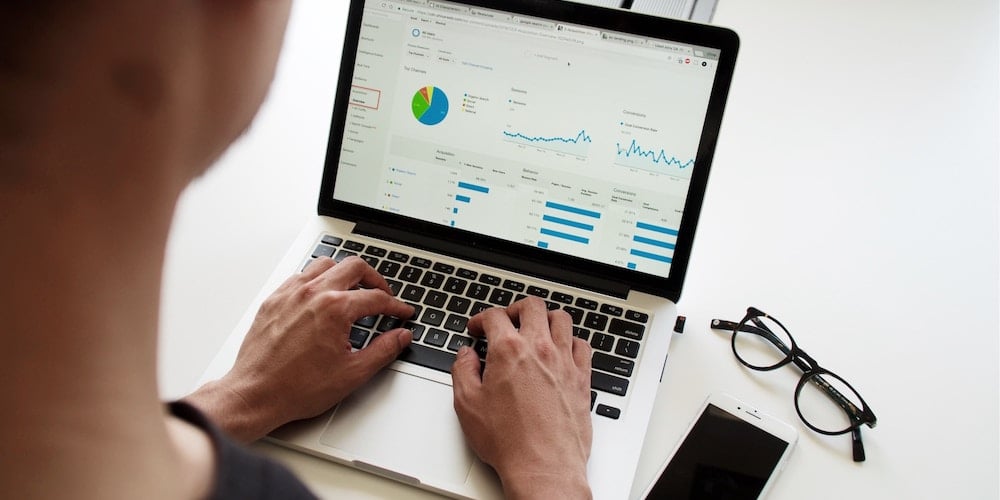 Keyword research can help make your webinar more discoverable, but we recommend you only do this for on-demand or evergreen webinars (i.e. pre-recorded webinars that are available to watch at any time).
With live webinars, you'd typically begin promoting your webinar 3-4 weeks in advance, not enough time for your webinar landing page or supporting blog posts to rank in search results and help with lead generation. With on-demand webinars, your landing page content can live on your website for months and even years, and get your page to rank.  
So if you're planning an on-demand webinar, keyword research is critical.
---
Modern on-demand webinar software lets you create an engaging, interactive, and personal webinar experience, even though the video is pre-recorded. If this sounds too good to be true, join eWebinar's on-demand demo. We use our product to demo our product, so you'll also get to experience an eWebinar first hand. 
Use keyword research tools like Clearscope, Keyword Planner, Ahrefs, or Wordtracker. These tools will help you to identify the best webinar titles based on your topic and audience.
You can also research relevant keywords by looking at webinar title examples of your competitors.
Keyword research won't just help you come up with the best webinar title, but will also help promote your webinar and make it more easily discoverable on search engines. But remember, don't go through the trouble if you're creating a live webinar that you only need to promote for a few weeks.
5 of the best webinar title examples 
Now that you have a clear idea of what goes into creating the best webinar titles, let's take a look at some great webinar title examples to give you an idea of what works — and why! 
Example #1: How to Create a High-Converting Landing Page for a Live or Evergreen Webinar
This webinar title comes from eWebinar, a webinar solution designed to create interactive on-demand webinars that are so engaging and interactive it doesn't matter that the presentation is pre-recorded.
Here's a look at their landing page for an on-demand webinar with the title, How to Create a High-Converting Landing Page for a Live or Evergreen Webinar.
This attention-grabbing webinar title focuses on getting those conversion rates up, something that all marketers care about! It's also clear it's a "how to" webinar, which means at the end you'll know how to do something you didn't know how to do before.
And while this is not in the title, the short blurb on the expert speaker also lends credibility and authority to the content, making it more likely that people will watch.
When it comes to SEO, it can be difficult to optimize a landing page for search because it often requires writing long-form content, which could diminish the landing page's efficacy at getting people to sign up.
So, in this case, eWebinar wrote an SEO-optimized companion blog post with the same title that has a primary CTA of getting people to watch the webinar. At the time of writing, this blog post ranks in the top 10 on Google for a number of keywords with a combined monthly search volume of 600.
That's 600 potential leads for your on-demand webinar on autopilot every month!
---
To learn how to put your own webinars on autopilot — without losing a personal touch! — join eWebinar's 20-minute on-demand demo now.
Example #2: How to Win Business & Boost Client ROI With Landing Pages
This title is from Unbounce, an AI-powered landing page builder that hosts webinars to educate potential customers about the value of landing pages, the core of their business.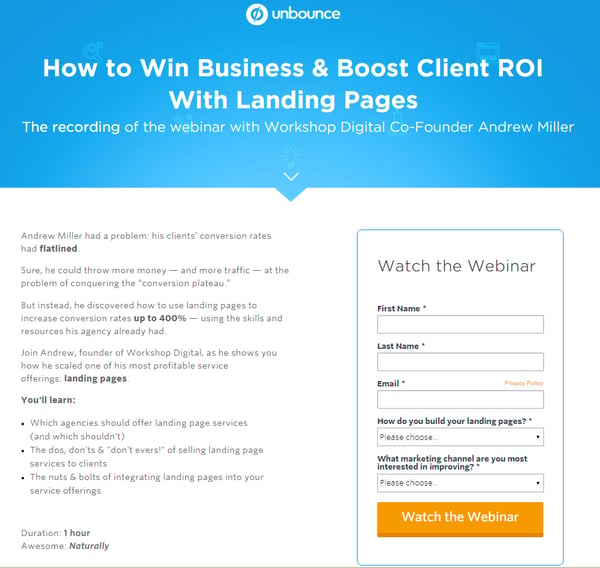 This makes for a great webinar title because it clearly states what audiences can achieve once they attend the webinar. The title also clearly points out exactly what audiences can expect from the webinar content.  
The best part? It speaks to a very specific audience with the language it uses without having to spell things out. This webinar is specifically for digital marketing agencies who are trying to figure out how to more easily acquire new clients and boost the ROI of their existing clients. These are two of the most important goals of any agency like this.
Example #3: How to Become a 10x PM Without Burning Out
This is a great webinar title from the Eventbrite page of career coaching guru, Becca Camp. What makes this title so effective is that it uses concrete numbers to convey impact (10x) while also addressing a pain point of many product managers (burnout).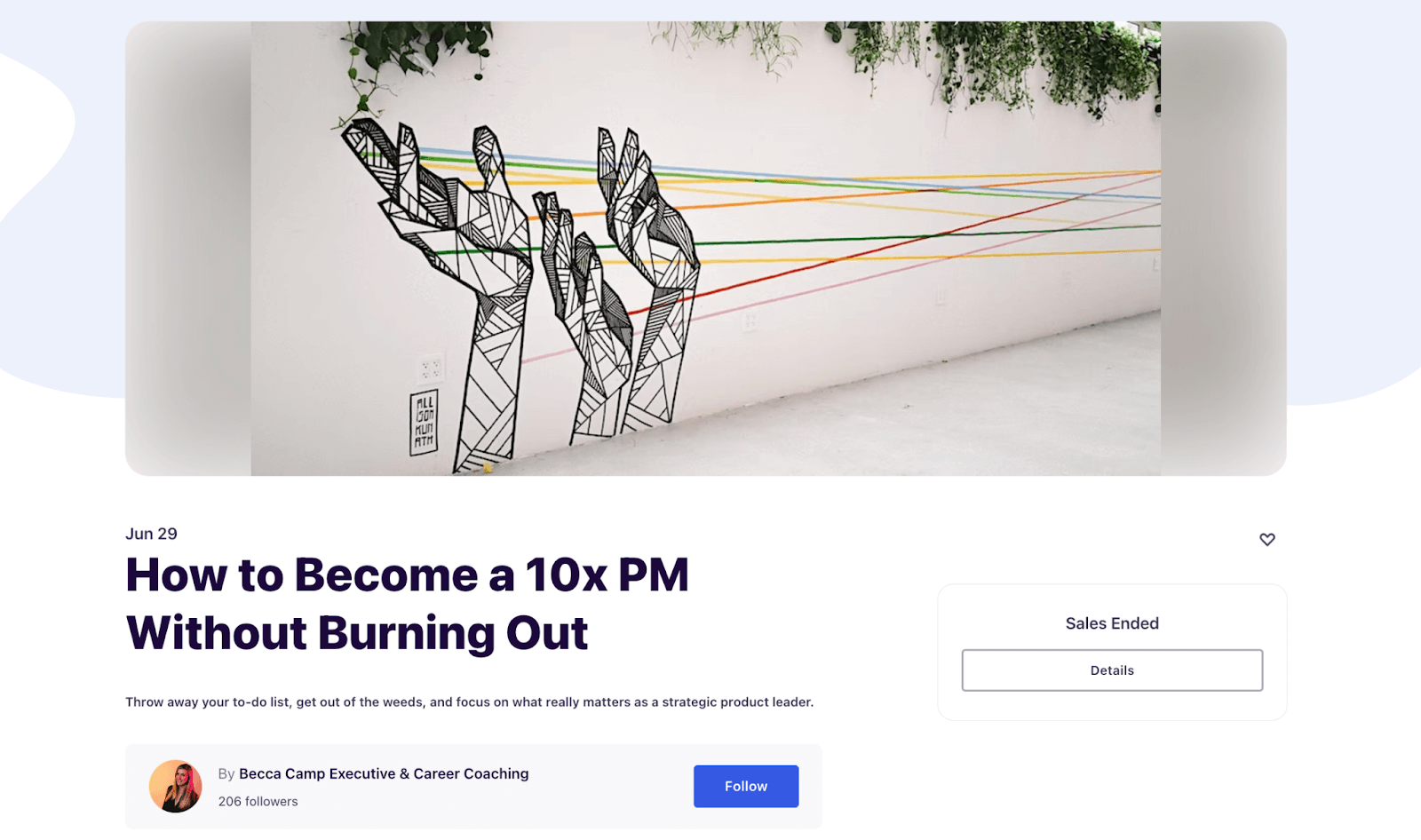 Product managers who see this will know that they will learn strategies that improve their performance without driving them into the dirt. It also speaks to a very real problem among most PMs as they have extremely stressful and demanding jobs and this webinar is geared towards showing them how to manage it. (Even the fact that Becca uses the abbreviation for product manager, PM, helps establish herself as a peer.)
Example #4: The #1 Way to Accelerate Your Growth Rate (Without Spending More Money)
This social media post from Kissmetrics advertises a weekly webinar on accelerating growth rates. This post highlights a number one strategy (which should get audiences excited) along with an added benefit: marketers won't need to spend more money!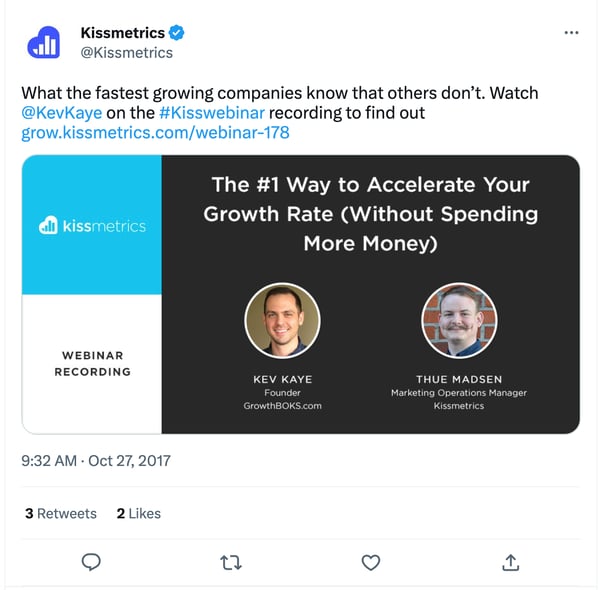 This is a great formula for a webinar title, which is to promise attendee's that they'll be able to do something they want to do without having to do something they want to avoid.
Highlighting your solution or methods as 'the best' is also a great way to entice target audiences to sign up, since they'll want to know your secrets.
Example #5: How PR & Marketing teams win in 2023
Hubspot's webinar marketing is always on point,  which should come as no surprise since they're one of the biggest marketing CRM tools around, with an extensive content marketing strategy.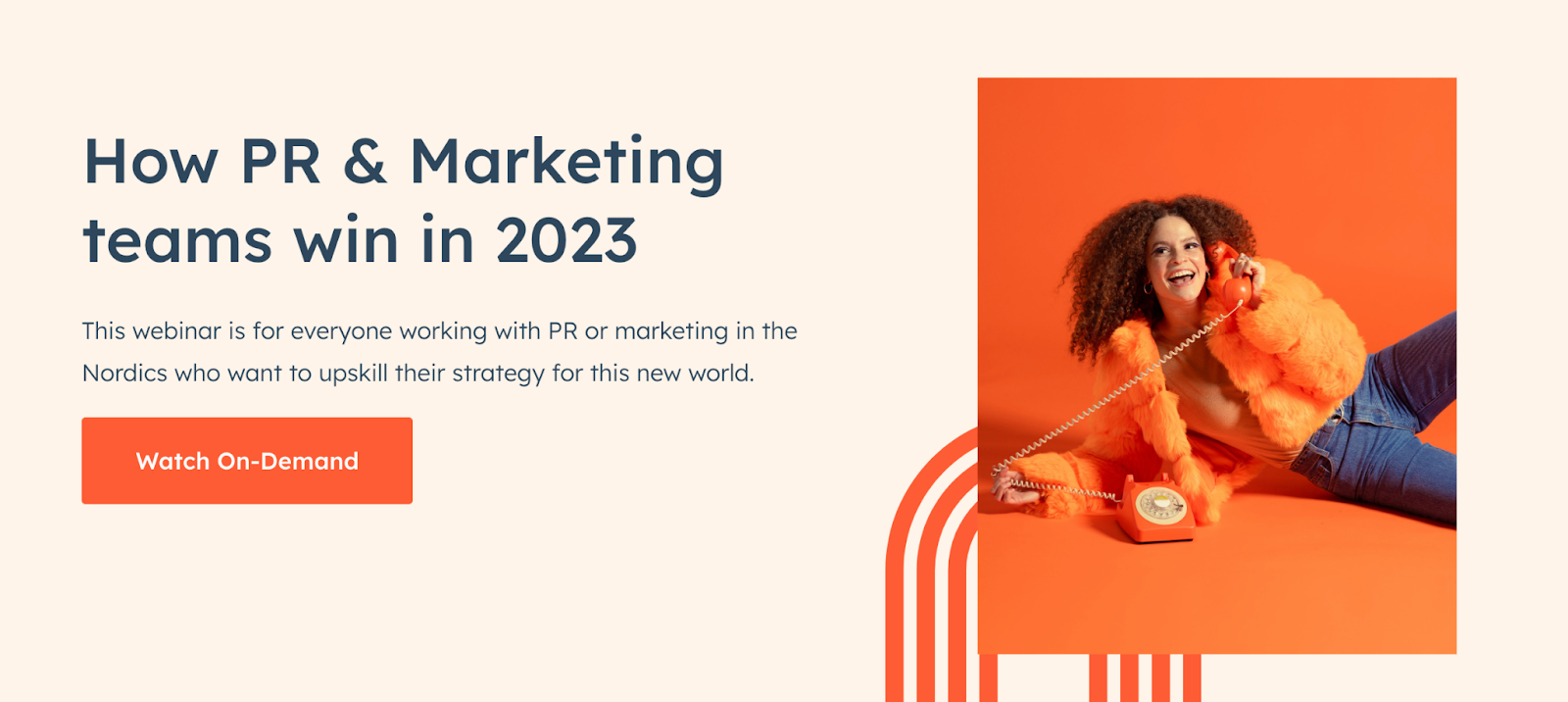 What's great about this webinar title from Hubspot is that it's short and concise. Potential attendees will know exactly what to expect even before reading the descriptive copy below. The inclusion of the date (2023) is a clever and simple way to communicate that the information is current and the audience is going to get the latest trends.
7 webinar title templates to drive registration rates 
Now that you've seen some of the best webinar title examples out there, it's time to write your own!
To get you started, we created a list of webinar title templates designed to grab attention and get those registrations up! Use these webinar title templates as a starting point to brainstorm and create your own. 
| | |
| --- | --- |
| Webinar Title Template | Example |
| How to [Do Something Good] in [Time Frame] Without [Doing Something Bad | How to Increase Webinar Signups in 2 Weeks — Without Using Paid Ads!  |
| [Number] Little Known Ways to [Do Something Good] | 7 Little Known Ways to Improve your Emailers |
| [Topic] Trends Changing the Way We [Do Something] | TikTok Trends Changing the Way We Do Marketing  |
| The New Trend in [Topic] that [Well-Known Expert] Swears By | The New Trend in Real Estate Sales that Josh Altman Swears By |
| [Topic] 101: How to [Do a Basic Thing] | Financing 101: How to Build Your Budget |
| [Number] Ways to [Do Something Good] in [Current Year] | 5 Ways to Increase Video Marketing in 2023 |
And that's a wrap! It's time to get started creating your own webinar titles!
Remember that the purpose of great webinar titles are to grab attention and get your target audience to the next important step: signing up.
Once you've created your webinar and given it an effective title, the next step is to create a high-converting webinar landing page so that you can start getting signups. To learn how to do this, sign up for our free training: 
Happy title writing!