[ad_1]

Back in the olden days, you'd leaf through a huge phone book to find a pet groomer, dentist, or roofer.
The internet lifted business listings off of the Yellow Pages, made them digital, and put them on hyper mode. Now you might find the same roofer listed on dozens of directories, search engine results, and map app screens.
These listings are a boon to local businesses, delivering ready-to-buy customers right to your front door.
But what happens if the information on a directory or map search is wrong? Or if it's missing altogether? Those people searching will head right to your competitor's listing.
That's where local listings management tools come in. Built with a variety of features, listings management tools help you monitor and update your company's details on the places people search. They give you data about how people find and interact with your listings. And some even let you track and respond to reviews so your ratings go, well, through the roof.
7 listings management tools to try
Not all listing management tools are the same. Some are a feature of the business listings site itself, like Google's tools for managing the way people find your business on the search engine. Others give you the power to see and control dozens of listings in many locations all at once.
1. Google Business Profile
Google Business Profile (GBP) is Google's native tool for managing your listings on both Google Search and Google Maps. GBP's features let you improve your search results and communicate with people interested in your business.
Google listing optimization
The more information you have in your Google Business Profile, the better the chance you have of nabbing some traffic-generating real estate on search and maps results pages. GBP helps you optimize your profile to make it more search engine friendly.
For example, you can add a business description and category that gives customers and search engines more context about your company. GBP also lets you add photos to spice up text-only profiles.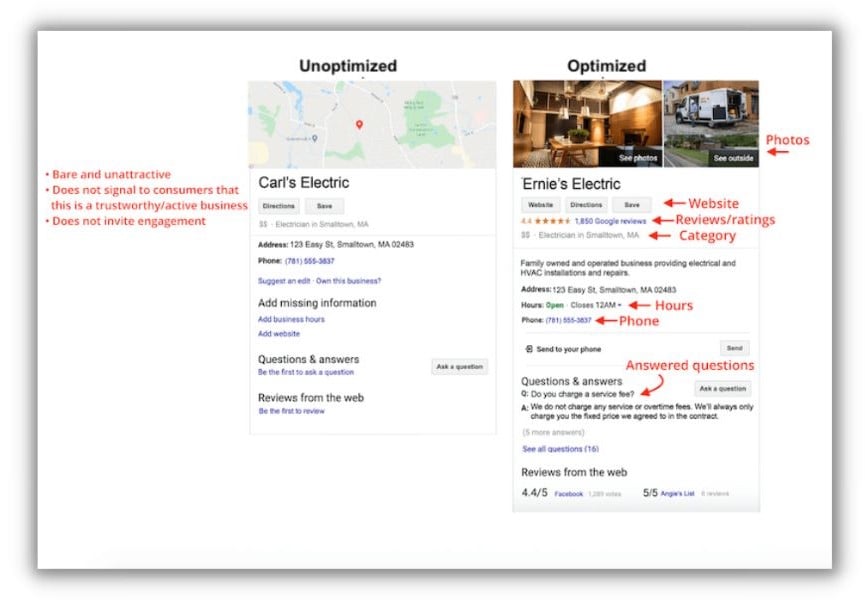 The great thing about GBP is that you only need to update your profile once. It'll show those changes on Google Maps, search results, and in the coveted local 3-pack.
Message management
Your Google Business Profile offers a couple of ways to engage with your customers on a one-to-one level.
First off, you can read and respond to reviews using GBP. Since reviews and ratings are prominently presented in results, you'll want to make sure and keep up with them.
There is also the option to add direct messaging to your GBP profile. That gives you a way to answer more detailed follow-up questions (and hopefully gain more customers!).
And finally, you can add an FAQ section to your profile.
Answering frequently asked questions not only helps the person asking, but it also gives helpful information to anyone reading through your profile.
2. LocaliQ Listings
LocaliQ offers business listing management that puts you in control of how your business is seen on more than 50 different directories and websites.
The platform offers three ways to generate more sales from local business listing directories.
Local listings management
One of the most helpful features of LocaliQ's listings management solution is its listings management tool. With a single click, you can update your business details to dozens of directories.
Here's how it works. Let's say you decide to add a new service and extend your operating hours on Saturdays. Normally, you'd have to go into Google, Yelp, Bing, and all the other directories to manually edit your citation.
With LocaliQ's listings management tool, you type those changes in your dashboard, then syndicate them to each of those websites automatically.
You can also use LocaliQ to look for and remove SEO-killing duplicate listings and manage multiple location listings from the same dashboard.
Review management
Many directories like Google and Yelp give users the ability to review your business. It's critical to read and respond to those reviews. But let's face it, you'll spend all day trying to chase them down in each directory.
LocaliQ lets you read and respond to recent reviews from several directories, right in your dashboard.
You'll also see important aggregated customer feedback data, like your average review rating. If there's a big change in that info, you can figure out what happened and react.
Business listings analytics
How do customers find you? LocaliQ's reports show you if it was search engines, maps, or other sources that led them to your listing.
The easy-to-read reports include data on what actions people take after seeing your listings. Do they call? Or are they more inclined to click on your website?
3. Yelp
According to Yelp, 80 million people pop into its directory to find a business every month. And four out of five Yelp customers make a purchase within minutes of viewing a business's profile. Yelp's listing tools offer some unique ways to get more of those people to your door.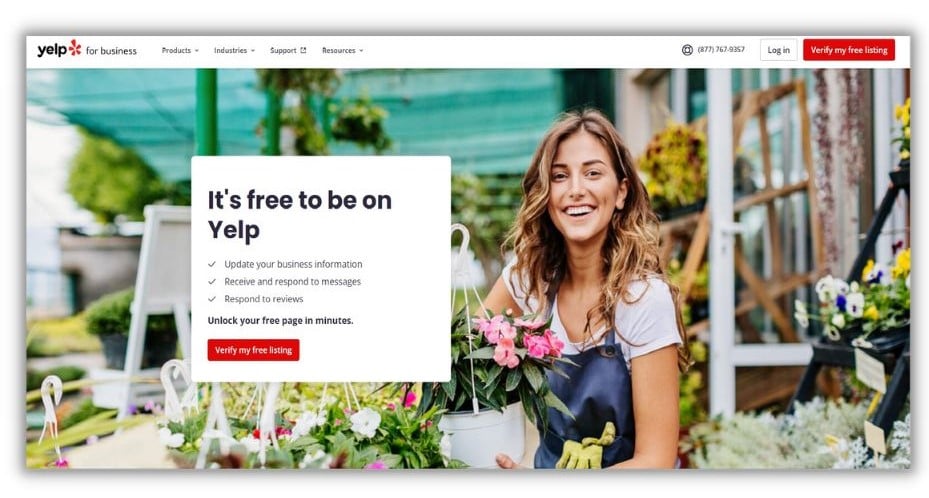 Review management
Sure, Yelp is a directory. But it's first and foremost a review website. Users can leave reviews, become elite reviewers, and even review the reviews. So it's no surprise that Yelp provides review management tools.
Once you claim your Yelp listing, you can respond directly to any review your business receives through the Yelp dashboard.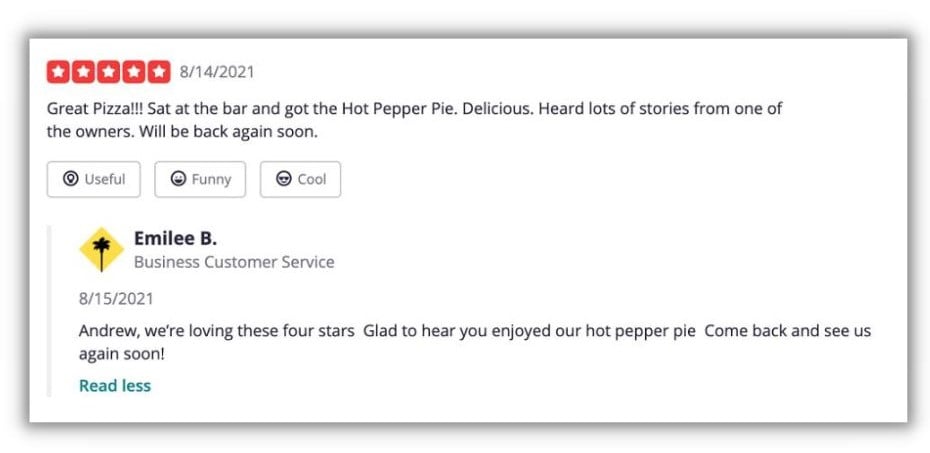 If you want to take the conversation out of public view, Yelp lets you get direct messages—including requests for quotes, phone calls, or consultations—from customers.
Business updates
Listings can get stale over time. Yelp's listing management tool lets you add updates to your profile to get people excited about what you offer.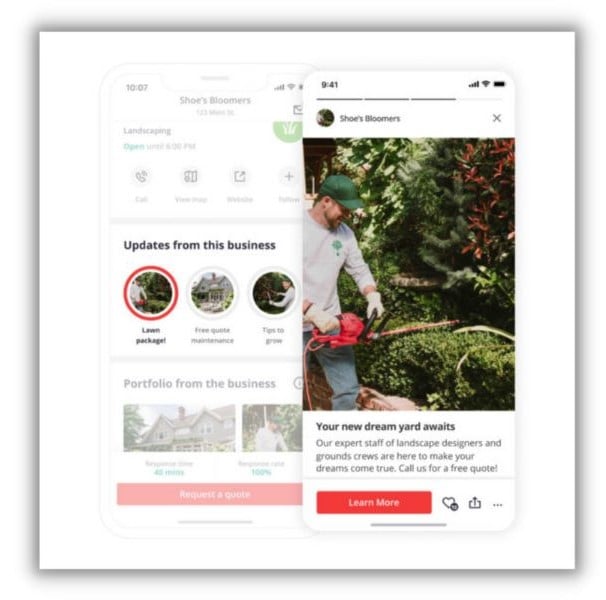 Officially, the feature is called Yelp Connect. With it, you can add little image icons that look like Instagram Story Highlights. Users hover over them to read whatever delicious detail you've shared.
4. Bing Places
Bing Places is Microsoft's answer to the Google Business Profile. While Bing Places can't boast the functionality of GBP, it does have a few listing management tools to help you get found by more people than you may suspect.
Listing information management
If you're not using a listings management tool like the one offered by LocaliQ, you'll need to hop into Bing every once in a while to make sure your information is correct.
Just like for Google, you need to claim your listing on Bing first. But then Bing lets you fill in all the juicy details like hours of operation and so forth. The really cool bit is that you can just import all of that data right from your Google Business profile to save time.
Once you're up and running, you'll be eligible for placement on Bing Search and Maps.
And bonus: You may even land yourself as the result in upcoming voice searches since Bing powers both Microsoft's Cortana and Amazon's Alexa.
5. Facebook Business Page
The social media website functions like a local business directory because Facebook Business Pages often wind up in search engine results. Luckily, Facebook offers some tools that'll help you manage your page as if it were a local listing.
Location management
It's all about "location, location, location" in local search results. So your Facebook page needs to be linked to a geographic location for it to show up in "…near me" searches.
Facebook's Business Page tools let you do that in a few ways. First and foremost, you can add your address to your Page.
Facebook also lets you tag posts and images—on both desktop and mobile—with a location. Then you can change the category of your business to one that works locally, like a plumber or hair stylist, so your business shows up when people filter for places, as opposed to people or posts.
6. The Real Yellow Pages
Yes, they're still around. In fact, the YP website claims 4 billion searches for local businesses on its website and app each year. And there are some nice tools for businesses to manage their listings on the OG directory.
Multi-directory listing
The YellowPages network actually includes three directories: The Real Yellow Pages, Superpages, and dexknows.
That means any work you put into creating your business's listing will automatically apply to all three locations for much more reach.
As for the listings themselves, YP gives you some options to customize citations.
You can add branding, images, action links, and special offers along with all the standard business info. There's also plenty of space to write a full business description and include customer reviews.
7. Foursquare
Foursquare isn't what you think it is anymore. What was once a social media app for telling your friends which boba tea joint to find you in has become the location data provider for some of the largest geographic-dependent apps in the world (think: Uber and Nextdoor). So when you claim your business listing on Foursquare, you're giving your business more opportunities to show up in the apps that matter.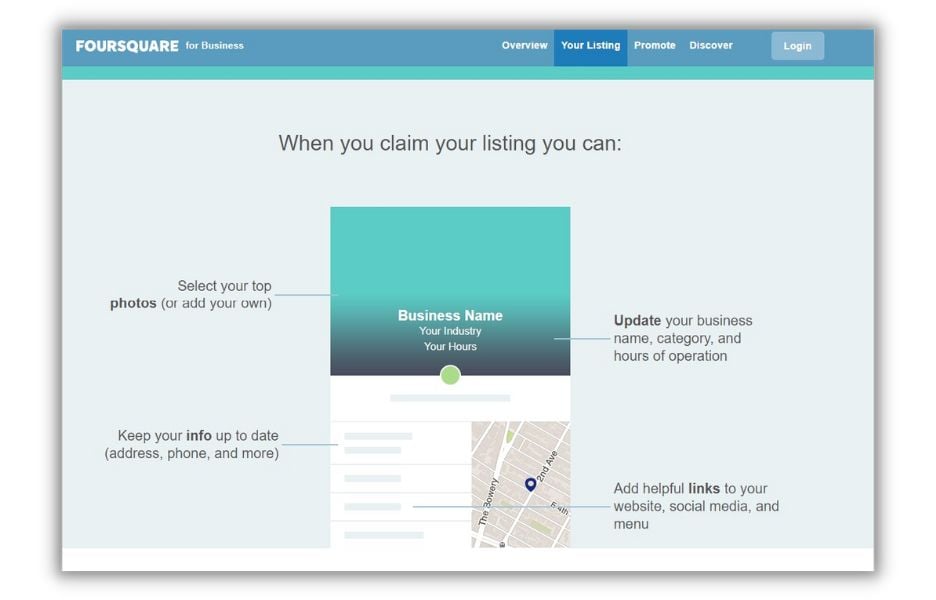 Socially networked listings
Even though it doesn't operate like a social media platform anymore, there's still a network effect to the listings on Foursquare. In large part, that's due to the "tips" feature of the app.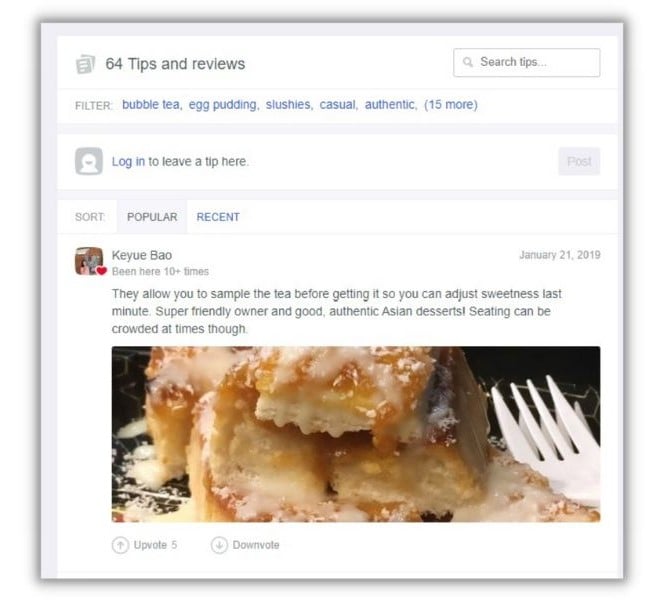 The idea is that customers can offer those little insider suggestions that help new visitors get the most out of their trip.
The tips feature encourages people to add their favorite places to Foursquare, which means your local business may already have a citation there. You just need to claim it and fill in the details—a task Foursquare makes easy with their listing management tool.
Individualized analytics
Like some of the other tools on this list, Foursquare also lets you track the analytics collected through each citation visit. But since people still check in to Foursquare leaving reviews and tips, the app has a lot of data about individual users. So you can not only tell how many people saw and clicked on your Foursquare listing, you can tell how often or how recently some of them walked through your door.
Why local listings management tools are important
Whether you're using a tool like LocaliQ to manage many listings at once, or tackling each directory separately, listing management tools make it easy to view, manage, and track how you're seen in directories. Here are some more reasons listings management tools are so important.
Increase online presence
Being present in online directories gets you access to more customers, can boost your SEO, and gives you more opportunities to collect reviews. That's pretty important since 72% of consumers say positive reviews make them trust a business more.

Millions of people use online directories to find local businesses. The more of those directories that include your business listing, the greater the chance you'll be found by new customers.
Search engines also reward businesses that have more, fully optimized citations and reviews on trusted directories.
Local listing management tools help you get cited on more directory websites and map apps.
Maintain correct listing information
Your business likely exists on many directories whether you put it there or not. That means the information displayed might be incorrect, out-of-date, and downright unflattering.
All that bad information will frustrate customers and signal search engines that your business isn't trusted as your competitors (which we know isn't true!). In fact, 63% of consumers say incorrect information would stop them from using that business.

When you use listing management tools, you can make sure your details are correct and even spice up your listings to attract more customers.
Understand the trends
Many of the listing tools we've reviewed provide analytics. This peak behind the directory curtain clues you in on who's visiting and where they're coming from.
With these insights, you'll know which directories to focus on and which may need to be updated and optimized. And if one directory seems to generate lots of reviews, it may lead you to spend on paid ads there.
Get cited, found, and reviewed with listing management tools
Online directories have helped millions of people connect with local businesses like yours. The challenge for you is figuring out how to keep up with all of the places your business can be found.
To get started, consider using these local listings management tools:
LocaliQ
Google Business Profile
Yelp
Bing Places
Facebook Business
The Real Yellow Pages
Foursquare
[ad_2]

Source link