In 2020, Vidyard brought new technologies and tools to market, contributed financial donations and volunteer hours, and shared educational resources and skills training with nonprofits and educators to support pandemic relief efforts.
KITCHENER, Ontario – January 7, 2021 – Two years ago, Vidyard reordered its stakeholder list to prioritize 'Community' above 'Investors' in a bold move for tech. In 2020, those efforts multiplied as Vidyard shifted its Community Social Impact Program to support new, urgent needs brought on by the ongoing, global pandemic. In 2020, Vidyard's program focused on three core areas: (1) bringing new technologies and tools to market, (2) supporting the community through financial donations and volunteer hours, and (3) sharing educational resources and video training with nonprofits and educators to build their confidence when using video.
"During this past year, supporting our community was more important to us than ever. We adapted to remote, skill-based volunteering and worked with local organizations to help deliver impactful programming to support the growing need," says Laura Galbraith, Director of Community at Vidyard. "In addition to supporting our community's physical requirements, we adapted our programs to better support digital needs. Since video is the next best thing to being there in person, we knew it was vital to offer technologies and training to those who needed it most."
Throughout 2020, Vidyard:
Contributed 2500+ hours of in-person volunteer services to support nine local charity organizations.
Adapted existing volunteer programs into virtual skills-based volunteering opportunities to best support the local community.
Announced a secure video messaging tool to enhance internal communications during the pandemic and made it available for free to all organizations and nonprofits.
Provided free access to its online video and virtual teaching tools to help K-12 school districts and teachers move their teaching online using private video content.
Funded local hospitals to purchase 1500 meals for healthcare workers, personal protective equipment (PPE), and emergency supplies for staff.
Donated funds to local charity campaigns, including 'This, Too, Will Pass,' to bring much-needed funds to seven Waterloo Region charities affected by the pandemic.
Contributed employee-led volunteer services for healthcare workers to help with tutoring services for their children, dog-walking, grocery pick-up, lawn care, and more.
Partnered with local schools and outreach programs to equip students with digital skills to find work amidst the pandemic. Programs shared best practices, training, and tools to teach students, mentors, and teachers how to use video to improve communication.
Teamed up with local nonprofits to serve communities most at risk by sharing access to video tools built to help them communicate better within their organization and externally with donors, staff, and volunteers.
Empowering nonprofits and school districts with secure video tools that drive collaboration
Within days of multiple organizations transitioning to fully-remote workforces, Vidyard saw the struggles first hand. Teams, including educators, nonprofits, and organizations, were not set up to keep collaboration strong. Vidyard rallied together to bring a secure video-messaging tool to market to address the most significant struggle–staying connected. Vidyard launched two tools and made them free for a limited time to ease the tension and stress that came with becoming a remote worker overnight.
The first, a secure video messaging tool, was built to enhance internal communications and help nonprofits stay connected. Users can easily record and share private, secure videos, both internally with colleagues or externally with donors, staff, and volunteers. The second, a virtual teaching tool, was built to provide school districts, teachers, and students with collaboration methods to help them stay connected. With it, K-12 school districts and teachers were able to take communication online with private video content.
Teaching best practices and video training to enable students to make the rapid shift to digital-first
Video training and best practices quickly became one of the most vital resources for nonprofits who found themselves suddenly struggling to communicate with their teams during a time of rapid transition and change. When the local region first became involved in supporting a provincial-wide shutdown, Vidyard partnered with higher education institutions to share their knowledge. First, Vidyard worked with Wilfrid Laurier University's Faculty of Education by providing volunteer hours to support local hospital healthcare workers with tutoring and mentorship for their children.
Second, Vidyard partnered with the University of Waterloo to share training resources that would help struggling organizations move forward in the new, digital-first world. Together, they launched a Digital Skills Fundamentals course to equip students with digital skills and talents they'd need to make significant contributions to local charities–while strengthening their skills to support the future of work.
Finally, Vidyard teamed up with local schools and educational outreach programs to share best practices, training, and tools for using video to ease communication. These partnerships have helped local student groups discover new ways to deliver their programming virtually through video.
Free Video 101: Immersive Workshop for Not-for-Profits
On January 21, Vidyard is offering a free Video 101 – Immersive Workshop for Not-for-Profits, with Jacob Fernandes, Customer Outcomes Manager, which will outline the basics of how to get started with video. RSVP to hear special guest speakers, a short panel discussing current examples and challenges in the industry, and breakout workshop sessions with video experts.
In November, TrustRadius awarded Vidyard with a 2020 Tech Cares Award for their decision to launch new free video tools to help newly remote employees stay connected.
More Information:
Register for Video 101 Workshop for Not-for-Profits: https://vidyard.zoom.us/webinar/register/WN_2njclrM_TSKb7e1eo4UdKg
Vidyard Careers: https://www.vidyard.com/careers/
About Vidyard
Vidyard helps businesses and professionals connect with their audiences in a whole new way through engaging, personalized, and measurable video experiences. Through its global video hosting and analytics platform, Vidyard empowers businesses like LinkedIn, Zycus, League, Stanley Black & Decker, and others to transform their approach to marketing, sales, and corporate communications. Vidyard helps any business professional create and share custom videos to deliver their message in a more personal and impactful way through its free and pro tools. Thousands of businesses and millions of people around the world rely on Vidyard for their video needs. Sign up for Vidyard for free: https://www.vidyard.com/free-screen-record
Media Contact:
Vidyard Communications Team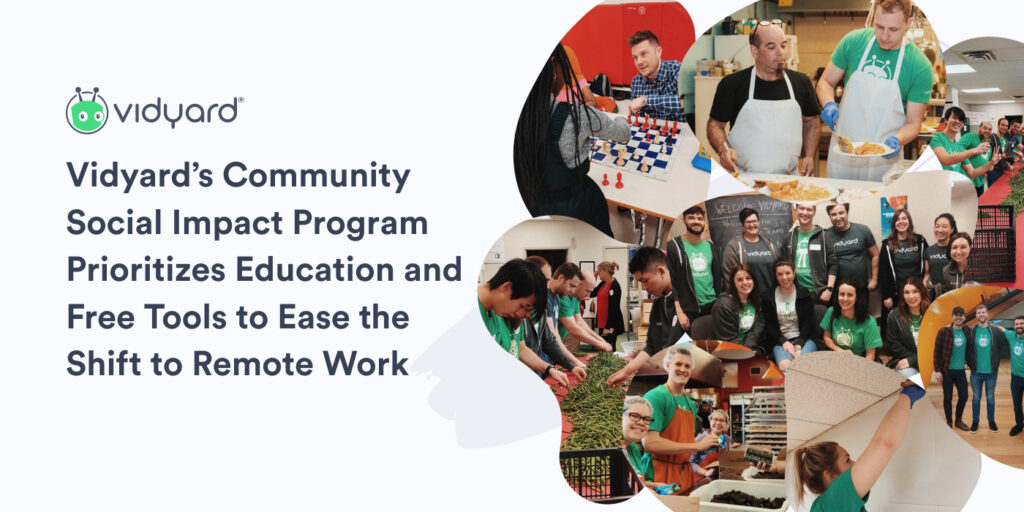 The post Vidyard's Community Social Impact Program Prioritizes Education and Free Tools to Ease the Shift to Remote Work appeared first on Vidyard.
Read more: vidyard.com