Learning the best method for printing t-shirts is one of the most important steps when it comes to starting a t-shirt business. The bad news is there isn't just one correct answer.
The ideal printing method for your business will depend on many factors like the type of fabric you're using or the quantity of t-shirts you want to print. The designs you have in mind, the level of detail you're expecting, and how much time and money you're willing to invest will also matter.
For example, are you thinking of buying your own machines and doing the printing yourself? Or do you prefer to have a third party print your shirts through a print-on-demand service? If you opt for the dropshipping business model, providers will even ship orders straight to your end customer under your label.
In this post, we'll explore the most popular t-shirt printing options you can use to personalize your own t-shirts or create tees to sell, and explain the pros and cons of each so you can decide for yourself. 
Let's get to it.
1. DTG printing
DTG, or direct-to-garment printing, is one of the most popular t-shirt printing techniques on the market right now. As we'll see, though, it's quite new compared to some of the other methods we'll cover.
How does DTG work?
The easiest way of explaining DTG printing is that it's like printing on paper, but on fabric. This means that the ink is sprayed directly on the t-shirt to create the design.
Learn more: DTG vs. Screen Printing
This printing method is best for smaller businesses that want to work with custom t-shirts (or custom apparel in general) and don't have a high volume of orders because it enables them to print one-offs. Another major plus of DTG printing? You can test different designs and sell on demand, without needing to hold tons of t-shirts in inventory. And you'll still get the best t-shirt printing quality.
Source: Printful
DTG printing machines
In order to print t-shirts using DTG, you'll need a DTG printer with special water-based inks that can bond with the fabric (preferably cotton). The machine sprays the ink onto the fabric and the t-shirt is ready in a few minutes.
This digital equipment is not cheap, so if you're planning on buying your own machines, prepare for a significant upfront investment. Alternatively, you could rely on a print-on-demand provider like Printful who has top-notch equipment and is ready to print your t-shirts as soon as an order comes in.
All you have to do is connect your online store to Printful and we'll fulfill your order automatically, pack it, and ship it to your customer on your behalf.
DTG printing base. Source: Printful
DTG printing curing. Source: Printful 
Fabric compatibility
DTG printing works best on 100% cotton t-shirts but is also suitable for cotton blends. Synthetic fabrics are not recommended.
Because the ink is thin, it's harder to get a good print on darker fabrics. In that case, a white under base is recommended to guarantee that the design will keep its original colors. For this printing method, pre- and post-treatments are also necessary, not to mention special care instructions to make sure the products last longer.
Pros 
No setup preparation (like films or meshes)

Allows one-offs

Perfect for small businesses

Often a more sustainable practice than screen printing as it avoids overproduction

Longer-lasting prints

High-quality results and precision for complex designs

Soft to the touch

No color limitations
Cons 
Expensive machines that require a certain skill

Needs pre-treatment and post-treatment

Not the most cost-effective option for large orders with the same design

Not ideal for non-cotton fabrics
Best for
DTG printing is ideal for more detailed designs with unlimited colors and nuances. It produces precise, accurate results and high-quality prints for artistic designs or photos.
Learn more: Best 7 Quality T-Shirts for Printing
@media (max-width:768px)
.pf-btn-lg height: 40px; line-height: 38px; min-width: 88px; font-size: 16px;
2. DTF printing (or PET film transfer printing)
DTF stands for direct-to-film printing, and it's one of the most versatile t-shirt printing methods available in the industry. Different from the previous, this t-shirt printing technique requires a film to transfer the design to your t-shirt. The process can be done with different types of fabric. 
How does DTF work?
In DTF printing, the design is first printed on a special film called PET film with water-based inks and a special powder that helps transfer designs. It's then printed onto the t-shirt. The transfer from one surface to the other is done with a heat press machine, making the film peel off and leave an exact print on the garment.
Before receiving the print, the fabric needs to be dehumidified and pre-flattened. After the design is transferred (using an average temperature of 165°C), the film needs to be cold peeled. The fabric then goes through a second round of flattening to make the design last longer.
Direct-to-film printing process Source: Printful
DTF machines
To print a t-shirt using the DTF method you would need to invest not only in equipment like a heat press machine, but also in material like film and powder—not to mention the pre- and post-treatments for better quality, durable prints.
Direct-to-film printer Source: Subli-Star
Fabric compatibility
One of the greatest advantages of DTF printing as compared to other t-shirt printing methods is its versatility. It can be used on a wider variety of fabrics like cotton, polyester, fleece, nylon, and blended fabrics.
Learn more: DTF vs. DTG Printing
Pros
High-quality results for detailed prints

Allows more colors and shades (for example, it doesn't require separate layers for design elements or colors, like screen printing)

More versatile—works on different types of fabric

One film can be used for multiple t-shirts
Cons
More steps, slower process

Higher cost for machines and material (PET film and powder)

Not eco-friendly, the films generate more waste

Thicker prints compared to DTG
Best for
Just like DTG, DTF printing is the perfect choice for elaborate designs with a wide range of colors and details. It's also great for those who want to print many t-shirts with the same design. 
Learn more: What You Need to Know about Direct-To-Film Printing.
3. Screen printing (or silkscreen printing)
Screen printing, or silkscreen printing, is one of the oldest t-shirt printing methods around. And one of the most efficient, too! It offers vivid, durable t-shirt designs in a cost-effective way. 
How does screen printing work?
The screen printing process involves a stencil (that functions as a template), a mesh screen, and a squeegee or a straight blade to transfer your design to the t-shirt.
First, a stencil is created of the design and placed on a mesh screen. It's important to block all the areas that won't receive the design so the ink will go through the open spaces only.
Once the stencil is placed onto the mesh, the ink is poured over it and pressed with the help of the squeegee or blade to reproduce the design on the fabric. After that, excess ink is wiped off and the t-shirt is laid out to dry.
Screen printing process. Source: Unsplash
Screen printing machines
Although it sounds like something that's done manually, there are screen printing machines designed to automate the process and help you scale your own printing business. But if you're thinking of starting small, here's the equipment and material you'll need:
A computer with the essential software to prepare your designs

An inkjet printer to create the film positive that will generate the stencil

The screens, made of a fine mesh pulled over a frame (depending on how many different types of artwork you'll use, you may need different sheets of mesh)

A screen drying cabinet or a clean room with safe lighting
Screen printing setup. Source: Printful
Fabric compatibility
Natural fabrics like cotton, silk, and wool are the best for screen printing. But although natural and synthetic blends can also be screen printed using this technique, you should avoid 100% synthetic blends like polyester, spandex, and lycra.
Pros
High-quality, long-lasting prints

Cost-effectiveness for larger orders

Compatible with many different fabrics

Fast and affordable for large quantities of the same design (average of 25 pieces per design)
Cons
Long process, not ideal for small businesses that want to sell on demand

Not ideal for detailed designs

Limited number of colors

Expensive for small quantities and designs with many colors

Not very eco-friendly since the process uses a lot of water and the screen printing ink is usually plastisol-based (not biodegradable).
Best for
This t-shirt printing technique is recommended for one-color designs and bigger businesses that already have a higher demand for mass production. For smaller orders and more intricate designs, DTG would be the more logical choice.
4. Sublimation printing (or dye sublimation) 
Sublimation is the transition of a substance from a solid state to gas when it's exposed to high temperatures and pressure. And that's how this printing process got its name: it was thought that the dye turned to gas when printing. Now it's understood that there is in fact some liquefaction of the dye, but the original term is still widely used, along with the technically-correct term: dye diffusion.
In this printing method, the substance is a special type of liquid dye that penetrates the fabric to generate colorful designs by changing not only its color but also its texture. As a result, sublimation printing, also known as dye sublimation or digital sublimation, is a technique that works well for garment printing. 
In fact, it's become one of the most popular methods for brands that sell t-shirts, especially all-over print shirts.
How does sublimation printing work?
The printing process is pretty simple. The first thing to do is print the design onto special heat transfer paper. The next step? Apply heat onto the transfer paper so the ink will penetrate the t-shirt.
Sublimation printing. Source: Printful
Sublimation machines
To make sublimated t-shirts, you need a heat transfer printing machine (a sublimation printer or heat press machine) with the specific transfer paper and ink.
When using older printers, pay attention to the fabric to make sure it doesn't wrinkle during the printing process. It only happens if the fabric and the paper aren't aligned—something you don't need to worry about in newer printers.
Fabric compatibility
If you're thinking of working with cotton t-shirts, forget about sublimation. This technique is made for synthetic fabrics like polyester.
Pros
More colorful designs

More resistant prints that endure more washes

Vivid colors

Smooth texture
Cons
More steps, slower process

More preparation may affect the overall cost

Requires more advanced knowledge
Best for
Dye sublimation printing is perfect for all-over print t-shirts. But since you need to have the printed design on the transfer paper each time you make a new t-shirt, it's not the most cost-effective printing method for bulk orders, making it more adequate for on-demand production.
@media (max-width:768px)
.pf-btn-lg height: 40px; line-height: 38px; min-width: 88px; font-size: 16px;
Read more:
Sublimation vs. Screen Printing: Which Method Is Best for Your Business?
Guide to Cotton, Polyester, and Blended Fabrics
5. Other t-shirt printing methods
Now that we've learned the basics about the most prominent printing methods out there, it's time to  explore other options. Who knows? Maybe the solution you've been looking for is off the beaten path.
Plastisol transfers
Plastisol transfers would fall under the screen printing category, but with one extra step: the design is applied on a special printing paper..
How do plastisol transfers work?
The first part of the process is exactly like screen printing, and uses a stencil and a mesh screen. But, instead of printing directly onto the garment, the design is first digitally printed on plastisol transfer paper that will then be printed on your t-shirt using a heat press.
This extra step makes the process suitable for a set of specific needs, but the main one is that Plastisol Transfer allows you to get set up for t-shirt printing in advance. Meaning, you prepare the transfer paper once and then you can print the design on a garment whenever you need in a fast, simple way.
Pros
Suitable for tougher fabrics (like fleece)

Durable prints with similar quality to screen printing

A good option for live printing, or printing in front of an audience
Cons
Adds an extra step to the process

Requires knowledge to avoid mistakes

Not ideal for large orders since it takes more steps and materials, which makes the process slower
Heat press printing
This is probably the least expensive way to start your adventures in printing. All you'll need is a regular inkjet printer, special printing papers, and a relatively cheap heat press machine.
How does heat press printing work?
In many ways, it's similar to dye sublimation, but the science behind it is a bit different. In both methods the design will be printed on transfer paper and then transferred to the fabric using heat and pressure. During the heat press method, the design will simply adhere to the fabric, creating a layer on top of the t-shirt. With dye sublimation, the ink becomes part of the fabric, actually dying the t-shirt.
Pros
Probably the least expensive method around

A simple and straightforward process

Suitable for small quantities and complex designs
Cons
Not suitable for fabrics with heat sensitivity

Low-quality results on darker fabrics
Vinyl cutting (or vinyl printing)
Vinyl cutting, also known as vinyl printing, is a versatile variation on the heat press technique and is suitable for both mass printing and smaller quantities.
How does vinyl cutting work?
First, the design is cut from a vinyl sheet using computer-aided design (CAD) software and a laser cutter. Then, the design is transferred to the t-shirt using a heat press machine. You can choose from a variety of vinyl colors, and the result is a vibrant, high-quality print.
The downside? It tends to make the fabric lose flexibility, which makes vinyl printing better suited to smaller prints, like branding, icons, or text.
The vinyl printing process. Source: Custom One
Pros
Durable and high-quality results

Versatile method—works for small and large quantities
Cons
Requires extra equipment (the vinyl cutter)

Not suitable for big prints
Discharge printing
This is almost like a reverse t-shirt printing technique: instead of applying ink to the t-shirt, you remove the dye from the fabric to create a negative print. It's not the most flexible method, but the result is a unique vintage-looking print.
How does discharge printing work?
Discharge printing will only work with natural fabrics (like cotton). The fabric color also plays a role—some colors will bleach better than others. The design can be applied to the t-shirt using screen printing, but the ink is mixed with a special product that will remove the original dye and replace it with your chosen color.
Discharge printed t-shirts. Source: Magna Colours
Pros
Soft-to-touch prints with vibrant colors

Suitable for complex and simple designs

Unique retro effect
Cons
Works only with natural fabrics

Inconsistent results—colors might vary from print to print
Belt printing
This method allows you to apply your design all over the t-shirt, including the collar and sleeves. The result is a seamless all-over print, but the process is not the most cost-effective, which means this technique is not very common in retail.
Belt printing machine. Source: Systematic Automation Inc.
How does belt printing work?
Using a belt printing machine, the design is applied to a fabric roll, which works like a variation of screen printing. Usually, it's a one-color design to keep the fabric soft. This technique can be combined with others, like traditional screen printing, to complement the design. Once printed, the roll of fabric is cut to create the t-shirt.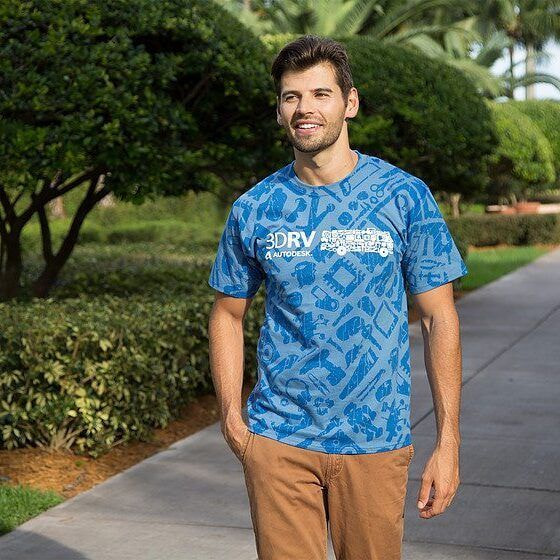 Belt printed t-shirt combined with other printing methods. Source: Superior
Pros
Cons
Requires expensive equipment

The amount of colors might be limited
Old-school printing methods
Finally, let's talk about more traditional customization methods that don't necessarily require machinery and allow for homemade personalizations.
Resist dyeing
This is the technique behind the world-famous tie-dye effect. The idea is to prevent the ink from coming into contact with some sections of the fabric, creating a textured look as the final result. In tie-dye, parts of the fabric are tied together before dipping it in dye. Older traditional techniques like shibori and bandhani consist of a similar process.
Apart from manual methods (like tying and clamping), you can use substances like waxes and other chemicals to prevent the ink from penetrating parts of the fabric.
Tie-dye t-shirt combined with embroidery. Source: Printful
Airbrushing
If you like to experiment and exercise your creativity, this can be a really fun t-shirt printing option. Although it requires a lot of technical mastery, airbrushing has very specific results reminiscent of graffiti. The process is pretty straightforward: you'll need an airbrush gun, paint, and a stencil, and you're ready to get down to work!
It's a good idea to do test run first as not every fabric and color suits this technique. It's also important to remember that airbrush prints are not durable—the ink tends to come off over time. Other than that, this technique can help you create very unique looks.
Airbrush t-shirt. Source: Etsy
@media (max-width:768px)
.pf-btn-lg height: 40px; line-height: 38px; min-width: 88px; font-size: 16px;
Time to choose the best t-shirt printing method for you!
As you can see, there are many different t-shirt printing methods out there. Whatever you pick, understanding the advantages and disadvantages of each printing method is the first step in making your own t-shirt printing business viable. That means not only looking at things like fabric compatibility, but comparing upfront investments and long-term costs—I'm talking equipment, supplies, training, staff, etc.
Considering your business goals and the quality you expect for your products, it may be worth partnering with a print provider. If that's the case, look into the possibilities of print-on-demand, a fulfillment method that allows you to start selling custom t-shirts online with almost zero initial capital.
Professionals will handle the printing, packing, and shipping of your items to customers, so you don't need to worry about production and logistics. Plus, you'll be able to explore premium customization techniques, like embroidery and all-over printing.
Read next: How to Start a Clothing Brand in 2023: a Complete Step-by-Step Guide