[ad_1]

Social media can be overwhelming, especially for business owners trying to grow their businesses. It's hard to know where to start regarding social media — and it's even harder to keep up with the latest changes and trends.
That's why I've put together a list of the 13 things all business owners should do on social media. This guide will help you get started on the right foot and ensure you're not missing out on any opportunities.
13 Things That All Business Owners Should Be Doing on Social Media
1. Ask For Feedback
Social media is a great way to connect with potential customers and a valuable platform for gathering feedback about your products or services.
Feedback can be in the form of reviews, feature requests, NPS surveys, etc. If you have an engaged social media following, you already have a group of people interested in what you're doing — why not ask them for their opinion?
Since people are generally more comfortable expressing their opinions online than in person, you're likely to get more candid feedback than you would through other channels.
Take the example below, where the founder of Jasper, an AI writing tool, asks users to leave a review in exchange for 10,000 bonus word credits.
Source: Jasper
Alternatively, you could also direct users to a specific landing page to have them leave things like feature requests or general feedback.
Microsoft To Do displayed an example of doing this on Twitter with the following response to a customer.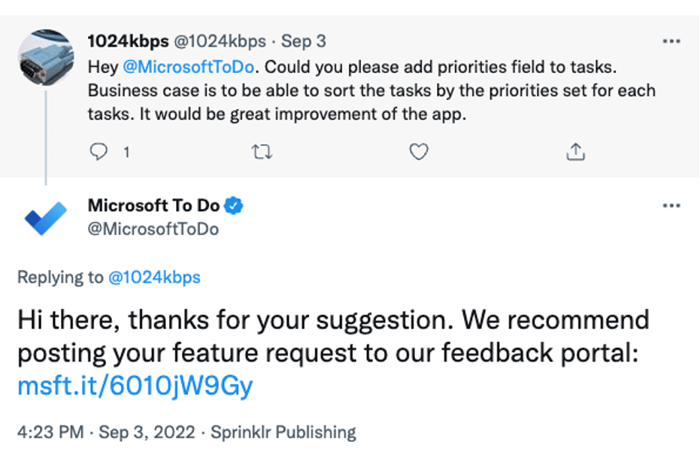 Source: Microsoft To Do
Keeping track of the feedback you receive can be cumbersome, so using a good customer feedback collection tool is essential to streamline this process.
2. Use a Link In Bio Tool
Most businesses will use their social media bio's URL field to link directly to their website's homepage. However, what if you could create a microsite that displays all of the relevant links your visitors might be interested in?
This could include a link to your bestsellers, a link to your YouTube channel, a link to a newsletter signup page, etc.
That's where a link in bio tool comes in. Tools like Linktree and Beacons allow you to do just that. What's more, with the right tool, you can modify them to match your brand's identity, so there is no break in continuity.
Take, for example, Fender's link in bio microsite. When you click on their link, you're greeted with three of their most important links, followed by a YouTube video and more social media content.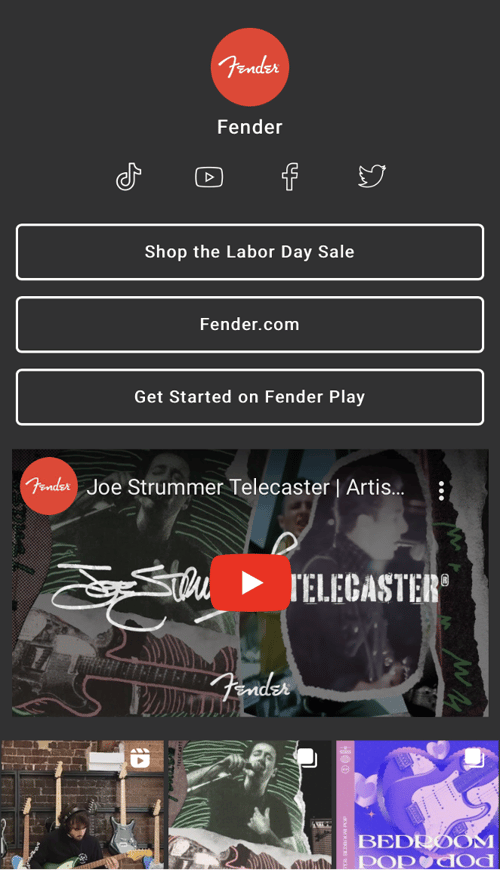 Source: Fender
These microsite builders can be incredibly beneficial and provide an easy way to showcase all the relevant links your visitors might be interested in.
So, if you're looking for a way to take your social media account's bio link up a notch, consider using a link in bio tool.
3. Invite Experts to Collaborate
Collaborating with experts in your industry is a great way to improve your social media strategy. It can help you to learn new things and get new ideas. It can also help you to establish yourself as an authority in your field.
There are several ways that you can collaborate with experts. You can invite them to participate in webinars, blog posts, or videos. You can also ask them to guest post on your blog and then share that post on your social media pages.
For example, I wrote a guest post on WordStream's blog, and they then shared that post on their social media channels.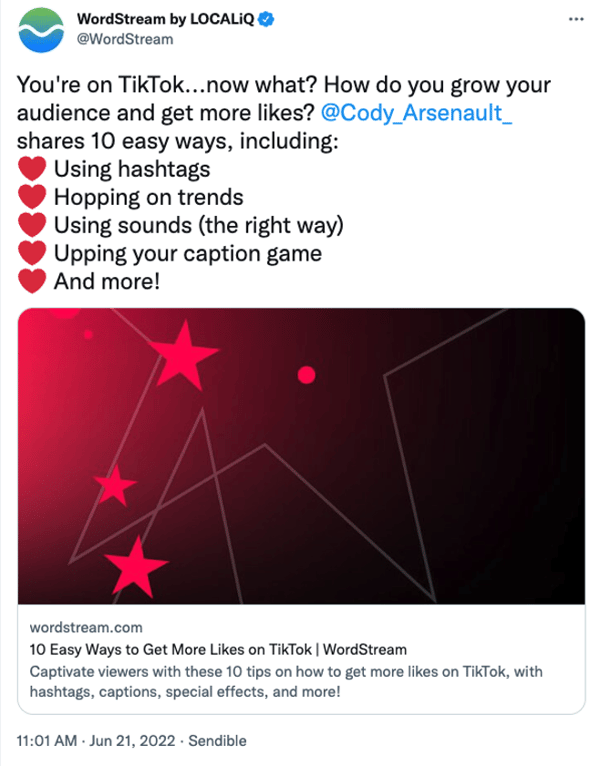 Source: WordStream
This is a win-win for both parties as the person writing the guest post gets exposure to a new audience, while the site owner gets content for their blog and social media channels.
4. Share Relevant Articles
Another way to leverage social media as a business owner is to share links to other articles (not just your own) that are relevant to your field of business. This will help you to connect with your audience and show them that you are knowledgeable about your industry. It will also help to establish you as a thought leader in your field.
When sharing links to other articles, add your own commentary. This will help to make your posts more engaging and interesting. Also, be sure to share links from a variety of sources. This will show that you are well-rounded and not biased toward just one news source.
5. Experiment With Different Types of Content
When it comes to social media, you need to experiment with different types of content to see what your audience responds best to. Not all audiences will respond equally to the same kind of content. Some audiences may prefer videos, while others may prefer infographics. You need to figure out what works best for your audience and cater to their needs.
You can use analytics to help you figure out what content is performing best. Look at the engagement rates for each type of content you post. This will give you a good indication of what your audience likes and doesn't like.
Also, ask your audience directly what they want to see more of. This will give you valuable feedback that you can use to improve your social media strategy.
6. Regularly Analyze Your Social Media Analytics and Use UTMs
Continuing with the tip above, regularly analyzing your social media analytics is a great way to see what is and isn't working so you can make changes as needed. By tracking your analytics, you can better understand what content is resonating with your audience and what content isn't. You can also see which channels are driving the most engagement and which ones aren't.
One of the best ways to track your social media analytics is to use UTMs. UTMs are special codes that you can add to your links to track where they came from. This information can then be viewed in Google Analytics. Adding UTMs to your links is a great way to get a more detailed view of your social media analytics.
Be sure to track your social media analytics consistently so you can make changes to your strategy as needed. This will help ensure that you always provide the best possible content for your audience.
7. Develop a Brand Voice
Your brand voice is the personality of your business. It's how you communicate with your customers and prospects, and it plays a significant role in shaping their perceptions of your company.
A strong brand voice can help you to differentiate yourself from your competition, build trust with your audience, and develop a loyal following. It's also an essential part of any content marketing strategy. The right brand voice will make your content more engaging and memorable and help you build a strong connection with your readers.
Developing a unique brand voice can take time. You first need the consider who your target audience is. For example, if you're marketing a product that saves babies' lives, you likely don't want to have a humorous brand voice.
However, if you're marketing to an audience of eCommerce store owners, a light and funny brand voice might be just what they need to connect with your product.
Take Triple Whale, for instance. Most of their tweets include funny memes, quirky questions, and interesting GIFs.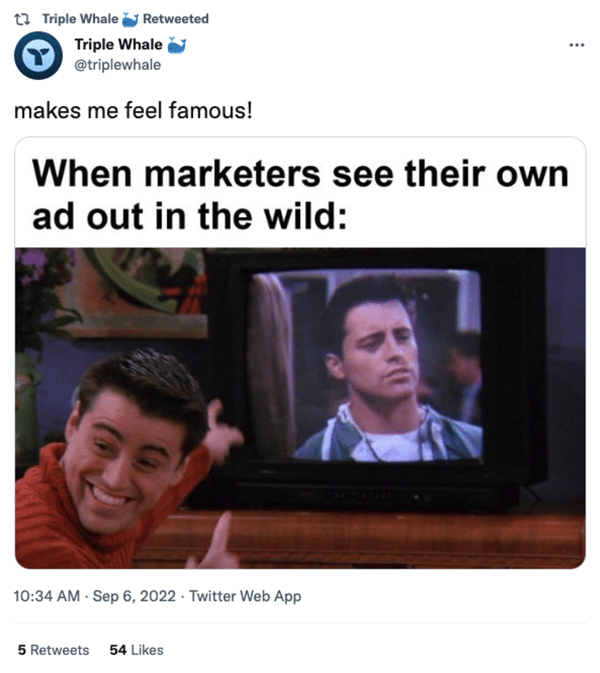 Source: Triple Whale
8. Use Hashtags
Hashtags are a great way to make your content more discoverable. When you use hashtags, you are essentially tagging your content so that it can be found by people who are searching for specific keywords.
Research to find out which hashtags are used most often in your industry. Then, start using those hashtags in your own content. Be sure to use them sparingly, however. Using too many hashtags can be off-putting for some people.
If you're using a social media platform like TikTok, you can access their Creative Center to view trending hashtags that you may be able to use with your own content to take advantage of what's currently popular.
9. Use Social Media Listening Tools
One of the best ways to capitalize on collaborations or rectify a customer complaint is to use social media listening tools. These tools track who is talking about your company online. This will help you to get a better understanding of what people are saying about your business. It will also help you to identify potential customers and advocates.
You can use various tools to track who is talking about your company online. Google Alerts is a great free option. You can also use social media monitoring tools like Meltwater or Mention.
Once you understand who is talking about your business, you can join in the conversation.
10. Share Promotional Deals
Everyone loves a good deal. What better way to share your company's promotions than through social media? Doing this will help increase sales organically without the need for costly paid ads.
When sharing promotional deals, be sure to include all of the relevant details. This usually consists of the offer, expiration date, and terms and conditions. You should also have a call to action so your audience knows what to do next.
The following is a great example of a Black Friday sale announcement on Twitter.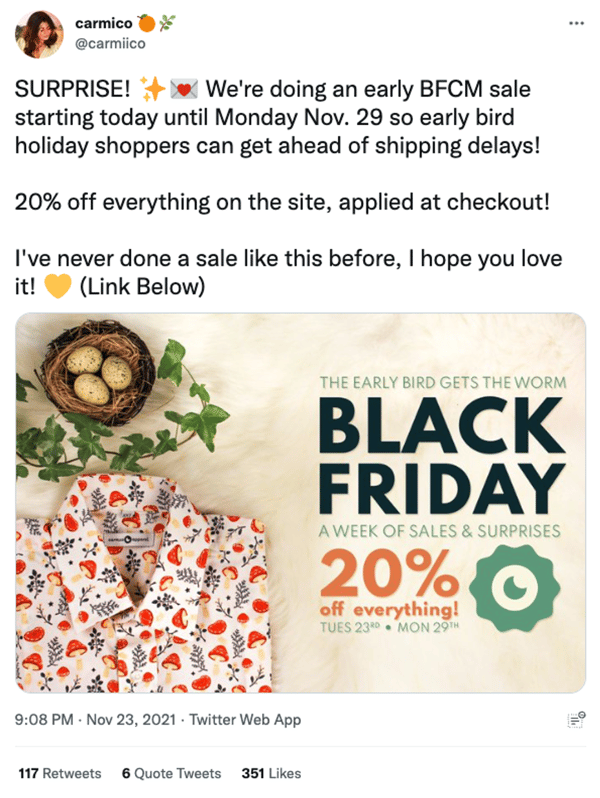 Source: Carmico
By sharing promotional deals with your audience, you'll be able to increase sales and grow your business. But, be careful not to share too many promotions to avoid your audience becoming desensitized to them.
11. Be Transparent With Your Followers
Transparency is essential. It helps to build trust and improve your relationship with your audience.
Make sure you're regularly sharing information about your business with your followers. This includes information about your team, products or services, and company culture. You should also share updates on what you're working on and any challenges you're facing.
In addition to sharing information about your business, you should be open and honest about any mistakes you make. Nobody is perfect, and people will appreciate your honesty if you're transparent about your mistakes.
Being transparent with your followers will build trust and improve your relationship. This will help you to grow your business and increase sales.
12. Update Your Followers on Any Issues or Downtime
When you're experiencing any issue — whether it's a technical outage, website crash, or just having a really bad day — it's important to keep your followers in the loop. You don't want them to think that you've disappeared or don't care about your business.
Instead, try sending out an update to let them know what's happening. You can even use this as an opportunity to build up goodwill by being transparent and showing that you're committed to customer service.
Cloudflare does a great job at keeping its users informed when there is an issue or downtime. They even have a dedicated Twitter account for reporting these things specifically.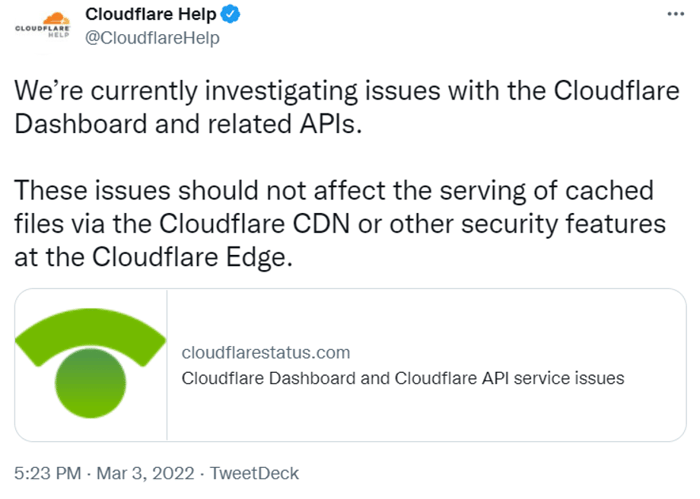 Source: Cloudflare Help
Of course, you don't want to overdo it and turn your social media into a negative space. But a few updates here and there will show your followers that you're keeping them in mind, even when things are tough.
13. Showcase Your Team and Their Accomplishments
One of the best ways to build trust with your followers is to showcase what your team has accomplished. Let people know who is behind your company and what they're working on. This will help to humanize your brand and make it more relatable.
Additionally, sharing your team's achievements helps to strengthen your company culture and shows that you're a supportive and successful organization. This can lead to more qualified individuals applying for jobs at your business, thus improving your efficiency and effectiveness.
Moreover, people like to do business with companies that they know, like, and trust. So, by sharing some behind-the-scenes content, you can start to nurture important follower relationships.
Conclusion
As a business owner, you must be doing these 13 things on social media. Not only will they help to build your brand and engage with customers, but they'll also help to drive traffic back to your website.
Are you currently doing all of these? If not, make sure to add them to your social media strategy today!


[ad_2]

Source link