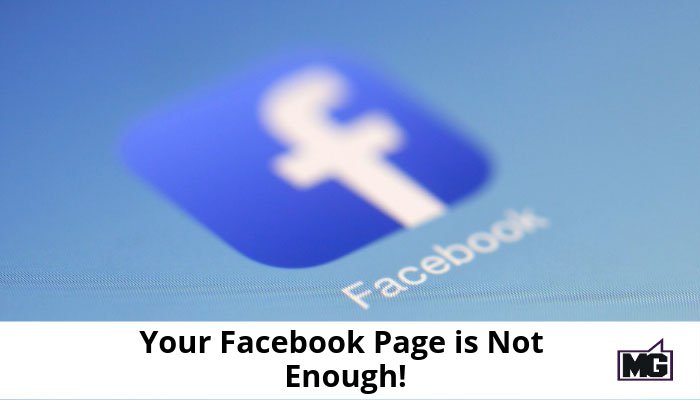 A recent HootSuite report shows that Facebook currently has 80 million small and medium-sized business pages, with a year-over-year increase of 23%. Moreover, 52% of these businesses post on their pages every single day.
This shows the growing role of Facebook in marketing. Businesses have discovered that Facebook can help them generate traffic and leads, close sales, and reach new markets, and they're ready to give the platform a try. If you're one of these forward-thinking marketers, well done!
On the same note though, we have to warn you against depending exclusively on Facebook pages. It's just not enough. Pages are a great place to start your Facebook marketing campaign. But if you're serious about getting value from your digital marketing efforts, you must think big; you must think beyond Facebook pages, beyond Facebook itself, and beyond social media in general.
Why A Facebook Page is Not Enough
There are four main reasons a Facebook page isn't enough to drive your digital marketing campaign;
Not everyone uses Facebook
Facebook currently has about 1.74 billion users worldwide. A big number, yes, but, aren't there 7 billion people in the world, 4.39 billion of whom use the internet, with up to 3.48 billion on social media? It means that when you confine your marketing to Facebook, you're locking out over 1.74 billion social media users and at least 2.65 billion internet users.
You don't control Facebook
It's unlikely to happen any time soon, but if Facebook was to close down, where would you go? Or, consider something more likely. What happens when Facebook decides to suspend your account? They purged millions of accounts recently in the war against fake influencers. What if you were a casualty, even if by accident? These things happen all the time and are another reason you can't depend 100% on Facebook pages for digital marketing.
Organic marketing on Facebook is dead
This is a warning to businesses that haven't started using Facebook ads yet. If all you do is share your promotions on your page and wait for fans to comment, like, and share the posts, you're seriously limiting your business. Organic reach on the platform has steadily declined, from 16% in 2012 to 6% in 2018 and as little as 2% currently when your number of fans hit 500k. Relying on such a small reach to drive your digital campaign isn't ideal.
On Facebook, your competitor can advertise on your page!
The platform is designed in such a way that those who pay enjoy a lot of perks. And, that includes having their ads displayed on competitors' pages! Seriously, how is this different from giving them the keys to your customer base? It gets worse; Facebook targeting algorithms allow competitors to actually study and target your customers! Unthinkable, right?
What You Can Do
First off, you don't have to stop using Facebook pages. As a business, you need as much exposure as you can find and Facebook pages give you plenty of that. However, never depend exclusively on these pages. We recommend that you;
Start using other Facebook features – Messenger, Facebook ads, and Groups are a few examples of tools you can start using today. These features will help you expand your reach on the platform.
Go beyond Facebook – Start using other social media platforms such as Instagram, Twitter, and YouTube. There are likely millions of people on these platforms interested in the products or services you offer.
Go beyond social media too – Consider other digital marketing strategies such as search engine marketing, content marketing, and email marketing. Email marketing, for instance, reaches more people and promises a higher ROI than Facebook marketing.
Have a website: A professional, SEO and mobile-optimized business site ties together all your digital marketing efforts. Users on the many digital channels we've mentioned who's interested in your products can be directed (through links and CTAs) to your site for conversion.
Don't Wait. Start Now
The key is not put all your efforts into one platform you can't control. The foundation you can control is your website to ensure it is current and functions well on all devices, especially, mobile devices. As well, begin expanding to the likes of Messenger, Facebook ads, Google Ads and ultimately take your business beyond Facebook and social media in general. It's the only way to have control of your business potential online.
The post Your Facebook Page is Not Enough! appeared first on Mike Gingerich.
Read more: mikegingerich.com