Videos are a compelling way to drive website traffic and generate leads. According to a report published by Renderforest, brands that used video content in their demand generation strategy generated 69% more leads and 80% more conversions than those that didn't.
And these numbers are only going up as businesses use Facebook Live for their demand generation strategies.
The Power of Facebook Live Video
Aside from sharing video published on their website to their social media accounts, businesses are now creating videos specifically designed for social platforms.
Uploading conventional videos to Facebook and other social media platforms is effective at grabbing the attention of your target audience. However, it lacks one key ingredient: Real-time interaction with your target audience.
As Facebook's founder Mark Zuckerberg explains (and shows) in the video below, Facebook Live videos give you the chance to interact with your audience in real time. You can see the comments and reactions from your viewers and respond by giving them a shoutout or by answering their questions directly.
Facebook Live videos are also cheap and easy to produce and publish. They're also more authentic, according to Aaron Haynes, CEO of Loganix. "Since it's a live video, you don't need to spend a lot of time editing and polishing the video before you publish it," he points out. "You don't even need to have an impressive looking background when you film your video. It can be as raw, real, and spontaneous as you want. This makes your brand more authentic and more appealing to your target audience."
More importantly, Facebook Live videos are more likely to appear in your followers' newsfeeds. This is crucial because changes in Facebook's algorithms have now made it more difficult for brands to get their content seen by fans. By doing Facebook Live videos, businesses have a better chance of driving organic traffic to their Facebook page and, eventually, to their website.
Here's why:
1 out of 5 Facebook videos is a live video (TechCrunch)
Viewers leave 10x more comments on Facebook Live videos (Wired)
82% prefer watching a live video over other types of posts on social media (QuickSprout)
80% would choose to watch a live video than read a blog post (LiveStream)
So Why Do You Need Email?
The interaction with your fans and followers through a Facebook Live video lasts as long as the video. After that, however, your viewers typically don't immediately jump to your website to buy your product or service. So you need to have a way to continue the interaction with them so that you can convince them to buy at a later time.
That's why you still need to get your viewers onto an email list. From there, you can create a lead nurturing campaign that will provide them with targeted content to gain their trust and eliminate objections.
Also, because you own your email list, you don't have to worry about losing contact should Facebook's system go down.
Want more?Get the latest video news and tips
How to Use Facebook Live to Generate Leads
1. Prepare Your Lead Magnet
Before you go live on Facebook, you need to have something to offer your viewers. Email addresses are, after all, personal information so you need to give viewers something they'll find worth the exchange.
A content upgrade is an excellent choice for a Facebook Live lead magnet because it provides additional complementary information that aligns with what you shared in your video.
This Facebook Live video by Tess Masters from The Blendaholic is an excellent example.
In this video, she shares a health tip on why the salt you use can affect your health. In the description, she includes a link to her content upgrade which is a five-day health guide filled with more health tips.
2. Always Have a Plan
Even if Facebook Live videos look spontaneous, you still need to come up with a plan of action and a goal you intend to accomplish by the end of the video.
One person who does a great job at this is Amy Porterfield, host of the Online Marketing Made Easy podcast and co-author of the book Facebook Marketing All-in-One for Dummies.
You can see from her Facebook Live videos (including the one below) that she follows a specific agenda. First, she states her topic for the broadcast. Then, she mentions who the video is for. From there, she gives her audience an overview of what will happen during the video. Then she delivers what she promises, answers some of her viewers' questions, and ends by inviting her audience to download her content offer.
3. Don't Skimp on Quality Content
Talking about a topic that matters to your followers is what will get them to watch your live videos. But if you want them to keep watching until the very end and keep coming back for more, you need to make sure you provide them with quality video content.
There are four key things you can do to create a quality video:
Share a story: Start with an introduction followed by a conflict (the problem), and end by offering a solution. This format will help your viewers stay engaged throughout your entire live video.
Appeal to emotions: Viewers that can connect with the message you're conveying in your videos at an emotional level will be more willing to take action.
Teach your viewers something: 59% of key decision makers watch videos to learn something new. So make sure that you give them just that.
Be Relatable: You need to clearly indicate in your video that you understand the challenges that your viewers are going through. This will not only help you connect with them, but also show them why you're the best person to help them overcome them.
Vidyard's VP of Marketing, Tyler Lessard, goes into more detail in a Chalk Talk video about how to create quality videos that deliver exceptional value to your followers. He also shares additional insight about how to leverage videos to fill in gaps in your content marketing strategy and how to map them throughout your sales funnel.
4. Include Your CTA in (and Around) Your Video
Ultimately, you want your viewers to subscribe to your email list at the end of your live video. So, make sure that you mention your call-to-action (CTA) at different parts of your video so that they know what to do next—even if they don't stick around until the very end.
Be sure to include a link to your opt-in form in the video description and in any of your replies to the comments viewers leave during your live video.
Take a look at this screenshot from the live video Todd Herman did about his 90 Day Year course.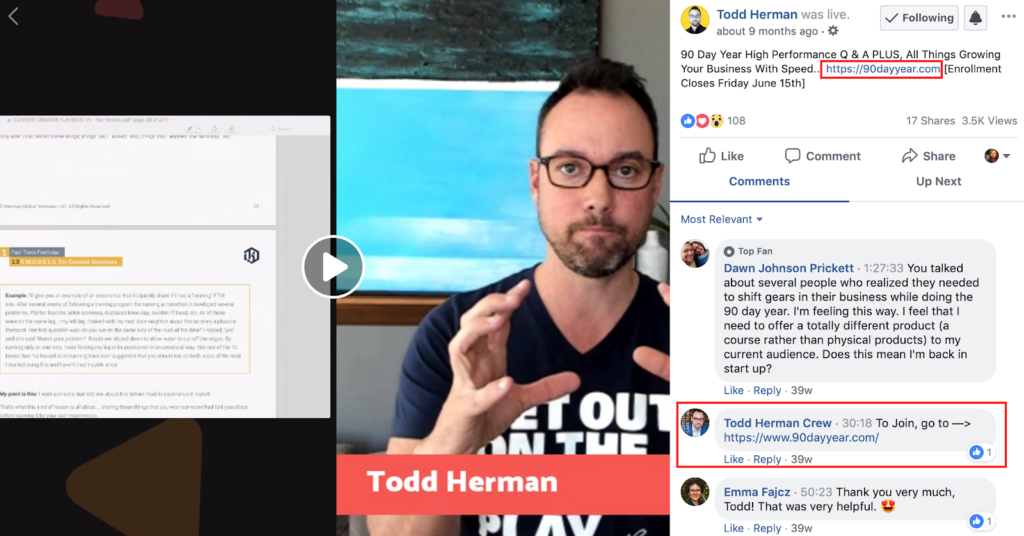 Notice that he included the link to his course in the description and the comments. This makes it easier for his viewers to click and sign up.
Be sure to keep your CTA very simple. Otherwise, you may find yourself getting tongue-tied while promoting this to your viewers.
5. Promote Your Facebook Live video
Yes, you still need to do a bit of advertising before and immediately after your broadcast so you can reach more people and get them to subscribe to your email list.
Here are some suggestions:
Schedule your live video in advance: Facebook allows Verified Pages to schedule broadcasts in advance using the Live API. Once your broadcast has been scheduled, Facebook will send out a notification to your followers. You can also share the link to those in your email list and to other Facebook pages and groups (be sure to get permission first from the owner and moderators).
Create a Facebook event: Facebook allows you to create an announcement about your upcoming Live Video. It also allows you to invite your fans and those in your personal network to the event.
Boost a video ad: Rather than creating a static image promoting your Facebook live video, why not create a Facebook video ad to promote your live video? It can be as simple as animating the text like this:
Or something as fancy as an invitation video like this:

A video ad will capture the attention of your target audience as they scroll through news feed. Be sure to include details about your upcoming video so that they know what to expect.
6. Repurpose Your Facebook Live Video
Facebook saves your Live Video after you stop streaming. You can repurpose this by embedding it in one of your blog posts or offer it as additional resource material on your site.
You can also upload it to YouTube. Create a logo watermark and add it to your video and include the link to your lead magnet in the video description so that you can get even more people to subscribe to your email list.
The potential of using Facebook Live to generate leads and grow your email list is huge because you get the best of both worlds. It gives you the ability to provide valuable content to your target audience in a format they prefer. At the same time, you get the chance to engage with your viewers and drive action.
The post 6 Ways to Grow Your Email List Using Facebook Live Video appeared first on Vidyard.
Read more: vidyard.com