[ad_1]

The average ecommerce store devotes more than 80% of its marketing budget to customer acquisition.
But getting customers in at the expense of keeping them is the equivalent of filling a leaky bucket: You can keep filling it, but you're much better off stopping the leak.  
The more you put into retaining customers, the less you have to worry about acquiring new ones. Returning customers ensure your bucket is always partly full, keeping business healthy and your brand strong.    
In this article, you'll learn how ecommerce customer retention boosts long-term revenue and the strategies you can use to keep customers coming back.
What is ecommerce customer retention (and why does it matter)?
Customer retention is a metric that measures customer loyalty and how good your business is at keeping customers over time. 
A good retention rate means people continue to choose you over a competitor, deepening customer relationships and reducing churn rate.
While studies vary on just how much cheaper it is to retain a customer, it's widely agreed that retention is anywhere from five to 25 times more cost-effective than marketing to a new audience. 
If you've earned someone's trust, often they'll return to you organically, without expensive marketing campaigns to nudge them in the direction. Over 90% of iPhone buyers, for example, are customers who previously owned an iPhone.
A good customer retention strategy serves for more than just saving money on marketing. According to Paul Farris' book Marketing Metrics, a repeat customer has a 60% to 70% chance of converting. They're also shown to spend more and pay a price premium for products.
Repeat customer's loyalty translates to brand advocacy as they recommend you to others. A study by KPMG found that 86% of customers will refer your brand to family and friends after a good experience, and 66% will leave a positive review. 
It makes sense for every ecommerce business to focus on retention to reap these rewards, but that focus today is arguably more important than ever.
Consumers no longer have to take brands at face value on traditional differentiators: price, quality, service, and reputation. 
They have access to a wealth of information to make informed choices about a brand's social and environmental impact, customer safety procedures, and purpose. 
With these factors at play, you have to work harder to acquire customers, which makes retaining existing ones critical.
Customers are keeping brands on their toes; according to PWC, one in three are willing to walk away from a brand after just one bad experience. 
This sends a clear message: if you want customers to reward you with loyalty, make them feel wanted along every step of the customer journey.
How to measure customer retention
Tracking customer retention rate (CRR) will give you a measure of how well your current retention strategies are working and a gauge of their long-term effectiveness. It will also make it easier to predict future revenue potential.
Calculate CRR like this:
[(Number of customers at the end of a period) – (number of customers acquired over that period) / (number of customers at the beginning of the period)] x 100 = CRR
A period can be a week, month, quarter, or year. So, if you had 1000 customers at the start of the year and ended the year with 1200 customers after gaining 300 new customers, your CRR would be 90%.
1200 customers – 300 customers / 1000 customers x 100 = 90%
According to Metrilo, the average retention rate for direct consumer (DTC) brands is 28.2%. Its data shows that retention rate is highest in CBD, at 36.2% and lowest (tea) at 20.9%
Use these benchmarks to build from when measuring the success of your retention strategies. 
7 ecommerce customer retention strategies to keep customers coming back
Getting customers to choose your ecommerce brand in the first place is a sign that you're targeting is on point, and your messaging is making an impact. Given the information they have, they've trusted you enough to invest. 
Retention is about maintaining that good feeling at every touch point so that the customer trusts you enough to buy again (and again). Let's look at some effective ways to do this.
1. Understand your customers' needs and expectations
According to Salesforce, two-thirds of customers expect companies to know what they want and expect. That makes understanding needs and expectations table stakes for any brand looking to compete.
Use qualitative research to analyze how customers interact with your business. Start by uncovering your shortcomings. If you know where you're underperforming, you can take steps to fix it.
The big question to answer here is: Why do customers leave? According to Database Marketing Institute founder Arthur Middleton Hughes, there are four possible reasons:
They are no longer buying in your category;
They are unhappy with the price;
They are unhappy with the product;
They are unhappy with the way that they are treated.
To find out if any of these reasons ring true, run an exit survey. This will give you an insight into the mentality of shoppers in the purchase phase.
Here's an example of a cart abandonment survey by Qualaroo: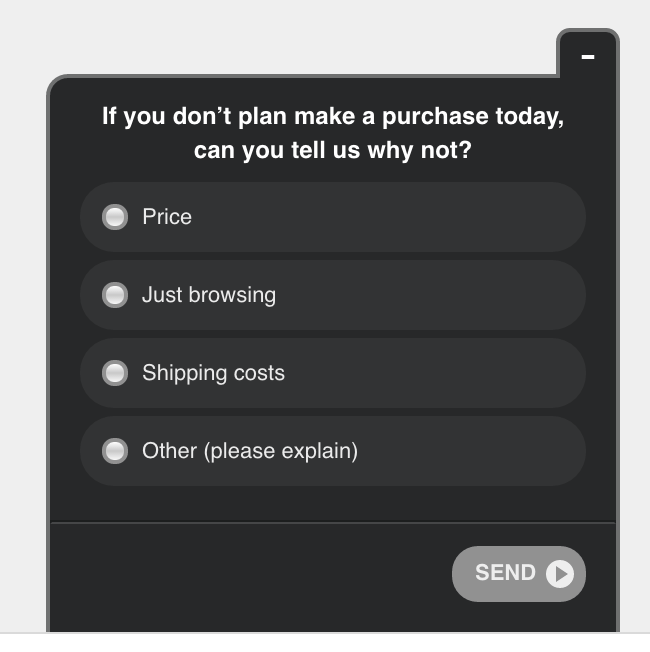 To increase the response rate of surveys, you might want to add an incentive, such as a discount or entry into a prize draw. 
Bedding company Casper encourages participation with a pop-up offering customers $100 off their purchase.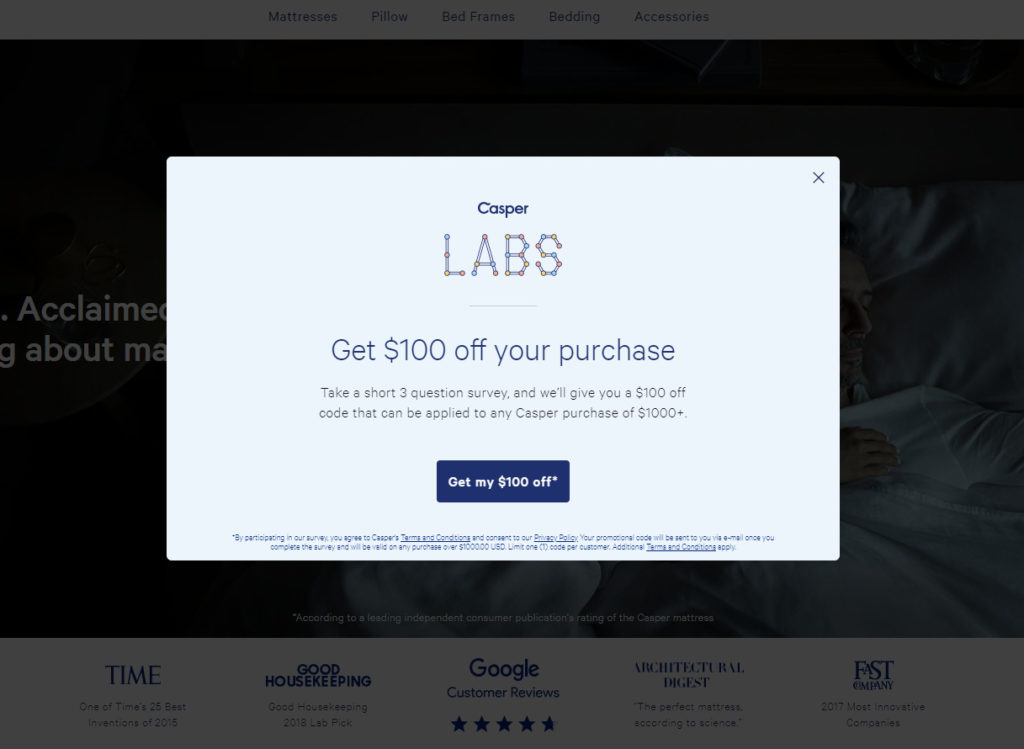 Supplement the information you generate from surveys with marketing data analysis to gain insight into customer behavior. Pay particular attention to these areas:
UX data. Is friction in the shopping experience impacting conversion rate? Page speed, confusing design, lack of information, and too much choice can all alienate customers.
Customer service data. What is frustrating your customers? What do they most commonly need help with? What are the most frequently asked questions?
Use qualitative surveys and customer service conversations to gather customer feedback at different stages. Examine why non-customers leave without buying and how existing customers feel after first buying and buying from you several times.
Share this information with your sales, marketing and executive teams. The more employees that see and understand customer feedback, the more solutions you'll generate. 
These will help you identify patterns in what you do well and what you need to optimize to reduce churn, increase retention, and boost customer lifetime value.
2. Make first impressions count with a smooth onboarding process
Around 86% of customers say they're more likely to stay loyal to a business that invests in onboarding, according to Wyzowl. Yet, 90% feel companies could do better. 
Both statistics highlight the importance of customer retention starting from the moment you've secured a conversion. 
For example, Homes Alive, sends out a thank you email to first-time customers.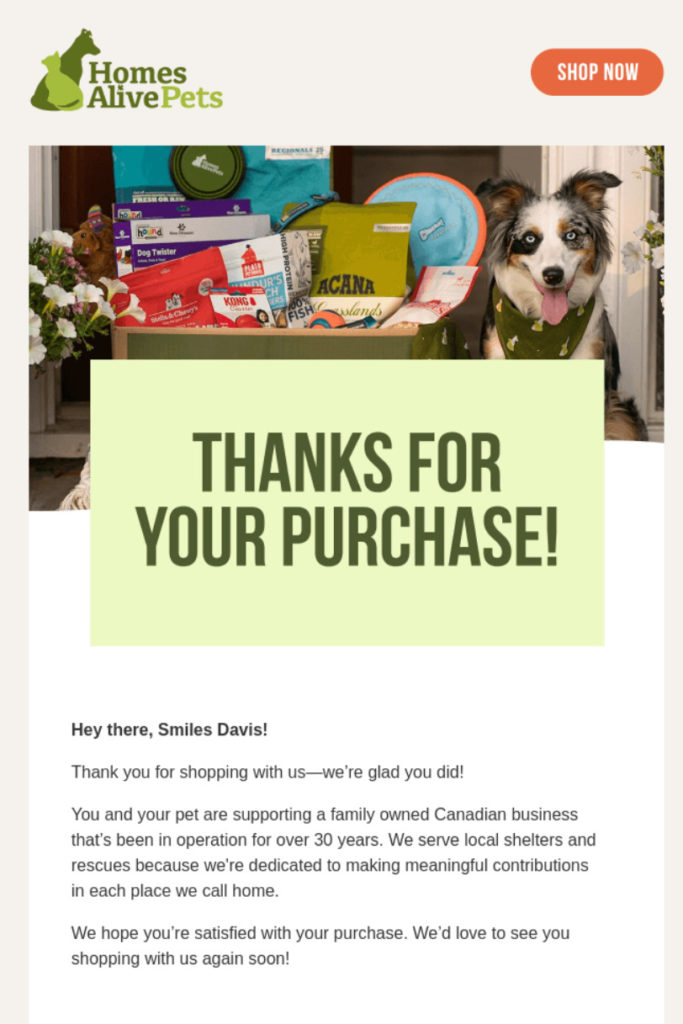 By thanking the customer, Homes Alive shows that they care. They also show why the customer's purchase matters. 
By choosing the brand, they're supporting a family-run business and providing much-needed help to local shelters and rescues. 
Their purchase matters beyond the product, which helps customers validate their decision.
At the bottom of the email, Homes Alive lets recipients know that they're around to help with ways to get in touch.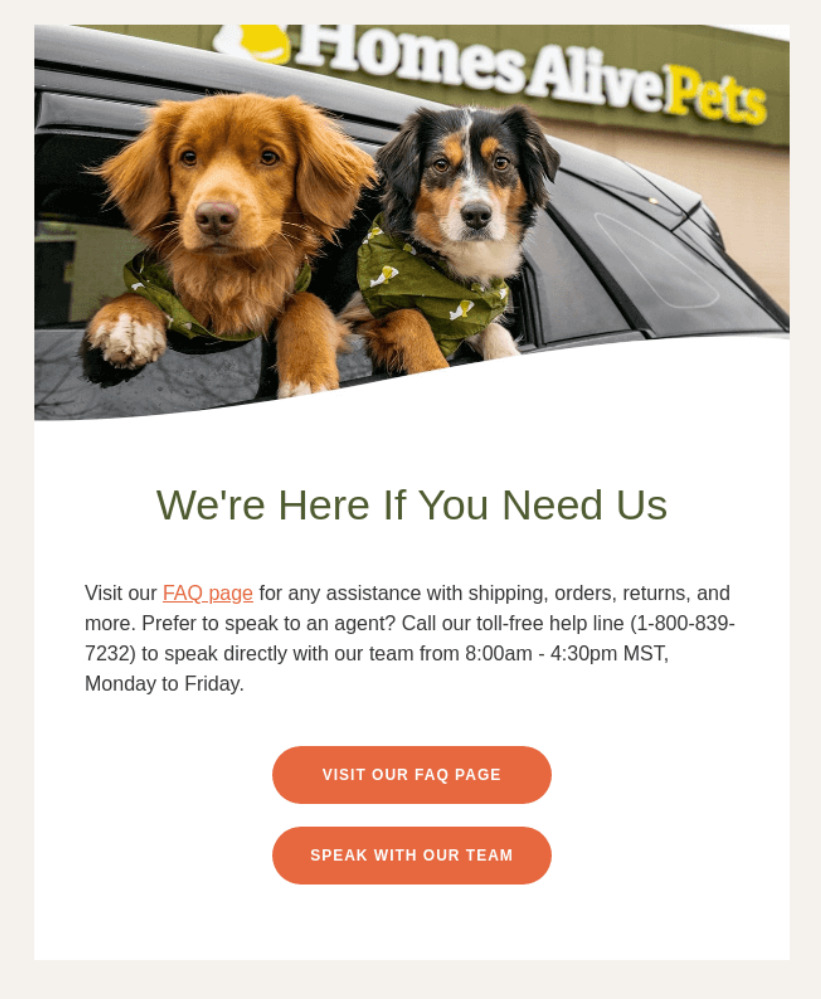 This adds to the feeling that they're a company with the customer's best interests at heart. 
Customers want to feel valued. Showing you appreciate their custom is a simple way to lay the foundations for a lasting relationship.
You don't have to wait until after that first purchase. Retention can begin much earlier in the customer journey. Birchbox, for example, has a welcome email campaign starting when a customer signs up to receive emails.
As broken down by email specialist Kevin George, Birchbox's email series begins by selling the value of a subscription and including a welcome discount to tempt users into action.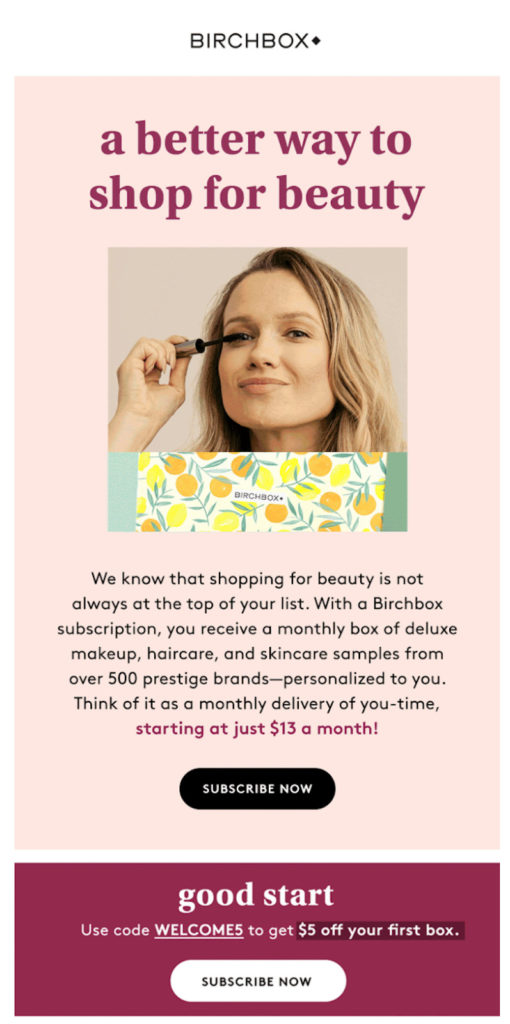 A follow-up email further educates customers on what's in it for them.

By selling the simplicity of a subscription, Birchbox removes friction from the shopping process so customers can buy in confidence. 
Five days after the second email, customers are sent another one reinforcing the offer and selling some of the perks that come with being a subscriber.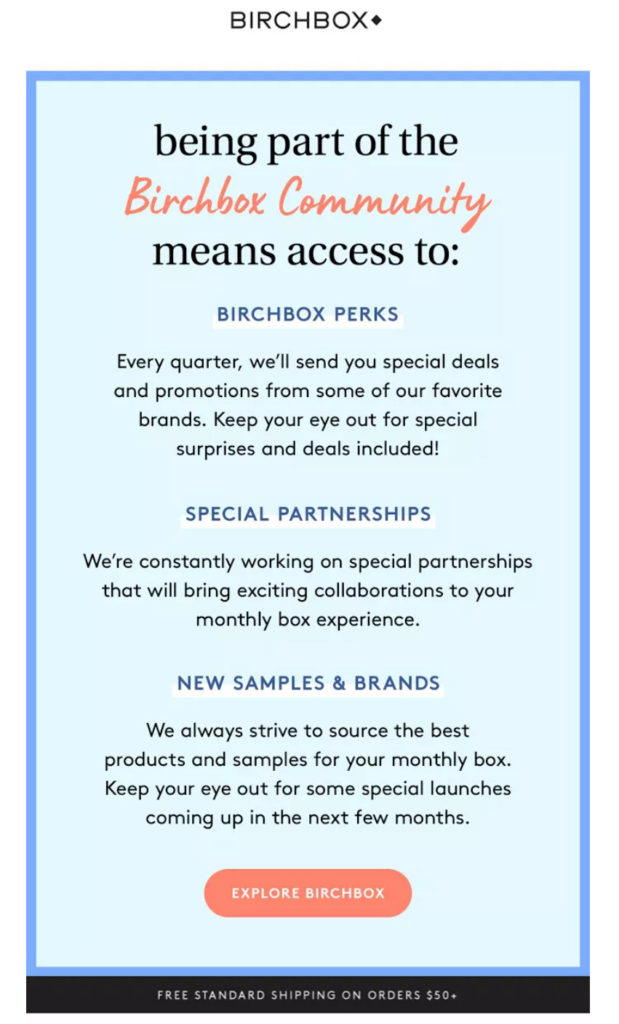 This series helps build trust. Customers have a relationship with the brand before purchase, giving them confidence in their decision-making.
People buy on emotion and justify with logic. Create a welcome series to nurture the customers early in the relationship by promoting the benefits of your product and how it makes a difference to their lives.
Use these first points of contact to create an emotional connection, then strengthen that connection with a thank you email that helps customers justify their decision.
3. Build trust by meeting your customers where they are
PWC's study on what matters to consumers indicated that nearly 80% of respondents agreed on four things above all else:
Speed;
Convenience;
Knowledgeable help;
Friendly service.
When customers need you, they expect you to make it easy for them to solve their problems.
Increasingly, this involves offering an omnichannel experience. 
Omnichannel marketing is providing a joined-up, frictionless experience across channels. It doesn't necessarily mean having a presence on every available channel, but on the channels your customers use, you need to be consistent. 
In other words, customers should enjoy speed, convenience, knowledgeable help, and friendly service at every touch point.
According to CI&T's Connected Retail Report, omnichannel experiences are a leading factor in choosing a brand.
Take Sephora. Its mobile app lets customers book in-store appointments and offers recommendations based on previous purchases. 
It also includes a "Live Beauty Help" feature that provides product advice and makeup tutorials.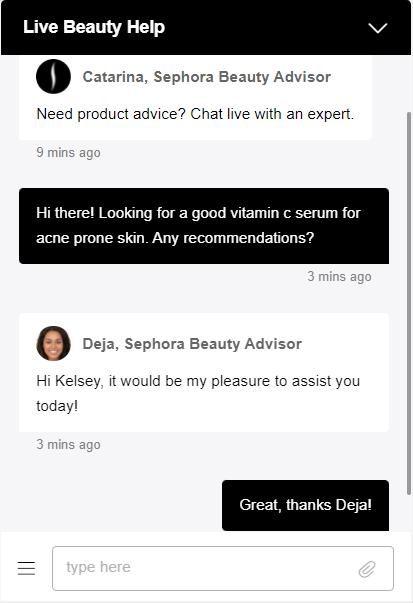 This replicates the in-store experience, giving customers a smooth path to purchase regardless of the channel they're using. 
By adding same-day delivery for customers in Canada and the U.S., customers can get beauty products with the same level of convenience as groceries.
Sephora also understands that help can't be confined to an app. Customers regularly turn to social media to engage with brands.
When they do, they expect a rapid response. According to Sprout Social, 13% of consumers expect brands to reply within the first hour, while 76% expect a response in the first 24 hours.
Meeting these expectations works to your benefit. Some 47% of consumers have a favorable view of brands that answer questions or complaints on social media. Around 36% say it's a motivation to recommend a brand online.
Sephora regularly monitors social mentions and responds quickly to followers.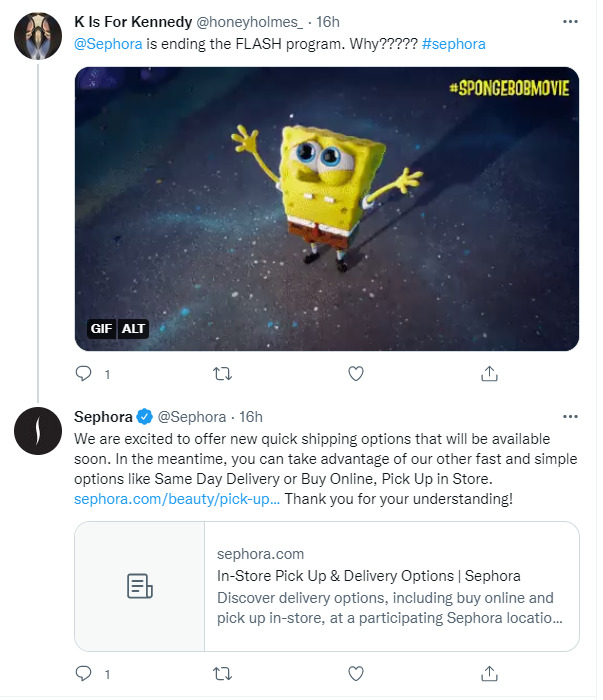 Customers on Twitter enjoy the same level of service as customers on Instagram.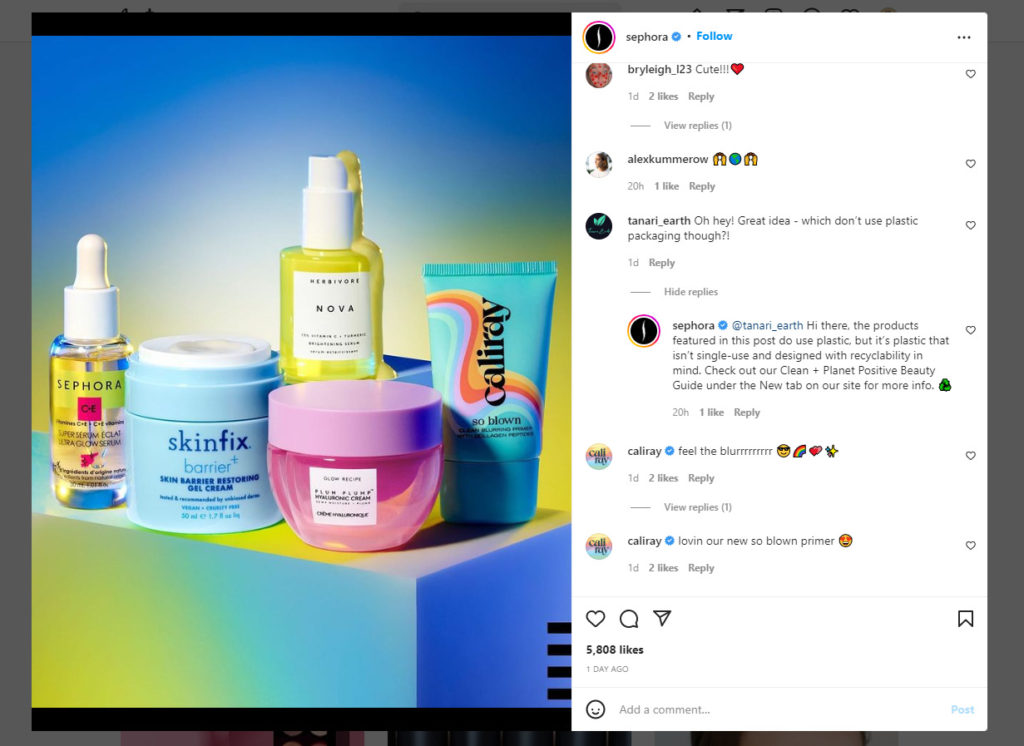 Both channels mimic the helpfulness of the app and in-store staff. Helping customers in this way is good PR. Not only do people researching the brand get a good impression, friends who see interactions do too. 
Should the need arise to purchase beauty products in the future, the brand that helped their friend solve a problem is likely to feature high on the list of places to shop.
Create an omnichannel strategy that puts customers at the heart of your marketing. 
Think about how different channels work together. Maintain consistency in your approach, messaging, and value proposition to provide a seamless experience for every customer, regardless of how they engage with your brand.
4. Use content for customer success
For every customer who reaches out to you with a problem, there's another who ran into trouble but didn't get in touch. It pays to focus on success as much as support. 
Make it easy for customers to solve problems on their own. If your product is complex, create educational content to teach customers how to make the most of it. 
Here's a snippet from Rooted's welcome email for new customers: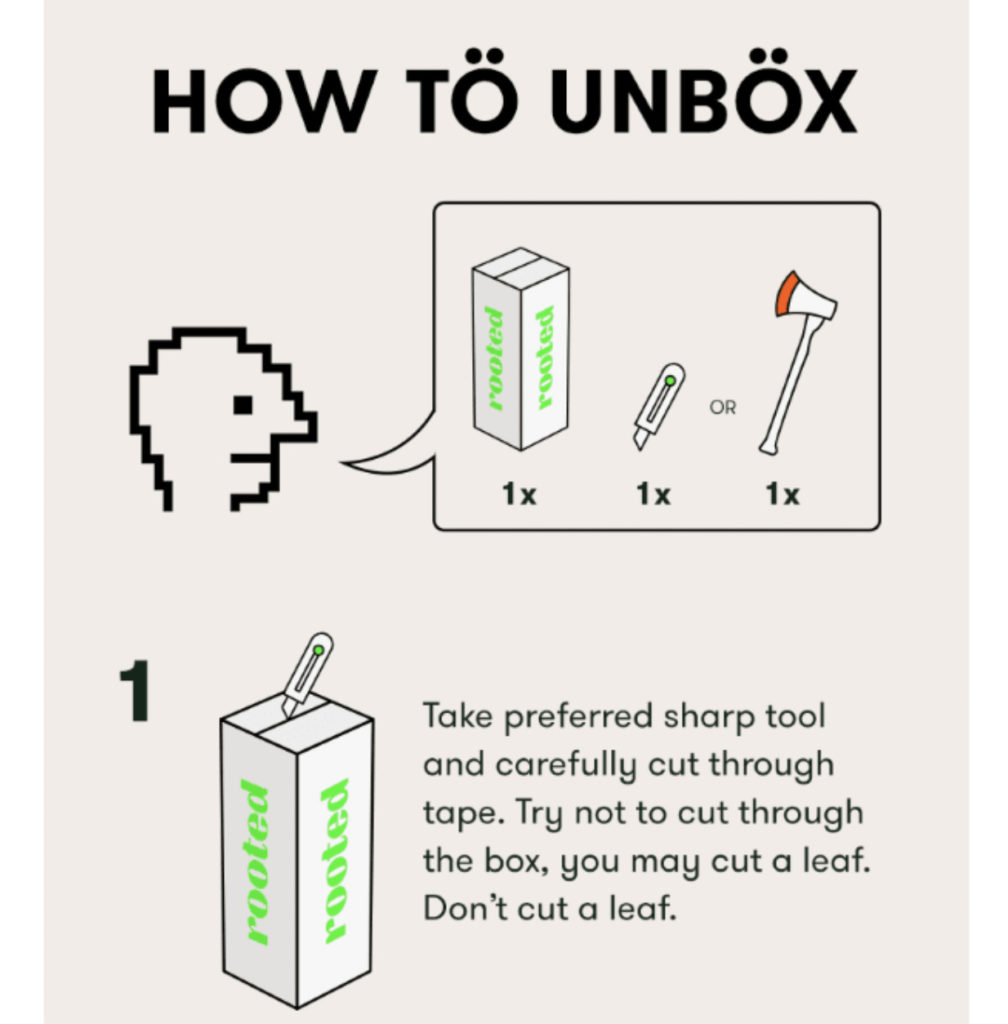 By providing unboxing instructions, Rooted ensures customers don't damage their new purchase. It also reduces the number of people contacting customer service for assistance.
The company's website has a resources hub dedicated to common issues, tips and tricks, and general plant care to help people look after their plants.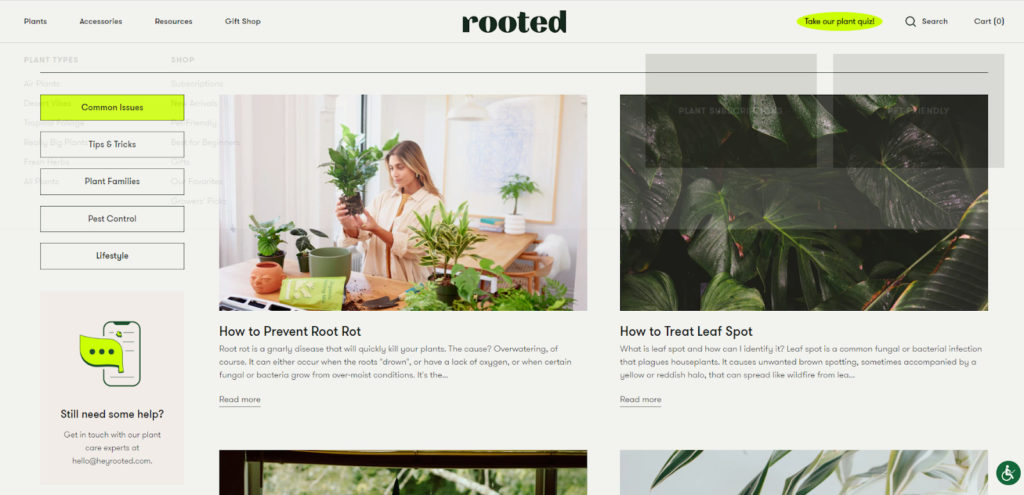 Rooted also offers video tutorials on YouTube and social channels to assist visual learners.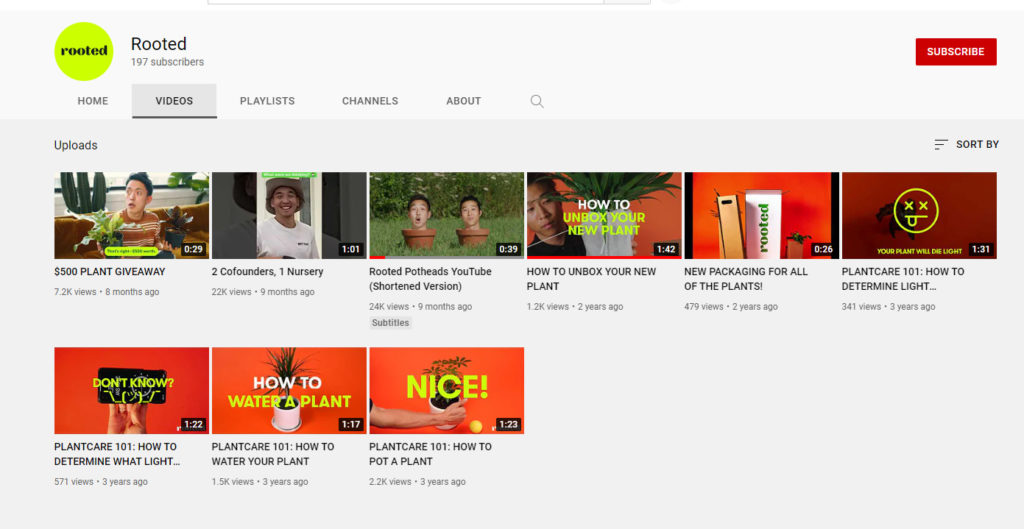 It's an omnichannel experience driven by content marketing. The aim is to turn new customers into repeat customers by showing them how easy it is to succeed when you choose Rooted plants.
Look at your customer service data (e.g., live chat, phone calls, and social media interactions). What questions are your customers asking? What are the most common queries about your products? Use these answers to fuel your content. 
Proactively solving problems before they arise adds to the user experience, positioning you as a brand that cares.
5. Personalize the customer experience to stay front of mind
With customer loyalty up for grabs, personalization is now the default standard for engagement. Now, 71% of consumers expect it, and 76% of consumers get frustrated when they don't find it, according to research by McKinsey. 
If you deliver on expectations, customers will reward you for it. 
Brands that excel at personalization generate 40% more revenue than average players. They also enjoy more repeat purchases and recommendations.
McKinsey's study provides insight into the kind of personalization customers expect.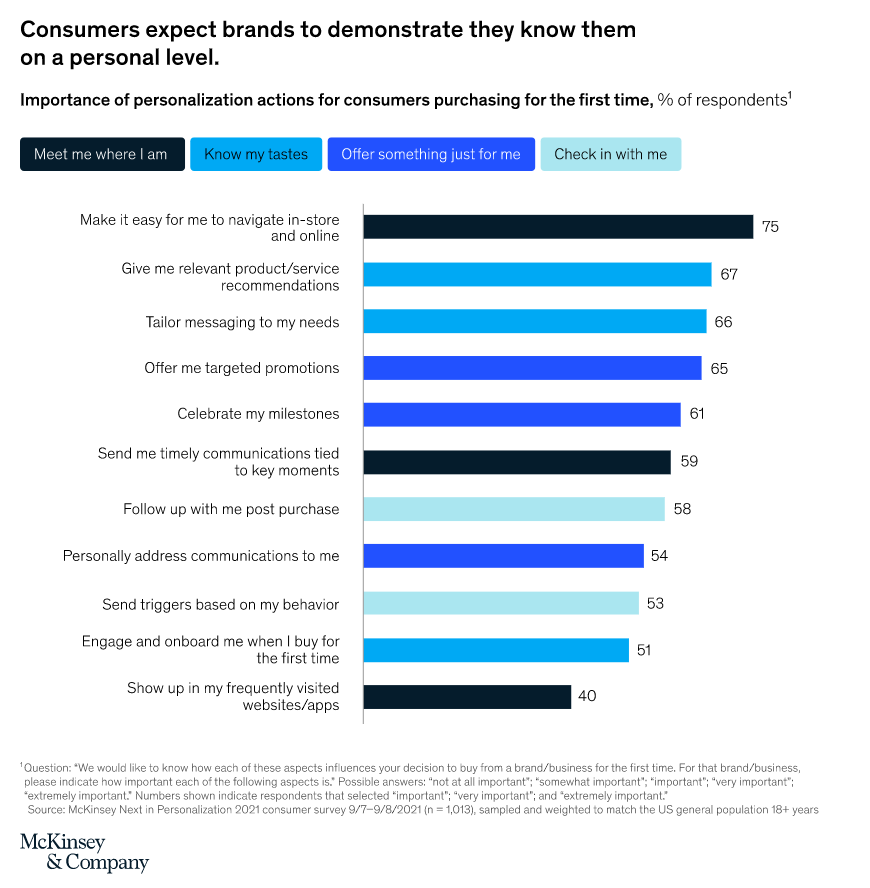 You can see that expectations are varied, covering every touch point from store interactions to birthday celebrations.
Use what you know about customers from customer data, qualitative research, and user behavior to provide an individual experience.
Amazon, for example, personalizes its homepage based on previous purchases and searches.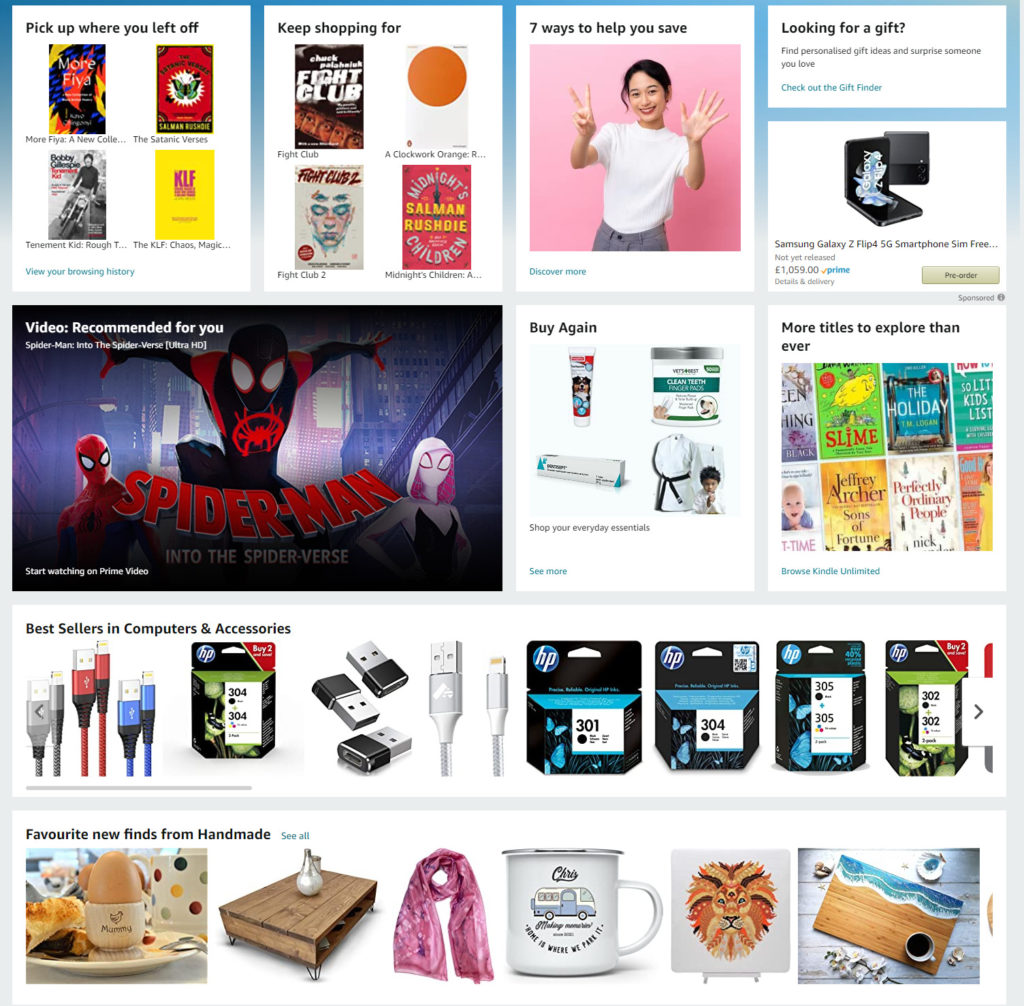 The above page is unique to me. It makes it easy for me to shop for the things that interest me.
As well as sorting products by rating, price, and new items, Madison Island personalizes the shopping experience by showing customers products based on tastes.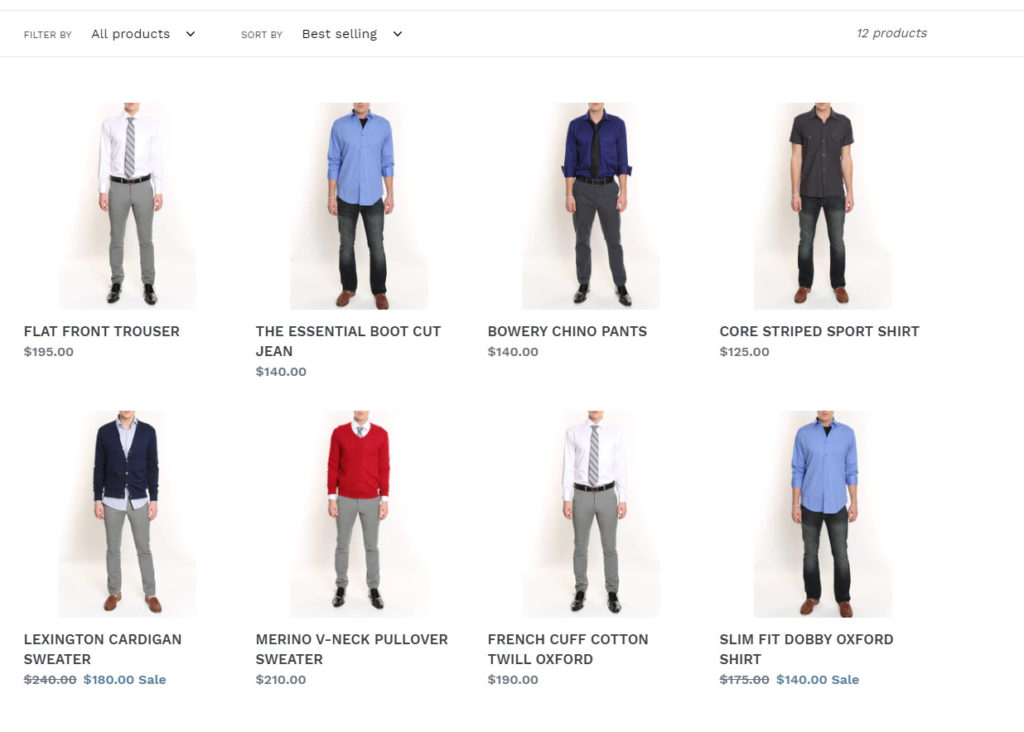 Results are arranged by how long a visitor spends browsing particular pages, so each user sees different results.
For new customers, this helps them find what they're looking for. For current customers, the experience is tailored around the garments they like, making it easier for them to buy what they need.
It's all about showing customers you're thinking of them, which you can also achieve with timely emails that keep customers engaged.
DoorDash, for example, regularly emails customers with special offers. This email starts by personally addressing the recipient: 
Reminder: Save 40% on your next two orders, Smiles Davis!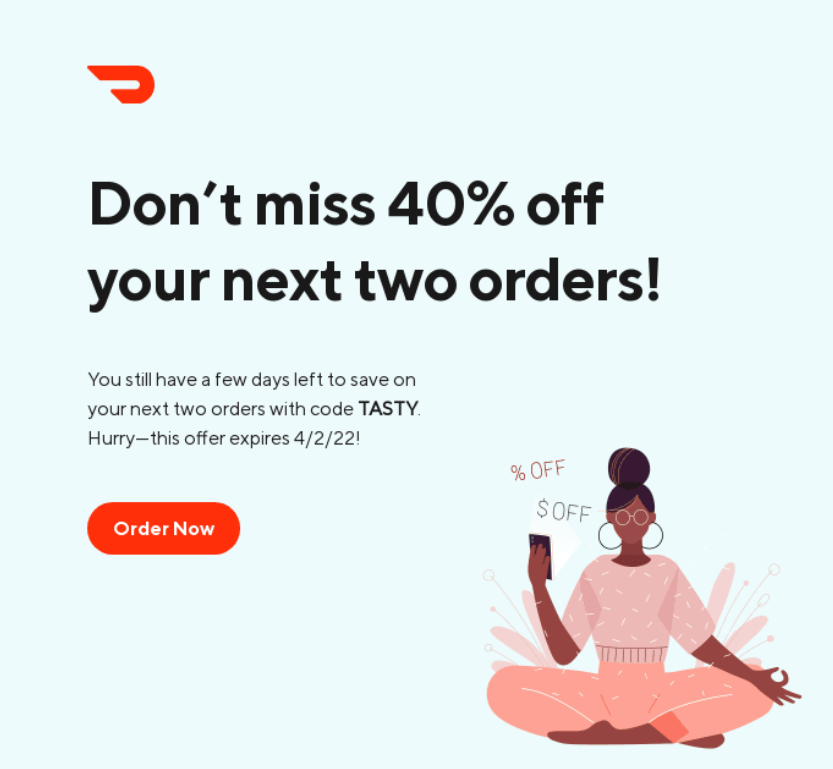 Writing in the second person ("you," "your") gives the impression that they're talking directly to the customer, making it more personal. 
Don't miss 40% off your next two orders!
The use of urgency and the addition of an expiry date plays on FOMO, encouraging customers to complete their next two purchases.
Access to historical data allows you to target customers based on past behavior such as interests and previous purchases. Use this to your advantage to engage them in every interaction.
Customers spend 57% more on brands or providers that they're loyal to. So, it's no surprise that more than 90% of companies have some kind of loyalty program.
A loyalty program is another way of delivering customer value. Rewarding returning customers is a show of appreciation.
To nail down the type of perks your customers enjoy, ask them what they value most about your brand or products. Free shipping and discounts are common options, but it's worth thinking beyond those.
A brand loyalty survey by Yotpo found what people want more than the traditional offerings: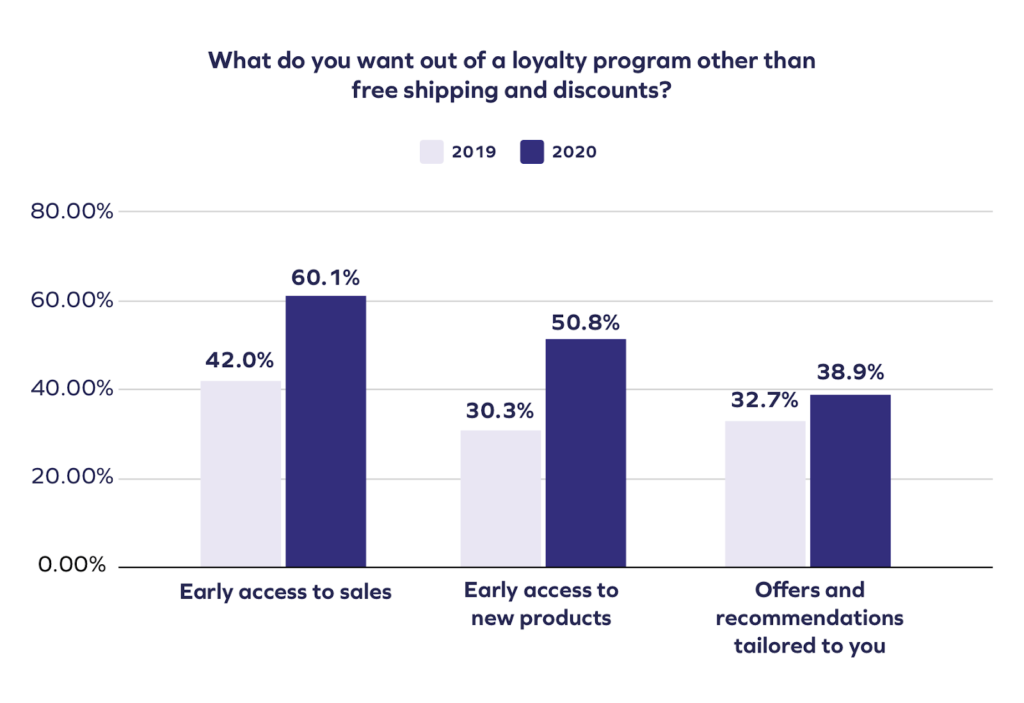 Starbucks Rewards, for example, allows customers to collect stars for every purchase, which can be turned into increasingly more attractive rewards.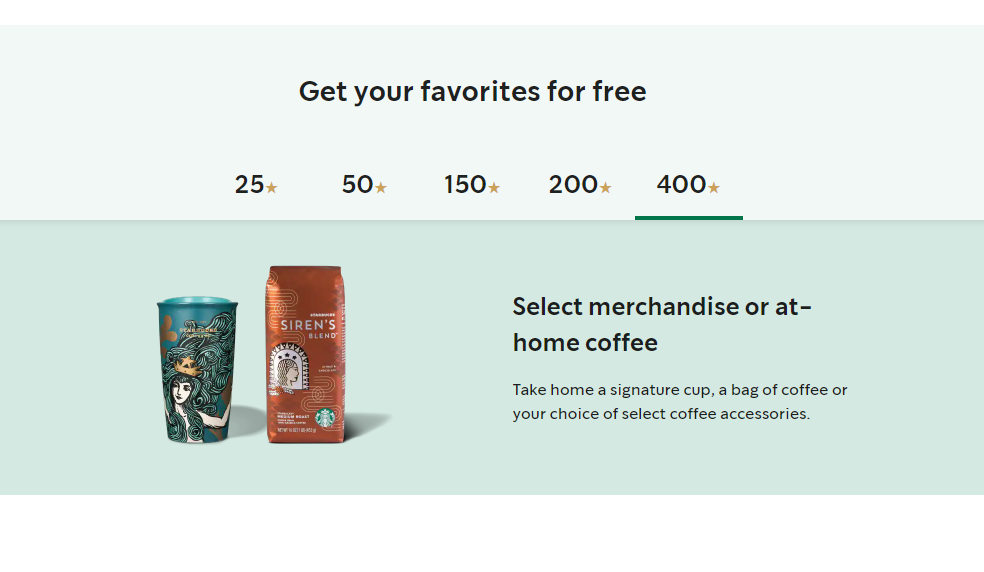 Twenty-five stars let customers customize their drinks. But save up and collect 400 stars, and they can take home Starbucks merch or coffee.
The North Face's XPLR Pass puts customers on a pedestal with offers designed to make them feel special.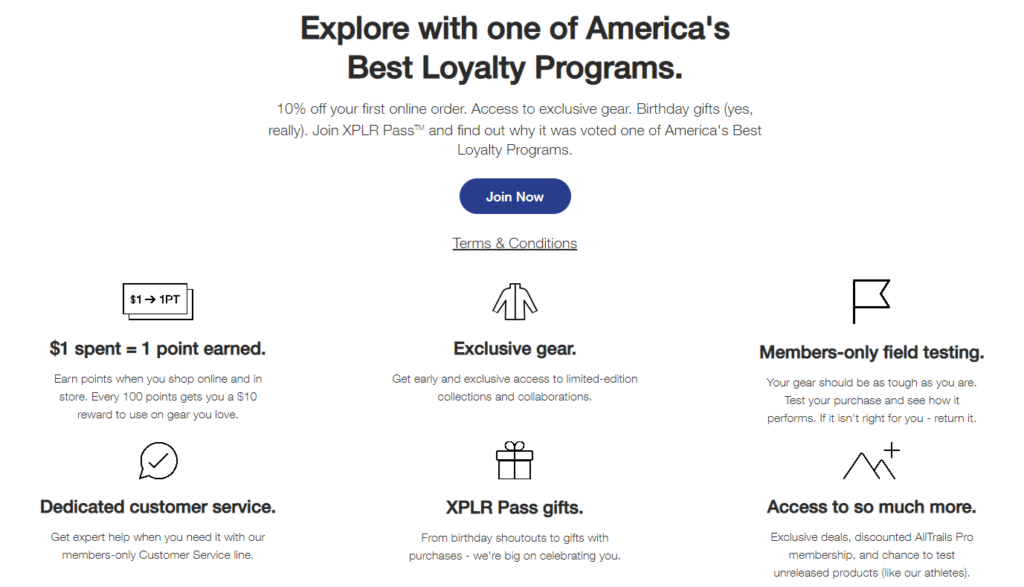 Members receive money off orders, points for purchases, free gifts, and exclusive offers. They also get dedicated customer service. This adds to the VIP feel, giving customers a ring-fenced area where their needs are a priority.
While rewarding loyalty, Starbucks and The North Face can collect and centralize customer data and transactions. This helps gather information on customer behavior and preferences that teams can use to increase the relevancy of rewards and marketing campaigns.
Make your loyalty program unique to your customers. The ability to get free The North Face gear or Starbucks cups are rewards people can't get anywhere else. This exclusivity creates a sense of status that makes customers feel special and, ultimately, keeps them engaged.
Running a brand gives you access to an audience with shared values and interests. People that choose your brand for your products or purpose share this in common. 
Building a community is a way to bring these people together to keep them coming back, not just for you but for each other.
Uniting people around a goal or cause is powerful: it gives you access to a focus group of people to test new ideas or content and get feedback on new products. 
They can help you make customer-driven decisions to keep your brand relevant. Their involvement makes them feel more valued, strengthening their emotional connection.
The community can also help each other. Customers in Sephora's community, for example, help others find the best beauty products.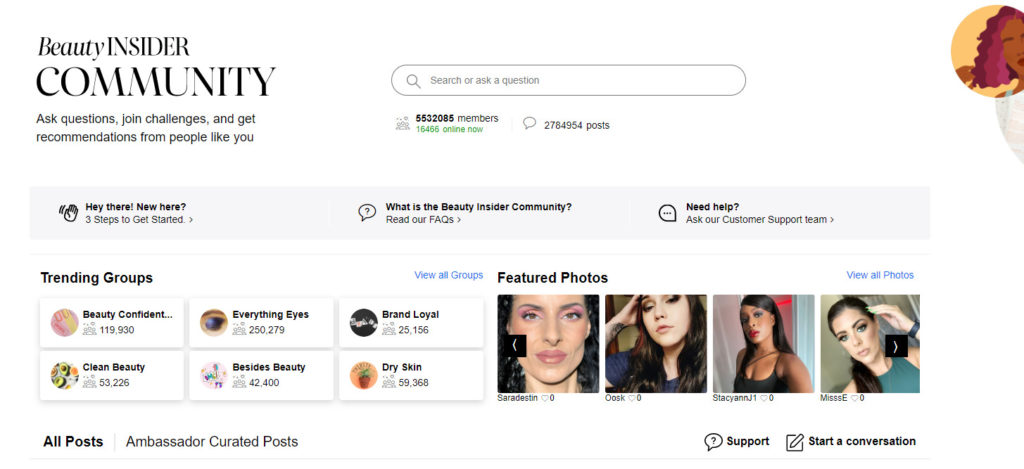 In the Apple community, users can get assistance from other users to solve issues and get the most from the product.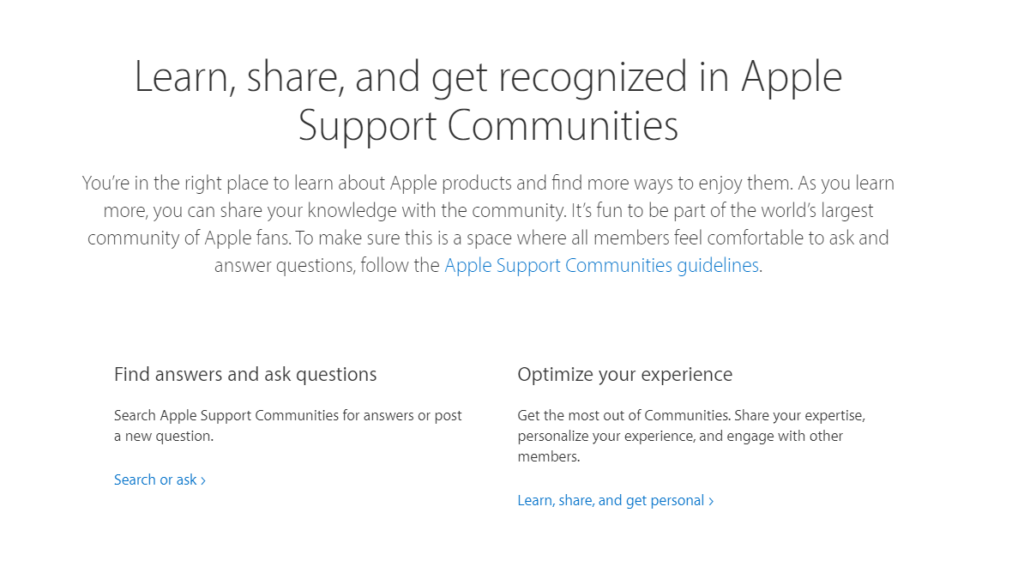 This doesn't just ease the burden on the customer support team, it increases satisfaction. When FeverBee founder Richard Millington persuaded a client to hide its community for four months to demonstrate its value, the impact was clear:
Tickets to other support channels increased by 58%;
Customer satisfaction dropped from 4.3 (out of 5) to 3.8;
Answering questions via the community was 72% cheaper than support (the community reduced support costs by an estimated $213,000 per month).
Successful communities are built on relevance. People will only participate if the community is the most relevant way to satisfy their needs. To find what's relevant, survey your best customers.
What are their needs and goals?
What are their interests?
What problems do they look to you to solve?
What content do they like to consume?
Which types of people do they want to connect with?
Segment the results by customer personas to look for patterns. The results will help you establish the main goals for your community.
Your brand presence is also a factor, especially in the early days. When people are finding their feet, having an authority figure around will set the tone and give them confidence to engage. 
For example, Sephora's community admins regularly publish content and join conversations.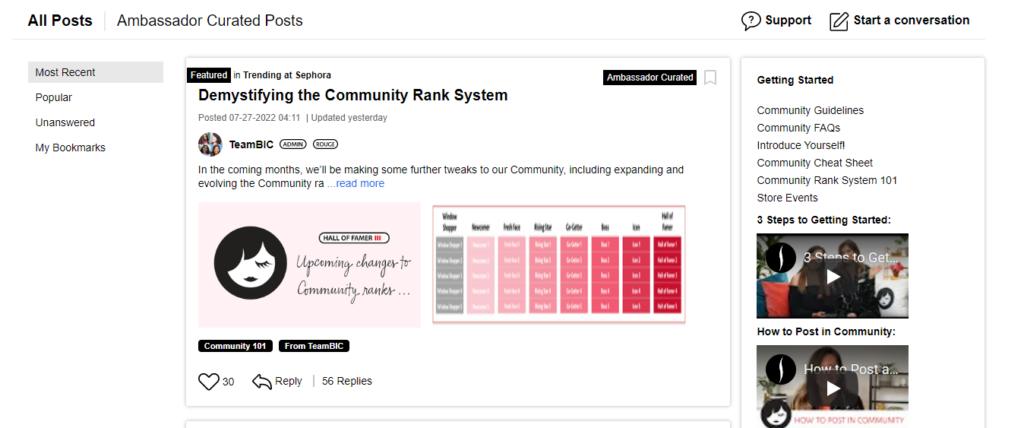 Employees are your earliest brand advocates and people want to hear from them. Sprout Social reported 72% of customers say they feel a bond with a brand when its employees share information online.
Engaging and interacting with your audience fosters a sense of community. It breaks down the barrier between brand and customer, bringing you closer together and building loyalty to keep them coming back.
Conclusion
Ignoring retention means leaving money on the table. You'll miss out on extra revenue and an avid customer base that eases the burden of acquisition through word-of-mouth marketing.
Retention marketing relies on the same insight into customer behavior and demands as other marketing strategies. 
To increase brand loyalty and purchase frequency, use what you know and what customers tell you they want to make them feel valued. 
Make it easy for them to solve problems, reward them for their custom, and personalize interactions to show you're listening. Reducing churn will save you time and money in the long run. 


[ad_2]

Source link