[ad_1]

If you're operating an HVAC business and are currently mulling over whether to take the social media route or not, consider this:
Recent statistics indicate a remarkable 20% year-over-year growth in searches for "HVAC repair" alone. There has also been an increase in demand for HVAC services.
What does this signify?
The implication is clear – it's imperative that you establish a solid presence on social media to capitalize on this expanding pool of potential customers.
However, let's be realistic.
Even if you're confident in your ability to conquer the social media landscape, it can be a challenging endeavor to grasp the nuances of social media marketing for your HVAC business.
To thrive on social media platforms, your engagement with your target audience must be effective and genuine. For this, you need to know which platforms you need to market your business on and the strategies you need to implement.
This is precisely the discussion we will delve into in this blog.
Let's begin.
The Importance of Social Media Marketing for HVAC Businesses
Before we dive into how HVAC businesses can dominate social media, let's first discuss the importance of social media marketing for these businesses.
Boosting your online presence: In this digitally driven world, people turn to search engines and social media platforms as their go-to solutions to their problems, including HVAC needs.
With an active social media presence, your HVAC business becomes easily discoverable by potential customers. This increases your online visibility and provides a competitive edge over rivals that aren't as digitally present.
Building brand recognition and trust: Social media platforms are ideal for showcasing your brand story and exhibiting your unique personality. Also, when you share insights into your services and offer behind-the-scenes peeks into your operations, you connect with your customers personally.
What's the payoff?
This level of transparency builds recognition and trust among your target customers on social media. Customers who recognize your brand and associate it with positive interactions are more likely to choose your services over your competitors.
Expanding your customer base: Social media doesn't just serve as a bridge to connect with your existing customers; it's also a powerful tool to attract new ones.
How does it help you gain more customers?
When you create engaging content, employ effective engagement strategies, and share customer testimonials, you draw your audience towards your business and ultimately convert them into paying customers.
A cost-effective way to market your business: Organic social media strategies might not cost a penny but do wonders for marketing your business online. These simple strategies include engaging with your followers through posts, comments, and shares.
You can also leverage user-generated content, create intriguing polls, or host live Q&A sessions. These interactive methods not only foster a sense of community around your brand but also amplify your reach by incentivizing followers to share your content.
So, what's next the next course of action?
Now that you understand the importance of social media for HVAC businesses, it's time to explore the best platforms for HVAC businesses to establish an active presence on.
Continue reading:
Top Social Media Platforms for HVAC Marketing
Take a look at the top platforms you should use to drive growth for your HVAC business:
1. Facebook for HVAC Marketing
Facebook is more than just a social platform; it's a dynamic marketplace for businesses. Here's why your HVAC business should utilize its power:
Large user base: Facebook has billions of active users, making it the perfect platform to market your HVAC business. By setting up a professional-looking Facebook Business Page, you not only create a direct line of communication with your customers but also offer them a place to leave reviews, ask questions, and interact with your content.
Targeted advertising: Facebook offers advanced ad targeting options allowing your business to zero in on specific demographics or local audiences based on their interests, location, and behaviors. This granular control helps you to spend your marketing budget wisely by focusing on those most likely to require your HVAC services.
Content sharing: Engage your audience on Facebook by sharing varied content forms related to the HVAC industry. These can range from informative posts about HVAC care and maintenance to special promotions, company updates, employee stories, and tips. This varied content can help you build rapport and establish your business as a trustworthy and informative source in the HVAC industry.
Watch how Thermacon Service Company explains the importance of regular HVAC maintenance in simple, clear language for their audience to understand. | Source
2. Instagram for HVAC Marketing
Although publishing blog posts isn't possible on a platform like Instagram, you can still post visually-appealing photos and Reels. Here's why you should use this popular platform:
Visual storytelling: Instagram provides a stage for showcasing your work and its impact. By sharing before-and-after images of HVAC projects or pictures from your day-to-day operations, you can visually demonstrate your commitment to quality service and customer satisfaction.
Storytelling: Instagram Stories and thoughtfully crafted captions offer a unique opportunity to share your brand's journey, values, and personality. Whether it's a glimpse of your team's hard work behind the scenes or celebrating company milestones, these personal touches can foster a deep connection with your audience.
Hashtag power: Using relevant and popular hashtags can significantly expand your posts' reach, tapping into Instagram's over 1.22 billion monthly active users. By conducting hashtag research and tracking your hashtag performance, you can optimize your Instagram content to reach potential customers who may not have discovered your business otherwise.
Want to know more about the benefits and features of this popular social media platform?
3. YouTube for HVAC Marketing
As per the latest statistics, YouTube is the world's second-most visited website, with more than 74.8 billion monthly visits. This means you can reach a large user base if you think you can produce high-quality video assets for your business.
Here's a closer look at why you should use YouTube to market your HVAC business:
Informative video demonstrations: With YouTube, you can share your expertise visually and offer practical HVAC maintenance tips. This can be in the form of step-by-step guides, problem-solving tutorials, or showcasing the intricate work that goes into an HVAC installation. These insightful videos will not just boost your YouTube video views but could potentially bring in more inquiries and business.
Engaging tutorials: On YouTube, you can offer DIY maintenance advice or explain complex HVAC concepts in an easy-to-understand manner. This added value can drive viewer engagement and foster a community of loyal subscribers around your brand.
SEO benefits: YouTube videos can rank in search engine results, which helps drive traffic to your HVAC business's website. By optimizing your video content with relevant keywords, engaging thumbnails, and compelling titles, you can improve your chances of ranking higher, both on YouTube and Google search results.
4. TikTok for HVAC Marketing
TikTok offers a fresh and creative way to reach a younger audience and showcase your business's personality. Here's a closer look at why you should use TikTok for your HVAC business:
Trending content: You can increase your business's visibility by participating in popular TikTok trends and challenges. This can show your business's fun side and make your brand more relatable to a younger demographic.
Bite-sized, educational content: You can use TikTok to share quick HVAC tips, interesting facts, or mini-tutorials in a fun and engaging manner. This informative yet entertaining approach can help you attract a wider audience.
Viral potential: TikTok videos hold the potential to go viral due to the platform's unique algorithm. A viral video can result in a massive surge in exposure, potentially bringing in a host of new customers.
5. LinkedIn for HVAC Marketing
Linkedin might be a professional networking platform, but it's also a significant stage to highlight your HVAC business's expertise and connect with potential partners:
B2B networking: LinkedIn serves as a professional networking platform where you can connect with potential partners, suppliers, or commercial clients. Joining relevant HVAC groups or participating in industry discussions can increase your visibility to other businesses, creating opportunities for collaborations or new clients.
Thought leadership: LinkedIn is an ideal platform to share industry insights, expertise, and case studies to establish yourself as a thought leader in the HVAC industry. This recognition can improve your reputation, drive more traffic to your website, and result in higher conversion rates.
What Are the Top HVAC Social Media Strategies?
So far, it's safe to say that social media is an indispensable tool for HVAC businesses. However, you need to implement the best social media strategies to stay ahead of the curve. From understanding your target audience to analyzing post-performance, here's what you need to know about the social media strategies you need to follow for your HVAC business: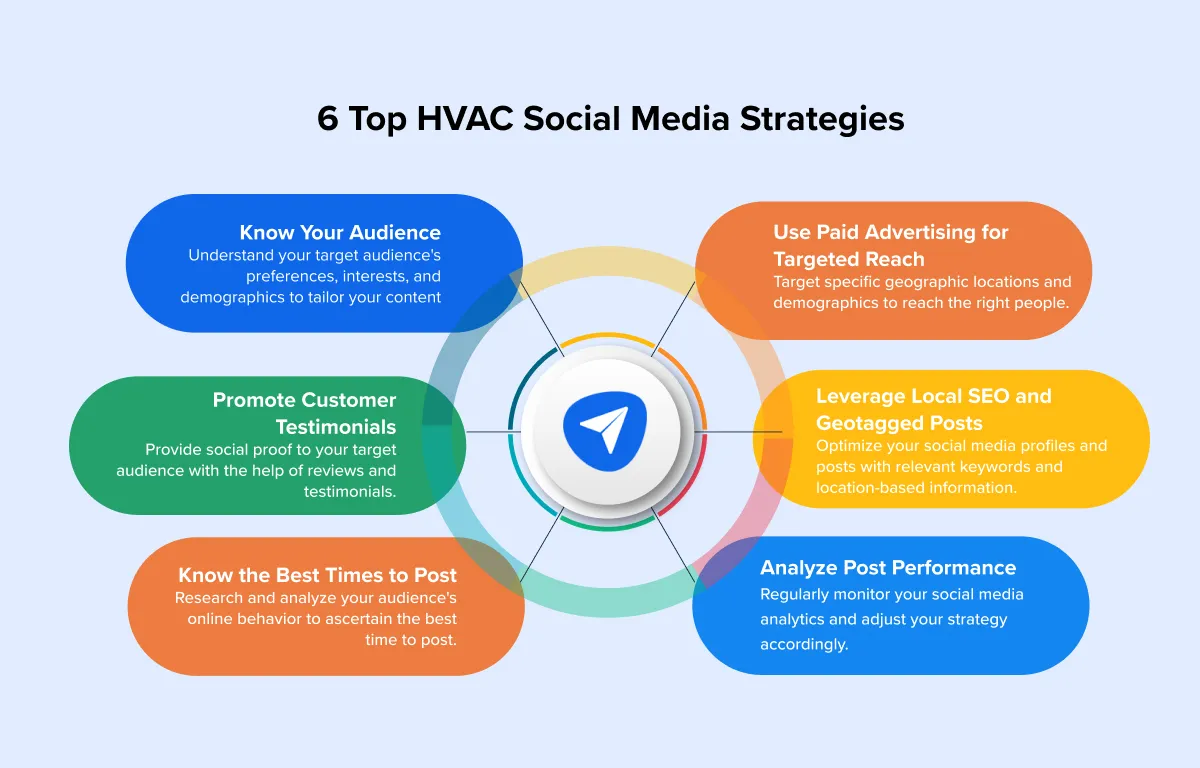 Next up, we'll be sharing some important HVAC social media post ideas that you can try to boost your social presence.
9 HVAC Social Media Post Ideas
Social media is an incredibly powerful tool for HVAC companies, providing countless opportunities for customer engagement, brand promotion, and lead generation. Let's dive into nine innovative and proven strategies to elevate your social media game and to attract and retain your target audience's attention.
1. Hosting Interactive Contests and Giveaways
Who does not love freebies!
Hosting a giveaway is not only a treat for your customers but also an effective strategy for your business. Engaging your audience with contests can lead to higher brand visibility and the potential for increased word-of-mouth marketing.
For instance, a contest could involve your customers sharing their creative solutions to common HVAC problems, which will engage the audience and showcase your customers' experiences with your products.
Some tips to follow when hosting giveaways on social media are:
Provide clear instructions for the audience to participate
Offer an appealing prize
Share the start and end date of the giveaway
Add a CTA to your post
Promote your content via email and website
2. Showcasing Business Milestones and Events
Completed a huge project?
Hit a specific number of followers on social media?
If you have achieved a notable milestone, share it with your audience on social media. Also, share updates on any upcoming event with them.
Why do this, anyway?
Sharing milestones or events with your audience helps build trust and credibility. This openness also fosters a sense of community and loyalty among your audience.
Additionally, consider introducing a special discount or promotion when you reach these milestones to engage your audience further and encourage business.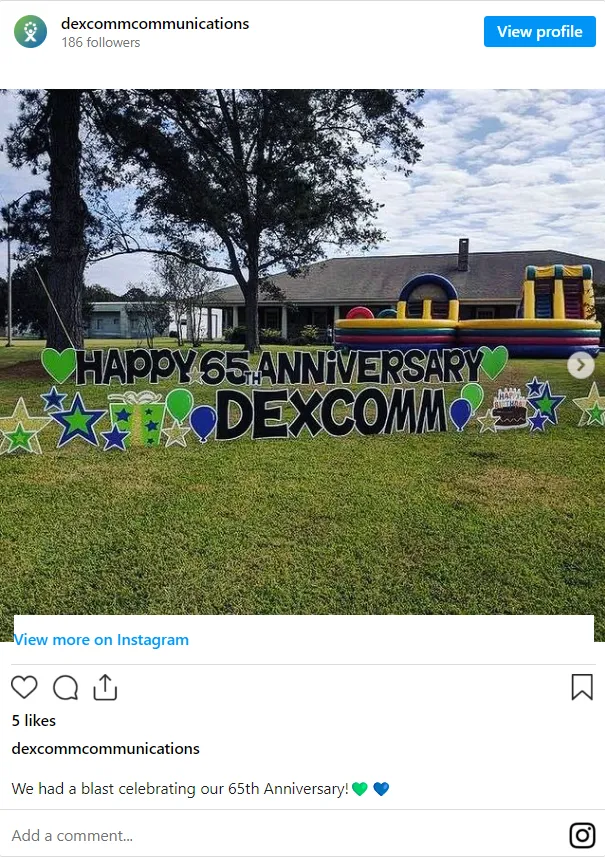 This is what Dexcomm posted on Instagram on their 65th anniversary. | Source
3. Incorporating Pictures and Videos
Pictures and videos offer visual proof of your expertise and the quality of your services. Including your projects' before-and-after transformations can particularly highlight your work's impact. Doing so can drive much more engagement than posts that don't have pictures and videos.
Also, consider using videos for tutorials or 'how-to' guides related to HVAC maintenance and troubleshooting, which can provide valuable content for your audience and establish your business as an expert resource.
Use tools such as Canva and Adobe Spark to easily edit images and videos and share them on your social media platforms. Ensure you post regularly to keep your audience engaged.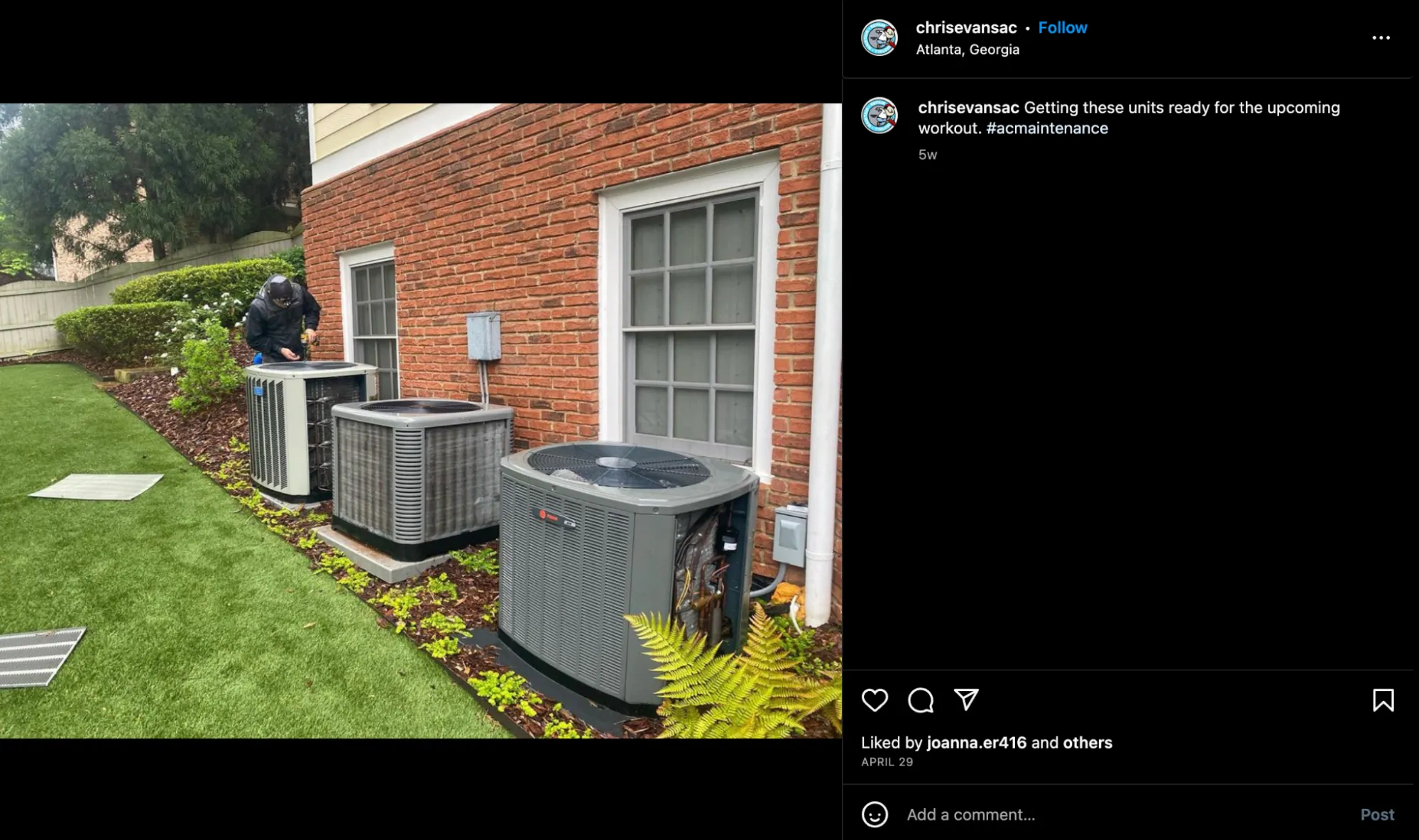 Evans Air Conditioning Instagram account posted an image about an AC maintenance job they recently closed. | Source
4. Amplifying UGC for Social Proof
Sharing user-generated content (UGC) is one of the most effective social media marketing ideas for HVAC companies and a powerful way to build trust among potential customers.
Real-life examples of your work, as shown by customers, can act as a testimonial and proof of your service quality.
To encourage more UGC, consider creating a unique branded hashtag for your business and encouraging customers to use it when posting about your services.
5. Creating Share-Worthy Memes
Why use memes in your social media strategy?
The answer is simple – they are shareable. Memes are the language of the digital age, allowing brands to converse with their audience in a relatable, humorous way. The more relatable memes you share, the more people share them with their family and friends.
For HVAC companies, this could mean creating memes about common air conditioning woes during a heatwave or heating issues in freezing winters. In this way, you're offering light-hearted content that not only amuses your audience but subtly reminds them of the importance of a well-functioning HVAC system.
Here are some points to take into account while using memes to market your business on social media:
Make sure the memes you use suit your brand's voice
Your memes should be relevant to the services you are offering
Don't overuse them on your social accounts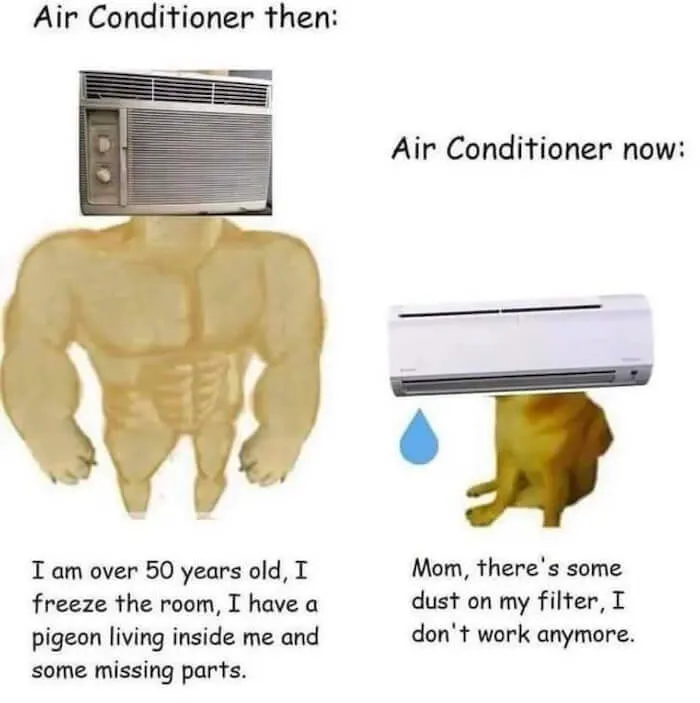 Here is a hilarious HVAC-related meme you can share on your social media platforms. | Source
6. Posting Infographics
Infographics are visual and instantly grab your audience's attention. This is an interesting way to convey complicated data or procedures you wish to break down for your audience.
In the context of an HVAC business, this could mean an infographic explaining the functionality of HVAC systems, the energy-saving benefits of regular maintenance, or the environmental impact of outdated HVAC units.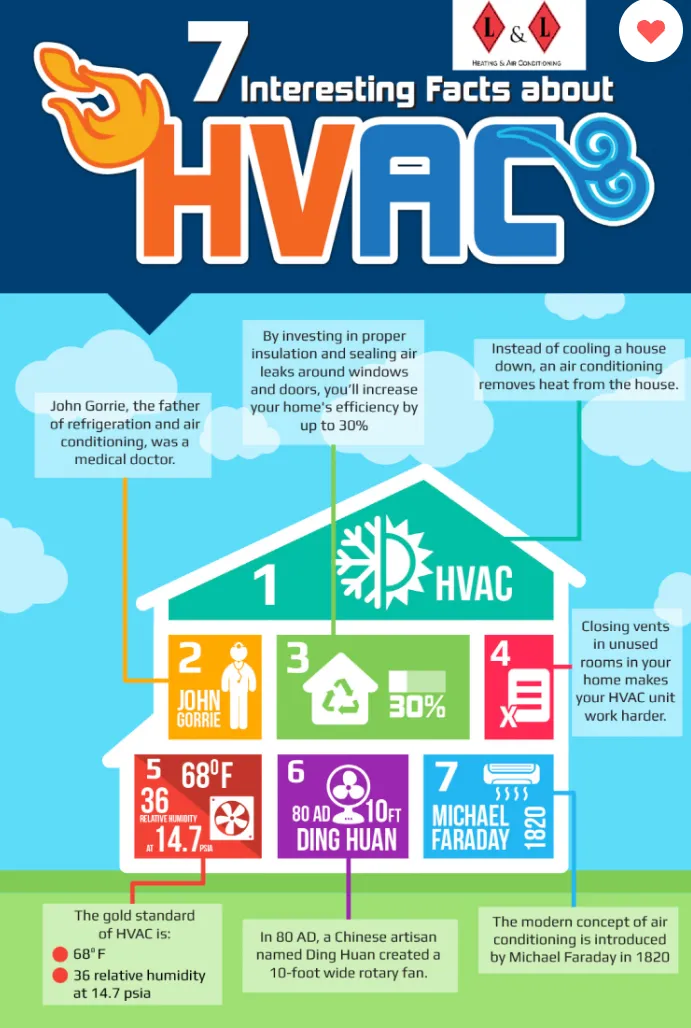 Check out this infographic by L & L Heating & Air Conditioning | Source
Interestingly, infographics invite more shares and backlinks as compared to other types of content.
Follow these tips to create compelling infographics for your HVAC business:
Only provide relevant and precise data
Use a color scheme (two-three colors) that reflects your business
Use fonts that are easily readable
Add visual elements such as graphics, icons, or charts

7. Sharing Employee Appreciation Posts
Employees are the lifeblood of any business, and showing your appreciation for them publicly can humanize your brand and create a positive impression in the minds of your audience.
Consider sharing posts that spotlight employees, detailing their experiences, accomplishments, or even their day-to-day roles within your company. This allows your audience to see the dedicated people behind the service, creating a stronger emotional connection between your brand and its followers.
8. Posting Fun Facts About HVAC Systems
When exploring social media marketing ideas for HVAC businesses, a surefire way to captivate your audience's attention is by sharing intriguing, fun facts about HVAC systems. Fun facts break the monotony of sales-oriented posts and engage your audience in a delightful learning experience.
For instance, you can share fun facts like these – the first air conditioning system wasn't even meant for human comfort, or the world's largest air conditioning system can be found in Dubai.
Why do this?
This approach not only positions your brand as knowledgeable but encourages engagement through intriguing content.
9. Sharing Holiday Greetings
Holiday greetings help cultivate a sense of community and goodwill with your audience. To make your greetings more tailored, include references to the season's weather, playfully reminding your audience about their HVAC needs.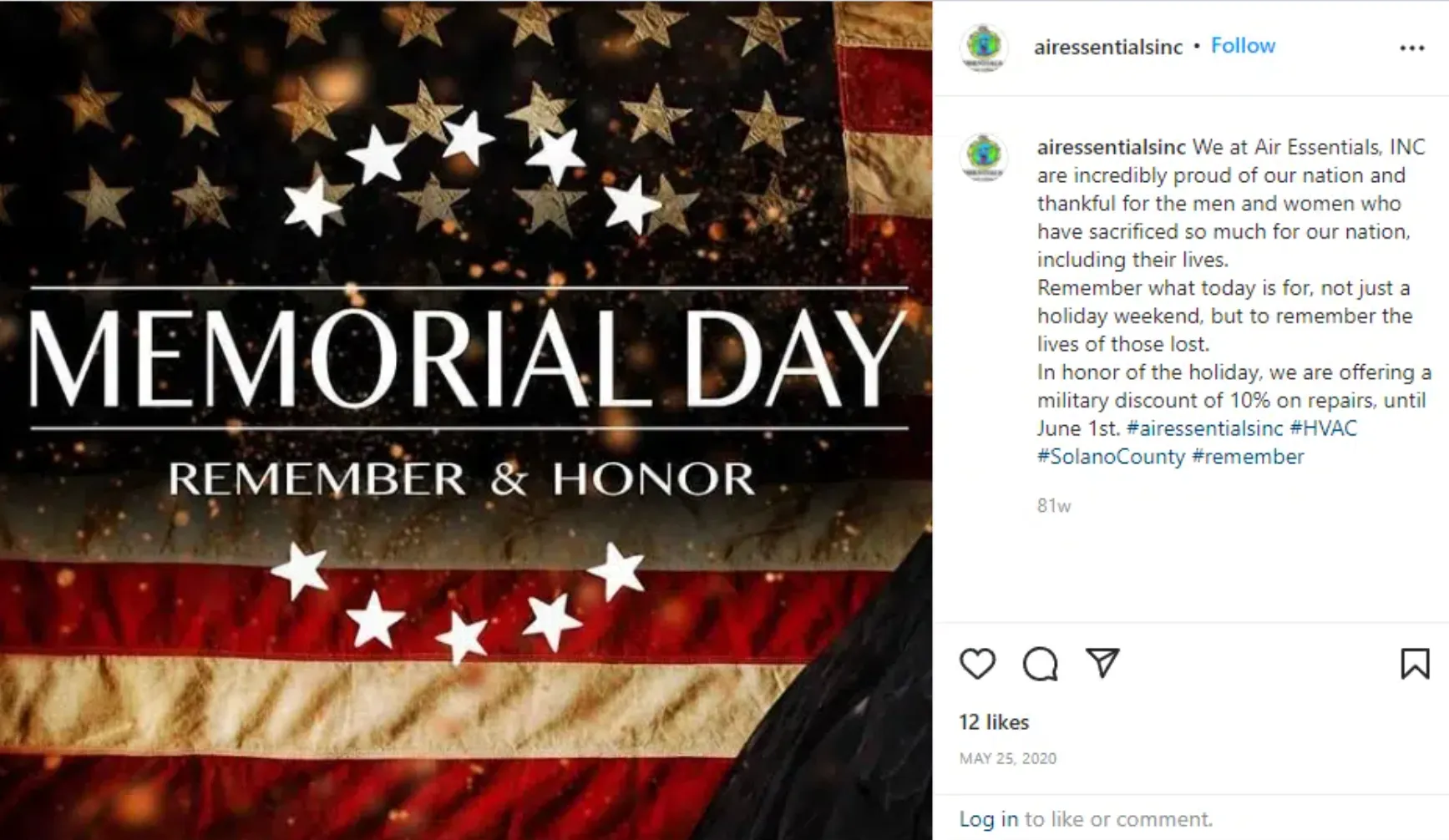 @airessentialinc shared a post on Memorial Day to remember and honor U.S. military personnel who died while serving.
Need help creating attractive social posts on different occasions?
There are many greeting templates you can find and edit on Canva; you don't need to be a professional to use the tool. Don't forget to use hashtags relevant to that holiday or event.
SocialPilot: Your Essential HVAC Social Media Marketing Tool
Looking for a tool to manage the social media presence of your HVAC business effortlessly?
Behold, here is SocialPilot!
SocialPilot is a robust social media management tool for HVAC businesses and for marketing agencies managing multiple accounts for HVAC businesses.
Here's a breakdown of the features you'll enjoy if you choose this tool:
Scheduling and publishing: SocialPilot enables you to schedule and publish your social media content across various platforms. This saves your business tons of time in the process.
Analytics: Get valuable insights into how your social media accounts are performing. This information allows you to analyze and make necessary adjustments to optimize your strategies.
Social Inbox: Engaging with your target audience becomes effortless with SocialPilot's Social Inbox. This inbox helps you to reply to conversations with your audience in real-time.
Collaboration: SocialPilot enhances your team's efficiency by enabling you to invite team members and clients to collaborate on specific accounts.
Conclusion
Overall, it's safe to say that maintaining an active social presence on suitable social media platforms can help establish brand awareness and gain more customers. When you leverage platforms such as Facebook, Instagram, YouTube, TikTok, and LinkedIn, for your HVAC business, you get to showcase your expertise and services to a wider audience.
From sharing valuable content to hosting contests and giveaways, HVAC businesses can leverage social media to drive tremendous business growth.
With social media's continuous evolution, HVAC companies must embrace innovative strategies. Keeping abreast of emerging trends is vital to maintaining a competitive edge in the dynamic social media landscape. This will ultimately help a HVAC business thrive in today's dynamic marketplace!


[ad_2]

Source link