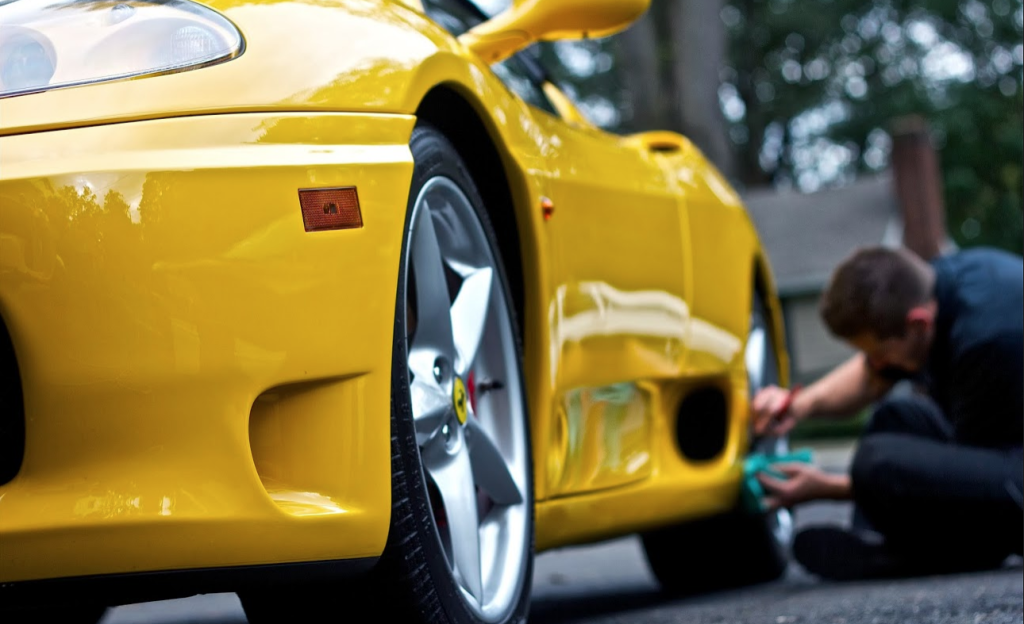 People don't buy what you do, they buy the reason behind why you do it. Nobody knows this better than Larry Kosilla, a professional car detailer who left his job on Wall Street to work with luxury cars and create a line of products to care for them.
While Kosilla's genuine love for cars fuels his business, marketers should note how he's using video to rev up the AMMO NYC brand message and connect with customers.
Let's explore what this video marketer's doing right:
Solving Real Problems with How-To Video Content
How-to videos are important for brands looking to amplify their video marketing strategy because YouTube is the second largest search engine available. Many people go directly to YouTube to learn about how to do something and becoming a known expert on this channel means you can really win when it comes to SEO.
As an example, take a look at Larry's video on cleaning the leather interior of a Honda:
This engaging how-to content gets Larry's brand the top search rank on YouTube for the query: "How to clean leather car interiors", a fairly common, searchable problem.
The point here is that most AMMO NYC brand videos use the words "how-to" in their descriptive video title (a great way to enhance video SEO) and they primarily focus on creating educational content.
Taking a page from this brand's playbook, you can start creating more how-to video content addressing your target audience's real pain points and use appropriate meta descriptions and tags to see a boost in your SEO rankings.
Larry Builds Trust
In the leather detailing video you'll notice that Larry – who's a pretty charismatic host – showcases at least two ways to clean the inside of the Honda. First he uses everyday products (the least expensive method), and then works his way up to the more expensive options car enthusiasts are interested in. This video covers the priorities of parents who want to clean sticky Cheerios from their car seats, but also demos Larry's high-end products for advanced users.
By covering everyone's needs Larry increases his reach (many people have probably never heard about AMMO NYC until they ask YouTube for help), and builds trust because he's established that he's not shilling, he's just passionate about sharing his expertise.
Brands, take note! Use your videos to really help. Build this kind of trustworthiness with your audience by showing people multiple ways to do something, when applicable. If your solution is the best, this is a great means of demonstrating this, all the while proving that you care about everyone's needs and budget.
Trust Isn't Built in a Day
The AMMO NYC team creates a new video every month. Instead of relying on the ever-elusive "viral video", this brand has dozens of videos and has built up a subscriber base of over 54,000 fans.
According to a global media consumption study, 68% of buyers require four or more pieces of content before they'll shortlist your solution, so your best bet is to create a video section on your site where you display lots of video content and create a great YouTube experience like AMMO has done.
Appeal to a Niche Audience
Although Larry does a great job teaching a large audience, his videos serve a fairly exclusive target market. Not everyone has a Pagani Huayra or Ferrari 550M to detail, so the brand really does cater to those who will drop the dollar bills to buy professional products.
The Takeaway: Ensure the majority of your videos appeal directly to your target market. The first line in your video should qualify the type of viewer you want watching, and don't worry about being exclusive; it's best you get the people you really want as customers watching your videos rather than randoms who have no concrete interest in your eventual pitch. This will help you connect your videos to real ROI (learn more about this here).
Take Fans Where They Wanna go
Sometimes Larry showcases his trips to major car shows and takes his fans with him on the virtual adventure. If you attend events your audience would be interested in, make videos at these shows as a way to generate new content folks will love. It's a great way to appeal to the interests of your target market and be the person responsible for keeping them up-to-date on trends in your industry. The more you cover as an expert in your field, the more credible you become with today's savvy, informed customers.
Even with the regular content Larry produces, there's a professional, credible vibe going on and he generates a lot of authentic engagement as a result. The positive YouTube comments say it all: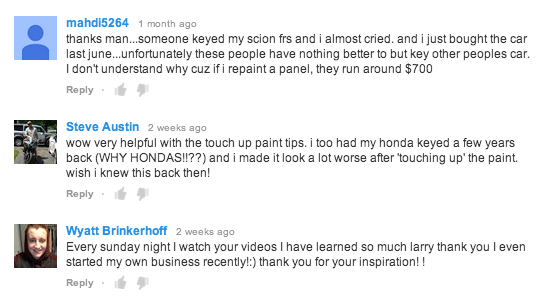 I was really impressed with Larry and the AMMO NYC crew and I'd love to hear what you think. Are they making the most out of their video marketing? Notice something they're particularly good at that I forgot to mention? Let me know!
The post From Supercars to Sales: How to Drive Revenue with Educational Video Content appeared first on Vidyard.
Read more: vidyard.com