With the current global health crisis, most schools have shut down to help stem the spread of COVID-19. This move has forced educators to deliver some form of distance education or virtual learning online to support both students and parents.
Before the pandemic, many schools were already using a host of teaching and educational technologies every day in the classroom, with many built to support distance learning in some capacity. In addition to technology, schools have been experimenting with delivery methods such as blended learning to help offer personalization and choice to the way students learn.
However, and perhaps especially for lower-level grades, many teachers have had limited involvement with technology in the classroom. Several are new to teaching in an entirely virtual environment and need to move quickly to support this delivery method.
Schools aren't the only ones scrambling in this new world. Students and parents are feeling the pressure too. Anxieties are high around the virus itself, and the stresses parents and students are putting on themselves to homeschool while maintaining work and traditional home responsibilities are mounting.
The worry for parents doesn't end there. How will their kids finish the school year? Will they be held back? Will they graduate? What does this mean for their college admissions? They are looking to teachers for reassurance and guidance on what to do.
Ever creative and resilient, teachers are getting inventive in the ways they're staying connected with students, alleviating some of the anxieties families are feeling. One significant way they're doing this is by using video for education.
Video Teaching is the New Normal
Synchronous video tools like Zoom are becoming a popular option for schools to deliver live lessons to students. However, as crucial as these tools have become to teaching and learning, they can pose a problem for teachers who are trying to maintain control of a virtual classroom.
Other limitations include the ability to accommodate schedules with working parents and access to computers in the household. Taking all of these things into consideration, on-demand or asynchronous video teaching tools can help relieve some of the pressure.
Vidyard has been a popular teaching tool for a long time, but over the last couple of months, we've seen educational use of the product explode. This growth all goes back to the creativity and tenacity of the teaching population as they search for effective ways to stay connected to their students.
As great as it is to see teachers accommodating students with a mix of virtual teaching tools, disparate solutions across schools and among teachers can be a bit of a nightmare to manage at the administrative or district level. Districts and schools want to provide options, but may have concerns about security and the safety of students, training, and maintaining multiple solutions.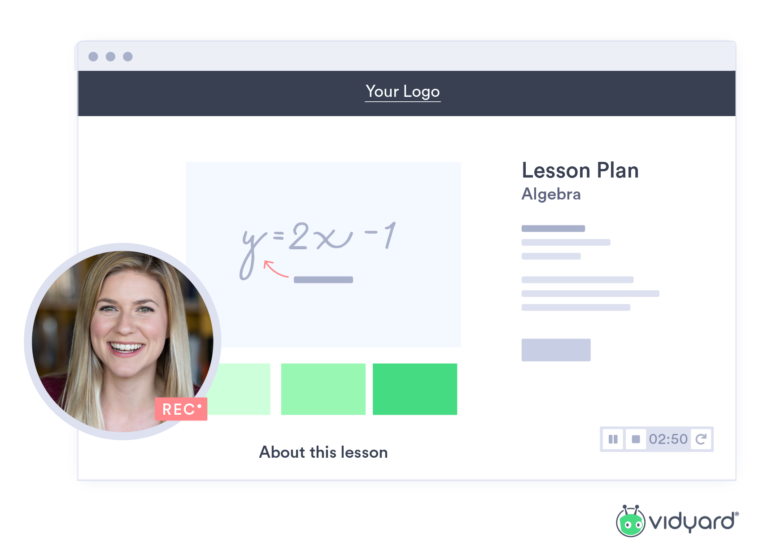 Video for Schools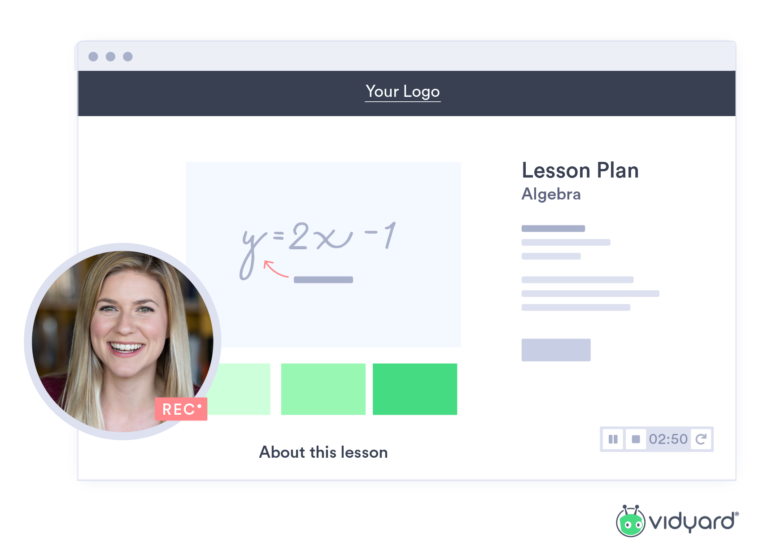 Looking for a secure video tool for teachers and staff? Our new solution for schools is FREE until August 31.
Learn More
5 Benefits of Using Video for Virtual Teaching
With the move to virtual teaching and learning, many students are missing crucial personal interaction, guidance, and instruction they typically get from being in the classroom. Live or synchronous video is helping, but a more flexible option is on-demand video.
Here are just some of the many benefits asynchronous video can provide students.
Easy to create and deliver. Teachers can easily create video content right from their web browser so they can continue to provide high-quality teaching remotely without the need for complex video production software or expertise.
Keeps students and teachers connected. Video provides a unique opportunity to give more verbal and visual guidance when face-to-face isn't an option–which can be especially important in lower literacy grades.
Available on-demand. Offering video in an asynchronous format lets students consume learning material when it makes the most sense for them. Playback options, such as speed controls, allow them to watch at their own pace.
Provides multiple sharing options. Flexible sharing options for recorded video let teachers post video lessons, assignments, and instructions to their learning management system (LMS) or share videos directly with students and parents via email.
Allows a microlearning approach to lessons. Curating video playlists of content lets teachers focus on "bite-sized" pieces that add variety to difficult lessons and recognize different styles of learning for better student comprehension.
5 Ways Schools and Districts Can Use Video for Internal Communications
As teachers and support staff work remotely, maintaining active lines of communication across all levels of a school system has become much more difficult. The need for face-to-face interaction remains. This is where video can help.
With the current climate, we've seen a shift in the business world in how companies use video messages and asynchronous video for internal communications.
A similar application applies in the way schools and districts communicate with teachers and support staff. Live or synchronous video calls have their time and place, but on-demand or asynchronous video offers the added flexibility to provide timely, secure, efficient, and clear messages to staff.
Here are five ways video can help keep communication channels open across schools or districts.
Announcements. Send recorded video announcements and updates to staff across the school district.
Training. Deliver formal training to staff, especially as they ramp up on new technology and processes with the move to virtual teaching.
Peer-to-Peer Collaboration. Personal video messages let staff stay connected and share knowledge when they can't be face-to-face.
Tutorials and Troubleshooting. Screen recording enables teachers and staff to record tutorials and provide guidance with one another as they discover best practices associated with distance education technology.
Peace of Mind. The sudden adoption of various virtual teaching tools has raised concerns about privacy and security. Video security controls ensure that only the intended audience has access.
To help schools stay connected with teachers, support staff, students, and parents, Vidyard is offering free early access to our Vidyard for Schools solution, which will provide a single asynchronous video solution for users across districts, schools, and classrooms.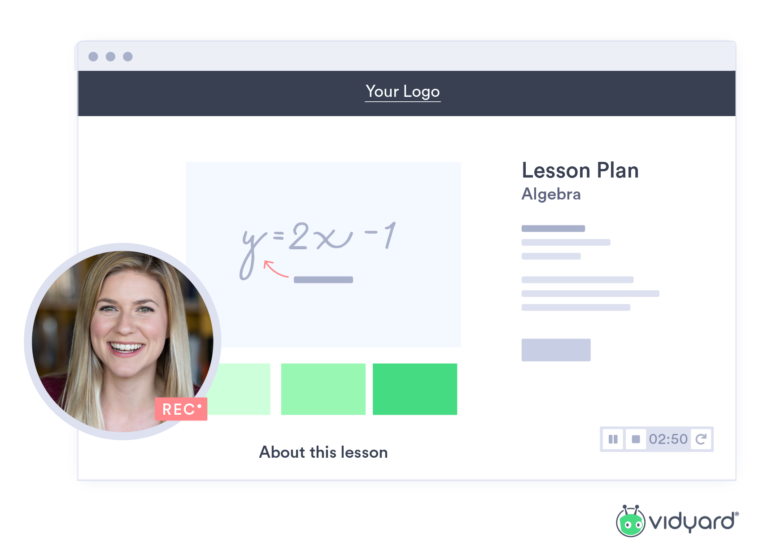 Video for Schools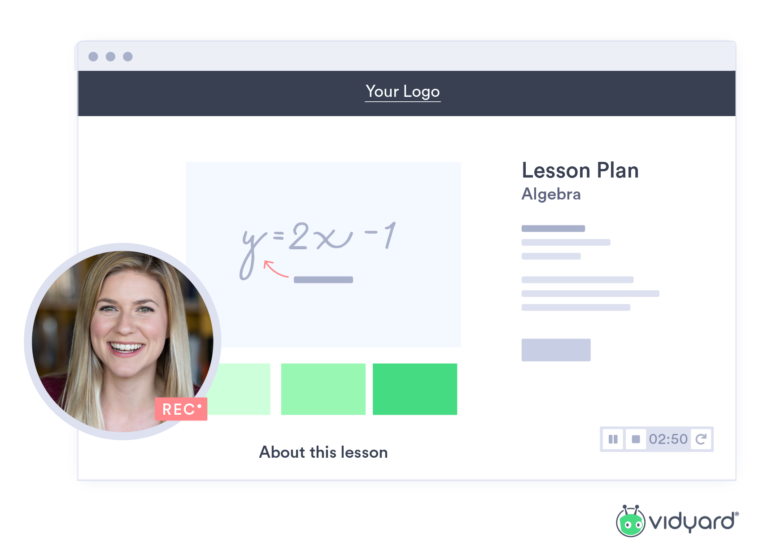 Looking for a secure video tool for teachers and staff? Our new solution for schools is FREE until August 31.
Learn More
The post How Schools Are Adapting to Virtual Learning appeared first on Vidyard.
Read more: vidyard.com