It may not surprise you to hear that the Vidyard marketing team publishes a lot of videos. Social videos, demo videos, promo videos—the list goes on.
But our annual holiday video is always one of our very favorite productions of the year. While we like to be creative with all of our content, this is the one where we really get to have some fun and test the limits of personalization. And I must say, our team has come up with some amazing concepts.
And thankfully, we're not the only ones who think so. In addition to getting some incredible reactions from our customers over the years, our 2019 holiday video has won a prestigious Telly award in the Business-to-Business Video Campaign category.
So, what made it such a big success? What can your marketing team learn from it? Let's unwrap this campaign to find out—and be sure to stick around until the end for a very special treat.
Our Award-Winning Video
What does a Telly award-winning video from a B2B tech company actually look like?
In our case, it looks an awful lot like cheeky pop culture references with a personal touch.
Our two-minute video featuring employees dressed up as their favorite holiday movie characters—Clark Griswold, Buddy the Elf, Cindy Lou Who, and of course, John McClane—was no ordinary holiday greeting for our customers.
It was playful, it was relatable, and it was entirely different from the barrage of disposable holiday greetings received from dozens of other vendors. It also had a creative flare that made it very difficult to ignore: The video was personalized for each individual viewer, bringing them into the story in unforgettable ways.
Watch the story unfold for a viewer named Jesse:
If you work for a big brand agency or media company, a Telly award may not seem like that big a deal. Teams at Disney, CBS Interactive, HBO, BBC, and Red Bull routinely win Telly awards for their amazing commercials and brilliant storytelling—even in the B2B categories.
But for our small marketing team who produces content (not commercials) for a niche audience on a very modest budget, an award like this is an incredible honor and proof that we're doing something right.
How We Put Together Our Award-Winning Video Campaign
What actually goes into planning, producing, and promoting and award-winning video campaign? Read on to learn how we created ours.
Planning: Focus on the Four E's of Video
Video has a lot going for it. Compared to static content formats, it offers a number of unique characteristics that can help you transform the way you connect with prospects and customers.
To deliver your own award-worthy B2B video content (or even just an amazing product explainer), be explicit about tapping into video's unique attributes, something we call the four E's of video.
Educational: Thanks to its visual and audible nature, video is more educational than other content formats. It can be used to explain complex ideas in ways that are faster to process and easier to retain.
Engaging: Video can also be far more engaging than the written word. Whether you're telling a bold story or explaining a new product, there's no better medium for creating curiosity and holding attention.
Emotional: Whether you're inspiring your audience or making them laugh, video allows you to deliver a message that is more emotional in nature, helping you connect on a much deeper level.
Empathetic: The transparent and personal nature of video helps you demonstrate empathy for your audience by showcasing the humanity of your people and delivering messages that are thoughtful, genuine, and authentic.
We started the planning process for our video by clearly identifying which of the four E's we would focus on during this production. Given our primary goals were to delight our audience and build brand affinity, we set out to make this video engaging, emotional, and empathetic.
To accomplish that, we scripted a story that was interesting, funny, and highly relatable to our audience. Through the combined use of creative storytelling, relatable characters, and personalization technology, we built in hooks that sparked a sense of anticipation and pay-off at the end.
We offered a sense of true delight by bringing each viewer into the story, literally. We also cast our own employees as the characters (well, all except for one) to help deliver a message that was heartfelt and authentic.
If you'd like to incorporate the four E's of video into your own content, grab this handy checklist for quick tips on how to put them into lights, camera, action! It's a simple yet effective framework.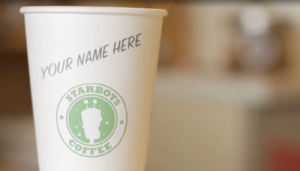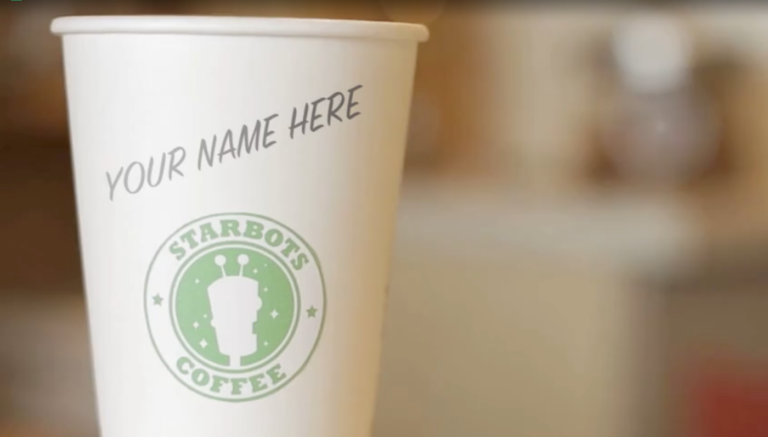 Get Your Own Personalized Video Campaign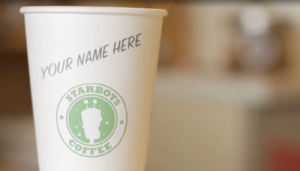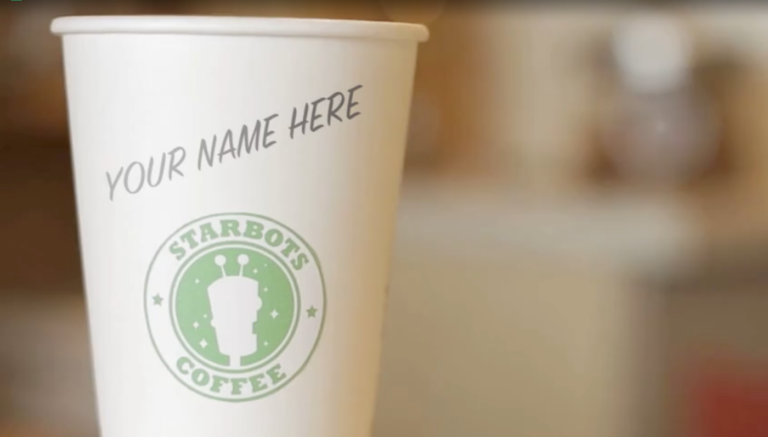 Capture attention and stand out by weaving individual viewer data (like names) right into your video.
Learn More
Production: The Best Approach and the Right Cast
Once our team had a sense for the direction of the project, we considered whether we should produce the video in-house or work with an agency partner. While we had the technical skills to produce it ourselves, we decided to partner up with Media One Creative, a top-notch video production agency who knows how to tell a great story.
A decision like this is never easy, especially for a B2B marketing campaign that isn't tied directly to lead generation. However, we know the power of building a strong brand and knew this story could go from good to great with the help of some experts. And they absolutely pulled it off!
Their guidance, direction, and production chops made all the difference in taking this from a fun idea to an award-winning production. When making a decision like this for yourself, start by considering the following questions:
Do you have the expertise and equipment internally to do the project justice?
Can your internal team nail the script to make the story come to life in a way that's fast-paced, engaging, and makes effective use of visuals and narration?
Can you handle everything with internally sourced actors, and can your team effectively direct the cast of characters?
If you answer "no" to any of these questions, consider working with a video production agency. Not only do they have the experience and equipment to pull off big projects, but they can be an invaluable resource for writing or refining your script, getting creative with visuals, hiring actors, and directing your on-screen talent. In the case of this project, Media One helped us with all of these items and much more (the key is knowing how to work with a video production agency).
Also be thoughtful about who you cast in your video production. Most videos we shoot at Vidyard feature our own employees to ensure they're as genuine as possible, not to mention low cost to create. In the case of our Telly award winning holiday video, all of the on-screen talent are Vidyard employees except for one individual. Can you guess who?
No, not John McClane, that's our IT systems analyst Erik Van Dijk (believe it or not, he had never seen Die Hard before being cast in this video). And no, not the dog, that's our beloved Yukon.
We hired an actor for the lead role of Clark Griswold, knowing that this character's performance would carry the story and couldn't be left to chance. By using a combination of Vidyard employees and one paid actor, we got the best of both worlds: Real people from our team and an award-winning performance.
Promotion: Making Your Content Simply Irresistible
Once the production was complete, we knew we had a winning piece of content on our hands. But we had yet to overcome the greatest challenge of all: Getting people to watch the video, without the luxury of an advertising budget!
Perhaps the greatest success of this campaign was in how we promoted the content. We knew that email marketing to our existing base of prospects and customers was going to be the primary mode of video distribution. So we focused our energy on making this email stand out from the flood of "happy holidays" messages in our audience's inboxes—so it would get the attention it deserved.
To do this, we employed a few key tactics that ended up working incredibly well:
1. Irresistible Subject Line
We sent our promo email to tens of thousands of recipients featuring a subject line that designed to stand out from the crowd:
"Clark Griswold, John McClane, and [FIRST_NAME] walk into a party"
That was it. No "wishing you a happy holiday" or "thank you for being a customer." We went for something that was more likely to capture a moment of attention and create a sense of curiosity. Anyone who read that subject knew this was a different kind of holiday greeting, one worth their time.
The Boost Your Emails Need
Start embedding videos in your emails today.
2. Personalized Thumbnail Image
Once they opened the email, there was some short email copy leading to a large video thumbnail that had two critical elements.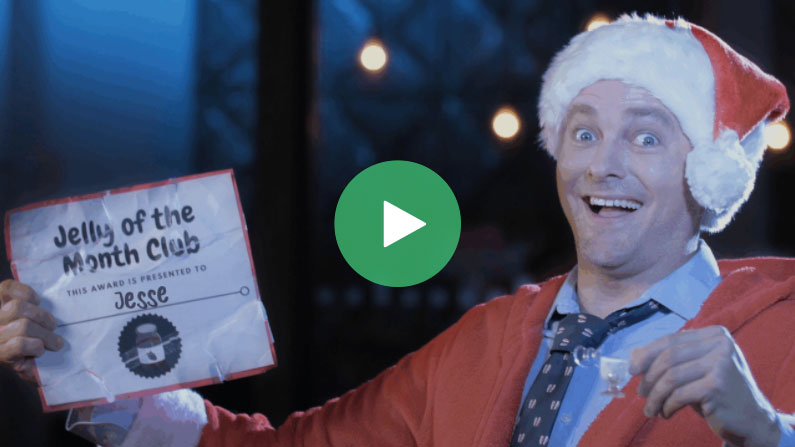 First, a nice big play button to make it clear that this was a video. Second, an image of a scene from the video that is personalized for the recipient. And not just any scene, it was an image of Clark himself holding up a certificate for the jelly of the month club with YOUR name on it. I mean, how could you NOT watch it?
3. The Experience
After the individual clicked on the thumbnail, they were taken to a landing page where a magical experience ensued. The video itself was fun, engaging, and hyper-personalized.
Once they finished watching, the page was set up to allow the viewer to "re-gift" the video experience. With a simple form fill, they could personalize the video for friend, colleague, or customer and send it along with a custom message. It's the gift that keeps on giving, Clark.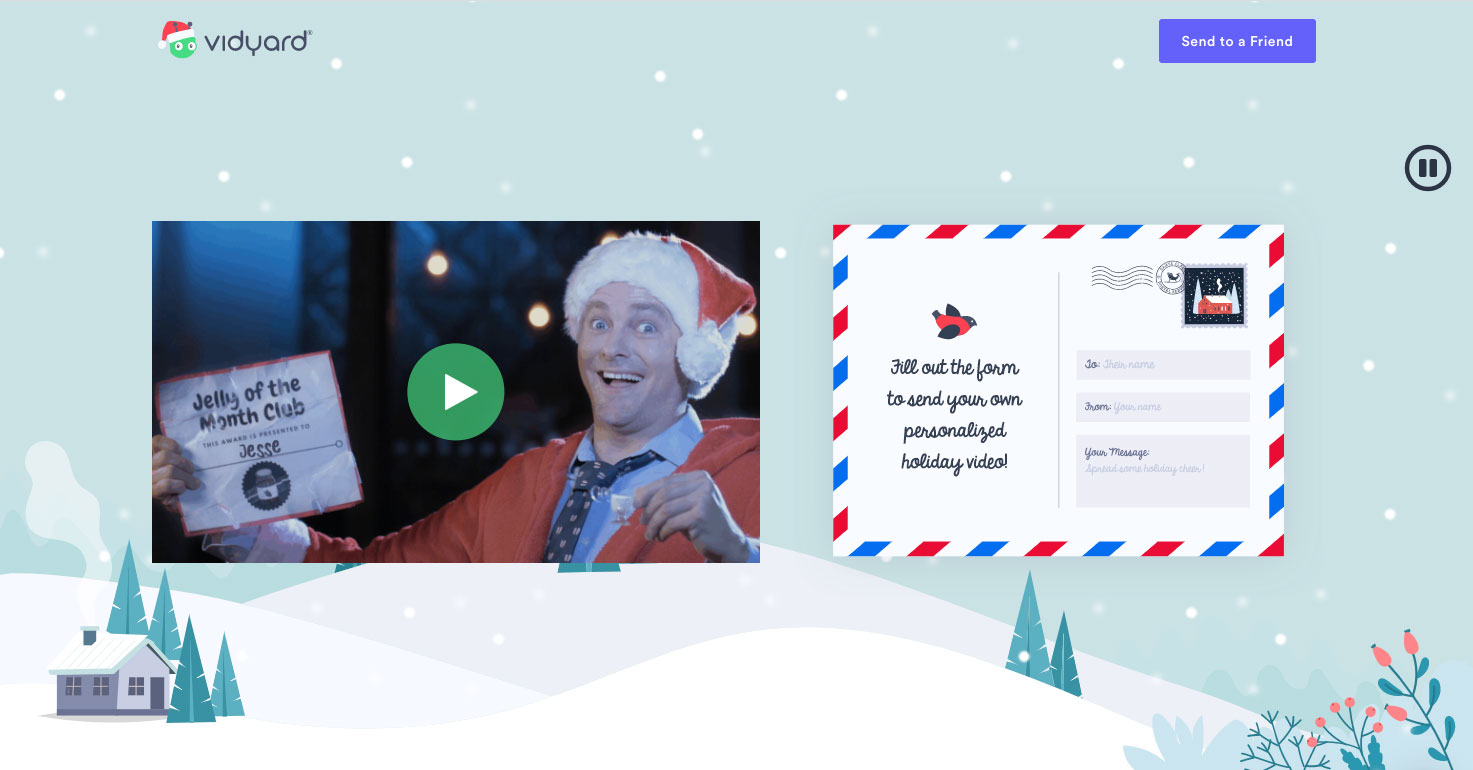 Your Special Treat
Hopefully this post was like a great video: educational, engaging, empathetic to your needs, and an emotional roller coaster. And to thank you for making it all the way through, I've got a special treat for you: Hop on over to this page to see the full campaign in action.
Complete the form beside the video to send yourself a personalized version to see what the video experience would have been like for you. Then go ahead and send it around to your colleagues, and maybe even your boss, just to get the wheels turning.
If you'd like to get on our nice list to ensure you get front-of-the-line access to our next holiday video, be sure to sign up for our newsletter! And who knows, you just may learn how to deliver your own award-worthy video marketing campaigns.
Sign Up for the Vidyard Newsletter
The post How We Executed a Telly Award-Winning Video Marketing Campaign appeared first on Vidyard.
Read more: vidyard.com