[ad_1]

WordPress has been the default website builder for entrepreneurs and small businesses for nearly 20 years. But that doesn't mean that it's the best website builder for
your
business.
In this article, I'm going to talk about the best WordPress alternatives based on your business and marketing strategy and help you to choose the best one.
WordPress Started as a Blogging Platform (this will become important)
WordPress was created as a "CMS" or Content Management System — a blog. This was its minimally viable product and it continues to be the best blogging platform on the market.
When blogging first became a thing back in the late 90's and early 2000s, there were several blogging platforms to choose from. Google was first with "Blogger" followed by Typeform and an upstart open-source platform called WordPress.
Blogging was seen as a different function from traditional websites which were built on highly technical platforms like Dreamweaver and often required hiring an expensive developer. Not only that but changes to websites were often difficult to make without having a developer.
This is what made these blogging platforms so appealing.
Sometime around 2008 or so, WordPress added the feature of adding pages and making a front page static.
This changed everything.
Since that moment, WordPress has been the go-to publishing platform for building all kinds of websites. 43% of all websites are WordPress sites and 65% of all websites with blogs run on WordPress.
But here's the thing.
Every Software Has a Strength Based on Its Early Development
Most software products are launched as a "minimally viable product". This means that the software is developed to do ONE simple thing very well. As competitors enter the market, they also focus on doing something very well.
Then each software begins to expand its features until they all blur together and appear to all do the same thing.
And that is why any platform will always be THE BEST at what they were originally created to do.
This is why you need to know what feature or element is critical to the success of your business so that you can choose the platform that is the best at that feature or function.
When choosing a platform you want to make sure that the features you want are exactly what the platform was built to do and not so-called more "advanced features" — because those advanced features are usually extensions that were added on beyond its original and intended function.
That said —
WordPress is a Great Publishing Platform for Content Marketers
Look, there's nothing wrong with using WordPress for your website. Just remember it's a content management system. WordPress' strength is blogging.
If you want WordPress to do something other than blogging, you're going to need themes and plugins. Themes and plugins add third-party variables to your website ad they add complexity. And complexity slows your site down and can actually cost you money.
So, if you're NOT publishing a blog multiple times a week, or you aren't using SEO as a lead generation tactic, you probably don't need a fancy WordPress site.
What to Consider When Choosing Alternatives to WordPress
Your marketing strategy and tactics
Your marketing strategy defines how you will go to market and with what message, content marketing, direct marketing, or advertising. Your tactics define what channels you will use; email, webinars, etc.
Not sure what marketing strategy is right for you?
Try This!
What's Your Marketing SuperPower?
If you want to do LESS marketing and make MORE money, you need to FOCUS on just ONE marketing strategy! But which one?
In just 60 seconds, you'll discover your signature marketing strategy, two tactics that work well with it, and be ready to do less marketing and make more money. So what are you waiting for? Take the quiz now!
We earn a commission if you click this link and make a purchase at no additional cost to you.
WordPress Alternatives for Coaches and Consultants
Most coaches and consultants are using direct marketing. They are building their email lists using Facebook advertising, and webinars. They engage and sell their programs by email.
You don't need a WordPress site to run this strategy and these tactics.
SEO and Traffic are NOT as Important
If you're a consultant or a coach that is using a direct marketing strategy, SEO and driving search traffic to your site is NOT going to be that important.
You're going to be getting your traffic from referral or JV partnership relationships or from ads that you've placed.
For these primary reasons, WordPress is NOT going to be a critical tool for you. And you shouldn't have to deal with jumping through integration ropes and technical complexity if you don't have to.
Kartra vs WordPress
I've been using Kartra for about a year now. and I really like it. I'm using it in addition to my WordPress blog as a lead magnet library and membership site with courses that I can use as lead magnets or products.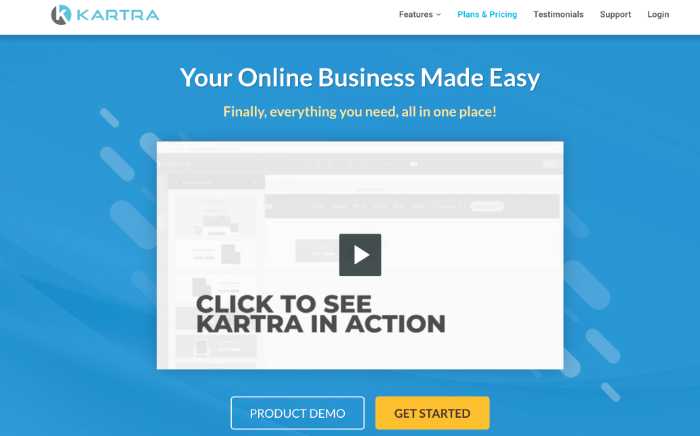 TABLE
| | |
| --- | --- |
| Kartra | WordPress |
| Business in a box. You can launch an online business straight from the box. | Use themes and plugins to customize your site to your needs. |
| Not designed for blogging. If you want to blog, you should do that on WordPress | You'll need to use an email marketing and automation tool and integrate it with WordPress |
| Library/marketplace of ready-to-use funnels. membership sites and landing pages. | Can be cheaper, but you have to integrate moving parts. |
| Funnel building wizard. This takes you step-by-step through the process of building a product, membership site, or landing page. It won't let you launch something that doesn't work. | It's on your domain. |
| You have to use custom domains. To put Kartra on your domain, you can cut and paste code and put it on your WordPress page. | You'll need support or a developer to make sure it's working properly |
| You can do this DIY no problem | |
Kartra and WordPress are both content management systems (CMS) that allow you to create a website or blog. Kartra is designed for online entrepreneurs who want an all-inclusive solution, while WordPress is more popular among bloggers and content marketers.
Kartra offers a wide range of features, including email automation, membership sites, and ecommerce capabilities. It also integrates with WebinarJam and EverWebinar for online event hosting. WordPress is less feature-rich but remains popular for its simplicity and range of themes and plugins.
WordPress can do everything Kartra can do. There are WordPress Themes that you can use to create landing pages, affiliate links, and membership sites.
What is Kartra?
Kartra was built BY online marketers FOR online marketers. The Kartra team knows that all you need to make money online is a landing page, email automation, payment gateway. and closed content library. And that's what they give you.
Kartra helps online business owners to create, market, and launch their websites easily. It is especially useful for those who want to start selling courses, training programs, or memberships online since it can help generate recurring revenue.
Kartra offers a unique, all-inclusive solution; meaning you don't have to worry about finding compatible software or hosting providers. Karta takes care of it all for you.
My Pick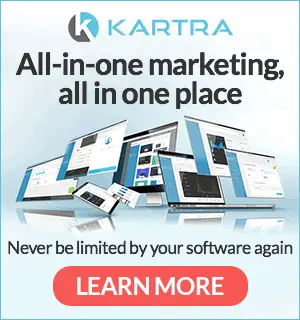 Kartra – Your Online Business Made Easy
I've been using Kartra for over a year now and I really like it. It's relatively simple to create landing pages, run email campaigns and literally scale your business without knowing a bit of code.
I also use WebinarJam and EverWebinar which is owned by the folks at Kartra, so if you also use WebinarJam, this is a no-brainer.
We earn a commission if you click this link and make a purchase at no additional cost to you.
Kartra features I love:
Connected with WebinarJam and EverWebinar
Easy drag and drop editor
Has email automation
Has membership site
Easy Landing Pages
eCommerce features
Connects with a custom domain
Mirror landing page on WordPress page. Kartra gives you a code snippet that you can paste on your WordPress landing page and show that landing page on your WordPress blog.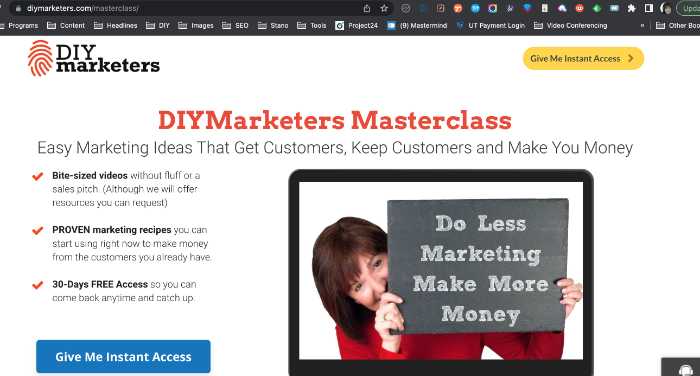 Who is Kartra for?
Coaches who generate leads from webinars, summits, and ads
Consultants who need simple landing pages and who need a content library
Online course creators: If teach anything online and have courses
You also want to sell physical products
Content marketers who want to keep their blog separate from their programs
How much is Kartra compared to WordPress
I mentioned that WordPress was "free" — well the original hosted version of WordPress is free. The instant you want to do something beyond using it as a blog, you will have to pay. And while most WordPress Themes and plugins are free or inexpensive, things can add up.
Kartra, on the other hand has all of the elements in one place and charges based on how much "space" you're using. Specifically, based on how many emails you have on your list and how much storage space you use for your videos.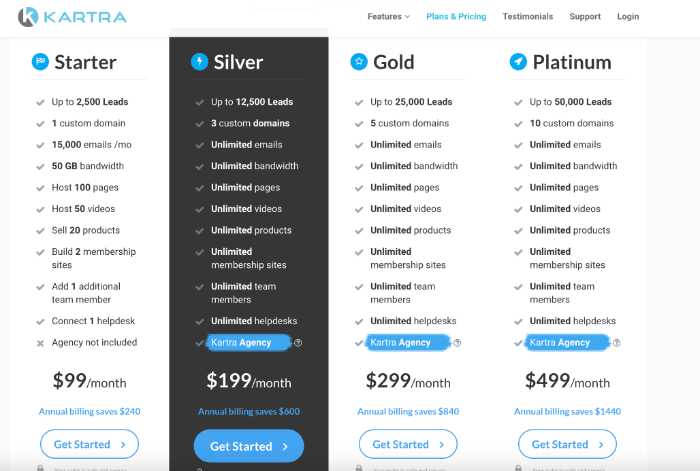 Why I chose Kartra
I already have a WordPress site, why not just stay with it? Well, I've built WordPress membership sites before and used the themes and plugins, and yes – it was "cheaper" and it was "in one place" but, it also created a lot of complexity on my blog and slowed it down.
I also use WebinarJam and EverWebinar for video content and that is part of the Kartra group of products. It just makes sense to keep them together.
Kajabi vs WordPress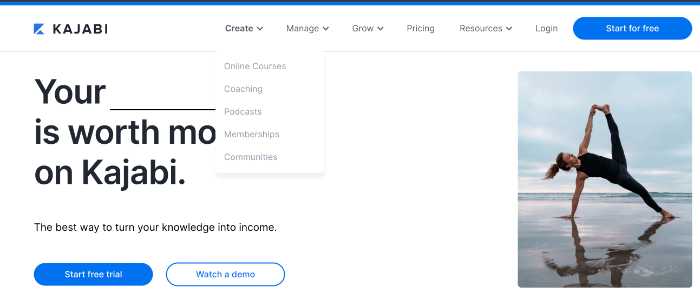 Kajabi is an all-in-one platform that lets you create courses, launch a blog, and sell products. It's designed for entrepreneurs who want to build an online business.
Here are some of the core features Kajabi offers
A drag & drop website and landing page builder
Marketing and sales funnels with templates
Blogging platform (it's there, but I wouldn't recommend it)
Various website themes
Email marketing and automation
Classroom environment
Quizzes and assignments
It's very similar to Karta. One big difference is that Kajabi doesn't have it's own webinar and on-demand video platform. But this is really no big deal because you can use either Zoom or Vimeo or any other platform you like.
Kajabi Features
Best for online courses. While both Kartra and Kajabi do online courses, Kartra also allows you to sell physical products.
Kajabi was specifically designed to do online courses.
SEPARATE from your blog. Kajabi gets all the traffic. Like Kartra, Kajabi is going to get all your website traffic. So not recommended for blogging.
WordPress Features
You'll have to purchase a theme for online courses.
Integrate with third-party platforms for email, shopping carts, and videos.
Best for any blogging and content marketing
Integrates with everything
Very flexible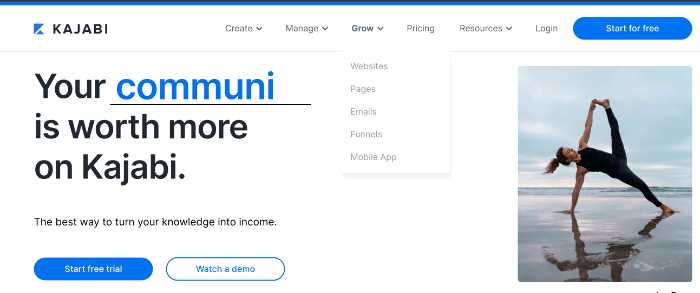 Kajabi is extremely popular with coaches and consultants as an online course creator.
How much is Kajabi compared to WordPress
While it may seem like it's more expensive, remember that you're paying for ease of use so that you can concentrate on content and marketing rather than the technology of making your content work.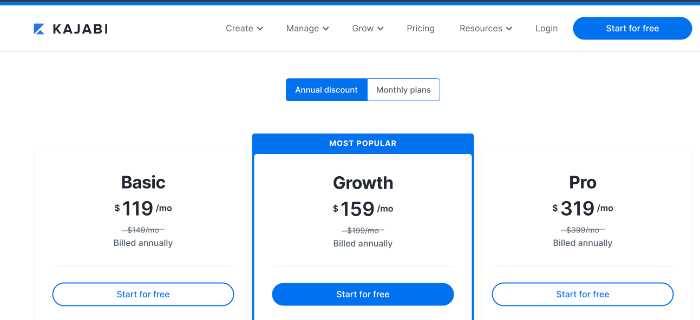 Why choose Kajabi over Kartra
If you know that you are only doing online courses and membership sites and you don't care about SEO or content, Kajabi is a terrific deal.
Thinkific vs WordPress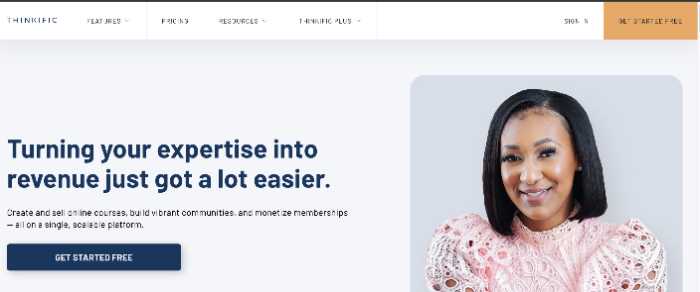 I've had a few friends choose Thinkific over Kajabi, Kartra, and WordPress recently. Let's see why.
First, it's a newer platform. That means that they want to grab new people from the established platforms like Kajabi and Kartra.
To do that, they are offering a Forever free version. WooHoo
Thinkific Features
Specifically for online courses and memberships
FREE version — forever. Take your time learning, creating and testing.
WordPress Features
You'll have to choose and use a plugin — and that adds complexity and technical issues.
You can sell all kinds of products, physical or online.
Very flexible.
Zoho vs WordPress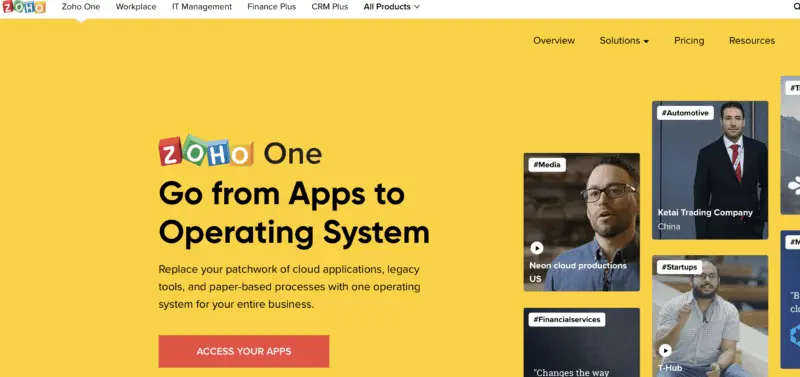 Zoho One – The Operating System for Business
Get an entire "enterprise quality" operating system at a small business price. 50+ small business apps — all integrated — all in one place and all at one insanely affordable price!
We earn a commission if you click this link and make a purchase at no additional cost to you.
You might have heard of Zoho CRM somewhere in your travels, but what you may NOT know is that Zoho is an ENTIRE business operating system that you can have for less than $40/mo.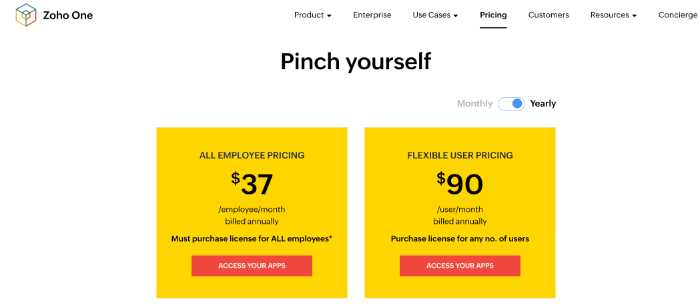 While the other WordPress alternatives I told you about have niched down and focused to provide simplicity and value, Zoho One is the complete opposite.
Zoho has EXPANDED its offers and cut the price.
Zoho One Features
55+ business applications including Sites (website) Meetings, (video and webinar), Backstage (online and live events). ecommerce store, Zoho Drive (like Google drive for storage) and more, calendars, invoicing and books, absolutely everything.
Your entire business integrated under one roof
AI to help you analyze your business
Blogging is poor
Many moving parts
WordPress Features
Focused tool for blogging
Use plugins to create membership sites and other types of businesses.
What is Zoho One?
Zoho One is an entire business operating system that you can have for less than $40/mo. It includes more than 55 individual and integrated apps from CRM to accounting to project management to invoicing. It's perfect for small businesses that want to streamline their operations and grow their business.
Who is Zoho One best for?
Zoho One is the ideal choice for new businesses that are using direct marketing to sell online. Zoho One offers a tremendous opportunity to build an entire business on one platform and take advantage of the artificial intelligence capabilities offered by Zoho. If you are a startup and aren't committed to any one platform, Zoho One is your ideal choice.
Overall, both Zoho One and WordPress are BROAD platforms that require more time and energy to set up.
Why choose Zoho One over WordPress?
If blogging is not an essential part of your lead generation strategy, then Zoho One can be the best-kept secret to your success.
Here's how I would start:
Start with Zoho Bigin (it's a mini CRM) and enter your best customers or leads in there.
Create a single landing page on Zoho Sites promoting your product or service.
Create an email sequence in Zoho Campaigns to nurture the leads you collect.
Use Bookings to schedule paid coaching sessions and breakthrouh meetings
Use Zoho Books to count your money
Use Zoho Meetings for your webinars and meetings.
Run a live event or virtual event or online summit with Backstage. Easily manage speakers, and topics, and sell tickets. etc.
As you can see, the options are endless. Think of it like a Lego project. All the elements are there, and it's up to you to put them all together. If you are a DIY person, then this isn't much different than WordPress, but if you want more focus, then it's worth spending more for the other platforms.
Zoho One Features I Love
It's easy to use. The user interface is similar to every other platform you've used.
It's easily integrated within Zoho One and I've used Zapier to integrate with other tools.
THE PRICE — I mean you simply cannot beat the price.
Privacy — Zoho is insane about privacy. So your data and your customer data is secure.
I can replace Google drive if I want to. Zoho One offers everything Google drive does and more. I can collaborate on projects, content and pull my community together.
The Zoho culture — this isn't a technical feature, but it's one I find extremely important. I like Zoho as a company and what they stand for, how they treat employees, and the level to which they vaue their customers.
It's Smart to Look For a WordPress Alternative if You're an Online Business
OK, so after 20 years of thinking that WordPress was the only way to run an online business, this might be the year you finally think about a WordPress alternative.
Just because WordPress is one of the best website builders doesn't mean that it's the best tool for your online store.
WordPress is great for content marketing and its SEO tools are definitely worthy of your attention.
But if you're a coach or consultant who wants to launch an online business, you can do it quickly and easily with these WordPress alternatives that I've shared today.
In short here's what you've got to know and do before you choose a WordPress alternative:
If you're a startup with nothing, go for Zoho One. It's the cheapest, best way to get started.
Decide on what you're selling. If it's all online content, then choose Kajabi (if you want the standard) or Thinkific (if you want to try something new and with a with a free version).
If you're selling physical product, and you want an easy way to show your landing pages on your own domain — Kartra is a great choice.
WordPress Alternatives for Local Retail, Restaurant, or Service Businesses
If you're a restaurant, retail, or service business, you've got WordPress alternatives that might be better, cheaper, and easier to use.
Local businesses can benefit from using a WordPress alternative whether or nomt you have an online store. Today there are a variety of website builders that are even better than WordPress for local businesses.
Here are some of the features you want for a local website:
Local SEO optimization so that your business pops us whenever potential customers are searching in your category (especially on a mobile device).
Mobile-first design and optimization. Because most of your potential customers will be searching in real-time on mobile, this is critical.
FAQ About WordPress Alternatives
How to use a custom domain name
To use a custom domain name with your WordPress site, you first need to purchase it from a domain registrar. Once you have registered the domain, you need to point it to your hosting account. This process can be done using the DNS settings provided by your hosting account or by using a tool like cPanel. After the domain is pointed to your hosting account, you can login to your WordPress site and update the address in Settings > General.
How does web hosting work for WordPress alternatives?
Most WordPress alternatives are hosted platforms. That means that by using their site (and paying the monthly fees) hosting is already included.
This is a big advantage for you because you won't have to worry about technical support.
What's the best free WordPress alternative?
If you're a retail, restaurant, or service business that doesn't have the staff or resources to invest in marketing, consider website builder platforms like Wix, Weebly, Squarespace, or even Shopify. All of these include web hosting, ecommerce features, as well as advanced features.
Another option, although I think you'll have to pay a small fee is Go Daddy's website builder. A website designer friend of mine told me that he used it for a local business, and he was very impressed with how quick it was to set up and how quickly they got SEO traffic.
Is Joomla a good WordPress Alternative?
No, Joomla is not a good WordPress alternative for non-techy entrepreneurs.
It is free and it has some similar features to WordPress, but Joomla is more complex and harder to use than WordPress. Additionally, there are fewer built-in plugins and themes available for Joomla, which means you'll have to spend more time finding the right ones. And finally, it's much harder to find tech support for Joomla over WordPress.
You're NOT Stuck with WordPress
I can't believe I'm saying this but you do NOT have to use WordPess just because everyone (or lots of people) tell you to.
There are so many options that are actually a lower TOTAL cost.
It just depends on your business.
Always remember, choose your business model, marketing strategy, and tactics — and then choose your tools.
You just might find that you'll get better results, pay less, and have more time to serve your customers.
[ad_2]

Source link