[ad_1]

If you're like most marketers, you're always looking for new and innovative ways to reach your target audience. And if you're not using Instagram yet, you're definitely missing out on so much. But even with all the potential that Instagram offers, it can be challenging to know where to start
Luckily, there's a great way to get started with Instagram marketing: Listening.
By monitoring what people are saying about your brand on Instagram, you can get a clear understanding of what's resonating with them and adjust your strategy accordingly.
In this guide, we'll tell you everything you need to know about setting up an Instagram listening strategy that will help you grow your brand on this powerful platform.
So, let's get started!
What Is Instagram Listening and Why Should You Care?
Some marketers may assume that Instagram is a place to post product pictures or share snapshots of the latest team-building vacay.
But did you know that Instagram can also be a powerful listening tool?
Just as businesses use Twitter to track what people say about their brand, they can also use Instagram to get insights into what people think and feel. By monitoring hashtags, keywords, and user-generated content, businesses can get a pulse on what people say about their industry, competitors, and brand.
Social Media Listening vs. Social Media Monitoring
Before the advent of social media, companies had to rely on expensive market research to gather information about customer sentiment. However, social media has changed all that. Now, businesses can monitor customer opinion in real-time, and they can do it for free.
Here's what many companies don't realize:
There's a big difference between social media monitoring and social media listening.
Simply put, social media monitoring is about collecting data, while social media listening is about making sense of that data. To truly listen to what customers say, you must go beyond merely tallying up the number of mentions or likes.
You need to analyze the sentiment behind the data, identifying patterns and trends. Only then can you begin to understand what customers want and need.
So, while social media monitoring is valuable, it's only half the story. To get the whole picture, you need to start doing some serious social media listening.
And the same goes for Instagram listening.
Why Instagram Listening?
Listening is key in resonating with your peers in interpersonal communication. That's the basis of understanding, trust, and ultimately loyalty.
And it's the same for marketing communication.
Just look at these stats below:
66% of customers want brands to understand their needs and expectations.
82% of people want retailers to accommodate their preferences and needs.
Other research shows that:
52% of people would be willing to pay more to receive excellent customer service (including a personalized, direct connection with the brand).
25% of customers would be willing to pay up to 10% more for that.
That's where Instagram listening comes in.
By monitoring what people are posting on Instagram, you can clearly understand what's resonating with your target audience. You can see which products are being talked about the most, which campaigns are getting the most traction, and which hashtags are being used most often.
Therefore, you can:
Gather insights about your competitors
Identify user-generated content opportunities
Build relationships with customers and influencers
Monitor customer sentiment
Give people the products they like
According to the statistics cited above, all that leads to:
Take this example:
Taco Bell's signature dish Quesalupa (a combination of Quesadilla and Chalupa), was discontinued in 2016. As you can see from the replies, people wanted the meal back on the menus.
And Taco Bell delivered on March 11th, 2021, even for a brief period. The results are multifold:
The brand showed it listens to its customers.
The limited offer has people talking about and craving more Quesalupa. Therefore, the brand stays top-of-mind through this signature dish.
Pro tip: Each platform has its unique benefits when it comes to social media listening.
So, while Twitter may be great for tracking real-time conversations, Instagram can be even more valuable for understanding visual trends.
Why is getting a pulse on trends essential?
As the old saying goes, a picture is worth a thousand words. And when it comes to social media data, that's certainly true.
While text-based posts can help you understand what people are saying, photos and videos can give you an even deeper insight into how people are feeling.
Images can also provide you with a wealth of creative content ideas. After all, if people are already posting about your products and services, you know they're interested in what you have to say.
All you need to do is find a way to join the conversation.
Let's say you have a clothing store. Searching Instagram for the #jeans can give you a wealth of ideas in style, accessories, and clothes that pair well with jeans, just by looking at the first few photos.
For example: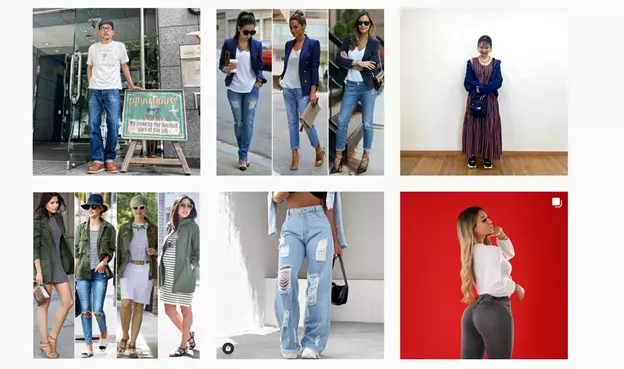 The key points are:
Knowing which hashtag to search for; #clothes or #fashion, can be too general, so you need a more specific one that you can work with
Gathering the right insights about people's styles, wants, and trends
Leveraging those insights for your particular brand (e.g., offering a new line of sexy maternity clothing)
How to Use Instagram Listening for Your Business
Now that we've answered the question, "what is Instagram listening?" It's time to take a closer look at how you can actually use it.
Here are four ways to get started:
1. Find out What People Are Saying About Your Brand
The first step in any social media listening strategy is to set up some basic monitoring.
That way, you can see how often your brand is being mentioned, which hashtags are used, and who's talking about you the most.
This will give you a good overview of your brand's presence on Instagram and help you identify any significant issues or trends.
That can be challenging, even if you're not a company the size of Coca-Cola, currently with 8,484,334 mentions on Instagram: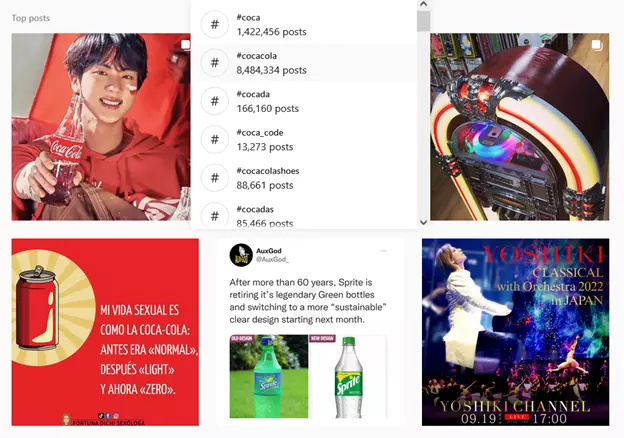 So, the best solution would be to partner with an agency or use automated social media management software.
2. Analyze Customer Sentiment
In addition to monitoring brand mentions, it's essential to pay attention to the sentiment behind those posts.
Are people generally happy or unhappy with your products?
Do they seem interested or uninterested in what you have to say?
By analyzing sentiment, you can better understand how people feel about your brand and where you need to improve.
For example, notice how therapist Jason VanRuler's post about a healthy couple's connection elicits strong words: "love," "facts," "exactly," and more.
Pro tip: Interjections ("aah") and ellipses (…) are extremely powerful in this context. Always scan for punctuation marks and interjections during your Instagram listening endeavors.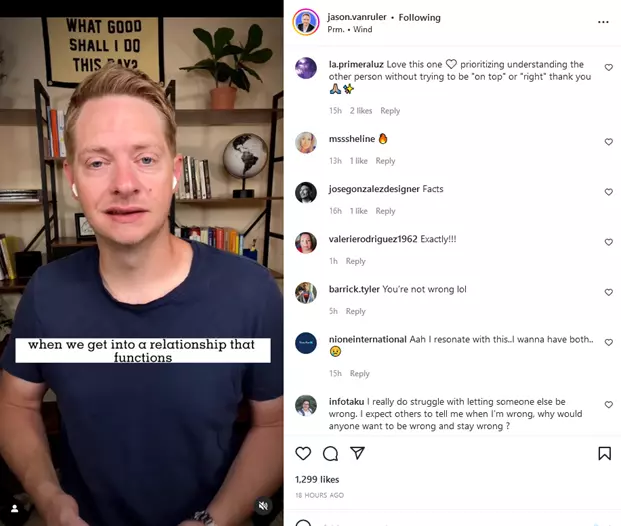 3. Identify User-Generated Content Opportunities
As we mentioned earlier, one of the great things about Instagram is that it's a hotbed for user-generated content (UGC).
People are constantly posting photos and videos of your products, and many of them are happy to tag your brand in those posts. By monitoring UGC, you can not only get some great content ideas, but you can also find new ways to reach out to your target audience.
Take Bluehouse Salmon, for example.
But first, imagine having a business that sells organic Salmon.
How would you advertise your product? We can all agree there are more exciting products on the market.
That's why the company leverages the power of user-generated content to a T, powering its Instagram with tagged videos/photos and fan recipes.
Here's the tagged content: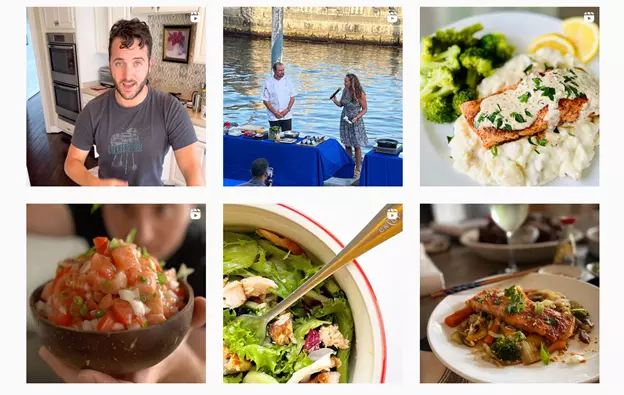 And the fan recipe reels: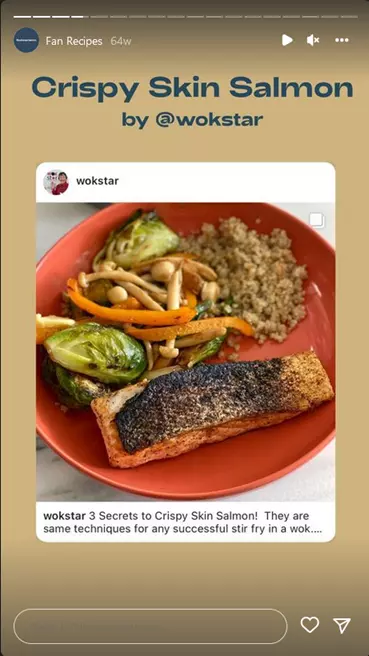 4. Build Relationships with Customers and Influencers
Finally, Instagram listening can also be a great way to build relationships with customers and influencers.
By monitoring what people say about your brand, you can quickly identify unhappy customers with your products or services. Reach out to them and see if there's anything you can do to improve their experience.
You can also use Instagram listening to find influencers who are already talking about your brand. Reach out to them and see if there's any way you can work together.
Bonus: Here's a secret weapon that few companies use, even those actively leveraging influencer marketing.
Influencers are a gateway into your potential customer's minds. You don't have to partner with influencers just for content creation. You can connect with them for insights into their audience.
Warning: Use an Instagram engagement calculator first to see if these content creators genuinely connect to their audience's pulse.
Here's an example of how Mount Saint Helens Institute is partnering with a passionate hiker to promote itself: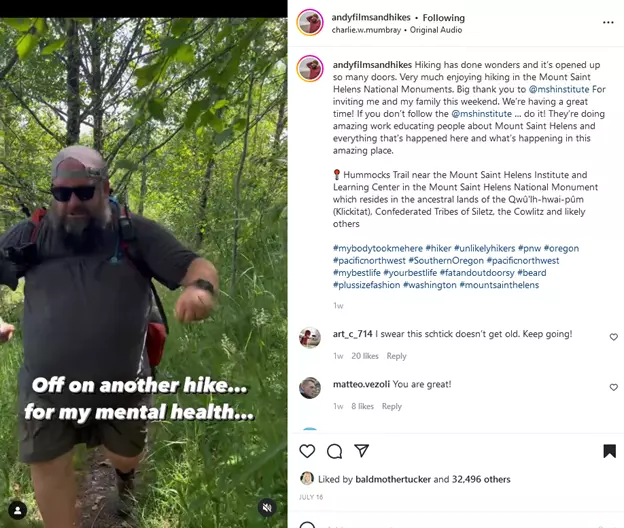 Here's the gist:
Andy Neal isn't your average hiker. He advocates for plus-size fitness for mental health and has created a very engaged, loyal audience. As such, even a non-controversial advertising post like this one got him good interactions.
So, MSH associates with values like inclusion and mental health but also gains a pool of interested hikers (known as qualified leads).
Key Factors Involved
As with any marketing strategy, it all starts with your goals. Once you know what you want to achieve, you can tailor the perfect plan to suit those objectives.
Competitive Analysis
The first thing you want to do is a competitive analysis. Here's how:
1. Look at your competitors' profiles and posts
This one is pretty straightforward. Start by looking at your competitors' profiles and posts to get an idea of what they're doing right.
What kind of content are they posting?
What type of engagement are they getting?
Make a list of the things you like and don't like.
2. Identify their most successful content
Next, look closely at their most successful content and see if you can identify any patterns.
What do their most popular posts have in common?
Is there anything about them that makes them stand out?
Again, make a list of the things you like and the things you don't like.
3. Analyze their hashtag strategy
Hashtags are a big part of Instagram, so it's essential to analyze your competitors' hashtag strategy.
Take a look at the hashtags they're using and see if there are any you can use for your posts.
You can also use a tool like SocialPilot to find related hashtags and see which ones are most popular.
4. Check out their engagement rates
Finally, look at your competitors' engagement rates to see how well they connect with their audience. A high engagement rate means they're doing something right, so try to identify what that is:
The type of topics, visuals, and audio chosen
Keywords
CTAs
And more
Create Opportunities
Creating opportunities for Instagram listening means giving people the chance to speak their minds. So:
Ask questions
Create challenges
Create polls
Offer up controversial topics
In other words, give people something to talk about. The more you can get them talking, the more chances you have to gather data and insights.
Here's one example: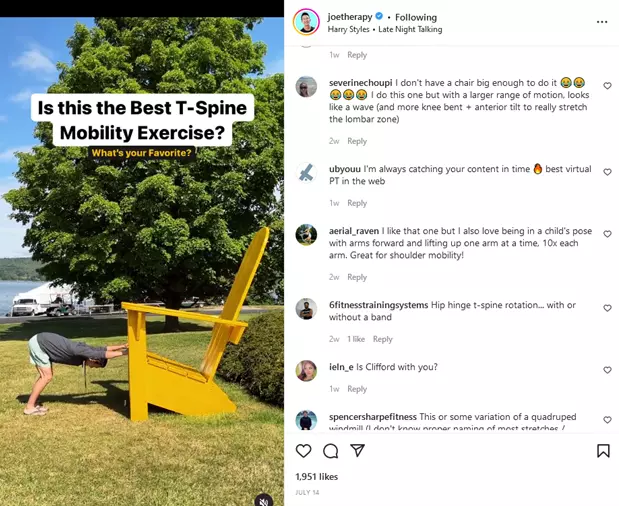 Joe Yoon is a coach who helps people regain mobility through stretching exercises. He often uses Instagram to learn more about his followers' preferences, just like in the above video.
As you can notice, people respond to his original question ("Is this the best T-spine mobility exercise?") with several follow-up ideas or questions of their own. They also answer the second question ("What's your favorite?"), which will help Joe devise new videos and stretches that fit his followers' desires.
Monitor Mentions
Now it's time to start monitoring mentions. Either way, you want to be on the lookout for mentions of your brand, competitors, and relevant industry keywords.
When you find a mention, look at it and see what you can learn.
If it's a positive mention, thank the person who posted it.
If it's a negative mention, try to reach out and see if there's anything you can do to improve the situation: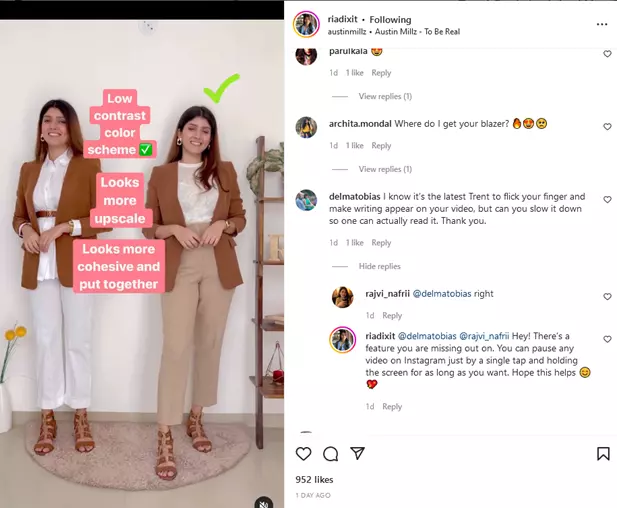 Notice how Ria Dixit responds to her follower's complaints about how she edits her videos:
She's polite but firm, not promising to change this way of editing future videos.
She gives advice that would help solve the follower's problem (e.g., pausing all Instagram videos, not just hers).
She uses emojis that help loosen the tension.
Analyze Sentiment
As you monitor mentions, you also want to keep an eye on sentiment to understand how people feel about your brand, products, and industry.
Here's how:
You want to look for keywords that indicate positive or negative sentiment. For example, "love," "hate," "great," and "terrible."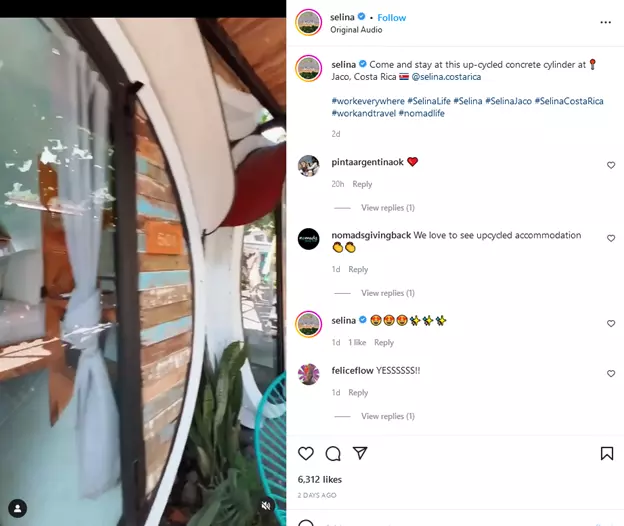 This post above is a good example because you can see all the variations expressing positive feelings, from emojis to words. You can also notice how the brand replies to all followers who comment, thus, strengthening their relationship.
Pro tip: When you find a mention with negative sentiment, reach out and see if there's anything you can do to improve the situation.
Join Conversations
In addition to monitoring mentions, you also want to join conversations to gather more insights.
Besides, talking to people means connecting with them and putting yourself at the same level as them. It makes your customers feel heard, included and valued.
Even better:
Take their feedback into account. If you promise to use their suggestions, try actively leveraging them in a visible way.
Here's a neat example of a board-certified doctor reacting to a previous Instagram video of dismissing period-associated chest pain: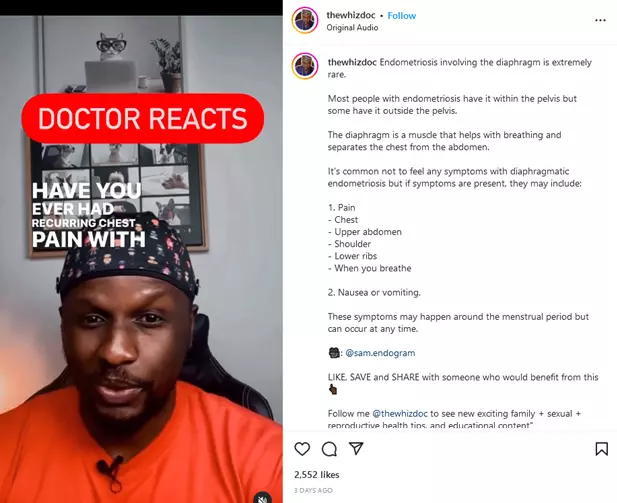 Instagram listening gave this doctor a new topic for his videos: discussing some rare symptoms of endometriosis. That's another opportunity for him to establish credibility, join the conversation, and offer relevant advice.
And without Instagram listening, he would have missed this opportunity.
Comments and DM's from the audience on Instagram often provide such amazing insights! But keeping up with so many messages becomes very overwhelming. Is there a way to keep an eye on all that feedback?
Actually, there is!
With SocialPilot's Instagram Inbox feature, you can access every DM and comment on posts, reels, and comment threads in a single space.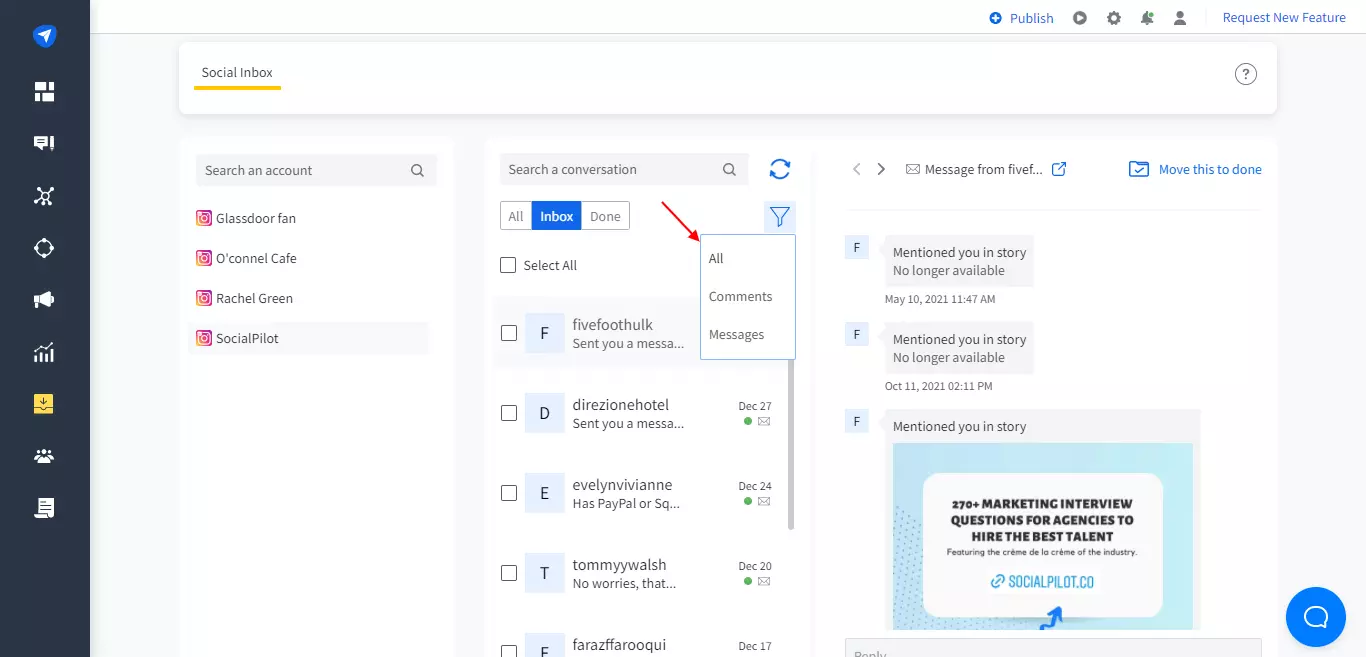 You can reply to these messages in real time, filter and prioritize conversations, mark threads as "Done" and monitor all audience response. All of this can done for multiple Instagram business accounts.
Conclusion
Instagram listening is a powerful way to gather data and insights about your brand, products, and industry.
It can help you understand what people are saying about you, identify opportunities, and connect with your audience on a deeper level.
Now that you know how to do Instagram listening, it's time to get started.
[ad_2]

Source link