"Visuals express ideas in a snackable manner." Kim Garst, CEO of Boom Social.
Do you want to leave a long-lasting impression on your audiences' mind?
Do you want to learn how to boost your Instagram and Pinterest marketing with the right strategy?
Do you want to know how Instagram Marketing tools and Pinterest tools can help you automate your visual marketing strategy?
By the end of this blog post, you will be able to go from Zero to Hero in your visual marketing strategy.
It is important for a brand to have a visual marketing strategy that is not only snackable, but also provides true value to the audience. Today, we will give you some ideas on how to use visuals to market your brand and business on Instagram and Pinterest.
But first, let's understand what is visual marketing?
Visual marketing
Visual marketing is the practice of using images and video in a context to deliver a desired message to the viewer.
Almost everywhere you look on the internet today, you will find some kind of visual content either in the form of images or videos.
What's most interesting is that: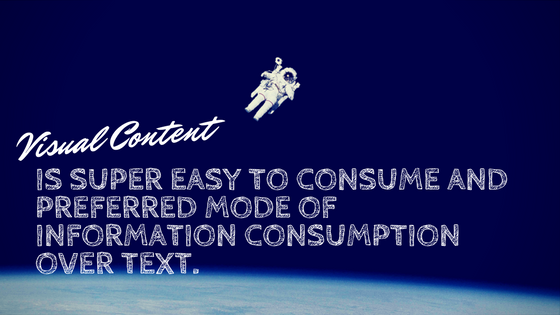 Why the average person prefers visual over text?
According to a post published by Larry Kim, CEO of MobileMonkey and Founder of Wordstream at Inc. said:
"Amongst all marketing trends, visual marketing is almost impossible to ignore." – Larry Kim
Why?
We have a very short attention span, as little as 8 seconds and need only 2.8 seconds to be distracted.
We need only 50 milliseconds to form a first impression about somebody.
According to a study by Jakob Nielsen, an internet usability expert pointed out that a web user will only read 20 to 28 percent text on a web page visit.
Intrigued?
That's why visual social platforms like Pinterest and Instagram have been so successful and popular.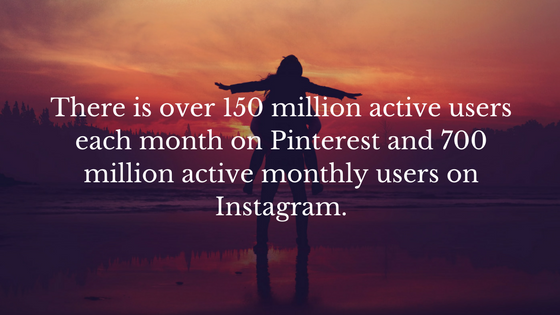 Now!
Let's look at some visual marketing ideas for Pinterest and Instagram that can boost the engagement of your social media profiles.
Visual Marketing Ideas for Pinterest
1. High-Quality content
Create pins that have really good images and descriptions. It means not only your image quality has to be excellent but also interesting enough for people to stop scrolling and read your pin.
It has been observed that tall images perform well on Pinterest compared to square or wide images. Pinterest places an image post in columns and posting a tall image actually makes your post look better in the feed. According to Pinterest, the best aspect ratio for posting images on Pinterest is 2:3, with a minimum 600 pixels of width.
For example, a 2:3 aspect ratio could be:
600 pixels in width and 900 pixels in height.
1000 pixels in width and 1500 pixels in height.
3. Visually appealing
Make your images visually appealing. Focus on keeping your design consistent throughout your posting. This will help you with your branding. Your fans will be able to distinguish your posts. You will also be able to work on having a flow of your communication.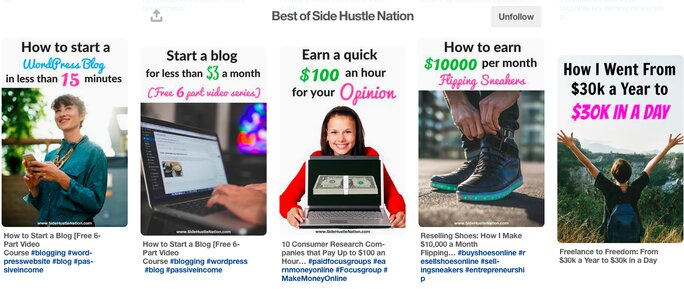 From the above Pinterest board of Side Hustle Nation, you can see they follow a template in all their pin designs. They use similar fonts and a set of colors.
Use the tool like SocialPilot app which comes with visual composer feature. It allows you to create appealing images to share on your social media profiles. It has everything you need to design images within minutes including fonts, backgrounds, filters, quotes, and watermark as well.
Tip: Watermark your logo or website address on each pin. This will help users know immediately the owner of the pin. SocialPilot app allows you to add logo on your image from its in-built Watermark feature.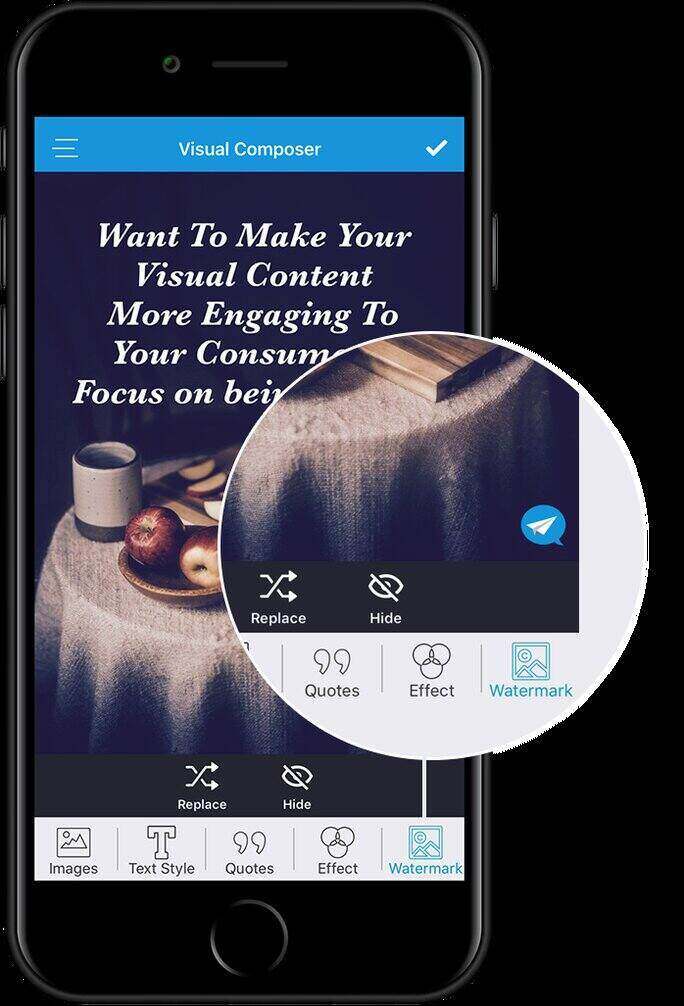 4. SEO Rich Descriptions
According to Shareaholic, Pinterest sends more referral traffic than Google Plus, YouTube, and LinkedIn combined. If your pins are optimized with SEO rich descriptions, your pins have a good chance of being found on google and other search engines. It is common to find a Pinterest pins in Google search results.
When searching for a search term "shapewear ideas for a date" in Google search, the first two results are links to Pinterest.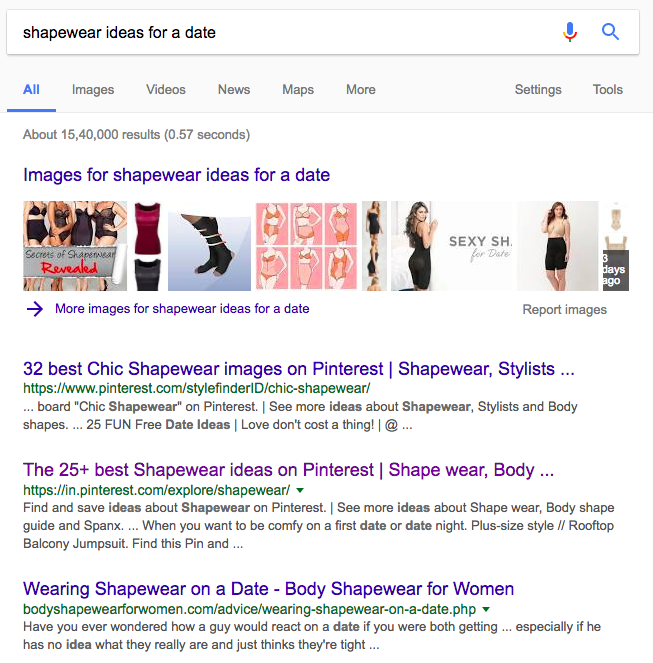 Tip: Use keywords in your pin descriptions. Add details to your descriptions to explain the image which will help your images to be found on search engines.
5. Create boards
Pinterest allows you to create separate boards for different kind of ideas you want to pin. If you have a blog on "how to make money online", you can have boards ranging from affiliate marketing, teaching people how to blog, work from home ideas, building a brand and much more. Get creative and showcase different sides of your brand or product.
6. Pin Often
Your goals are:
To create high-quality pins that is aesthetically pleasing
Pin Often
It is very common that we can forget to pin and get lost with other marketing goals. One of the best parts about SocialPilot is that you can easily plan, create and schedule your pins at scale. Schedule your pins, sit back and relax.
Visual Marketing Ideas for Instagram
1. Theme
Although you would want to share different images and videos on your Instagram account, having a consistency and flow in your posts will help you keep your followers loyal. Getting creative with Instagram is good but you cannot post something that your fans can't relate to.
Focus on establishing a design aesthetic for your brand. This will essentially be the colors, tones, textures, imagery, fonts and photography that will match your brand.
"Always follow your brand guidelines, stick to the brand color palette while designing your grams," said Linda Huang founder of LaSculpte (a retail and online store for activewear, shapewear, swimwear clothing for women in Sydney, Australia)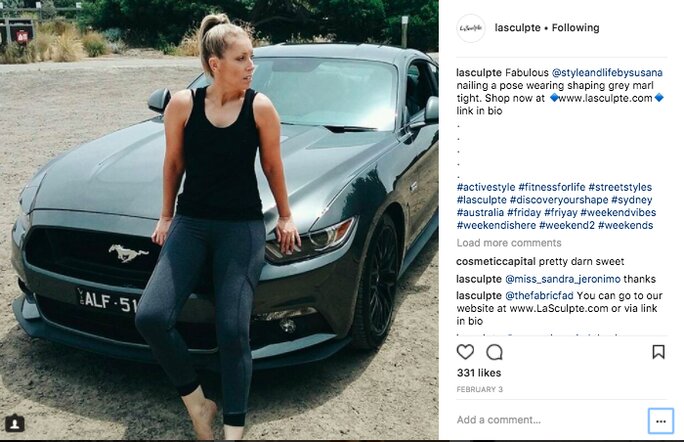 Know your audience very well and relate them to your brand by storytelling in a captivating manner. Make it compelling for users to follow you in your niche.
Of course, it will cost you a fortune to make a theme representing your brand. But you can save it using some Instagram tools like SocialPilot app which is no less than an image making tool. It comes with a box full of colors, tones, textures, imagery, fonts and photography through which you can make theme portraying your brand's work.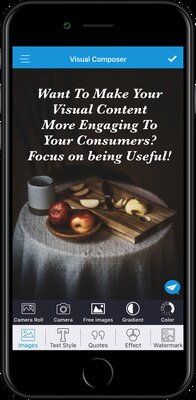 2. User-generated content
Use the power of hashtags to build a community around your brand. Use unique hashtags in your grams and encourage customers to use similar hashtags with competitions or photo contest. When customers start to use your unique hashtag while they post an image with your product, if the post is good, you will have new images to repost.
People are always taking photos of your business to post them on Instagram with hashtags. Your job is to find them and repost them to curate new content. Polo Towers Hotels and Resort (a resort based amidst the hills of Shillong & Cherrapunjee) uses hashtags to find new content and repost them on their Instagram feed.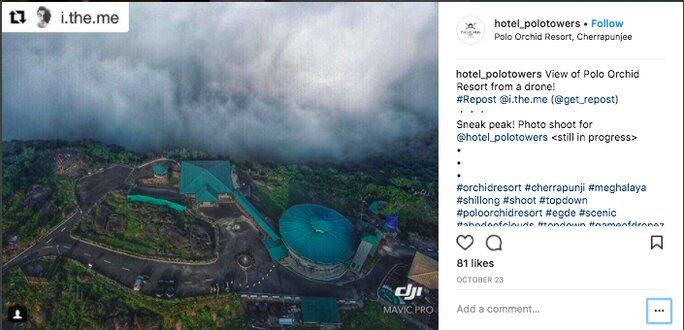 3. Filters
Early on in 2010, when Instagram was launched, it got very popular among users because of its custom inbuilt app filters. This allowed you to retouch your photo with really cool filters that gave more swag to your photo before posting. Using filters are cool. It can make the difference between getting a few likes or feeling like a bonafide Instagram hero.
According to a study by Canva,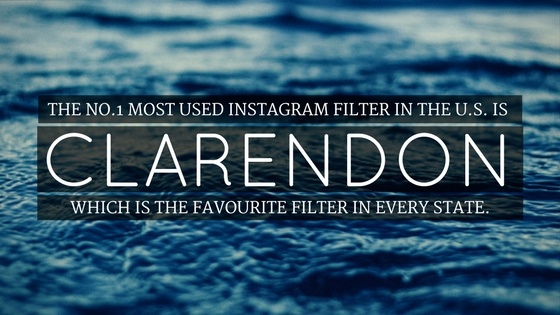 SocialPilot's photo making app gives you access to emotion-centric filters you can use in your image. Within app, you will be greeted by filters like light or heavy contrast, blur, grayscale, various tint colors, etc. They will make your image look more alive and engaging to users.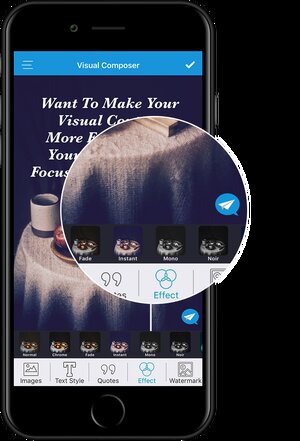 4. Instagram Grid Layouts
Use the Instagram grid layout to get creative and present your photos, not just individually but in the entirety of the gallery. You can use a grid layout in a number of ways. One such example is a checkerboard style of posting. Just like the tiles on the floor of your home, you can post an image and quote alternately like this feed of bossbabe.inc.
Another great example of using the Instagram grid to your advantage is by posting in vertical lines. Here your posts will be uniform only in the vertical style like this feed of @elskabody. They post a thought after posting two product photos to keep working on the vertical grid style.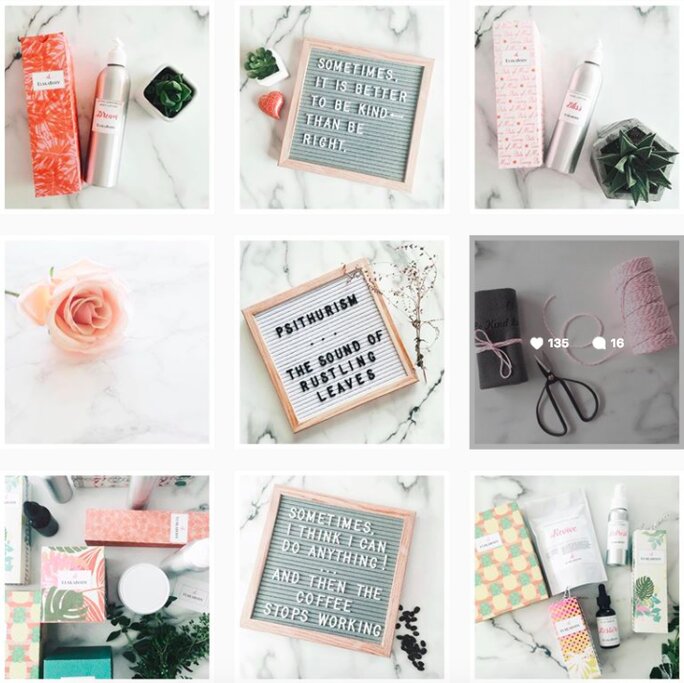 Just like for Pinterest, sharing quotes is great idea for Instagram.
You can use the Visual Composer to easily find a quote online, add to the image and schedule it using the SocialPilot scheduler. Start making images within minutes now!