New viewer engagement analytics and video reporting tools give users of HubSpot Video, which is powered by Vidyard, greater insight into customer behaviors and the true impact of their online video content
KITCHENER, Ontario – September 22, 2020 – To support the growing appetite for video in business, Vidyard worked with HubSpot to develop new analytics and reporting functionality, which is now available in HubSpot Video — the solution for hosting and publishing video within HubSpot's marketing, sales, service, and CMS software, powered by Vidyard's online video platform.
The new capabilities, unveiled today at INBOUND 2020, enable HubSpot Video users to turn video views by website visitors into actionable insights for their marketing, sales, and service teams so they can respond faster, improve personalization, and convert more visitors into customers. New enhancements also include the ability to drag and drop videos into HubSpot landing pages and email campaigns, generate robust video reporting, and enjoy a seamless user experience in HubSpot Video and Vidyard's premium online video platform services.
"Video is a vital communication tool in this hyper-connected, online environment when many buyers and sellers are working from home," says Michael Litt, Co-Founder and CEO of Vidyard. "To survive this rapid transformation, businesses must find impactful ways to make their customers feel connected, so communications must be more human. No tool does this better than video, while also driving real business results."
"When we launched HubSpot Video in 2018, our goal was to make it easy for every salesperson, marketer, and support representative to create authentic, personalized videos," says Nicholas Holland, GM of Marketing Hub at HubSpot. "Now, as video becomes increasingly important in the remote-first world, we're excited to bring more powerful reporting tools to our customers, enabling them to make data-driven decisions that improve their customers' experience with video."
HubSpot Video Updates Bring New Capabilities and Greater Ease of Use
The new updates to HubSpot Video, now in Private Beta with select HubSpot customers, allow users to:
Know exactly who is watching their videos with CRM view events: For the first time, all users of HubSpot Video in Marketing Hub (Pro and Enterprise) will receive video-viewing data as part of their contact activity timelines. This data provides marketers with a new level of insight into customer engagement by helping them to understand exactly which videos their contacts are watching and when they're watching them, and then use this information to drive their marketing forward — all within HubSpot. Customers can upgrade to a premium Vidyard plan for even more granular insights to drive marketing automation.
Understand the impact of video content using a new custom report builder: An all-new, report-building user interface will make it easy for marketers to analyze video view data for deeper insight into video performance and contact engagement.
In addition to more powerful video analytics and new ways to tie video content to customer engagement, HubSpot's refreshed drag-and-drop CMS makes it easy to embed and customize videos on website pages, landing pages, and email marketing campaigns. Video thumbnails can be customized and video players can be tailored to create the ultimate branded experience. This will be especially beneficial for marketers tasked with building effective email campaigns, landing pages, blog posts, and more.
Also announced, customers of both HubSpot Video and Vidyard's premium online video platform services will get access to two-way synchronization between the two solutions, making it easier to use videos at scale and get the maximum value out of both platforms.
Learn how Vidyard and HubSpot are working together to enable marketers to leverage video and CRM data to better engage with their customers by joining the virtual session at INBOUND 2020: 'Using Video and Your CRM to Power Your Marketing,' hosted by Tyler Lessard, VP of Marketing at Vidyard, and Nicholas Holland, GM of Marketing Hub at HubSpot.
HubSpot Video is now available in Private Beta with general availability coming for all users in Marketing Hub.
More Information:
Learn about Vidyard's premium video Pre and Enterprise solutions: https://www.vidyard.com/integrations/hubspot/
Learn more about HubSpot Video: https://blog.hubspot.com/customers/introducing-hubspot-video
About Vidyard
Vidyard helps businesses and professionals connect with their audiences in a whole new way through engaging, personalized, and measurable video experiences. Through its global video hosting and analytics platform, Vidyard empowers businesses like Honeywell, Citibank, and HubSpot to transform their approach to marketing, sales, and corporate communications. Through its free and pro tools, Vidyard helps any business professional create and share custom videos to deliver their message in a more personal and impactful way. Thousands of businesses and millions of people around the world rely on Vidyard for their video needs.
Media Contact
Sandy Pell, Head of Corporate Communications, Vidyard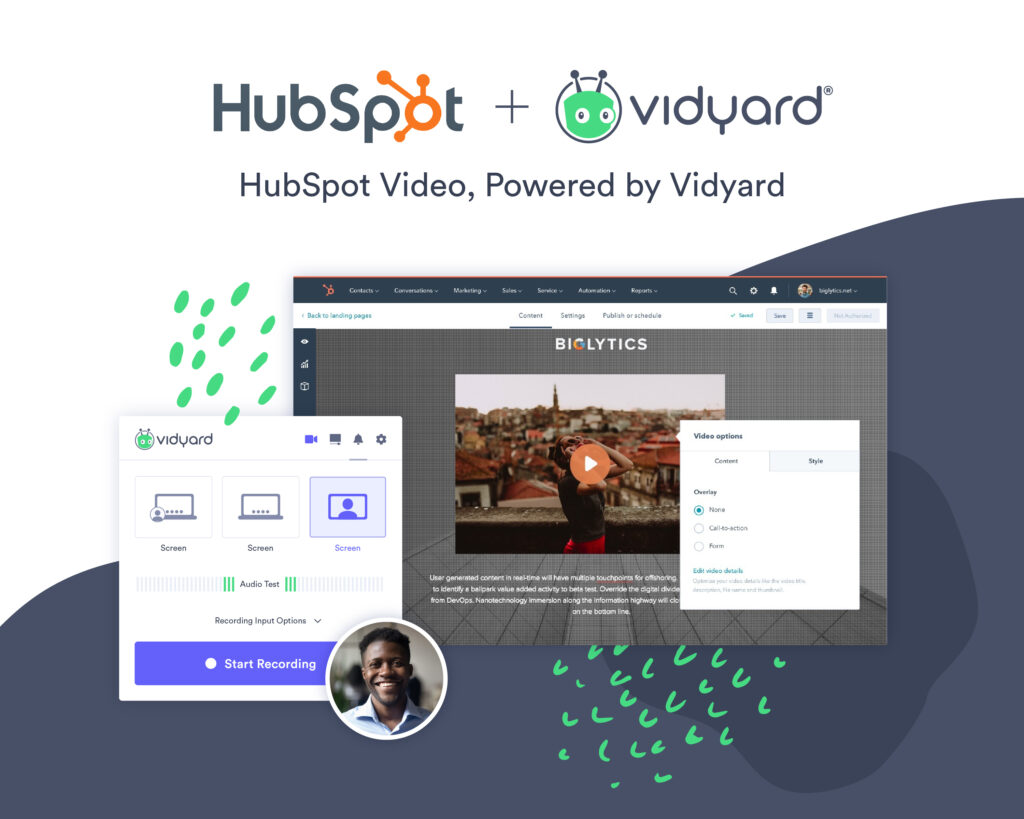 The post Vidyard Powers New Video Insights and Reporting Tools in HubSpot Video appeared first on Vidyard.
Read more: vidyard.com