Whether you call it "virtual selling", "remote selling", or "trying to close sales through a computer screen", you already know that COVID-19 changed online selling from a novelty to a necessity. You had to redesign the way you sell to account for a world where you can't drop by at a conference, fly into town, or meet up for a coffee.
But what happens afterward? Even when COVID is just a bad memory, selling won't go back to the way it was before.
Customers' sales expectations have changed. They want to buy online, even when it comes to big-ticket business purchases. McKinsey found that as many as 80% of B2B buyers would rather interact remotely when making purchasing decisions. It's easier to schedule, and it's cheaper than traveling. In addition over two-thirds of sales pros report they aren't heading back to the office full time any time soon.
Remote sales isn't a just-during-COVID thing. It's not a stopgap or a fad. It's here to stay long-term.
You need to adapt your approach, skillset, and tools for long-term virtual selling success. Whether you've barely dipped a toe into remote selling or taken the full dive, this guide will cover all the virtual selling tips you need to know.
Start Virtual Selling Like A Pro
Is your virtual selling strategy up to snuff? In this slide guide, you'll learn everything you need to know about virtual selling. Flip through or download these slides.
The Ultimate Guide to Virtual Selling from Vidyard
We'll break the virtual selling approach down into three parts:
Why you need to design a virtual selling sales processSeven virtual selling techniques you should be adoptingSome of the best virtual selling tools you should be using
Ready to start? Let's dive in.
Contents1.Part 1: Redesign Your Sales Process for Virtual Selling1.1Does Your Virtual Selling Process Need Work?1.2Is Your Virtual Selling Process Codified?1.3Are You Setting the Right Virtual Sales Goals?1.4How Do You Want Your Virtual Selling Process to Look in the Future?2.Part 2: Virtual Selling Techniques2.1Get the Basics Down2.2Explore New Ways to Prospect2.3Make Buyers Feel Comfortable2.4Make Sales Calls Interesting2.5Multiply Touch Points to Maintain Engagement2.6Track Metrics2.7Align with the Rest of the Business3.Part 3: Virtual Selling Tools3.1Virtual Selling with Video3.1.1Synchronous Video3.1.2Asynchronous Video3.1.3Which Style of Video is Better?3.1.47 Tips for Virtual Selling with Video3.2Sales Presentation Tools3.3Remote Sales Team Collaboration4.The Virtual Selling Opportunity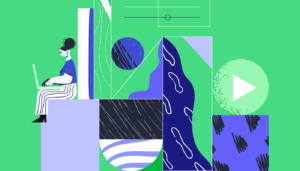 The State of Virtual Selling Report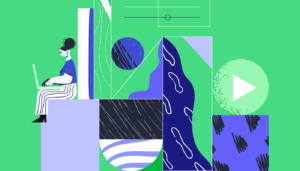 See what's in store for the future of virtual sales and selling with video.Get the ReportPart 1: Redesign Your Sales Process for Virtual Selling
Virtual selling isn't just about contacting buyers solely through emails and social media. It requires a full reinvention of your process to overhaul the way you communicate, follow up, and sell without ever meeting the buyer in person.
If you're like most sellers, you (and your team) had to go all-online in a hurry. One week it was business as usual; the next, everyone was selling from home.
You probably had to make a few adjustments to your process right up front to make remote selling fit. Maybe you've made some more changes since then as working from home became the long-term standard instead of a temporary blip.
But how thorough is your virtual sales process right now? Are you working with an optimized playbook that's focused on selling virtually, and all the possibilities and restrictions that come with it? Or are you still running with a cobbled-together temporary strategy that you speed-built back in the spring of 2020?
To really succeed with virtual selling, you need to reimagine your sales process for virtual selling. Here are four questions to ask yourself.
Does Your Virtual Selling Process Need Work?
Is your process a lean, mean virtual selling machine? You wouldn't use a scooter as a skateboard, so you shouldn't be using a sales process that's designed for in-person selling as your model for selling remotely.
If your process isn't all-in on remote sales as your primary selling vehicle, you need to fix that ASAP. The sooner you have a built-for-purpose process that prioritizes virtual selling (with all its quirks and particularities), the sooner you'll see more success with remote sales.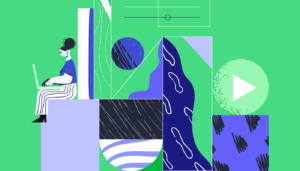 The State of Virtual Selling Report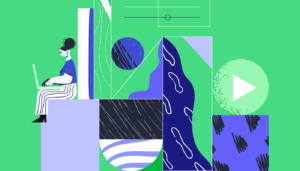 See what's in store for the future of virtual sales and selling with video.Get the ReportIs Your Virtual Selling Process Codified?
Is your virtual selling process written down and frequently referred to? Does your entire virtual sales team know the remote process as well as they know the in-person one?
If you haven't codified your virtual sales process (that is, written it down, posted it somewhere accessible, and made sure that everyone is brushing up on it frequently), you might as well not have a virtual selling process at all.
Just like your traditional sales process, your virtual-oriented one needs to be the lighthouse that your entire team uses to navigate. It provides guidance for both your virtual sellers (telling them the milestones they should be following to sell virtually) and for your buyers (because informed sellers help buyers feel more comfortable with virtual selling).
Sit down with your team, hash it out, and get it set in stone so everyone is on the same page. And if you need a little extra help, there are a ton of great virtual sales training resources out there.
Are You Setting the Right Virtual Sales Goals?
Back in the beginning, when everybody pivoted to virtual selling in a rush, you may have struggled. Sound like you? When you were having a tough time closing sales online, you may have tempered your sales expectations to suit.
But as you grow as a virtual seller, you'll find that your potential grows with you. You've probably settled in a bit with virtual selling since the beginning (and buyers have gotten more used to it, too). It may be time to reevaluate your goals.
Run inventory on your sales goals. Are they still realistic? Do they need to be updated to better suit the current sales reality? Take frequent stock of your remote selling goals—try quarterly, or maybe even more often in this fast-changing sales climate—and make sure they're still right for you.
How Do You Want Your Virtual Selling Process to Look in the Future?
It's time to make some long-term decisions. Buyers are increasingly looking to virtual selling as the norm, so you need to start treating it that way.
How are you selling virtually right now? How do you want to be selling virtually in the future? What changes will your virtual selling team have to make (or you will have to make to your virtual selling team) to reach your desired outcome?
Make those decisions about your long-term virtual sales process and start putting them into practice now.
Learn From the Pros
Victor Adefuye from Winning by Design shares helpful advice on how to thrive in a remote selling environment. To significantly shorten your sales cycle and increase win rates, you just need to have the right tools, content, and processes in place.
Part 2: Virtual Selling TechniquesGet the Basics Down
When you're selling virtually, it's more important than ever to make sure you've done your homework. You've only got a limited amount of time with your prospect—the length of that Zoom call booked into their calendar—and every moment you spend together counts.
With the loss of a lot of in-person interaction surrounding sales meetings, you need to make sure your message is solid and your value is clearly demonstrated. It's more important than ever to make sure your sales fundamentals are strong.
Be prepared. Do your research. Know your buyer, their business, their values, and their pain points. Be organized; have all your materials ready to go at minute 0 of the call. Be ready to present supporting materials like reports and customer stories during the call to strengthen your business case.Anticipate the questions they'll ask. Every question is an opportunity to educate the buyer. Every objection is a chance to show your product's value (and to look like you know your stuff). The specifics of virtual selling (and the new state of the world) may change what questions buyers will ask. Anticipate them and be ready to answer them.Listen actively. Pay attention to the words your buyer uses, the way they say them, and the way the conversation flows. It can tap you into the heart of how the buyer's feeling. It's especially important when you can't be in the same room together—you need all the info you can get.Don't waste their time. Your buyers probably have another call right after this one. Know how long your presentation will run, stay on target, present useful information and resources at every turn, and generally respect your buyers' time.Explore New Ways to Prospect
Sales prospecting while remote presents a whole new range of challenges. How do you break into prospects' inboxes? How do you carve out a slice of their busy video call calendar? How can you be more than just another random name in an email's "From:" field?
The secret to successful virtual prospecting is to make an impression, fast. You need to:
Identify the right places to find new prospects (whether it's trawling LinkedIn or scouring virtual events)Reach out to the prospect in a personal, memorable, and engaging wayDemonstrate your product's value ASAP
…and you need to do it all online. Video is a great way to pull it off—but you'll learn more about that in Part 3 of this guide.
Learn From the Pros
Tai Scrivener, Senior Consultant at RAIN Group, shares a proven approach for prospecting success in a virtual world. Get the tactics and techniques used by the best prospectors to break through the noise and secure meetings with buyers.
Free Video Prospecting ToolEasily record and share prospecting videos.Get It FreeMake Buyers Feel Comfortable
Making a sale without ever meeting the buyer in person can be intimidating. But the more comfortable you are with virtual selling, the more comfortable your prospect will be with virtual buying.
Buyers will feed off your energy. Practice, review, and settle in with virtual selling so that you can project confidence in the process at every stage of the sales cycle.
Help buyers understand the virtual sales process. Buying virtually is unlike the in-person process buyers are used to. Outline what they can expect at each stage of the process so they have a tangible roadmap to follow. It'll help them feel more at ease with putting down the cash for a big purchase.Educate your buyers. It proves your expertise and builds trust—two things that are critical when buyers are only seeing you through a screen. You can't count on good old in-person charisma; you have to prove your (and your product's) value the hard way.Respect buyer burn-out. People probably feel a little burnt out on phone calls and video chats. Chart out where you need to speak in real-time and where you can afford to communicate at a slower speed. Not everything has to be a live call.Build a genuine human relationship. When your presence is just text on a screen, it's hard for buyers to relate, connect emotionally, and get invested in your product. Find ways to show buyers your face, spend time with them one-on-one, and fill in the gaps left by the inability to meet up in person. Be genuine, authentic, and real. Nobody likes dealing with someone who's fake and insincere, especially when that person is trying to sell them something.
You're probably used to doing a lot of this in live selling. It's just a matter of translating it to virtual selling.
"Strive to be the most interesting, engaging, and memorable person in their inbox. The virtual world comes with so much digital noise and email fatigue, we need to rethink how we engage via our messaging and outreach. Be intentional in being that salesperson who truly stands out in their inbox with messages, videos, and content they actually look forward to engaging with."
Tyler LessardVidyardChief Video StrategistMake Sales Calls Interesting
Unfun fact: 48 hours after a virtual sales call, buyers only retain 10% of what you talked about. This means that you have to identify the most important tenth of your message and be sure it gets through to your buyer.
Here are a few ways how.
Get buyers engaged. It's hard to keep buyers' attention during virtual meetings. Engagement = memorability, so make the presentation interactive with questions, polls (if you're presenting to multiple stakeholders), and other engaging elements. Make your slides editable so buyers can add their own information and needs, turning a one-way presentation into a collaborative exercise that gets buyers invested.Get visual. Go nuts with pictures, diagrams, and live or recorded demos. The more that buyers can look at that isn't just words on a screen, the more they'll stay engaged—and the better you'll be able to cement that key 10% of your message in their minds.Share presentation materials ahead of time. Buyers can check it out in advance of the call to familiarize themselves with the material. During the call, they can follow along on their end to stay focused on key talking points. It's also a great fallback measure if you run into tech issues on your call.Be a mediator. Keep the call on task. When you're selling virtually, you can't direct the conversation with your body language and non-verbal cues. Plus, you've only got a fixed-length meeting slot with your buyers. Know when (and how) to steer the conversation back to the issue at hand.Multiply Touch Points to Maintain Engagement
Object impermanence is real. When you can't stop in at the office for a drink or at the conference booth for a chat, it's hard to make buyers remember that you exist.
That's why amping up your sales process's touch points is the way to go. Connecting with buyers using emails, texts, voicemails, video messages, and "thought you might find this useful" document sends are a great way to keep the engagement going beyond the bounds of your virtual sales call.
Plus, tools that add follow-up calls to action right into your communications can build engagement straight into these touch points.
Track Metrics
When you're selling, information is crucial. But as you've already found out, reading in-person body language isn't an option when selling virtually.
Sales metrics open a window into buying and selling behavior, and it can help fill in that information gap. Which virtual selling strategies are working? Which aren't? You can find the answers by tracking the right metrics.
The best metrics to keep tabs on are ones like:
How long is your sales cycle?How many opportunities make it to close?How close are you to hitting your quota?How much revenue is each new customer bringing in?
When you integrate metrics into your sales automation or CRM system, you can turn individual data points into trackable trends. They shed light on how buyers are interacting with you, what strategies you should be doubling down on, and which ones are worth cutting loose.
Must-Track Sales Metrics
Learn how sales analytics can help you win more deals.Read the BlogAlign with the Rest of the Business
Selling doesn't exist in a vacuum—especially when you're going virtual. Aligning your sales team with your marketing team can unclog your pipeline and get things flowing smoothly.
A lot of your promotional materials come from marketing, right? And how often have buyers come to you after reviewing marketing materials, loaded with expectations that aren't quite accurate to how the product actually behaves?
You're not exactly bumping shoulders with the marketing team in the office anymore. It's important to set aside time to make sure you're on the same page.
By collaborating closely with marketing, you can:
Make sure both sides of the house are aligned when it comes to buyer-facing (and sales-supporting) materials.Refine your lead generation and handoff strategy to better suit virtual selling.Create a unified revenue team that has a direct stake in the marketing and selling process.Part 3: Virtual Selling Tools
You can tune up your virtual sales process all you want, but you're not going to get far without the right tools.
Remember your business travel budget? You won't be dipping into it as much if a lot of your selling is moving online. But virtual sellers are going to need things like better internet connections and licenses for digital selling tools. It's a match made in heaven.
(Running a little short on budget? Don't worry, there are a bunch of free options, too.)
Here's a rundown of some virtual selling tools that are worth investing in.
Virtual Selling with Video
Video is the virtual seller's secret weapon—one that even big-name sales trainers are encouraging sellers to learn.
Why? It's because video is the best replacement we've got for being there in person. You can't shake their hand through a computer screen, but you can snag their attention with a quick, thoughtful, well-produced video. It's your best tool for establishing those crucial personal connections quickly.
Synchronous Video
Synchronous (or "sync") video communication happens when both parties are on the call at the same time. It's great for interactions where the conversations flow, like sales calls.
Sync video tools include:
ZoomMicrosoft TeamsGoogle MeetFaceTimeAsynchronous Video
Asynchronous (or "async") video is recorded and sent like a voicemail. It's ideal for lighter touchpoints in your sales process, like prospecting, call follow-up, and check-ins.
You can sprinkle video all over your sales process like pepper on pasta. (Except it's much easier to go overboard with the pepper than with the video.)
Using an async video tool like Vidyard, you can create and send videos in a hurry—once you're used to the process, it only takes a few minutes for each video. It's a lot more efficient (and more effective) than typing up a huge email or sending a bunch of attachments. Over half of sales pros who use video say it's helped reduce the need for lengthy emails and chat messages.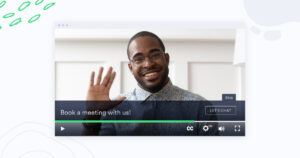 Free Asynchronous Video Tool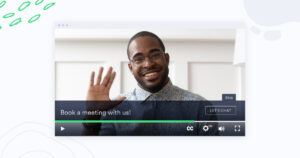 Record and send asynchronous sales videos for free.Sign Up FreeWhich Style of Video is Better?
Sync and async video fill different niches in your remote sales toolkit.
Synchronous video is great for those down-and-dirty sales calls where you need to hash out the details with your buyer.
However, booking those video meetings can be a drain on your (and your buyer's) calendars. Ever heard of Zoom fatigue? A lot of buyers are suffering from it, and a cavalcade of Zoom meeting invites doesn't help.
That's the beauty of asynchronous video. Just record, send and let it sit. The recipient can watch the message on their own time, while still getting all the personal connection benefits of seeing and hearing you right there on screen.
Plus, with certain asynchronous video tools, you can track when your buyers watch your videos to make sure you're following up at the right time.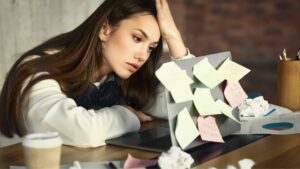 Cut Your Meeting Time in Half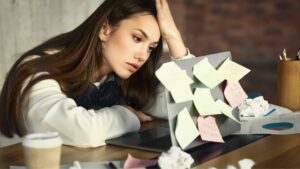 Or skip the meeting altogether by sending a recorded video message instead.Sign Up Free7 Tips for Virtual Selling with VideoMake sure your whole team is up to speed with your video selling standards, whether you're using sync or async video.Invest in a good-quality web or external camera, sound, and lighting setup to make your videos look professional.Check your camera angle, background, and backlighting.Dress well to give yourself some extra on-camera confidence. (Yes, that means pants.)Minimize distractions—turn off notifications and remove kids/pets from the room.When recording, make eye contact with the camera to create the effect of speaking right to the viewer.Master your tools so you know how to conquer issues that can come up during a video session.
"Not everyone is a natural on camera at first, but there are some simple steps you can take to feel more confident with the medium. If you're just starting out with video, try recording a practice video to send to friends and family (or even colleagues!) for some honest feedback about how you come across."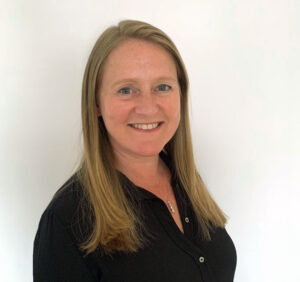 Lucy AllenChallenge MarketingManaging Director
Want to dive deeper into video for virtual selling? Here are some great resources:
Video Sales Prospecting 10110 Proven Video Scripts and Email Templates for Virtual SellingTips for Getting Comfortable on VideoThe State of Virtual Selling ReportSales Presentation Tools
Unless you're going to hold pen-and-paper drawings up to your camera, you're going to need some extra tools to express your ideas in a memorable way.
Slideshows? Charts? More advanced technologies like immersive 3D spaces and alternate reality? No matter how you're demonstrating your product and its value, do your research on the tools that can best represent it on your sales calls. Think about how you can show off your product's best face, as well as how you can make buyers feel more present and engaged with your value prop.
Here are a few tools to get you started:
Zoom. The go-to video conferencing solution, with great features like polls and breakout rooms to help keep busy calls engaging.DialPad Uberconference. A video conference alternative that comes with some slick features, like voice recognition that automatically constructs action item lists by listening to your meeting's content.Beautiful.ai. Your resident slide deck expert. Create clean, gorgeous presentations that make you look put-together on your sales calls.
Check out the full list of our favorite free sales tools.
Remote Sales Team Collaboration
You're not meeting in person with buyers any more, which means you're probably doing the same with your peers.
It's a lot harder to keep in touch with your team when sitting down for lunch gets swapped out for catchup calls you have to schedule days in advance.
Fast-moving team communication is the backbone of a successful sales process. Maybe someone else on your team has had a breakthrough with a remote sales tactic or has a nugget of info that's exactly what you need to close a particular deal.
Keep in close touch with your fellow sellers. Clear time on your calendar for it. Do it often. You (and your quota) will be happy you did.
Here's a rundown of some top remote sales team collaboration tools:
Slack. It's one of the most popular business messaging platforms, whether you're DMing a teammate or setting up channels for specific topics.Google Workspace. With Google Calendar, Drive, Docs, Sheets, Slides, Forms, and more, your team can centralize and collaborate on all your key sales documents, whatever format they take.Proposify. Manage your sales content, track ops and deals, and simplify the proposal process.The Virtual Selling Opportunity
Virtual selling isn't easy, especially if you're not sure how to approach it. But just like selling anywhere else, the key is to be persistent. Keep trying, keep failing, and keep learning from your mistakes.
Virtual selling presents a whole new realm of opportunity. Your opportunities are no longer limited to just the buyers you can meet for a meal and a sales presentation. The world really has become your sales oyster.
Virtual is the new way to sell…so embrace it!
The post Vidyard's Ultimate Virtual Selling Guide appeared first on Vidyard.
Read more: vidyard.com