Live webinars are excellent for certain situations, though running them is very time-consuming since each session requires significant preparation and the host has to present every single one. 
Given that the host's time is the main bottleneck for session availability, some attendees (particularly those in other time zones) might not be able to attend a live webinar. 
It can also be difficult for the host to answer all attendee questions during a live session, especially in larger groups, which means some questions get missed.
Fortunately, asynchronous webinars are an excellent solution to these and other challenges that come with live webinars and web conferencing.
Below we'll discuss everything you need to know about asynchronous webinars, including:
We'll also introduce you to our own asynchronous webinar platform, eWebinar, which was built specifically for running asynchronous webinars. 
What is an asynchronous webinar?
An asynchronous webinar is a pre-recorded webinar (the host records a video of the presentation) that allows viewers to experience the same webinar at different times. So unlike synchronous webinars, the host isn't delivering the presentation live while attendees are watching.Just like with a live webinar, there are other elements that make up an asynchronous webinar, not just the presentation itself. These are the things that make it a webinar and not just a pre-recorded video. This includes things like polls, questions, and handouts and the ability to engage the host through live chat. (An asynchronous webinar can still have some live elements even though attendees watch the video at different times.)
What are the benefits of asynchronous webinars?
There are three top benefits to asynchronous webinars for both attendees and hosts, which we'll discuss in more detail below.
Benefit #1: Greater Availability Increases Total Attendance
One of the chief benefits of asynchronous webinars is that they don't require a host to run. This means that you can offer more sessions around the clock to ensure that everyone – even those in different time zones – can find a convenient time to join. By increasing availability options, it's easier to scale your webinars and therefore increase total attendance.

In addition, because asynchronous webinars are recorded, you can offer on-demand and just-in-time sessions (described below) so that attendees can join within minutes of landing on the webinar registration page. Allowing people to join immediately increases attendance rates because even though most people who sign up for live webinars intend to show up, other important things often arise that prevent them from doing so, or their pain point could dissipate.
Benefit #2: Private, Live Chat Increases Engagement

Chat in live webinars is typically public which can make attendees reluctant to ask questions. For example, they may worry what other attendees will think of their question or they may not want to put themselves on the spot.

In an asynchronous webinar with private chat, these concerns disappear since attendees know they are communicating one-on-one with someone from the brand, making them more willing to open up and voice pain points and objections.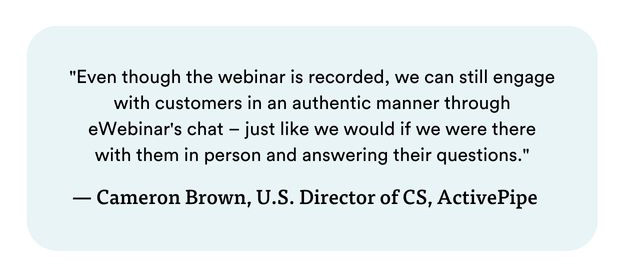 Private chat is even more powerful when done live. Attendees get the answers they need right away (one of the reasons people attend webinars to begin with) and you get the opportunity to close deals in the moment and offer an exceptional customer experience of your product.

eWebinar is the only webinar platform that gives you the flexibility to chat live (synchronously) with attendees during the webinar or respond later (asynchronously) via email in cases when you're not available.

Other platforms only let you communicate with attendees asynchronously — typically, attendee messages are sent to email and you can respond to them from there — but you can't chat live.
Technically, they do support live chat as a feature, but the catch is you must attend every single session. For all intents and purposes then, the webinar is still synchronous since host and attendee must be there at the same time. Attendees can no longer watch the webinar at their convenience, which defeats the purpose of an asynchronous webinar.
By combining the best of both worlds and giving you the option to respond live or later, eWebinar makes it possible for you to maintain the scalability of your webinars while still ensuring each attendee gets a timely response to their questions. And you are not forced to give up live chat altogether!
If you would like to experience how eWebinar's chat system works, join our 20-minute on-demand demo:
Benefit #3: Spend Time Saved On Other Important Tasks

Many eWebinar customers are surprised by how much additional free time they have after switching from live to asynchronous webinars.

Now, instead of preparing for, hosting, and decompressing from live webinars, they spend the time they have gained working on higher-level tasks like creating more diverse content to take people deeper into their product or focusing their sales efforts on higher quality leads.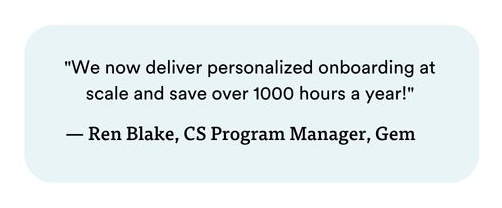 What can asynchronous webinars be used for?
Asynchronous webinars are best known to be used for things like online training, self-paced online courses, and professional development, the kinds of digital learning often associated with learning management systems (LMS). Asynchronous learning is ideal for remote learning (made popular during the pandemic) because people can learn at their own pace and student success doesn't depend on facilitators presenting face-to-face in a live learning environment.
However, asynchronous webinars have far more applications than just online learning. They may be used for customer onboarding, lead generation, sales pitches, product demos, thought leadership, communication of product releases, content marketing, and more. You can even host recordings of live webinars in asynchronous webinar software to make them available on an ongoing basis as evergreen content.
How do you create an asynchronous webinar?

Once you've recorded your video presentation, creating an asynchronous webinar only takes about 15 minutes. Below we'll walk you through the seven simple steps to creating a high-converting asynchronous webinar with eWebinar.

1: Add Your Video

Every asynchronous webinar is built around a pre-recorded video. To add your video in eWebinar, you have three options:

Paste a link to a video published elsewhere (YouTube, Vimeo, etc.)
Import a video using our

Zoom integration

Upload a video file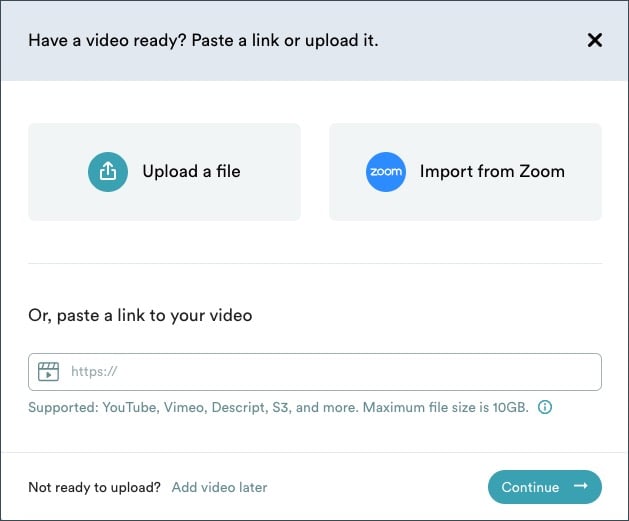 Step 2: Schedule Your Webinar's Availability
Since asynchronous webinars run without a live host, you can offer a variety of session times so that attendees can always join an upcoming session that is convenient for them.
To give you ultimate scheduling flexibility, eWebinar offers three different availability options that you can all enable for the same webinar:
Just-in-time (or on-demand) sessions
Convenient recurring schedule
Webinar replays
Just-in-Time Sessions
A just-in-time session is exactly what it sounds like – there is always a session starting within a few minutes of the visitor landing on your webinar landing page.
The set start time and a countdown timer create urgency for the visitor to join a session now since the next available session after it might not be for a few hours.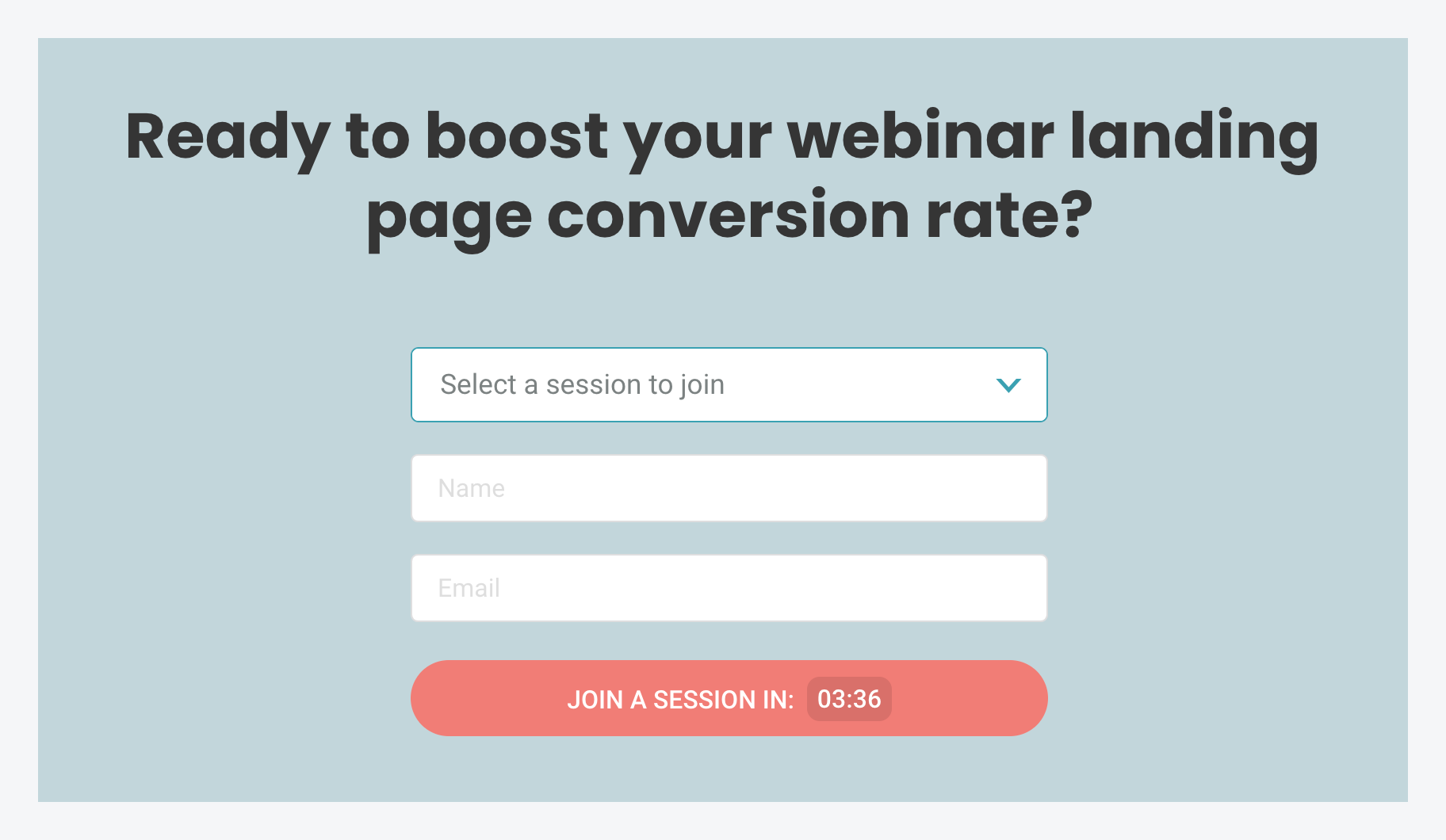 Alternatively, you can offer on-demand sessions. Unlike just-in-time sessions, on-demand sessions don't have a scheduled start time or countdown timer and begin as soon as the registrant clicks "play" after signing up.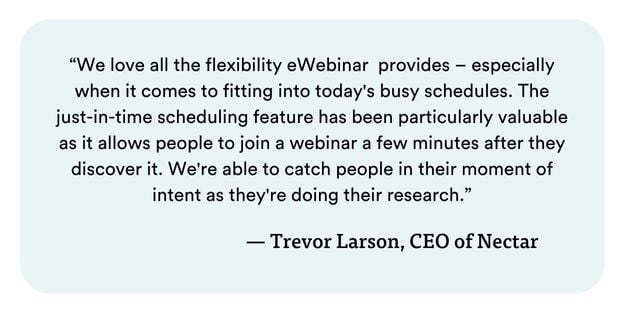 Convenient Recurring Schedule
Not every registration page visitor will have time to immediately join a session.
While many of these visitors may intend to return later when they have more time, it's more likely that they will forget and never come back. To solve this problem, eWebinar lets you also offer a convenient recurring schedule so that visitors can sign up to join a session later that day or the following morning.
For example, we offer three scheduled sessions each weekday so that visitors can always join a session starting in a few hours. In addition, each session is set to appear in the attendee's local timezone. This ensures there is always a time available during their workday which makes it easier for them to attend.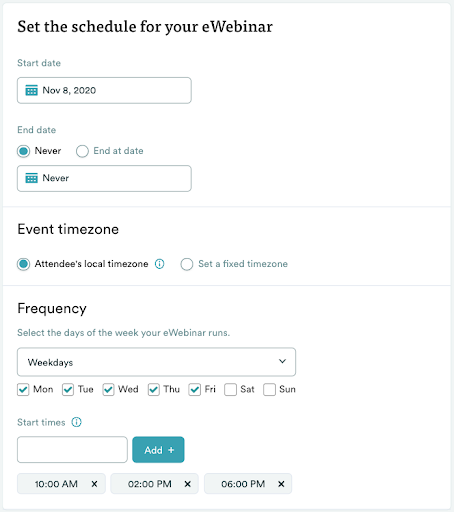 The benefit of a convenient recurring schedule is that you can convert more traffic into attendees by giving them an availability option that works with their schedule.
Webinar Replays
Finally, some attendees simply want to grab a link and watch the webinar on their own time without scheduling a session.
To accommodate these people, we also let you offer webinar replays. Webinar replays give viewers more control over the experience as they can play the video whenever they wish, pause it, or increase the playback speed.
eWebinar is one of only a handful of webinar platforms that allows you to enable all three scheduling options simultaneously for the same asynchronous webinar.
Since convenience is critical to increasing attendance, we believe that enabling all three scheduling options simultaneously is a key differentiating factor that sets eWebinar apart.
Step 3: Set Up Email Notifications (Registration Confirmations, Reminders, and Follow-ups)
eWebinar offers several pre-set email notifications, including:
Registration Confirmations: These emails contain the session link and an easy way for registrants to add the event to their calendar.
Reminders: To help increase attendance, eWebinar automatically sends reminder emails before the attendee's session.
Follow-ups: eWebinar sends one of two different follow-up emails after the session concludes, by default.
To those who attended: This follow-up email thanks attendees for joining, and you can customize it with links to any relevant resources and add a CTA.
To those who did not attend: This follow-up email gives registrants the option to choose a different session time or to watch a replay. eWebinar replays still offer live chat and interactions, so if they choose to just watch the replay, they'll still receive the same excellent learning experience as a scheduled attendee.
Step 4: Add Interactions (Like Questions, Special Offers, Feedback, and Links)
Holding an attendee's attention for 30, 60, or 90 minutes is difficult as you're competing with Slack, email, social media, and other distractions.
To solve this and keep attendees actively engaged, eWebinar offers a wide selection of interactions that will transform your webinar from a passive video into an active experience from beginning to end.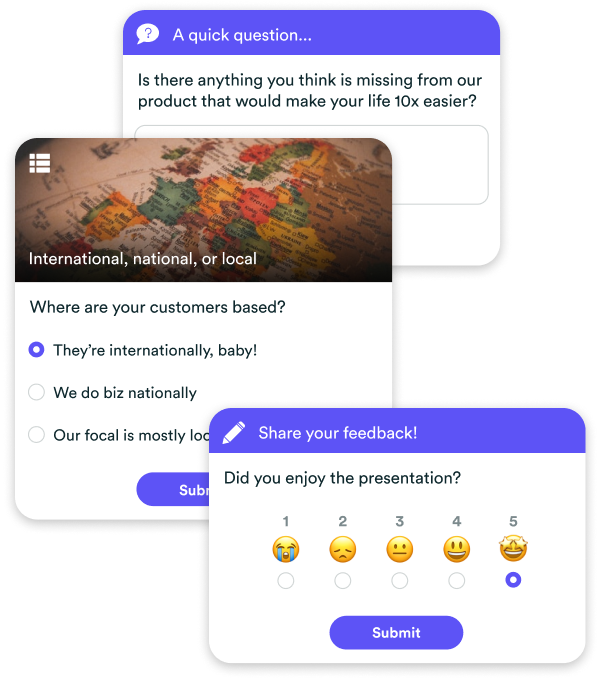 Here are just a few of the interactions you can choose from:
Links
Polls
Questions
Quizzes
Tips 
Special Offers
Feedback
Conversion Alerts
And more!
While other webinar platforms offer polls and CTAs that you can pre-program to appear during a pre-recorded webinar, only having two types of interaction can quickly become boring for attendees. This is the key reason why we decided to create a variety of interactions so that you can add a new one every few minutes and still be able to keep the experience interesting and fresh.
Another benefit of interactions is that they can help increase material comprehension and improve learning outcomes. For example, if you add a quiz or a link, it reinforces information that you've discussed during the webinar so that you can accommodate both auditory and visual learners.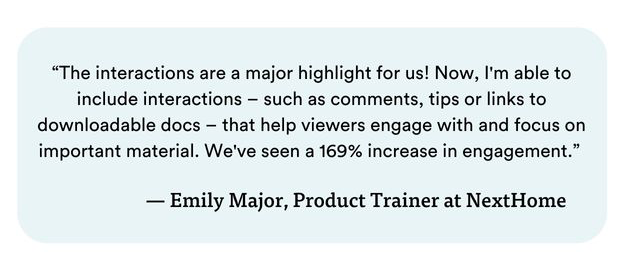 Finally, eWebinar captures all interaction data (e.g., responses to questions, feedback, polls, etc.). This is priceless customer research for your marketing and product teams as they can use it to identify key customer pain points, objections, and questions. 
To see the kind of interactivity you can create in an asynchronous webinar, join our on-demand demo:
Step 5: Configure Chat
A key reason people join webinars is so that they can ask questions and get an immediate response.
However, building an effective chat system for asynchronous webinars is tricky because the key benefit of this webinar format is that the host doesn't have to attend each session. So how do you ensure that the attendee receives a prompt response to their chat message without requiring someone to attend each session?
Other webinar platforms offer one of these two chat options:
Live chat: You have the option to chat live with attendees, but you have to attend each session to do it. If you don't respond while the attendee is watching the webinar, their messages disappear, and they never receive a response. So, with this option, you have to sacrifice scalability and attend each session to ensure attendees don't feel ignored.
Email responses: The other option other platforms give you is to send all messages directly to your email. While this lets you respond to every single person's question, it also means that you never get the chance to interact with attendees live on the webinar.
Another way of saying this is that other systems require your webinar communication to be either synchronous (live chat) or asynchronous (email responses), but not both.
We were unwilling to just accept this tradeoff, so we created a unique chat system that gives you the flexibility to respond to attendees while they are live in a session or later by email at your convenience — depending on your availability!
This way, every attendee message receives an appropriately prompt response, yet your team doesn't have to attend each session.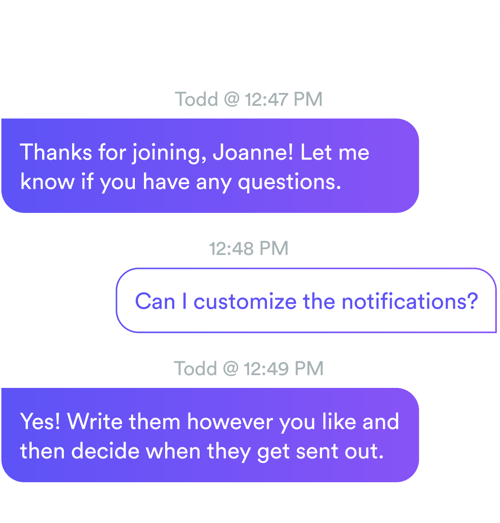 Here's a brief overview of how eWebinar's chat system works:
When an attendee sends a message, your team receives a notification and can jump in and have a real-time conversation.
If you're not available to chat when the notification arrives, the attendee will receive an automated message letting them know that the team isn't online at the moment, but they will receive a response to their message shortly.
When you're back online, you can respond to their message, and they will receive your reply via email.
This system gives you the best of both worlds as you have the option to respond to each attendee's question while they are live in a session (synchronous), but you're also never tied to the sessions as you can always respond later (asynchronous).
This system gives you the best of both worlds as you have the option to respond to each attendee's question while they are live in a session (synchronous), but you're also never tied to the sessions as you can always respond later (asynchronous).

Step 6: Customize The Registration Page
To build your registration page, start from one of eWebinar's various landing templates and customize it with our easy drag-and-drop editor.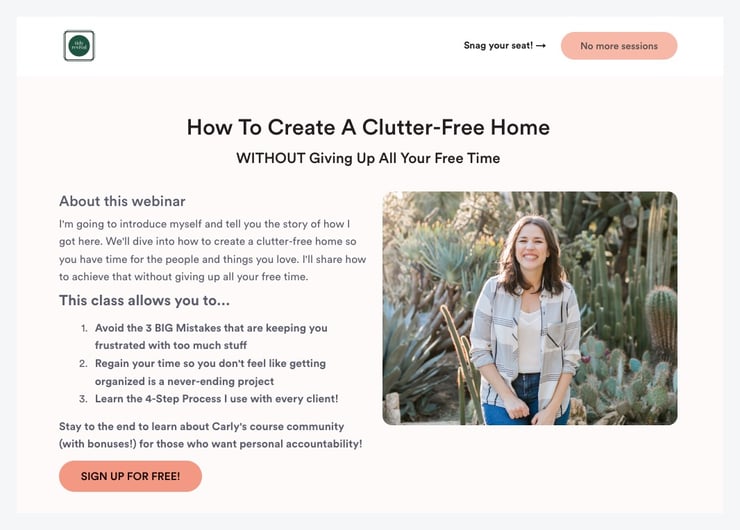 If you use a third-party landing page builder like Leadpages, you can embed one of our marketing widgets onto that landing page to connect it to eWebinar. 
To learn how to optimize your webinar landing page, read our guide on the topic that we created in partnership with Leadpages:
How to Create a High-Converting Webinar Landing Page for a Live or Evergreen Webinar
Step 7: Publish and Share!
Congratulations on creating your asynchronous webinar! Now, it's time to promote it. Check out our guide explaining how to do that:
To see for yourself how easy it is to create an asynchronous webinar with eWebinar, join a demo now!
What is the best asynchronous webinar software?
There are several asynchronous webinar platforms available. Here are our favorites:
If you want to learn more about each of these platforms and why we ranked them the way we did, read our detailed comparison of the most popular solutions:
12 Best Automated Webinar Software Platforms — How They Differ
While each of these platforms lets you create an asynchronous webinar, we built eWebinar because we couldn't find a solution that delivered the experience we envisioned. 
Here are the three major differentiators that set eWebinar apart:
Key Differentiator #1: Flexible Chat (respond live or later)
With other webinar solutions, you either have to attend every single session to chat live with attendees or you can send their messages to email, which isn't really chat anymore, is it?
This was a key pain point we felt when trying to run asynchronous webinars on other platforms, so we designed eWebinar to solve this problem.
It is the only automated webinar solution that notifies you (via Slack or email) when an attendee sends you a message and then gives you the option to respond immediately or later at your convenience.
This makes it easy for you to promptly respond to each attendee message while still maintaining the scalability of traditional asynchronous webinars.

Key Differentiator #2: Flexible Scheduling
We realized that giving people the opportunity to attend a webinar at a time that's convenient to their schedule, whether that's moments after discovering it or a day or two later at a time that fits their calendar, can significantly improve attendance rates.
However, most webinar platforms don't let you simultaneously enable the three scheduling options that make that possible:
Just-in-time (or on-demand) sessions
Convenient recurring schedule
Webinar replays
So when we built eWebinar, we made it possible for you to turn on all three at once for the same webinar so attendees can always find a time that works for them.
Key Differentiator #3: Diverse Interactions
If you've attended an asynchronous webinar before (that wasn't hosted on the eWebinar platform!), you probably noticed an occasional poll or CTA pop up, but it's mostly a passive listening experience.
To solve this problem and make webinars more engaging, we built a wide variety of fun interactions. They help hold the attendee's attention throughout the webinar and improve their competency as you can visually reinforce your learning objectives.
Create an Asynchronous Webinar Today
Asynchronous webinars are a great way to create personalized interactions with your target audience at scale. 
To create your first asynchronous webinar, sign up for the eWebinar platform today and follow the step-by-step instructions above. Even first time users require only about 15 minutes to create and launch their first webinar. 
If you'd prefer to learn more about eWebinar before jumping in, you can join a demo now.