Looking for a new printing method with incredible color vibrancy that can help you expand your product offering? If the answer's yes, then you've come to the right place.
Right now, direct-to-film (DTF) printing is one of the most versatile techniques available in the print industry.
Most print methods are limited to a range of similar fabrics, like cotton and cotton-blended materials. With a DTF print, you can work with tougher fabric varieties like polyester, fleece, nylon, and of course, classic cotton.
Read on to learn more about the DTF printing process and how it compares to other printing methods.
What is DTF printing?
DTF printing involves printing a design onto a piece of PET film (a special film with a coating that helps transfer designs) using water-based inks and a special powder adhesive. Then, the design on the PET film is heat transferred to fabric using a heat press machine. This printing method is durable and the designs come out very detailed and vibrant.
How does DTF printing work?
DTF printing is fairly quick to do compared to other printing methods. It's also a great choice for printing detailed designs on bulky, outdoor apparel.
Interested in how it works? Let's break down the DTF printing process.
Step 1: Preparing the film and powder adhesive
First, a PET film is prepared and placed in the DTF printing machine where the entire design is printed in color.
After the first layer is created, the machine prints a white layer over the entire image, completely covering the first layer. Check out the image below if you're curious about how DTF print designs look once printed on PET film.
Next, a powder adhesive is uniformly applied onto the wet ink. After applying the powder evenly and removing all excess powder, the film is heated to prepare it for fabric transfer. Adhesive heating is done in either a curing oven or with a heat press machine.
Step 2: Pre-pressing fabric and using a heat press
With the PET film preheated, the fabric receiving the design gets dehumidified and pre-flattened by being kept under heat for 2 to 5 seconds inside the heat press machine.
After initial flattening, the film is taken and placed on the pre-pressed fabric. The design on the film is then transferred using a heat press for 15 to 20 seconds at an average temperature of 165°C onto the garment.
Source: Printful
Step 3: Peeling the film and post-pressing the fabric
With the design transferred onto the fabric, the second to last step is to carefully cold peel the film. When the film is removed, the designed fabric is flattened a second time in the heat press to help improve the design's durability. After post-pressing, the garment is ready to pack and ship to customers.
DTF printing compared to other print methods
With so many print methods to choose from, you've got to narrow down which method suits your long-term business goals the best. To make it easier for you, we've put together a brief comparison of DTF printing alongside other popular print techniques.
Pay attention to the types of designs and fabrics that work best for DTF prints, DTG prints, as well as with sublimation or screen printing. That way, you'll be able to plan what techniques to use with your brand's product selection in mind.
Direct-to-film vs. screen printing
Screen printing is one of the most popular methods to use in the printing industry. This print method works by pushing ink layer by layer through a woven screen or mesh stencil onto fabric.
A woven screen has to be made for each color and design element, and at the end of the printing process, ink lays on top of the fabric instead of soaking into it. Screen-printed designs can also feel different depending on how detailed the original artwork is. More art details require more ink layers, resulting in a thicker feel on the garment. When it comes to DTF printing, the transferred design has a more uniform feel that doesn't become thicker no matter what colors or design elements are added.
Screen printing works best for solid designs without small details, such as symbols, shapes, and geometric designs. Alternatively, DTF printing works well with details as it doesn't require separate layers for design elements or colors. DTF printing also doesn't require a specially-made mesh screen for each design, just a printer, transfer film, printing powder, and a heat press.
Source: Various Printful products made with different fabrics
Direct-to-film vs. direct-to-garment printing
In simple terms, direct-to-garment printing (DTG printing) works by spraying ink directly onto fabric. However, before any ink can be sprayed, a pre-treatment solution has to be applied to the fabric. After the solution is added, the DTG printer sprays the water-based inks onto the garment. The ink gets soaked into the fabric fibers, and after, the design is cured to boost print quality.
DTG printing works mainly on cotton blends and is best suited for 100% cotton products. So if you're interested in selling mostly cotton-based apparel, this is ideal. If you'd like to be able to scale your product offering to include products made of different types of fabrics, you'll want to consider including or using the DTF print technique as well.
"@context":"http://schema.org","@type":"WebPage","video":["@type":"VideoObject","name":"DTG Printing Process Breakdown with @KornitDigitalLtd","description":"Get started with Printful today u27a1 http://bit.ly/2Klt4QGnnWe invited Kornitu2019s Application Specialist, Kamil, to Printfulu2019s new fulfillment center in Latvia for a behind-the-scenes look at our direct-to-garment printing process. nIn this video youu2019ll get to know more about Kornit and learn about the printing process from a technical perspective.n_____nnFollow Kornit Digital – https://www.youtube.com/user/KornitDigitalLtdn_____nPrintful is the easiest order fulfillment system you'll ever use, free to set up, and with no monthly fees! You sell products on your store, we automatically process and fulfill them when orders come through, and ship them out to your customer. Easy as that!nnMaster the art of ecommerce:nnPrintful Ecommerce Integration Tutorials: http://bit.ly/2r6O6eOnSetting up Shop with Printful: http://bit.ly/2QycJvInDigital Marketing Techniques: http://bit.ly/2LvyryYnEcommerce Tips: http://bit.ly/2puPTdhnDesign, Style & Trends: http://bit.ly/2OnNzNSnnFollow us on social media:nFacebook: http://bit.ly/2RJOzLW nTwitter: http://bit.ly/2WKB1n9 nInstagram: http://bit.ly/2Vs9jP1 nnSubscribe to our blog to get the inside scoop and suggestions on how to make the most of your online drop-shipping apparel store: http://bit.ly/2GctN5YnnSubscribe to our youtube channel to help guide you through our drop-shipping paradise: http://bit.ly/2MRU5uN nnGet in touch with us at: support@printful.com or (818)3517181 nMonday to Friday from 9am to 8pm ESTn_____nAbout this video:nnWhat is Kornit and what solutions do they bring to the market?nnKornit started as an ink manufacturing company when it launched in 2002. nNow, Kornit develops ink, all liquids, software, and printing machines themselves. They are a solution provider. Kornit's specific solution is a one-step process. They can take almost any garment that absorbs water and print directly on to it by applying a fixation agent.nIt takes a short amount of time for the product to be fulfilled from the moment it gets sold in a print shop. It gives you extreme versatility and flexibility.nnWhat role does Kornit play in the future of ecommerce?nnWith ecommerce on the rise, the development of the fashion industry has shifted from pre-producing large amounts of garments. This is to minimize the number of unsold goods in retail shops. nnKornit allows customers to print what is needed on demand. You can offer your designs on a variety of products without needing to maintain inventory. With our technology, we make it possible to express yourself without any additional effort.nHow have Kornit's machines and printing models evolved?nnKornit started with a classic four-color machine, just for white t-shirts. Since then, continuous evolution was industrially oriented.nnWe also went from a single pallet solution to machines with dual pallets and separate bridges that can print in white and color. nnThis created a better and more efficient production flow.nnWhat does the fixation agent do and why do we need it?nnWe need to use a fixation agent because we apply a water-based ink drop directly on the garments.nnWithout the fixation agent the colors wouldn't stick to the garment.nnWe're still evolving it, and continuously developing our ink. The latest version of our fixation agent doesn't have this vinegar smell anymore, because we've changed a couple of ingredients.nHow does the color profile of your print file affect the end result?nnEvery single color has a certain value, and we transfer this value into the color space of our printing machines.nnKornit machines range from four colors plus white to six colors plus white.nnThe more colors the machine has, the more you can reproduce.nnIn terms of color consistency, an adequate color profile gives you control over your reproduction.nnnWhy is it important to order a color swatch before you create or print your designs? nnnThe way colors are displayed on the screen and printed are like two different worlds. You can't directly compare one to the other.nnRGB, or monitor colors, are light-emitting colors. The more energy I apply, the brighter the color is going to be. In printing, it's the opposite way. The more pigment or more color I add, the darker the color gets. nnOne easy way to overcome this is to assess the outcome of your design on the actual garment by using color swatches.nnWith color swatches, you know what the actual reproduction of the color is going look like on that particular garment. It also makes a huge difference if you're printing on a natural-colored or a white t-shirt from thin or thick fabric, since that changes the appearance of colors as well.nnMake sure to watch the entire video to see how this all looks in action! n_____n#printful #printondemand print on demand 2019″,"thumbnailUrl":"https://i.ytimg.com/vi/1GkqdwXhlLI/sddefault.jpg","uploadDate":"2019-11-14T19:01:47Z","contentUrl":"https://youtu.be/1GkqdwXhlLI"]
Direct-to-film vs. sublimation printing
Sublimation printing has experienced rapid growth over the past few decades. It's one of the most popular methods out there and works by printing artwork into fabric from seam to seam.
Sublimation printing takes a long time to do though. Designs are printed on special paper that gets fed into a heat press machine, then heat is used to bind the ink to the garment.
Sublimation is a technique that's suitable for printing on different types of polyester, like polymer-coated fabric and polyester fabric blends. This printing technique is also used for other types of products including mouse pads, mugs, and blankets.
If you plan to eventually expand your product catalog to include a variety of fabric blends, you'll want to consider including DTF printing alongside sublimation. With DTF printing, you can make the most of various fabric types and not rely completely on polyester-blends.
Direct-to-film printing at Printful
We want to provide the best experience for our customers, so at the moment we're still exploring DTF printing as a standalone technique.
Once we've perfected the process, we're looking forward to opening up a range of products using this technique.
Source: Printful
Try out direct-to-film printing
Although we're not yet able to offer DTF prints on most products, you can currently use the new design method on our Unisex Denim T-Shirt.
You can also design branded inside labels using DTF prints for the Unisex Denim T-Shirt (same shirt mentioned above) and the Recycled Tracksuit Jacket.
If you're going to try DTF printing on the Unisex Denim T-Shirt, please note the following:
We currently don't support DTF print designs placed simultaneously on the front and inside label, but we're working to offer this combination

If you want to design DTF-printed inside labels you can place an embroidery design on the front of the shirt
Source: Printful's Denim T-Shirt
If you're considering designing inside labels, you'll be able to provide customers with professionally-branded apparel while practicing preparing DTF print design files.
Plus, you'll get to see for yourself if this printing method is something you'd like to use in the future for more product designs.
Source: Printful's Recycled Tracksuit Jacket
How to prepare a print file for direct-to-film printing
To ensure your DTF print quality turns out well, check out our suggestions below.
File type and graphics resolution
It's best to use a PDF file with a transparent background. Make sure it has a resolution of at least 150 to 300 DPI to create a nice, crisp final design.
Semi-transparencies
We strongly advise against semi-transparencies as they don't produce good quality prints for DTF printing. Quality issues happen because the edge of a design is more visible on the final print, making the halftone effect dotted and fuzzy.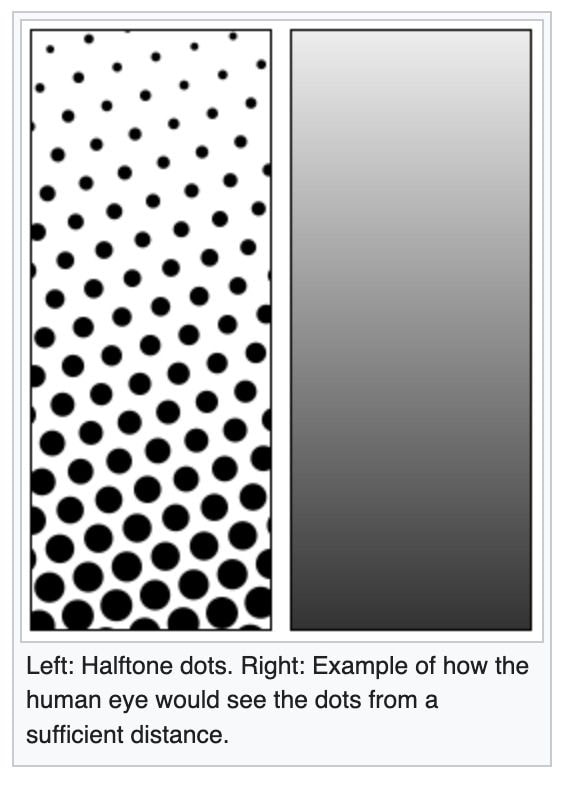 Example of how a halftone appears on a design and to the human eye
Source: Wikipedia
Colors and the color gamut
We print using the CYMK PSO V3 color gamut. When it comes to print performance on the final product, CMYK colors appear more saturated.
Please keep in mind that neon colors may come out looking a little different once printed when using DTF printers. This is because, if you submit a file with very neon or saturated color profiling, the printer will select the closest available colored pigment.
We suggest using the latest sRGB color profile. The specific profile we recommend is sRGB IEC61966-2.1. Why? CYMK files are large and need to be processed with advanced graphics software, which can be difficult to run. Meanwhile, sRGB color profiles are easier to run and one of the most commonly used color profiles used in design printing.
To help prevent any print issues, why not create your own color swatch? By making your own swatch, you can see exactly how your color profile looks when printed.
Now you know everything about direct-to-film printing
DTF printing is a great choice for designs that include intricate details and different elements. Plus, it's a versatile print method that can be used on a variety of fabrics for vibrant designs that are sleek and resilient.
If you're interested in a printing technique that'll allow you to expand your product offering, you should consider using DTF printing. Register to stay updated on when our products will be available to design using this new technique.
@media (max-width:768px)
.pf-btn-lg height: 40px; line-height: 38px; min-width: 88px; font-size: 16px;