[ad_1]

When it comes to doctor review sites, you probably first think of major listings like Google, Healthgrades, and more.
However, there are tons of other sites where potential patients may be discovering (or should be discovering!) your healthcare business–and leaving reviews. And finding the right ones can help you expand your healthcare business's online presence. But with so many options, picking which sites to list your healthcare business on might feel a little overwhelming.
So, if you're wondering "What is the best review site for doctors?" we've got you covered with this complete list of doctor review sites. Plus, read on to learn key tips for keeping your healthcare business listings, well, healthy!
Table of contents
What are doctor review sites?
Healthcare and doctor review sites are online business directories that list your business information and reviews to make it easy for patients seeking a new provider. When you market your healthcare business on doctor review sites, you can highlight key information like your:
Essentially, healthcare listings and review sites can relay information from your website, highlight feedback from patients, and increase your business's online presence.
Why doctor review sites matter for your healthcare business
When a potential patient finds your healthcare business on a doctor review site, they can get a complete picture of what your practice has to offer.
Plus, listing your business on these directories helps your practice get more reviews—which is crucial to the success of any healthcare business. Most people prefer to find their next healthcare provider through doctor review sites. In fact, 71% of patients use online reviews as the first step to finding a doctor.
Consider these two additional stats on why listing your healthcare business on doctor review sites is so important:
Clearly, listing your healthcare business on doctor review sites and directories isn't a "nice to have" tactic, it's a "need to have!"

14 doctor review sites for healthcare businesses
Now you understand why healthcare listings and doctor review sites are so important. But which sites should you focus on? Here are the top doctor review sites for your healthcare business.
1. Vitals
Vitals specializes in business listings for popular practices like dentistry, OB-GYN, primary care, dermatology, psychiatrists, and optometry. It provides multiple ways for users to find your healthcare business since it supplies suggestions and searches by city, condition, specialty, procedure, or physician name.
Vitals also makes it easy to claim your healthcare business's profile with one simple form: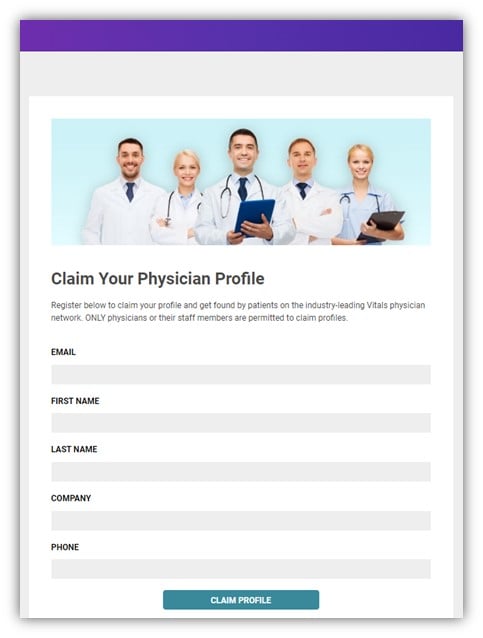 2. Healthgrades
Healthgrades is a doctor review site that focuses more on each provider's reputation rather than business information (though it does allow you to provide the basics like address and contact information). With this doctor review site, users can search for providers based on their specific needs or preferences.
3. ZocDoc
Although 43% of patients say they'd be willing to go out of their insurance network to see a provider with better reviews, insurance is still an important factor in the typical healthcare customer's journey.
ZocDoc allows users to only look for practices that work with their carrier or plan. So, if you're looking to highlight all the insurance plans your practice accepts, this doctor review site is perfect for your business.
4. Yelp
A household name for local business listing sites is, of course, Yelp. When you claim your Yelp business listing, you're opening more opportunities for local patients to find your practice. It has interactive map features and tons of ways for potential patients to refine their results to find you.
5. Google Business Profile
Google Business Profile is a hub for healthcare businesses to land their spot in Google placements like Google Maps and Search. When you claim and verify your Google Business Profile, you'll have plenty of prompts and opportunities to create a robust listing for your healthcare business. You could try making Google Business Profile posts, highlighting before and after photos, providing a robust business description, and more.
6. RateMDs
If you're not on RateMDs yet, odds are, your competitors are! With over 1.7 million providers already leveraging this doctor review site, listing your healthcare business on RateMDs is a no-brainer.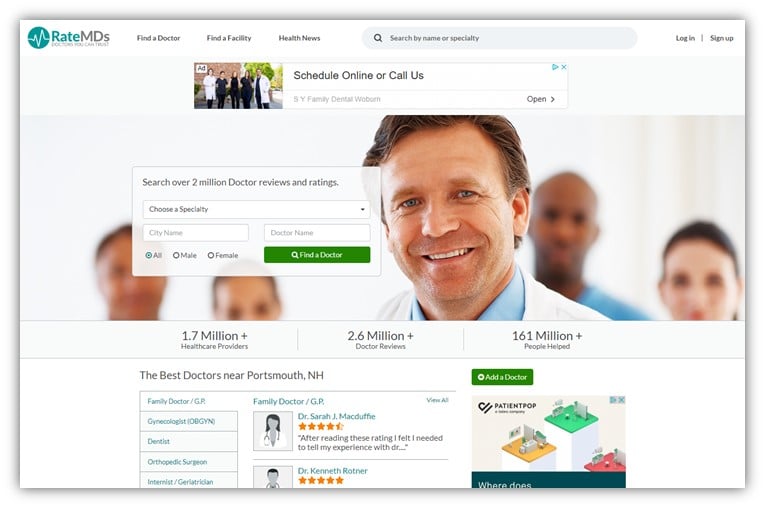 7. Doctor.com
Doctor.com is a healthcare listing site go-to for both patients and practitioners. For providers with niche market specialties, Doctor.com has extensive categories you can opt your business into. That way, patients can find exactly what you offer.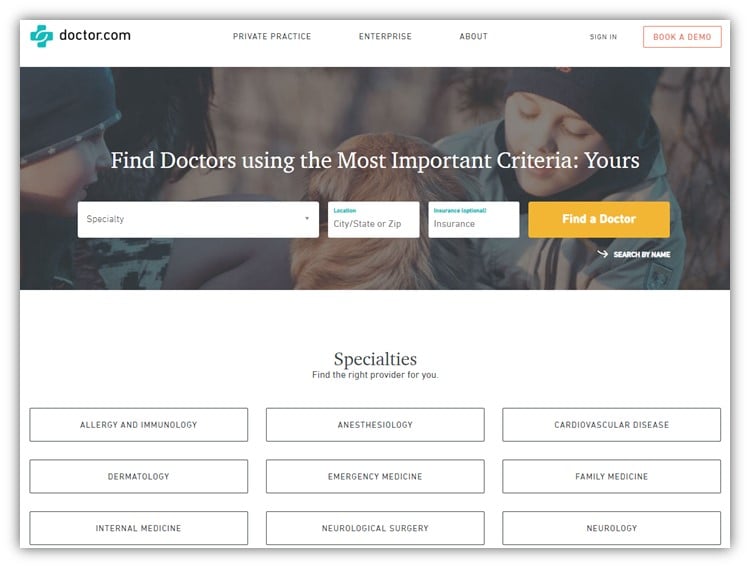 8. Real Patient Ratings
The legitimacy of some reviews is a common SEO challenge for businesses in the healthcare industry. To combat this, Real Patient Ratings verifies all its reviews before they're approved to be on your healthcare business's listing.
It also gives patients options to find solutions for long-term care as well as one-time procedures, since the doctor review site specializes in services such as cosmetic surgery.
9. Facebook
Believe it or not, your most valuable doctor review site could be a social media platform like Facebook. While you may already be running Facebook Ads or posting organically on Facebook, you should also consider your Facebook business page as a hub for users to find out more about your business and leave reviews.
10. Instagram
Instagram is rapidly rising in the ranks as a healthcare listing resource. In the past few years, it's added features like searching for businesses on a map by location and the ability for users to leave reviews.
Be sure your healthcare business's Instagram profile is optimized by including your business name and address clearly in your handle and bio. You could also add ways for potential patients to book directly from your Instagram profile!
11. Apple Business Connect
Apple has a home base for healthcare businesses of all shapes and sizes known as Apple Business Connect. The platform allows your business to get key information relayed across apps like Apple Maps and more.
12. Judy's Book
We know at this point how important your patient ratings and reviews are to the overall health of your business's online reputation management! So, if you're looking for a doctor review site built around social proof, Judy's Book is for you.
Judy's Book offers plenty of healthcare categories you can list your business under, and the site requires location to be a part of the user's search experience. This means that you'll be able to get more local patients through the door.
13. Waze
It's one thing to get a patient to schedule an appointment with you, but it's another to get them to show up for it, on time, in your office! Waze pulls its information from Google Business Profile, so be sure your Google Business Profile is updated before you check to see how your business looks on Waze. However, you can always report a fix for a map issue to ensure patients can find you in the easiest way possible.
14. CitySearch
CitySearch is a simple doctor review site where you can quickly list your business's basic information, include additional details like any specialty practice areas, and sit back as the reviews for your healthcare business flow in.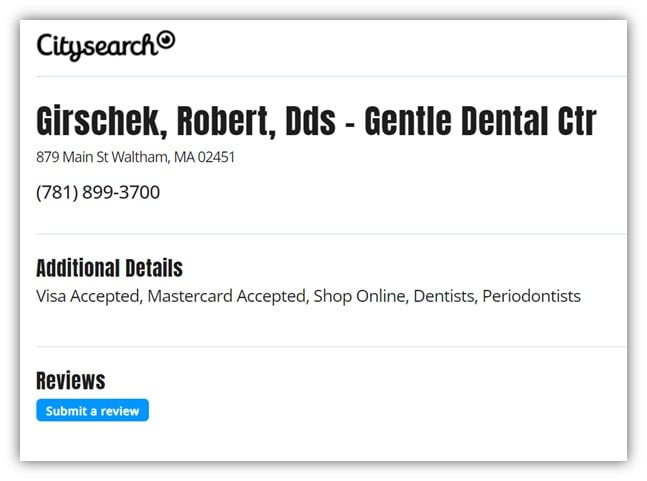 4 ways to optimize your doctor review sites
Use these tips to optimize your healthcare business's listings on all the doctor review sites we shared above:
1. Regularly check your listings for accuracy
Did you know that 50% of business owners have seen incorrect information on their online listings? Not only that, but 68% of consumers would stop working with a local business if they found incorrect information in online directories.
Avoid common SEO and listing mistakes by regularly checking in on your doctor review site listings. To start, you could use an online tool, like the LocaliQ Free Business Listings Grader, to check all your listings in one quick sweep.
2. Ask for reviews (and respond to them)
The more reviews you have on your doctor review sites, the better. Of course, you can't always ask at the end of every appointment, but you can encourage your patients to leave reviews through channels like email marketing, social media, and even QR code marketing.
Odds are, your patients will be happy to do so as patients who are asked to give feedback are up to three times more likely to submit an online review. We cover more ways to ask for reviews here.
Once your reviews start flowing in, be sure to respond to every review (both good and bad reviews).  66% of people feel it's "very" or "moderately important" for healthcare businesses to publicly respond to online reviews (without violating HIPAA, of course). Carving out time to regularly respond to reviews can make a big difference in your online reputation.
An example of a healthcare business providing a thoughtful response to a negative review. 
3. Include a unique value proposition
Most doctor review sites will have an open section for you to fill out additional information about your business. Don't be afraid to mention in your business description what makes your practice stand out. Including your unique value propositions can help you communicate what makes your practice unique and help you win over new patients.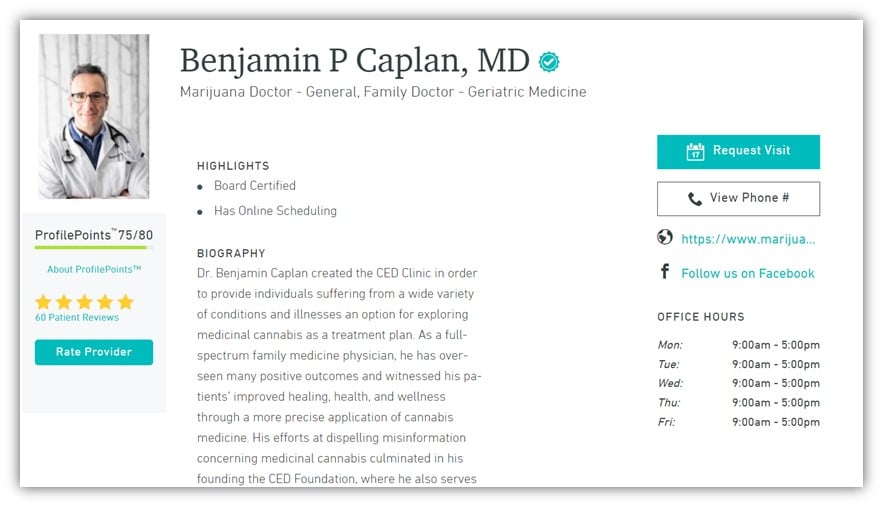 4. Include photos when applicable
Speaking of capturing the attention of your audience, a picture is worth a thousand words when it comes to optimizing your doctor review site listings. Showcasing pictures of your office, your staff, or even your successful patients (with their consent), can help people put a face to your business's name.
The second listing here with a headshot image stands out more than the one above it. 
Leverage doctor review sites for your healthcare business today
The healthcare industry is unlike any other—you're constantly battling endless competition, advertising restrictions, and rapidly evolving patient needs. Doctor review sites are an easy marketing win since they help you quickly promote your business for free (in most cases). For more help identifying and optimizing the best doctor review sites, see how our solutions can help.
To recap, here's our list of the doctor review sites for your healthcare business to get listed on:
Vital
Healthgrades
ZocDoc
Yelp
Google Business Profile
RateMDs
Doctor.com
Real Patient Ratings
Facebook
Instagram
Apple Business Connect
Judy's Book
Waze
CitySearch


[ad_2]

Source link