As per the latest social media statistics, Facebook has 2.96 billion monthly active users. It goes to say if brands decide to leverage Facebook to build brand awareness among new and existing customers, they can record a massive reach.
And one of the most effective ways to do this is Facebook Ads.
Facebook offers a variety of ad formats, such as video, image, and carousel, allowing businesses to choose ad types aligned with their marketing objectives.
However, with the many Facebook ad types available, planning and implementing a solid ad strategy becomes challenging. You, as a brand, need to keep track of key details and specifications, such as copy length and image size.
If you are trying to crack this process, fret not.
In this blog, we are providing a free pack of templates for Facebook Ads we've designed for you to create winning Facebook ad campaigns. Our collection of templates for popular ad types clearly outlines the process and specifications for creating each.
You can download all the templates for your easy reference.
6 Templates for Major Types of Facebook Ads
When you use easy-to-apply templates for Facebook Ads, it will drastically reduce your time to design a Facebook ad from scratch. You can then redirect your resources to other crucial aspects of your marketing strategy.
In this section, we will discuss the different types of ads and the templates we've designed for them (along with ad specs). We have also quoted some notable examples for each ad type.
All you need to do is select a suitable one according to your requirements. You can then start creating perfect Facebook Ads.
Keep reading to check out these templates, as well as examples and quick tips for all major Facebook ad formats.
1. Facebook Image Ad Template
The image ad is the most popular of all Facebook Ads. Businesses use this ad to generate interest or increase awareness for their products or services. This ad includes a single photo and an optional footer. Usually, businesses use image ads to show off a new product with a visually appealing image.
Here's the Facebook image ad template that you can follow to create perfect image ads: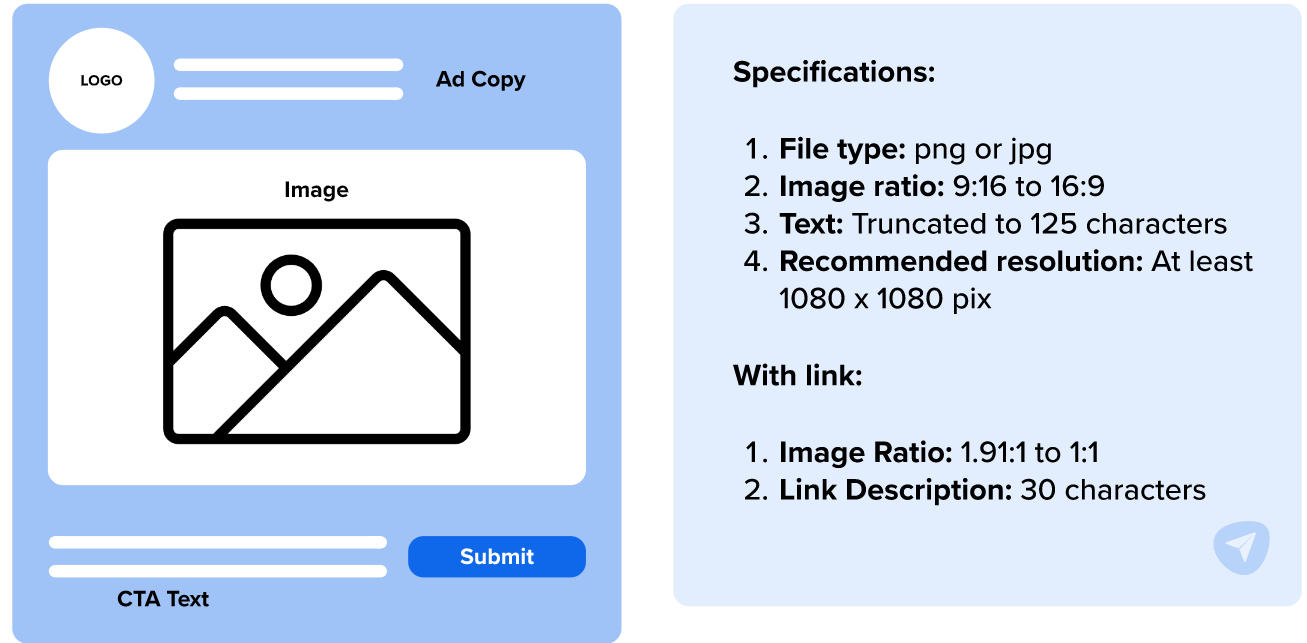 Specifications:
File type: png or jpg
Image ratio: 9:16 to 16:9
Text: Truncated to 125 characters
Recommended resolution: At least 1080 x 1080 pix
With link:
Image ratio: 1.91:1 to 1:1
Link description: 30 characters
Quick Tips For Facebook Image Ads
Use high-resolution images to create attention-grabbing image ads.
Your images should have a single point of focus. Nothing should distract the viewer from your ad's primary message.
Use bold colors and write clear, concise copy to stand out in the News Feed of your target audience.
Write a clear headline and call-to-action (CTA).
Example of an Effective Image Ad
Check out this image ad by WATI (WhatsApp Team Inbox). The ad copy is written in a clear and interesting way, integrating emojis to make the copy impactful. Also, the image is on-brand and self-explanatory with regard to the ad's objective. The CTA also clearly guides the user on what to do next.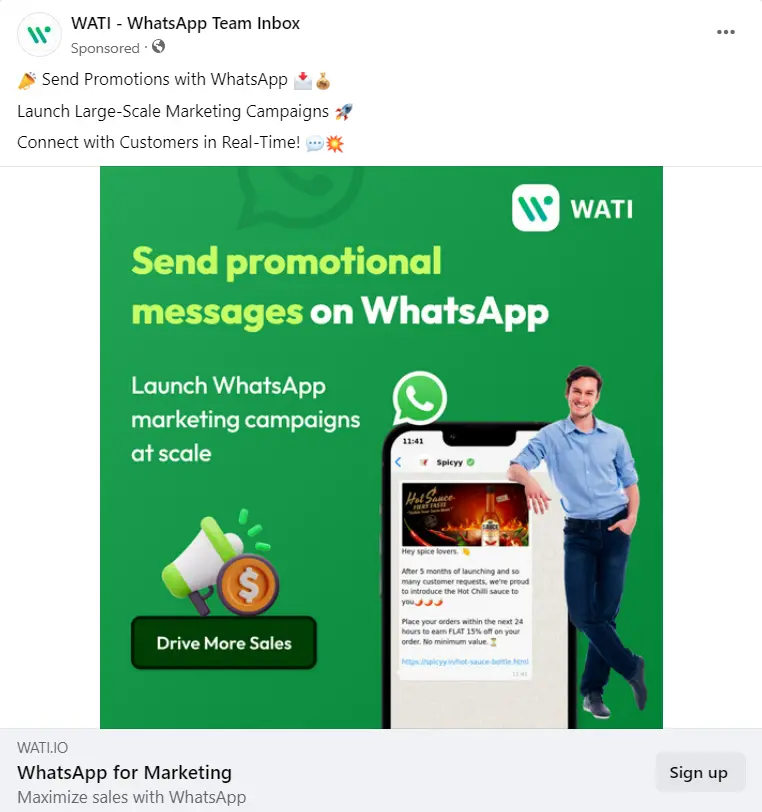 New to Facebook Ads?
2. Facebook Video Ad Template
Another ad format available on Facebook is the video ad. Video ads allow you to showcase your services or products using a video. You can also use video ads to post engaging clips related to your brand.
Tip: You can also use a Facebook video ad to establish an emotional connection with your followers. For instance, you can share a video that laces humor to help your followers unwind while using the platform.
Check out the video ad template that we have made for you: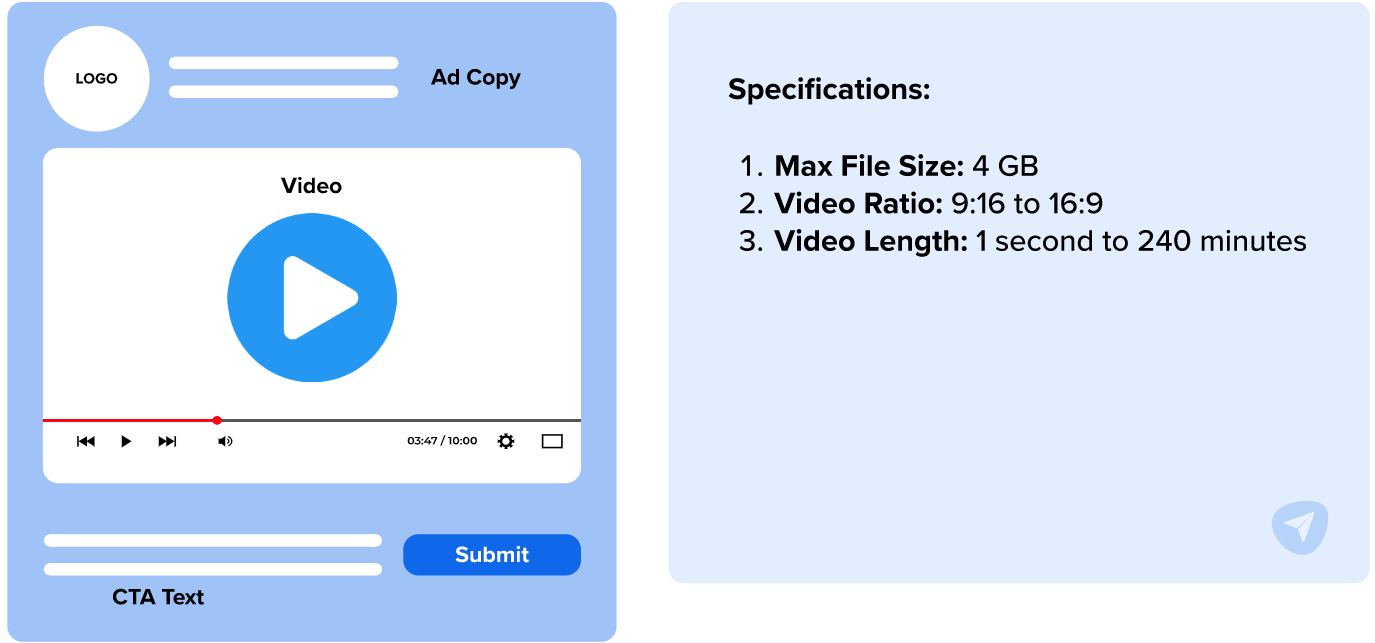 Specifications:
Maximum file size: 4 GB
Video ratio: 9:16 to 16:9
Video length: 1 second to 240 minutes
Quick Tips For Facebook Video Ads
Record videos in the highest resolution. No one likes to watch low-quality videos.
Your thumbnail should be distinctive enough for viewers to take notice.
Add closed captions, as 75% of individuals watch mobile videos on mute.
Ensure your video ad is mobile-optimized to target the 98.5% of Facebook users accessing the platform via a mobile device.
Example of an Effective Video Ad
Take a look at this video ad by Harvard Business Review, where the brand has used crisp and concise ad copy that highlights why a user should subscribe to it. They have put together an engaging, high-quality video. They have also used CTA text that talks about the cost of the subscription.
Overall, the ad is complete with all the details the user needs to know to take the desired action. (Subscribing to the magazine in this case.)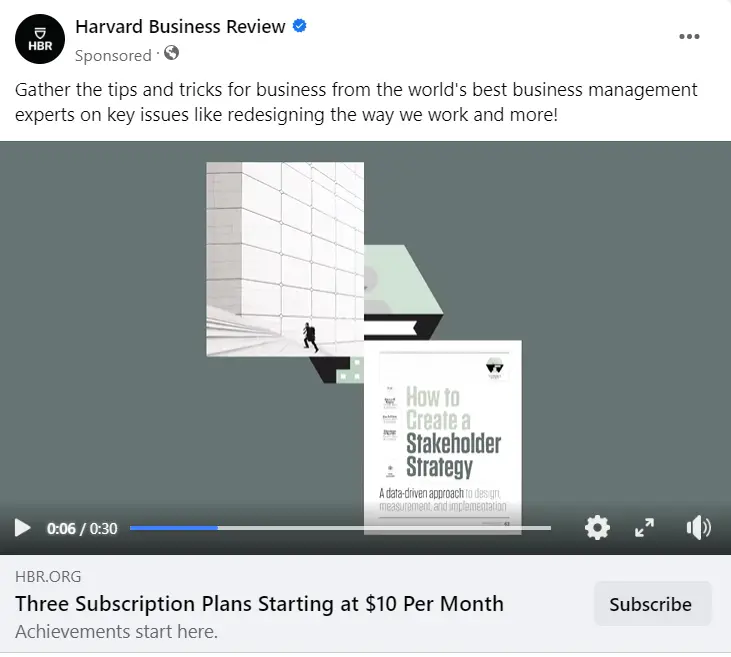 3. Carousel Ad Template
If you want to use multiple videos or photos together in an ad, you can choose the carousel ad type. In this ad, you can include up to 10 images/videos to showcase your brand's offerings.
In the carousel ad format, every image or video has its own CTA so that users can take action on an individual slide.
The carousel ad format supports different campaign objectives, such as conversions, catalog sales, app installs, and brand awareness.
Here is the carousel ad template we've created for you: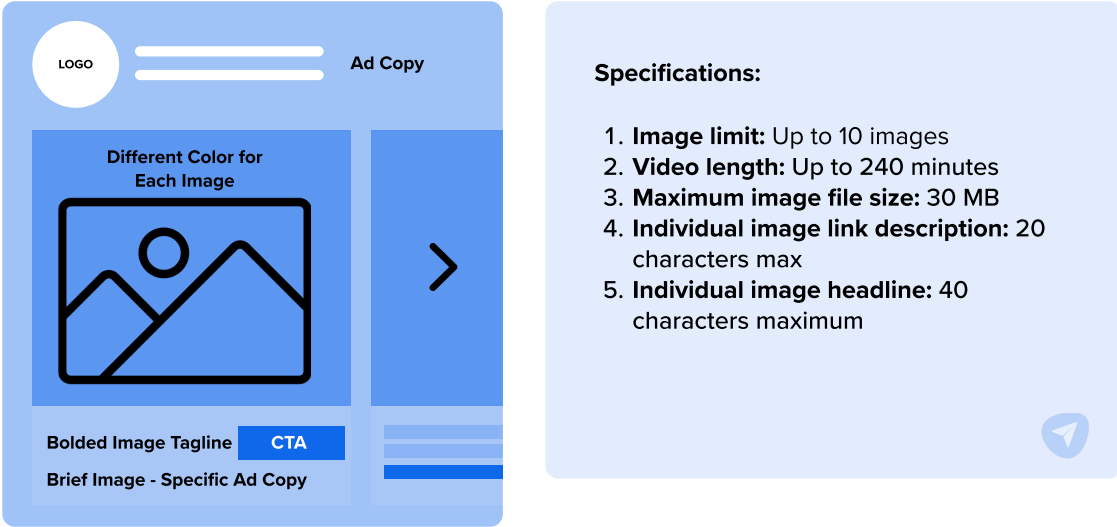 Specifications:
Image limit: Up to 10 images
Video length: Up to 240 minutes
Maximum image file size: 30 MB
Individual image link description: 20 characters maximum
Individual image headline: 40 characters maximum
Quick Tips For Facebook Carousel Ads
Put your strongest image on the primary slide, as it will be the first image users will see.
Refrain from being salesy in your carousel ad. Focus on creating an entertaining and helpful Facebook ad.
These ads are perfect for boosting engagement as you can walk your audience through your products and prompt them to sign up.
Example of an Effective Carousel Ad
Check out the image below that highlights the carousel ad format used by World Football Summit. Each slide lists a guest host. Now, if a user wants to listen to any one of these guests, they can click on the 'Sign Up' CTA button.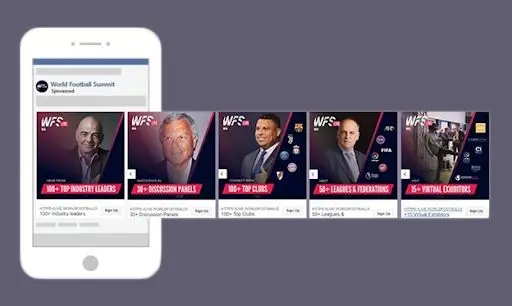 4. Story Ad Template
A story ad is a mobile-friendly video ad that users view in the Stories feature of Facebook. In other words, it is a vertical full-screen video played in a Facebook story. A viewer takes the desired action after viewing it.
The CTA appears at the bottom of the Story ad. As per the latest statistics, the Stories ad format is used by 2 million active advertisers in a month.
Here's the template that you can follow for a Facebook Story ad: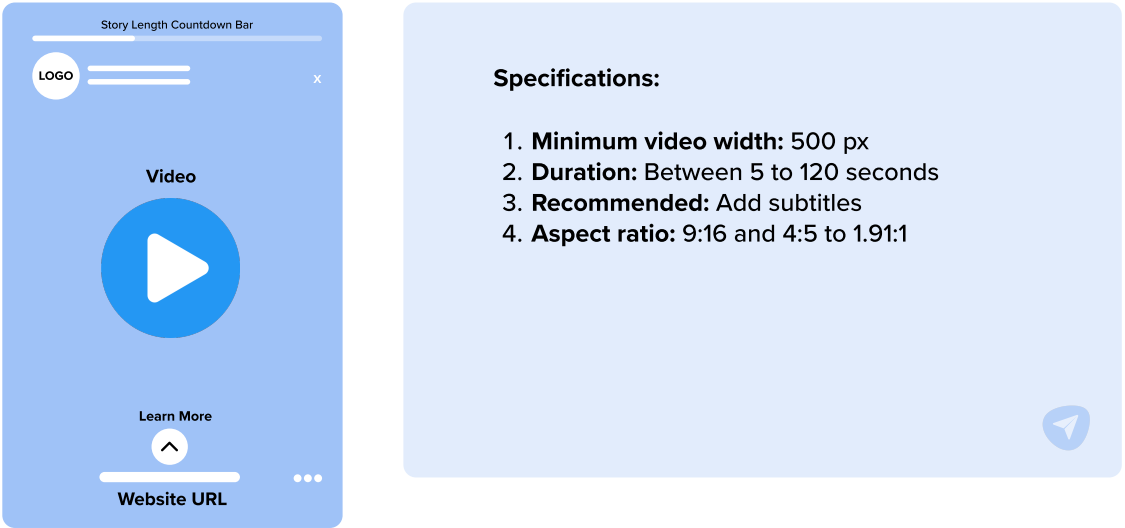 Specifications:
Minimum video width: 500 px
Duration: Between 5 to 120 seconds
Recommended: Add subtitles
Aspect ratio: 9:16 and 4:5 to 1.91:1
Quick Tips For Facebook Story Ads
People want to hear advice and tips from brands all the time. Your Story ad can feature videos that share valuable information with your audience.
People can't take in long explanations on Story Ads. Hence, use less copy in these ads.
To ensure that users swipe up, post an engaging video that compels them to take the desired action.
Example of an Effective Story Ad
Check the example below to see how an effective Story ad looks. This Story ad is by a brand called 'Overstock,' which primarily sells furniture. The video depicts the products offered by the brand in a visually appealing way with minimal text to hook the viewer.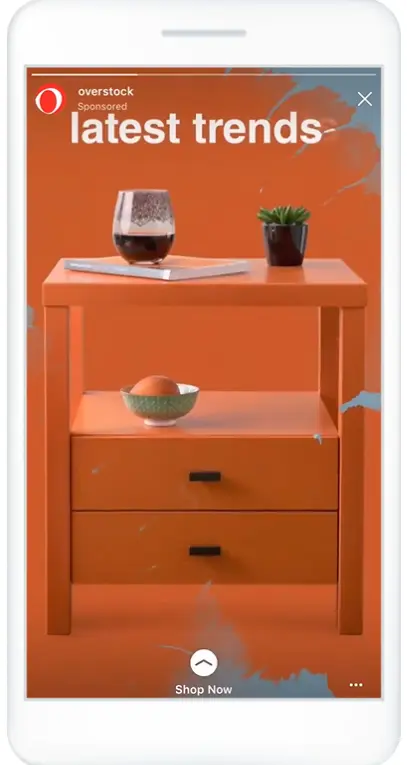 5. Collection Ad Template
A collection ad is an ad format that allows users to move from discovery to purchase in a seamless way, all while offering an immersive experience. A collection ad features a primary image or video with three smaller accompanying images displayed in a grid below.
If users tap on this ad to learn more, they are taken to a post-click experience without leaving Facebook.
Here's a Facebook collection ad template that you can follow: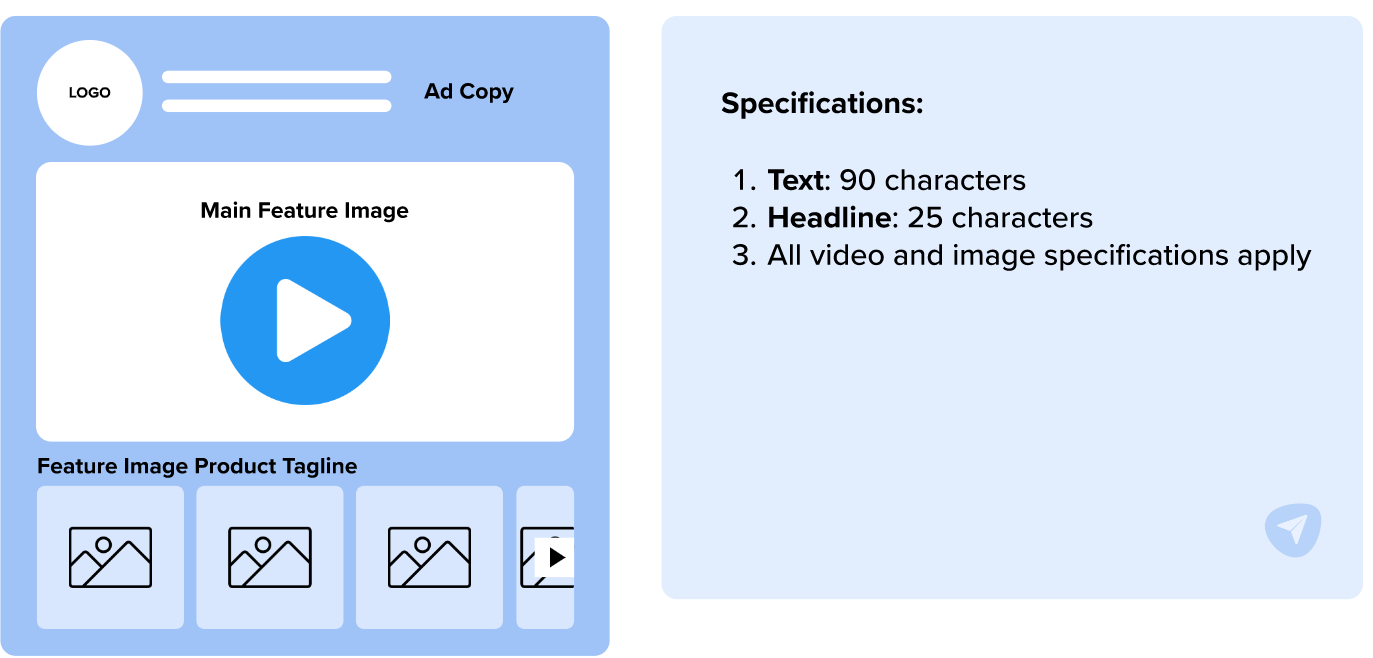 Specifications:
Text: 90 characters
Headline: 25 characters
All video and image specifications apply
Quick Tips For Facebook Collection Ads
The videos or images you use must be distinctive and visually appealing.
Cover videos usually get up to 20% better interaction rates on collection ads than cover images. The cover images/videos are the primary images/videos you use.
Example of an Effective Collection Ad
In the collection ad example below, Adidas has used a cover video, and the accompanying products are in the same range. The user can also check out the prices by clicking on 'More.'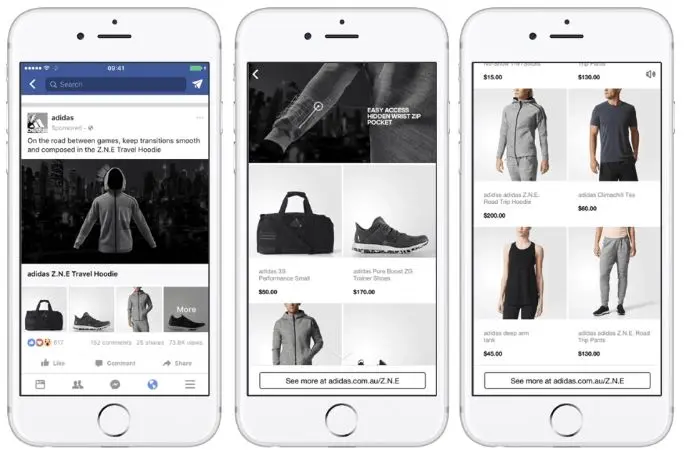 6. Lead Ad Template
As you can guess from the term, lead ads are designed to make the lead generation process on social media seamless for brands. When a user taps on a lead ad by a business, a form pops up requesting details to be entered. People can submit their information with ease through these forms, and you get a qualified lead.
Check out the lead ad template we've created for you: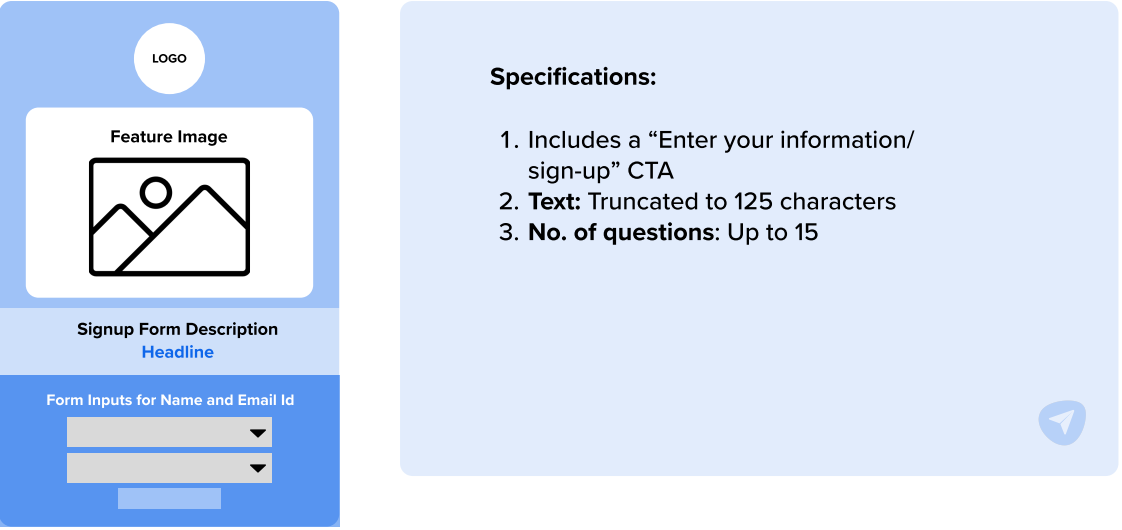 Specifications:
Includes a 'Enter your information'/sign-up CTA
Text: Truncated to 125 characters
No. of questions: up to 15
Quick Tips For Facebook Lead Ads
Your lead form should comprise questions that help uncover your potential customer's preferences. This will help you reach the right people with the correct information.
Create higher-intent lead forms. For instance, if you add a review page to your form, you may acquire leads with a higher level of intent or interest in your service or product.
Example of an Effective Lead Ad
Refer to the image below that depicts a lead ad and the related form that pops up when the user clicks 'Sign Up.' This is an effective example of a lead ad because the ad copy is enticing enough to prompt any interested user to sign up. Also, the form is clear and simple to understand and fill.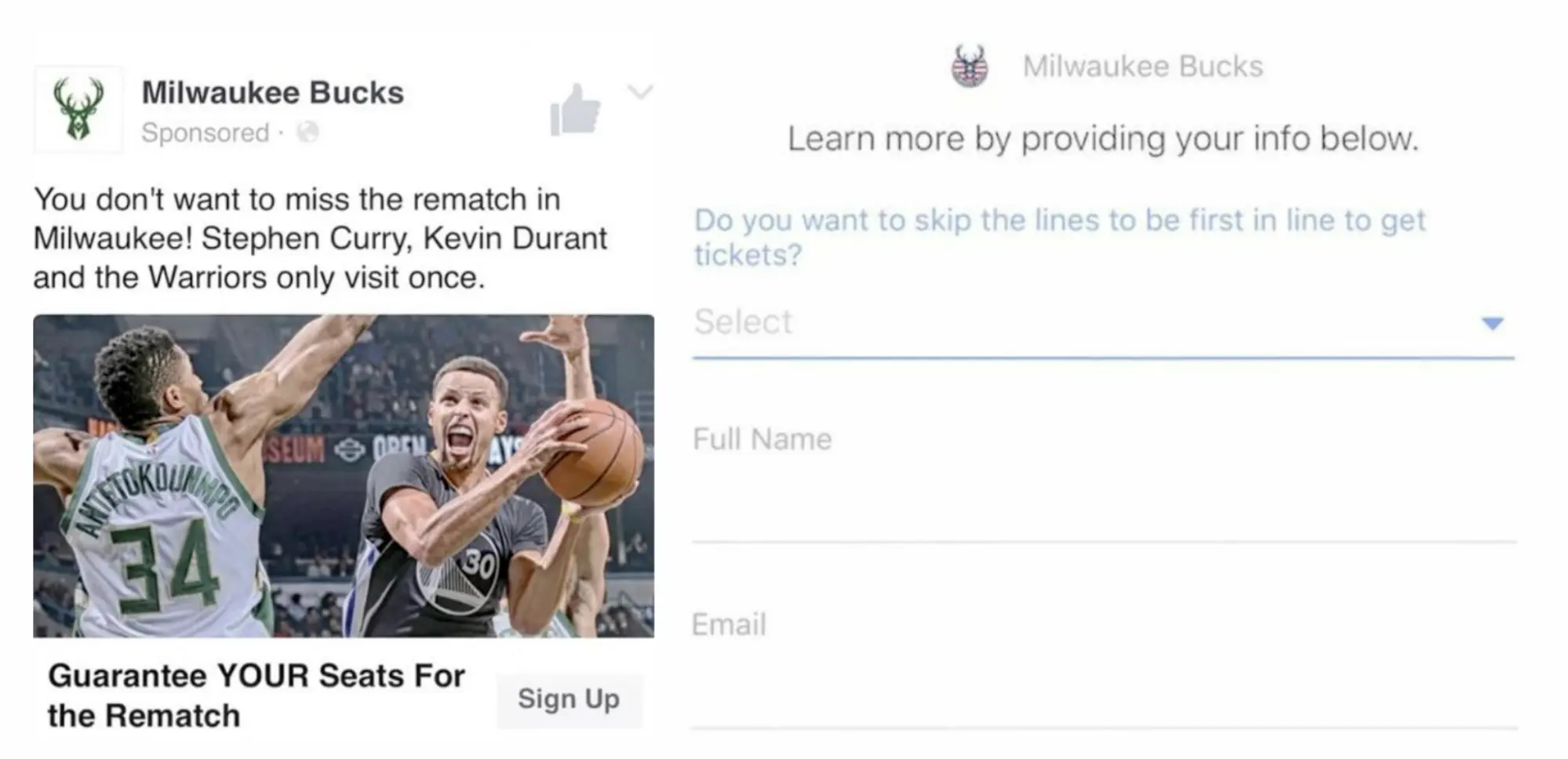 Brands can save tremendous time if they get one tool to create, schedule, and manage Facebook Ads.
Enter, SocialPilot!
SocialPilot is an efficient tool that helps you seamlessly manage paid promotions on Facebook. This efficient Facebook ad management tool lets you boost your Facebook posts and help you manage lead ads. You can also analyze your ad performance with the help of real-time performance reports.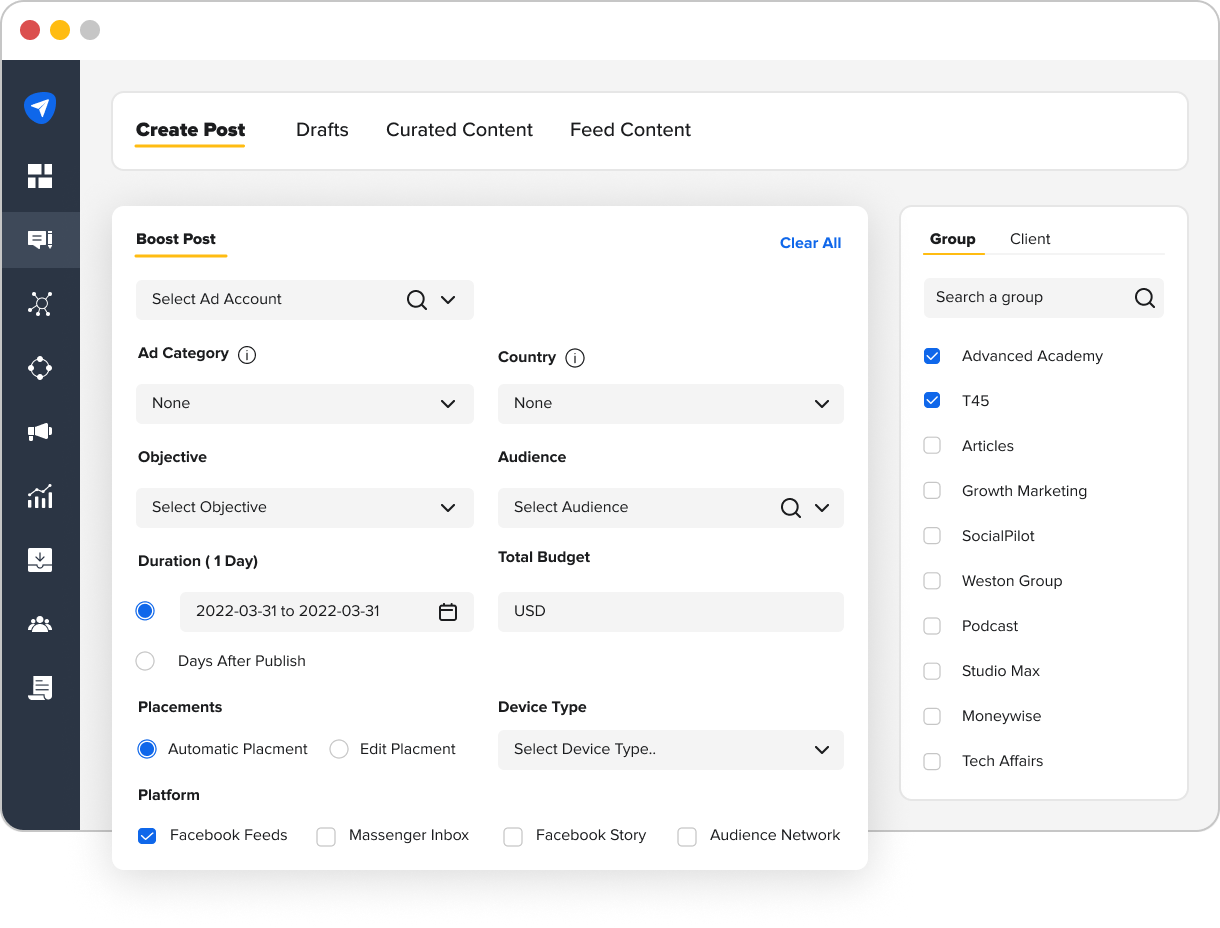 Wrapping Up
The bottom line? If brands have access to clearly-defined templates for Facebook Ads, they get a strong base on which they can build the most visually appealing ads.
A collection of easy-to-follow templates can enable brands to create better ads that are optimized for the platform. Also, with all the ad specs handy in these templates, you can create the perfect ad in no time.
Download our Facebook ad templates today and start creating solid Facebook Ads campaigns now!
Still looking for more tips to create Facebook Ads?