One of the last (and most important) steps to include in any video is the call to action (CTA). This is where you close the deal, so to speak, and prompt your viewer to actually do something. It's the virtual handshake with the viewer.
If they've watched your video to completion, they've demonstrated clear interest (or they would've bounced ten seconds into the video). So now, you need to prompt "the ask" or call to action.
What is a Video CTA?
A CTA is an action you want a viewer to take after watching your video. The goal of the CTA is ultimately to have site visitors give you contact information or convert to a marketing qualified lead by engaging with more of your content–driving up their lead score.
So What Kind of CTA Should You Use?
When deciding what kind of call to action you should use in your video, first figure out what the point of your video is. Ask yourself a few questions:
Do I want the viewer to go to my landing page?Do I want the viewer to book a meeting with me?Do I want the viewer to go to my products page?Do I want the viewer to watch more of my videos?
Your answer will depend on where the viewer is in on their buying journey. Here are three main points to consider when thinking about your in-video call to action:
#1: Your viewer's ideal next step. Do you want to encourage them to consume more content? Identify themselves to you through a form? Initiate an opportunity? Consider the stage of your videos and how you can nudge your viewers closer to the next stage—or closer to a purchasing decision.
#2: The nature of your content and #3: The kinds of video CTAs that drive the best outcomes. Let's break down these two factors by the stage of the funnel:
1. Awareness Stage (Top of Funnel) Videos
The nature of your content: Videos in the awareness stage are designed to generate just that—awareness. Think of things like company overview videos, thought leadership content, or any kind of short "info bite"-style videos.
The CTAs that drive the best outcomes: You want to focus on softer CTAs that will encourage your viewer to explore more of your content and product offerings. Some examples might be links to other pieces of content, newsletter subscription forms, or links to learn more about your products.
2. Consideration Stage (Middle of Funnel) Videos
The nature of your content: Videos in the consideration stage can be a little more in-depth. Here's where product overview videos can come into play, as well as how-to videos and solution-based webinars.
The CTAs that drive the best outcomes: You can start using more in-depth lead capture forms to profile your buyer. Here you can also use multiple links on a "choose-your-own-adventure" CTA to allow buyers to identify their intention or persona.
3. Decision Stage (Bottom of Funnel) Videos
The nature of your content: Videos in the decision stage help your buyer take the final leap and make a purchase. These can include things like customer testimonial videos, along with in-depth product demos.
The CTAs that drive the best outcomes: You want to encourage your viewer to initiate an opportunity—so make it easy for them! Here's where you can use forms that allow them to reach out to you. Think demo requests, links to pricing information, or CTAs that allow them to book a meeting with an expert on your team.
The Best Kind of CTA for Virtual Selling
If you are in sales and are using video for prospecting and virtual sales, then a CTA is a very important part of the video. You don't want to go through all the effort of making a video, sending it through email or LinkedIn and then not close the deal because the viewer didn't get a prompt to book a meeting with you. Putting a CTA in your video helps the buyer on their journey, so don't miss this opportunity.
Consider these CTA's for your video:
Book a meeting – Prompt the viewer to book a meeting with you right away. Make it easy for them and create a custom CTA that links directly to your calendar.Get a custom demo – If a prospect has watched your entire video, that means they are interested in what you have to say. Use this moment to get them to sign up for a custom demo of your product, just for them.Free trial – Do you offer a subscription-based service? Let the viewer have a free trial to take your service for a test drive.Sign up for a webinar – If you frequently give webinars to highlight key features of your product or service, asking a viewer to sign up for the next webinar is a great CTA to include at the end of your video.The Best Kind of CTA If Your Video Is on YouTube
If a viewer is watching your video on YouTube, the ask is simple—include a customized link to a landing page on your website that is dedicated to getting that viewer the supplemental information they're looking for and, consequentially, into your sales process. The main goal of YouTube is to get the viewer to your website. There are way too many shiny things and cat videos to distract audiences on YouTube, so get them to your playground where you control the experience and the flow of content they consume.
The Best Kind of CTA If Your Video Is on a Landing Page
Once you get your audience to your website, or if they came to your website to begin with, great! They have already expressed interest in what you do! Please don't blow a perfectly good opportunity by telling them at the end of your video to "visit your website for more information." That is a waste of a potential next step you could ask them to take. They're already on your website; give them the next step, don't make them go find it on your website.
Here's an example of a video my company animated for HCRI:
As you can tell, HCRI is unique in that they only specialize in recruiting for the healthcare industries, so the explainer video itself focused on differentiating them from generalist recruiters. Once we illustrated (pun intended) how they were different, we wanted to make sure we closed with asking the viewer to fill out the form. The video was on a custom landing page with a contact form directly to the right of the video.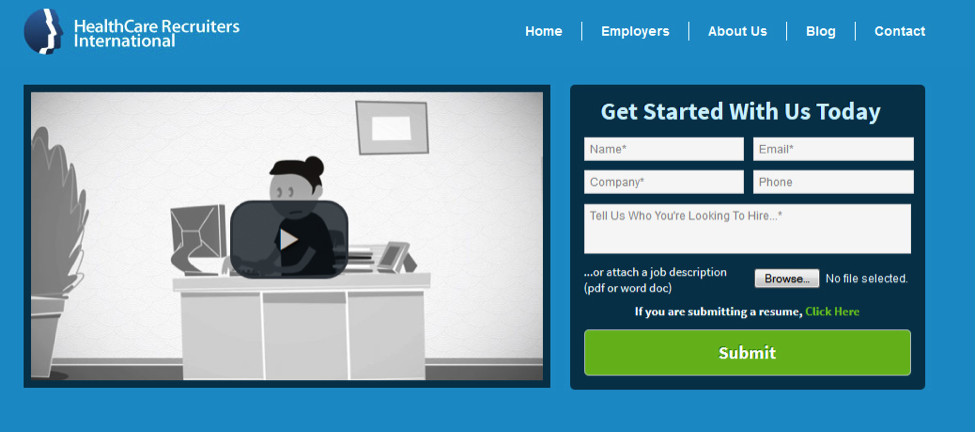 So it was clear what the viewer's next step was. If you were someone in HR for a company that regularly needed healthcare talent, you'd likely already be filling out the form knowing the difficulties you've probably had dealing with sourcing the right talent.
So this was one example of a landing page that makes the call to action and next step as simple as possible for the viewer. Of course, the call to action is different for every company based on its sales process, product or service, and a multitude of other factors. So you have to choose the right call to action based on your audience and what you're asking of them. With video platform technology you can now include pop-out calls to action or embed contact forms directly in your video that push contact information into your marketing automation platform.
You'll want to get creative too. Your CTA doesn't have to be a benign "Call us or email for more information". While that may work for some, it may also be too generic for others. Here are a few more creative ideas to consider:
Ask a question – then invite viewers to "join the conversation" with your brand's social channels or a dedicated hashtag.Enter to win – As simple as it is, a structured giveaway on a dedicated landing page of your website or on a social channel is an easy way to generate response and interaction with your brand.Bring out the vote! – Ask viewers to vote on something they care about in a simple poll on your website.Fill out a short form – This is very direct and I know we already covered it in the HCRI example, but if the person is interested they will. Restrict the number of form fields to only those that matter so people won't neglect the form for fear of a lengthy process.Watch another video – After the viewer watches your short overview video, invite them to take a deeper dive with more directed snackable content about your product or service. What can this be? Well, maybe there are different versions of what you do? Maybe there are specific technical aspects that would be interesting to the IT guy who uses the product, but not to the CEO who just wants to know it works? Drive folks through the buying process with strategic videos lined up in a content journey.
These are just a few video CTA examples to get you started, but ultimately you will need to develop and test a simple step that is practical, yet relative to your business.
The most important thing to remember is that your customers are people. Unless you make dog food, but people still need to buy dog food for dogs. If people are searching for you they just want to know that what you do is going to help them. If it does, make it as easy as possible for them to either learn more or take the next step. The CTA is your virtual handshake with them to say hello.
This post was originally published on July 11, 2018. It was updated on May 21, 2021.
The post How to End Your Video with Action: Strong CTA Examples appeared first on Vidyard.
Read more: vidyard.com